Financial Planner Near Me
Financial planning is a systematic way of preserving and growing your high net worth portfolio. The process of financial planning involves working with a qualified and reputed advisor who will evaluate various topics of your financial life.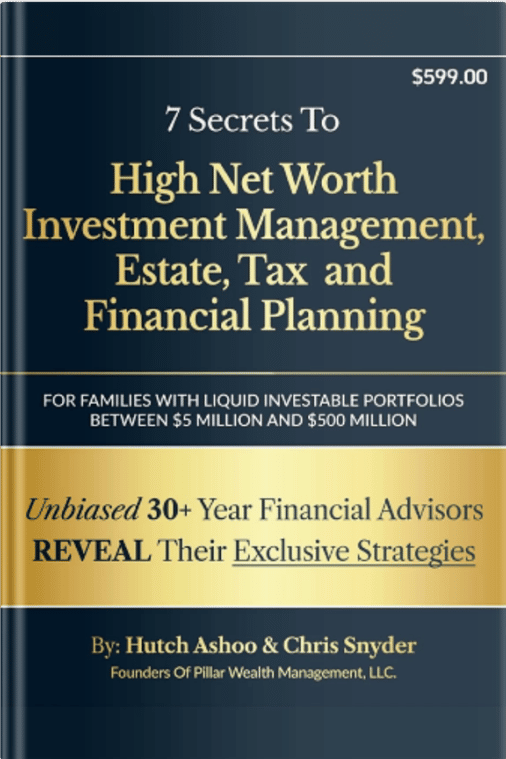 STRATEGIES FOR FAMILIES WORTH $5 MILLION TO $500 MILLION
7 Secrets To High Net Worth Investment Management, Estate, Tax and Financial Planning
The insights you'll discover from our published book will help you integrate a variety of wealth management tools with financial planning, providing guidance for your future security alongside complex financial strategies, so your human and financial capital will both flourish.
Clients frequently share with us how the knowledge gained from this book helped provide them tremendous clarity, shattering industry-pitched ideologies, while offering insight and direction in making such important financial decisions.
A good financial planner understands your life goals and then chalks out a strategy that connects actions to your goals based on the data. For example, Pillar Wealth Management has extensive experience in crafting exclusive strategies for individuals with $5 million to $500 million in liquid assets.
Since a financial planner takes decisions that deeply impact you and handles the sensitive personal matter of your money, selecting the right financial planner is a big deal. It may, to some high net worth investors, feel like selecting the right person to marry.
If you already work with a financial planner, then you are probably aware of the importance of finding the right advisor to help you with important financial decisions.
If you have never engaged a financial planner or if you are looking to switch to another advisor from your existing one, then the points discussed below will help you gain valuable insight on how to identify the best financial planners.
We will look at how to find a financial planner, what questions to ask a financial planner when you meet one, when is it time to hire a financial planner, and who is the top financial planner.
How to Find a Financial Planner?
There are several types of financial planners. Independent advisors, wealth managers at your bank, commission-based advisors, fee-only advisors, fiduciary advisors, and other financial planning firms can all offer financial planning services.
This downloadable book on choosing the best financial advisor talks about how each type works. Pillar Wealth Management is a 100% fee-only fiduciary advisory firm catering to Ultra-high net worth individuals with investible assets between $5 million and $500 million.
The simple answer to the question "how to find a financial planner" is to use the internet. Searching online for financial planners in your area is the first step to begin the short-listing process.
If you are looking for certified financial planners, then search engines like The Financial Planning Association, Google, Garrett Planning Network, NAPFA, and Boomrater are quite useful. You can search for financial planners in a particular zip code, city, or state.
Some websites like NAPFA and Garrett Planning Network allow you to search financial planners based on their fee structure (e.g. fee-only or hourly).
The CFP (Certified Financial Planner) Professional website is also a pretty good place to search for financial planners by zip code. Non-US folks or Americans living outside the US can visit the Financial Planning Standards Board (FPSB) website to find financial planners in their respective resident countries.
You can also speak with your bank and check if they have a wealth management or financial planning service division. If you need a white-glove level of service that offers a high level of attention and customization to your financial needs, then schedule your free consultation with Hutch or Chris at Pillar Wealth Management.
Lastly, one of the best resources for finding a reliable financial planner is your own personal network. You can ask your family members, relatives, friends, work colleagues, and business partners about the best financial advisors in your area to get the best investment advice for your future.
The good thing about your own people is that they will give you genuine reviews. There are no fake testimonials or sales pitches in this case. Some form of background checks and screening has already been performed and the references that you get probably meet some basic standards.
What Questions to Ask a Financial Planner?
After you shortlist a few promising financial planners who fit your purpose, it is time to speak with each one of them. You can get access by meeting face-to-face or speaking one-on-one will give you an insight into the personality of each financial planner. It will give you an understanding of how each advisor thinks and what their philosophy is regarding personal finance.
More importantly, speaking to a financial planner will answer one of the most important questions – whether you can build a constructive relationship with that person.
After all, establishing such a relation will build trust which is needed if you are going to entrust somebody to manage your hard-earned wealth. It is the reason we encourage high-net-worth individuals with $5 million to $500 million in investible assets to start a conversation.
In order to have a comprehensive conversation, some preparation will be needed from your end. We recommend that you create a list of questions in advance which allows you to thoroughly evaluate every advisor that you speak with.
You may be wondering "what questions to ask a financial planner?" The following is an indicative list to help you get started. Every individual will have unique needs and expectations from a financial planner and this list should, therefore, be tweaked accordingly.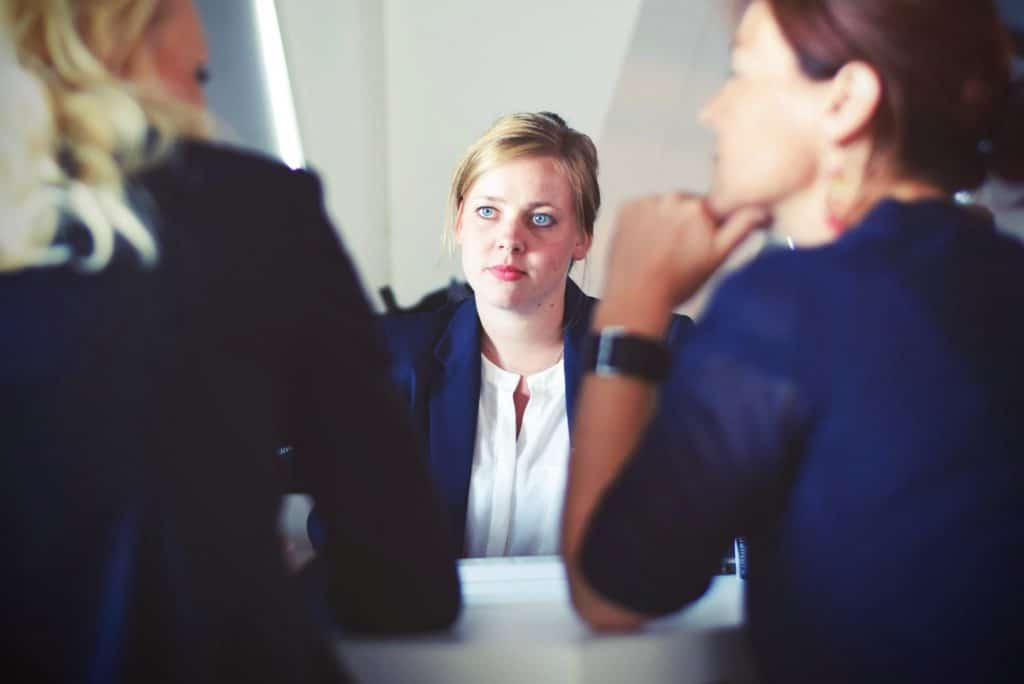 Besides the list below, you can also download our guide: The Ultimate Guide to Choosing the Best Financial Advisor: For Investors With $5 Million to $500 Million in Liquid Assets to gain comprehensive insights.
• What is your educational background?
• Do you have any professional designations like CFA or CFP?
• How long have you been a financial planner? What is your experience in working with high-net-worth clients?
• How do you continue your education in order to keep up with the changing world?
• What services do you offer within financial planning? Different financial advisors have expertise in different areas. Some advisors are good with portfolio management, some are good with estate planning, some are good with taxes, while some are great in other areas.
• You want to know whether the service offerings cover the areas that are a priority for you.
• What type of clients do you normally work with? Handling a portfolio worth a few hundred thousand dollars is very different from handling an account size amounting to tens or hundreds of millions.
• As a high-net-worth individual, you want someone who has experience in handling large accounts.
• Who will I be speaking to if we work together? Some large financial planning setups have multiple people working as a team. That can be great from the point of view of having multiple skill sets under one roof. However, dealing with multiple people can be time-consuming.
• You ideally want one person answering you whenever you ask a question. Additionally, you do not want a star financial planner pitching you during the first meeting only to discover later on that a junior associate handles most aspects of your account.
• How many meetings will I have with you in a year, a month, a quarter, etc.? This is really important because financial planning is not a one-time activity.
• It is a constant exercise that requires regular monitoring to know whether you are headed towards your goal or whether corrective action is needed.
• What do you charge for your services? How does your fee structure work? This is a really important question. Compensation models can either be hourly, milestone-based, commission-based, or a hybrid model which is a mix of commission and other structures. A fee-only structure involves no commission.
• A fee-based structure involves commissions. Remember, that commissions can incentivize financial advisors to recommend certain investment products over other competing ones. The job of a financial planner is to recommend products that are the best option for the client no matter what the commission.
• Do you work with an independent custodian? A custodian is an institution or party that would actually hold the client's investment. The financial planner should not be holding the investment accounts.
• That responsibility should be with an independent third party to avoid any conflict of interest or ethical issues. Usually, a brokerage or an asset management firm plays the role of a custodian.
• Do you have any legal or disciplinary proceedings currently going on against you? Have you had them in the past? This question is intended to check the background and ethical track record of the financial planner.
• While it is true that you can conduct background checks online, you should still ask this question and hear straight from the advisor himself/herself.
When Is It Time to Hire a Financial Advisor?
Financial planning is something that every single person in this world can do with. The question is the cost and whether it makes sense to pay for receiving advice. The reason financial advisors charge a fee is because they also have to make a living. It is not because they want to look exclusive and cater only to affluent clients.
When is it time to hire a financial advisor? It depends on where you stand in your journey of wealth creation. Hiring a financial advisor probably does not make much sense if you have a few thousand dollars of savings and are simply looking to compound that wealth steadily.
However, once your savings grow into seven figures, your financial situation also gets more complex. After knowing the investment management services, you then have to start thinking about investment advisors including the costs, taxes, inheritance, and retirement planning more carefully.
The reason is the fact that even a few basis points can result in big amounts. 1% of $100,000 is $1,000. But, 1% of $1 million is $10,000 while 1% of $100 million is $1 million. This book on improving portfolio performance clearly explains how costs can impact investment performance.
When the stakes get higher and the financial issues to be evaluated get more complex, you will be better served by a reputed financial advisor. High net worth individuals should look at a wealth management advisor, a practice that is a subset of financial advisory.
You might wonder whether you can do your own financial planning. While nothing is impossible, that approach is fraught with risks. If you are looking to sell your business, you need professional advice on taxation and on a plan to invest in the windfall.
If you want to buy or sell a multi-million dollar property, you want to get all aspects of the deal right. Wrong decisions can cost you heavily.
You become your own doctor when you have a common cold. But, you consult a specialist when you suffer from a fracture or have a heart problem. The stakes are higher in those cases, just as they are when you talk about high net worth wealth.
Pillar WM focuses on the financial services that can help you to achieve your financial goals. If you are still in doubt about whether you should work with a financial advisor, then feel free to reach out to us. We will be happy to answer your questions and offer you whatever advice we can.
Selecting the Best Financial Advisors Near Me
You now know how to find a financial planner, how to shortlist promising advisors, what questions to ask them, and when is the best time to hire a financial planner.
However, there is one more question that still remains unanswered. That question is "who is the top financial planner?" What qualities or traits make a financial planner a top advisor?
Your list of questions to ask a financial planner probably gave you some hints on what differentiates an average financial planner from a top financial planner.
This complimentary guide on choosing the best financial planner is also an excellent resource for anyone with $10 million or more in liquid assets. This book talks about some non-negotiables that you should look for in a financial planner.
Different individuals have different reasons for engaging a financial planner. For some, it could be tax optimization, for some it could purely be portfolio management, while for some others, it could be retirement planning. A top financial planner for someone is an advisor who has expertise in the desired areas of personal finance.
A top financial planner should also have extensive experience in handling the right-sized accounts. If you are an ultra-high net worth individual, then you want to work with someone who has handled accounts worth tens or hundreds of millions.
We encourage you to start a conversation to know about how Pillar Wealth Management has over 60 years of combined experience in handling accounts ranging from $5 million to $500 million.
Lastly, a top financial planner should have hard and soft skills. The advisor should be good with numbers as finance is a technical subject. However, a good financial planner should also be able to communicate well, understand the life goals of the client, and develop trust.
Hutch Ashoo and Christopher Snyder are financial experts and founders of independent, fee-only, and fiduciary wealth management firm Pillar Wealth Management.
If you would like to speak with them or simply ask any questions about how custom and trusted wealth management advice is offered to high-net-worth individuals with $5 million to $500 million in investible assets, do not hesitate to contact us and then feel free to start a conversation.