High Net Worth Wealth Management
Discover A Better Way To Protect And Grow Your Portfolio - Exclusive Strategies For Investors With $5 Million To $500 Million Liquid Assets
Over 30 Years Of Media Coverage
Download any of our valuable guides to gain deep insights into everything from choosing an advisor to improving your portfolio.
Helping Select Families With $5 Million To $500 Million Of Investable Liquid Assets Invest, Grow And Protect Their Portfolios
Pillar Wealth Management is different than the massive Wall Street firms and the large money management firms who worry more about their shareholders and assets under management than planning their client's investing and retirement legacy.
In fact, we are accepting only 17 new clients this year. Why? 
Because we refuse to offer cookie-cutter services or advice. Our High and Ultra-High Net Worth Clientele demand more. They deserve better.
They deserve nothing less than fully custom investment and planning advice.
Who is Pillar Wealth Management?
We are the co-founders of Pillar Wealth Management, Hutch Ashoo and Chris Snyder. We have a 30+ year track record, specifically in helping High-Net Worth and Ultra-High Net Worth Investors and Families.
If you're seeking the services of an expert and exclusive wealth management advisor, then we may be a fit for you.
Who are we a fit for? Our fully custom wealth management advisory services are designed specifically for investors who:
Have $5 million to $500 million liquid investable assets and seek financial serenity…

Are looking to save on TAXES, fees and expenses

Are concerned about the all-time high levels of stocks and bonds, and who seek asset protection yet wish to grow their portfolios too!

Are dissatisfied with the service they're receiving from their current advisor,

such as under performance, lack of attention/communication and high fees…

Are in the midst of a significant life event

. For instance, retirement, divorce, a business or real estate sale, or the loss of a loved one…
We help our clients transition from where they are now to where they wish to be. In the process, we help you secure your future lifestyle and achieve financial serenity.
---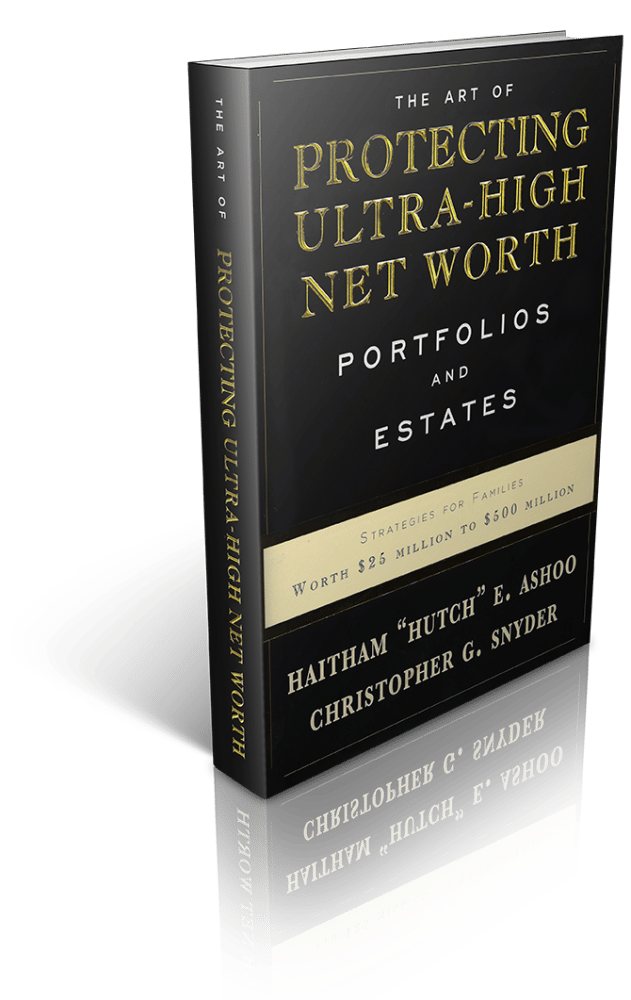 The Art of Protecting Ultra-High Net Worth Portfolios and Estates – Strategies For Families Worth $25 Million To $500 Million
We wrote this book to help you and other ultra-high net worth families, through prudent planning and investing, to mitigate financial disasters that leave so many others in ruin. We provide sound, innovative ideas to share and insights that will help you manage not only the financial side of your affairs better but also the nonfinancial issues and challenges many families like yours face.
When you integrate wealth management with life planning, merging soft life issues with complex financial strategies, your human and financial capital will both flourish.
---
What Makes Pillar Wealth Management So Exclusive?
In a word, "obsession." 
For over three decades, we've been obsessed with serving our clients through the ups and downs of the market, the economy and their lives. 
Bottom line, we help clients make the difficult decisions. The decisions that will profoundly impact your future… your legacy… and ultimately, your family–for perhaps generations to come.
Between Hutch and Chris, we bring to bear 60+ years of combined expertise in expense and tax minimization. As well as risk mitigation and portfolio performance optimization–custom designed just for you.
In fact, we feel so confident in our deep expertise that it's our goal to save and find a new client $100,000+ per $10 Million of investable assets.
This in turn puts more back in their pocket. We do this by scrutinizing underlying investment expenses, advisory fees, tax liabilities and avoiding un-necessary risks while maximizing returns.
Your Next Steps…
We encourage ultra-high net worth investors to read our hard cover book, "The Art Of Protecting Ultra-High Net Worth Portfolios And Estates: Strategies For Families Worth $25 Million To $500 Million."
Clients frequently share with us how the book helped provide them tremendous clarity, shattering industry-pitched ideologies, while offering insight and direction in making such important financial decisions.
Reading this book will make you, the Ultra-High Net Worth Investor, far more knowledgeable, far more aware of the extraordinary benefits of expert wealth management advisory services.
Our exclusive and expert fiduciary advisory services include:
Safe retirement and income/lifestyle planning, optimization and maximization of High-Net Worth and Ultra-High Net Worth portfolio performance ($5+ Million, up to $500 Million)

Development of an investment portfolio which best fits your performance expectations and life-goals — while still allowing you to sleep at night

Individualized wealth management analysis and planning based on your life-goals and the lifestyle you most desire

M&A/business or Real Estate sale and transitions

Inheritance investing and planning

Death or divorce financial transitions

Minimize taxes, fees and other costs
Clients often comment how radically different our approach is from the big names you are familiar with on Wall Street.
Frankly, we are astonished at how they can get away with providing plain vanilla, cookie-cutter services to such deserving families!
You should expect more. You should demand better.
On a regular basis, we go up against them—and win. Clients will often tell us they were "not impressed by them." And that they're "nothing special."  
We couldn't agree more. And maybe that's one reason you're reading this now. 
As previously mentioned, one of our goals when accepting a new client is to save and find them $100,000+ per $10 Million of investable assets. So if you have between $5 million and $500 million of investable liquid assets, and you'd like to be considered for our exclusive investment and wealth management services, you can start the process by clicking here.
Please understand that we are extremely busy. 
We promise we'll to get back to you as soon as possible. However, if your situation is urgent and you require immediate attention, please state so on your submission form.
The Pillar Wealth Team
Hutch Ashoo and Chris Snyder are co-founders of Pillar Wealth Management, LLC, an independent, fee-based, private wealth management firm. With a combined half a century of wealth management experience, their firm is focused on delivering customized private wealth management advice to high net worth individuals and families as well as privately held company owners. It has been their privilege to work with ultra-high net worth families, some of whom attained wealth reaching $400 million, helping them achieve a positive change in their lives and finances.
Preparation is how you win the investing war!
You are smart enough to know you cannot know it all, no matter how sophisticated you are about business and financial issues. Besides, you have other things that demand your time and attention. You understand the importance of surrounding yourself with top minds and talent, advisors who can provide good direction in areas where you need expertise.
Lessons from the past
On Black Monday, October 19, 1987, the Dow Jones Industrial Average plunged 23 percent. To this day, this remains the largest one-day loss in U.S. stock market history. We were already managing client portfolios on that fateful Monday, and the crash left a significant impression on us, one that we still carry with us today. Too many investors lost millions of dollars. They vowed not to make the same mistakes again—but in our practice, we still see some of the same mistakes being made.
No one knows when the next financial disaster will happen. If you think back to previous catastrophes, you probably recall the experts saying that this had never happened before, that we were in uncharted waters, and that conditions were different then from what they had ever been before or ever would be again. We don't buy that line of reasoning. Make no mistake: the surprises will come again, although they will look different.
Equally important is the preparation for and proper handling of key life events. Retirement, Death, Money in Motion, and Divorces all present significant financial and personal challenges.
Do I have enough money to retire comfortably?

Who will I trust to manage my money now that my spouse has passed away?

How will I properly invest my large cash inflow from Inheritance, real estate or large stock/options sale?

How do I financially plan for my children's and grandchildren's educations?

How will divorce impact my standard of living?
Since no one can predict when the next life or market crisis will occur, your goal should be to protect yourself from such a risk. We provide you strategies you can implement—with your advisors, your portfolios, your estate, and your family itself—that will help to mitigate the next disaster. Among many other matters, we will discuss risk management and asset allocation, which act as an airbag for such recurring yet always-a-surprise events.
Resources
Guiding resources, news and articles that enrich your financial life.