Retirement Planning Near Me: Retirement Solutions – PillarWM
Retirement can be a terrifying thing to plan for. Working with an expert financial planner who has attained a great level of experience delivering financial planning services will go a long way in helping you secure your old age.
Uncertainties like the Covid-19 can come up at any time, and all the savings you think you have will be spent living from hand to mouth.
Before going further, for those of you looking to entrust $5 million to $500 million in liquid investable assets to a retirement specialist to manage for you should request this in-depth free book by clicking here.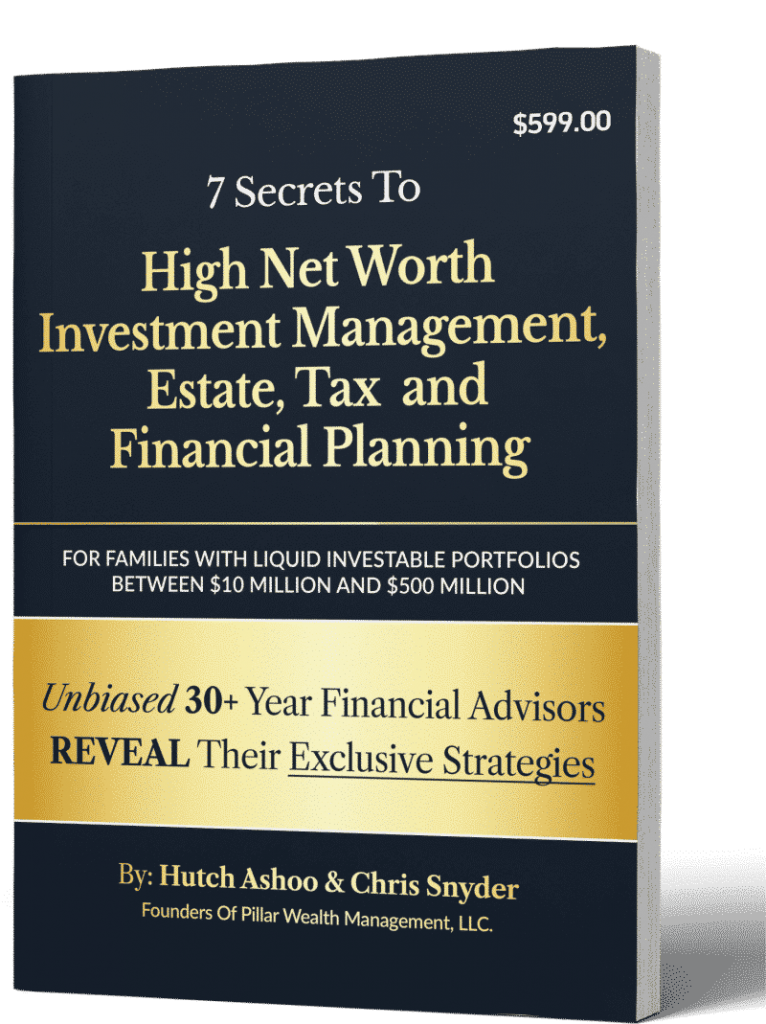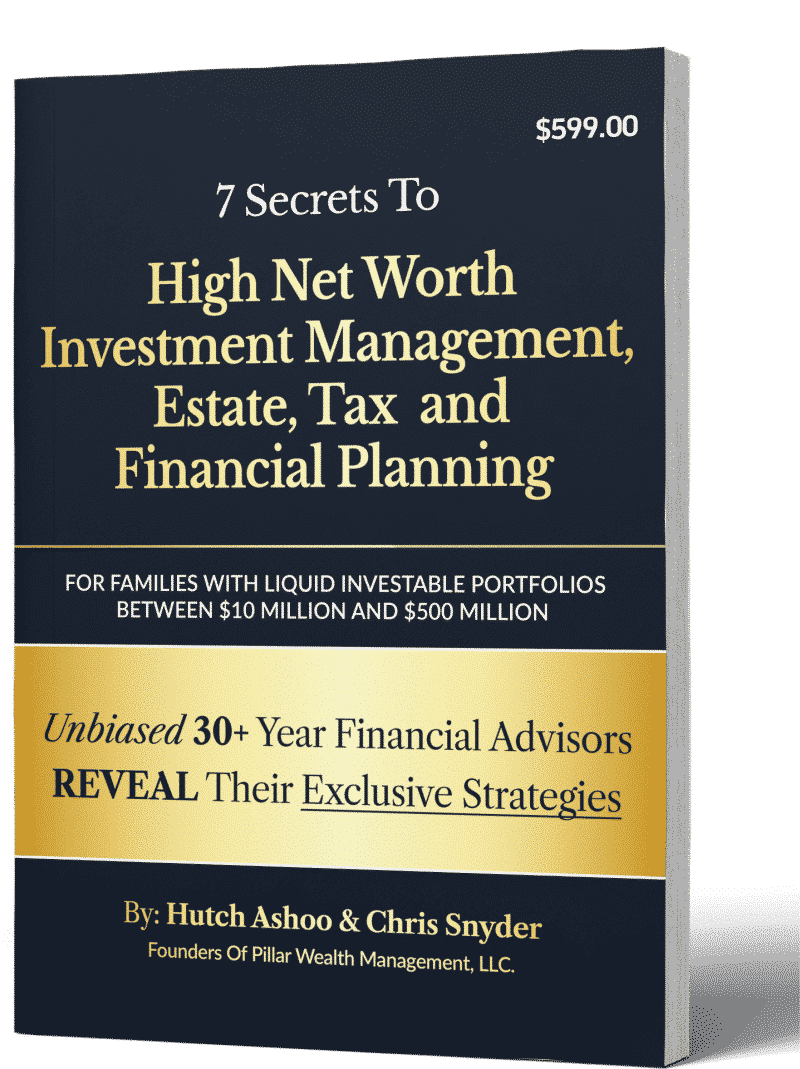 STRATEGIES FOR FAMILIES WORTH $5 MILLION TO $500 MILLION
7 Secrets To High Net Worth Investment Management, Estate, Tax and Financial Planning

The insights you'll discover from our published book will help you integrate a variety of wealth management tools with financial planning, providing guidance for your future security alongside complex financial strategies, so your human and financial capital will both flourish.
Clients frequently share with us how the knowledge gained from this book helped provide them tremendous clarity, shattering industry-pitched ideologies, while offering insight and direction in making such important financial decisions.
There comes a time as a young person when you need to have a financial plan as a form of backup for uncertainties like the Covid-19. A certified financial planner (CFP)/retirement planner (retirement planning professional) will help put you in the safe zone. Matters like investment management, tax planning, estate management, and several other related private wealth matters are necessary for the sustenance of wealth and comfort.
At PillarWM (a fee-only financial planner), business planning is one thing; our retirement planners offer you the best investment strategies with solid investment advice to see you through your investing days and retirement life. Investors with $10 million or more can learn about financial planning and retirement strategies with the help of our special guide.
The Importance of Retirement Planning
At a point in your financial life, you begin to think about retirement. You may not worry about which retirement planning professionals to work with but you want to save for the future. Whether you plan to do this in your 40s or your 60s, it is essential to have a robust retirement plan in place before stepping down from your career. Some reasons to note include:
Safeguarding Your Wealth
Individuals with high-powered careers spend many years pursuing wealth building activities. However, these activities may cease or take a backseat following your retirement. If you do not have any passive income sources in place, it will cost you your savings to keep your lifestyle propped up in retirement. This may not seem concerning initially. After all, you may have accrued a significant quantity of wealth by the time you retire.
Unfortunately, living off your savings rather than investments does come at a steep price. You will have to witness your savings shrink over time and may be forced to cut back on expenses used to maintain your current lifestyle. At a certain point, you will need to downgrade your lifestyle to avoid selling off your assets. You can prevent this scenario with the help of proper retirement planning. By creating a robust retirement plan, you can set up passive income sources to sustain your lifestyle without dipping into your savings. We discuss strategies for protecting your wealth into the future in our book The Art of Protecting Ultra-High Net Worth Portfolios and Estates – Strategies For Families Worth $25 Million To $500 Million.
Dealing With Unforeseen Challenges
More and more retirees are going into retirement, not knowing what the future holds. Covid-19 is a perfect example. Working with retirement planning professionals means that you are taking a step to solve any unforeseen issues that might cost you your comfort at old age. Although once you reach retirement age, you may no longer be as involved with wealth and asset management as you once were, you will still be able to carry your financial status along and even improve it by working with a retirement planning professional.
A retirement planning professional will help you create a solid financial plan and tailor it to your investment philosophy so that you are carried along. To get around this issue, it is vital to have strategies in place to help you navigate through future challenges. Get in touch with our wealth managers to learn more about wealth protection in retirement.
Combating Inflation
If you do the cost estimates of things you used to buy for cheap as a younger individual, you will note that they have grown high in price. The cost of buying a car in the 90s is definitely not what it is today. Preparing for retirement with the help of professionals will help you scale through the recurrent periods of persistent rise in the prices of goods.
Maybe you are a member of your community club or organize some friendly home events; if you don't start to plan now, you may find it difficult to pay the dues when the time comes. At PillarWM, we have a team of retirement planning professionals with a successful work history that other clients reckon with. You can read customer reviews to clear your doubt. We discuss some portfolio growth strategies in our special guide.
Managing Your Taxes
Following your retirement, you may still be required to pay taxes on your investments. However, you may feel a greater pinch from taxes without an active income source than you normally would. At Pillar Wealth Management, we can design your retirement plan with tested and trusted tax strategies that will help maintain your financial goals. Work with a retirement planning professional today and secure your future.
Ownership Transfer
A commonly overlooked aspect of retirement planning you should note is estate planning. At Pillar Wealth Management, we offer estate planning advice in addition to our retirement planning offers. However, we believe estate planning is a crucial component in any retirement goal.
Depending on your financial goals, you may want to pass your business or assets to your children or other beneficiaries. However, without the right transfer plan, your assets may be subject to transfer taxes. In addition to this, they may end up in the control of someone who isn't suited to run them as you intended. After signing over ownership, you may not have the option of taking back control of the business.
Aside from giving you top-notch investment advice, our wealth managers can craft a retirement plan that takes these scenarios into account. They can help you create a more tax-efficient transfer plan and choose a beneficiary suited to manage your business or assets as you intended. Sign up for a free special consultation on our website.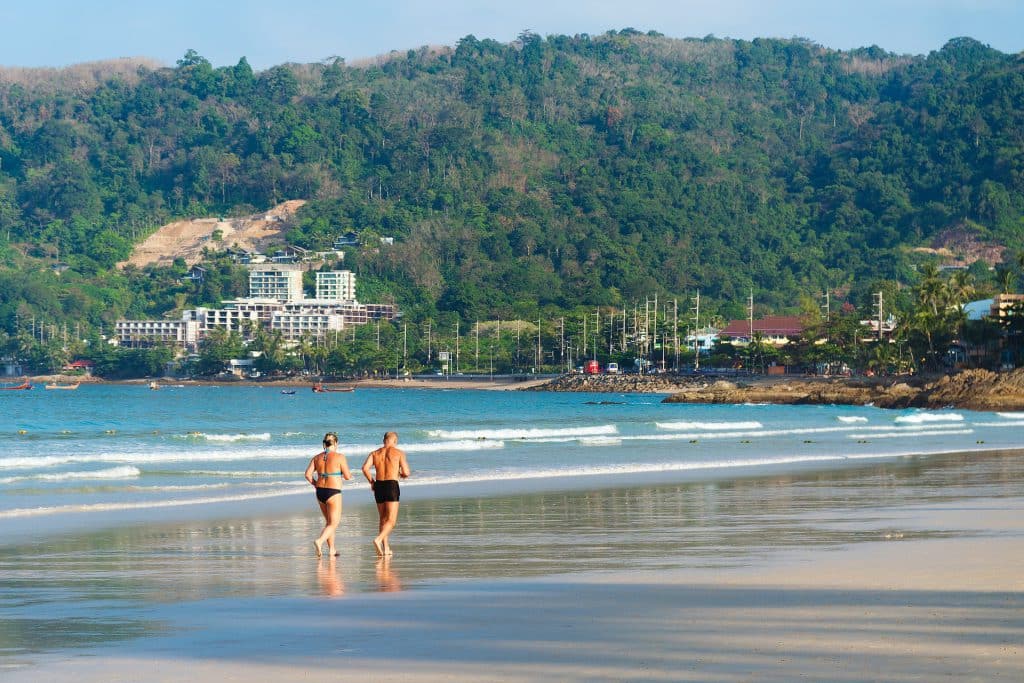 What Does A Retirement Planner Do?
No one understands your finances and long-term goals better than you do. However, there are many reasons to hire a wealth management firm to create your retirement plan.
A retirement planner generally provides financial planning advice and investment strategies to help you settle into a comfortable retirement.
Retirement planning professionals are usually financial planners or advisors who specialize in creating retirement plans. However, wealth managers also offer retirement planning services. The latter is better suited for this purpose for many reasons. These include:
Providing Services to High Net Worth and Ultra-High Net Worth Individuals
At Pillar Wealth Management, we take on only clients with $5 million to $500 million in liquid investment assets. Our wealth advisors have extensive experience studying portfolios, creating plans, developing investment strategies, and offering advice to wealthy individuals. They have dealt with the stock market and know trends that they can give you proper financial advice on.
By contrast, some retirement planners/advisors deal with small issues like student loans, credit cards, and others, making it difficult for them to focus on a cause. We discuss the steps for choosing a financial advisor in our special guide.
Extensive Wealth Management Knowledge
This includes asset management, estate planning, wealth transfer, and tax management. At PillarWM, our wealth managers possess an in-depth understanding of each of these services.
Their knowledge of finance and the quality they deliver goes beyond the prices they ask you to pay. When you speak with a pro, you'll know Hutch and Chris are the best in the business. Learn more about our services by signing up for a free consultation. Get our cost estimates and cost information to gain strong financial and social security earlier in life.
When to work with a certified financial planner (CFP)/professionals
It is never too early to set yourself up for retirement; however, it can get too late. The best time to start making financial decisions and working with a retirement planning professional is now that you are still working. There will come a time when you cannot properly trace your cash flow, then financial advice or investment advice will be vital.
How Do I Find Retirement Planning services near me? (Washington DC, others)
Finding a retirement planner or financial planning services is not as difficult as you may be thinking. There will most definitely be a pro financial advisor or team of retirement planning experts willing to offer comprehensive financial services to you in your community. If you cannot find one in your community, check out an online directory, read customer reviews, and choose the right pro financial advisor/firm/team of retirement experts for your social security.
You may struggle to find retirement planners and a financial planning team who can do a better job than our financial planning pro at PillarWM. Contact pros at PillarWM today and get started.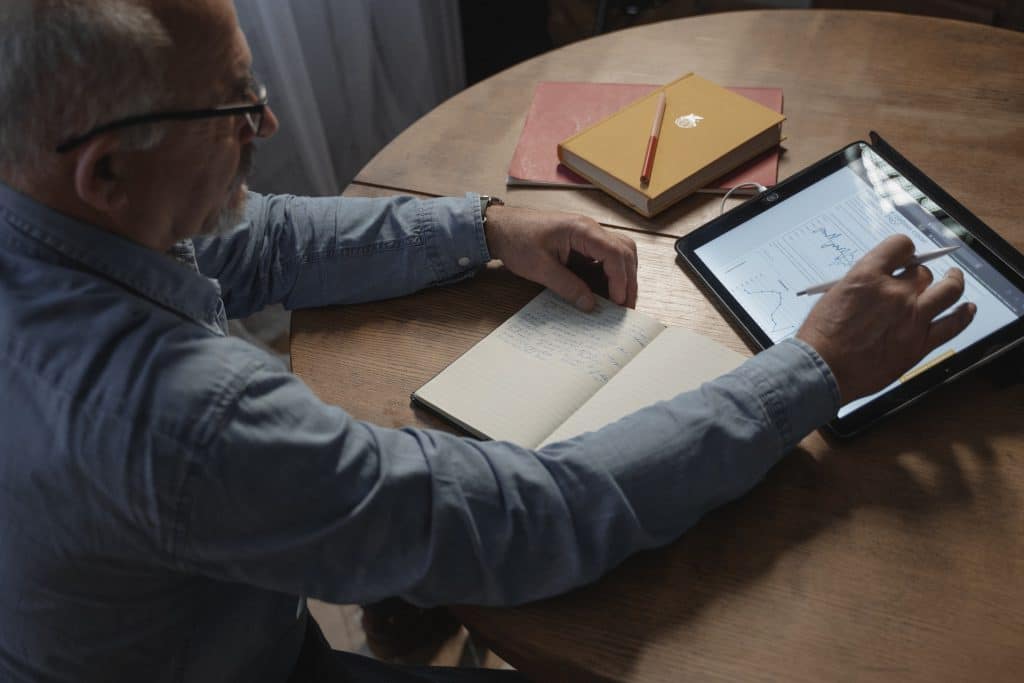 Why Choose PillarWM
Planning for social security is not like planning for home events. Financial planning entails that you contact pros who have a successful work history and positive customer reviews. At our firm, we have more experience than most money inclined firms that claim to do what we do. Look below:
Experience
At PillarWM, we possess 60+ years of experience providing services to big-money clients. Our wealth advisors have helped numerous individuals overcome challenges related to retirement planning. This includes market fluctuations, as discussed in our guide for investors with $10 million or more. We gain more knowledge with each client we take on and are continually working to improve the advice we offer and the plans we create.
A retirement planning professional
If you are thinking of taking your finances to the next level and safeguarding your money for retirement, you might want to contact pros to do the job for you.
Fixed Fees
We are more concerned about your progress than what's in it for us. We charge a fixed annual fee and encourage our clients to reach out to our wealth managers as frequently as they need to. This is to avoid the drawbacks associated with ordinary financial advisors who charge clients each time their services are used. You can look up our cost information for more.
Custom Plans
Ordinary financial advisors offer their clients simple one-size-fits-all solutions for meeting their financial goals. However, this approach doesn't account for the uniqueness of each high net worth individual's needs. At PillarWM, our wealth managers can create custom plans to help you achieve your short term and long term financial goals in a manner that suits you best. You don't need to have in-depth knowledge of money to use our services.
We tailor our plans so that they are easy for clients to understand. We can help you execute advanced financial strategies with the confidence of someone with decades of experience in this area. You can learn about some of our advanced techniques in this guide to improving portfolio performance.
Contact our advisor for proper advice and guidance and also to request our prices/cost estimates/cost information, work history, risk tolerance, and more. So get started with your retirement planning process today. Get in touch with Pillar Wealth Management and sign up for a free consultation with our wealth management experts.
Related Post