Top Financial Advisors Near Me
Whether you are in the heart of Washington, DC, or anywhere else in the US, as an ultra-wealthy individual, having your assets under management is the most important decision you will make. Most people are not skilled enough to grapple with complicated issues like taxes, portfolio diversification, investing strategies, cash flow management, risk assessment, dividend earning, funds for charitable giving, and retirement income planning. So, it is only wise to use the services of a certified financial planner (CFP) to manage your wealth and build a strong financial position in the long run.
If you are a super-wealthy individual, we recommend reading
 our guide on how to find a financial advisor for managing over $10 million in liquid assets.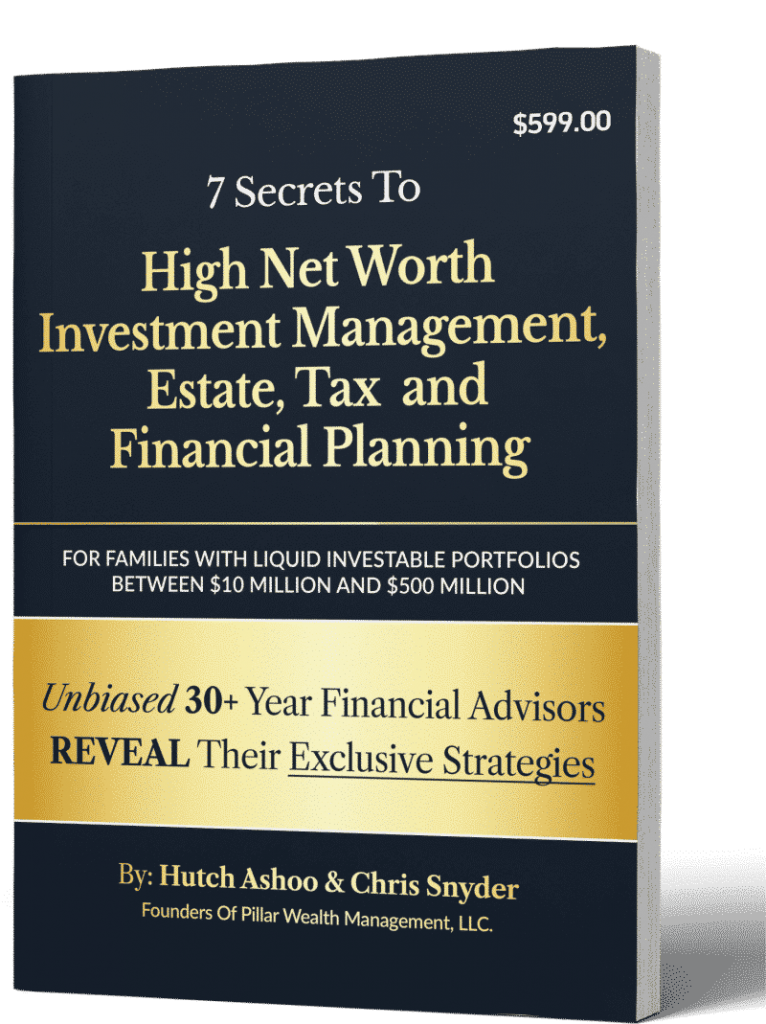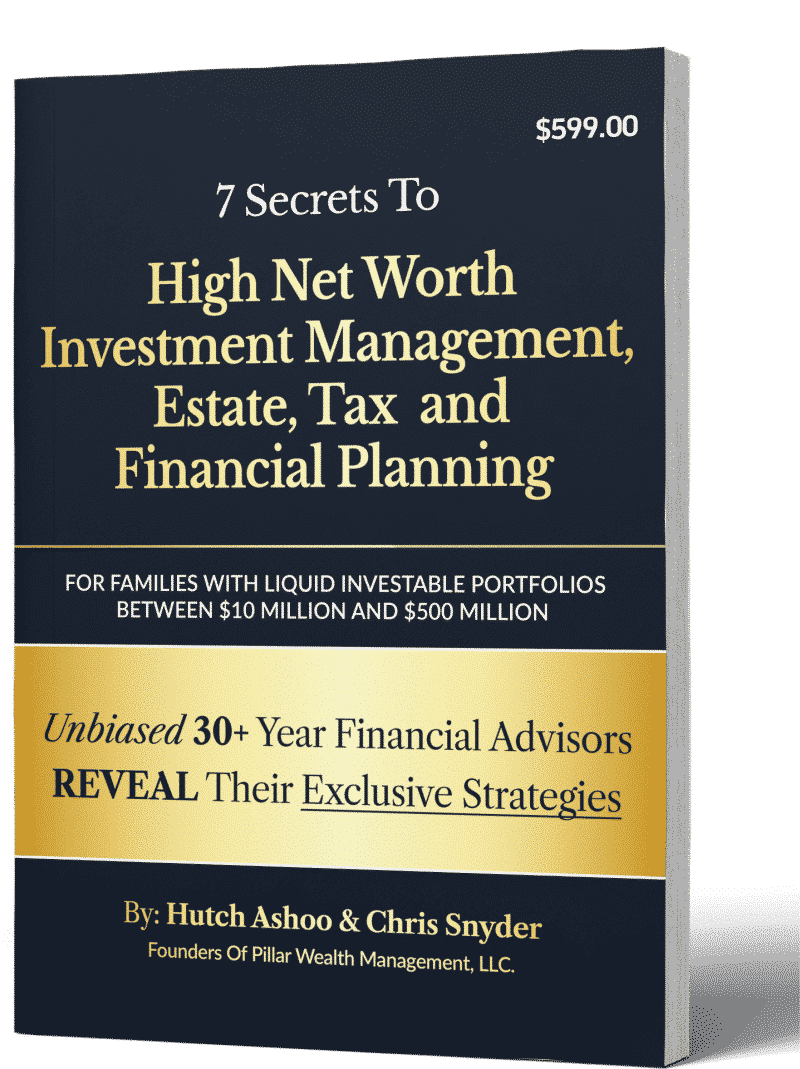 STRATEGIES FOR FAMILIES WORTH $5 MILLION TO $500 MILLION
7 Secrets To High Net Worth Investment Management, Estate, Tax and Financial Planning

The insights you'll discover from our published book will help you integrate a variety of wealth management tools with financial planning, providing guidance for your future security alongside complex financial strategies, so your human and financial capital will both flourish.
Clients frequently share with us how the knowledge gained from this book helped provide them tremendous clarity, shattering industry-pitched ideologies, while offering insight and direction in making such important financial decisions.
Pillar Wealth Management (rights reserved) is a fee-only financial management firm with over 60 years of combined experience improving the financial lives of individuals and families. We understand the essential aspects of financial planning and wealth management for wealthy families with a wealth management minimum of $5 million to $500 million in liquid assets. Click here to book a free consultation with us.
If you're searching for "financial advisors near me," that means you're wondering what they do, which ones are top-rated, how much their wealth management services cost, and how to find the right advisor for you, then this is a guide to help you understand the job and need for financial advisors. It will answer all questions from their charging system to finding top-rated advisors near you.
Mind you, not all "financial advisors near me" will be the same. For instance, we at Pillar Wealth Management, (rights reserved) LLC specialize in helping families with between $5 million to $500 million in investable liquid assets. We offer local financial services and global financial services. Other top advisors may cater to lower minimums. What you need to find is an expert financial advisor that caters to folks of your financial caliber.
Understanding Financial Advisors
A financial adviser is a professional with strong financial knowledge and expertise. The biggest financial advisers are experienced enough to provide different services like wealth management, asset management, investment management, portfolio management, estate planning, tax planning, acquiring or selling a business, and retirement planning.
All financial advisory firms have to get a license to carry out businesses with high-net-worth investors and corporate clients. They make financial decisions and execute imperative strategies on behalf of potential clients. Advisors at large money management firms may or may not be a good fit for super-wealthy Investors & Families.
To learn more about how to find a financial adviser for ultra-wealthy families, click here to read our exclusive guide.
How much does it cost to talk to a financial advisor?
Some financial advisor services are free. Some advisors charge an hourly fee, ranging from $200-$400 per hour. They may charge a yearly fee of up to $7,000 or a percentage of the value of your assets.
Is it worth the money to hire a financial advisor?
It is worthwhile to hire a wealth manager if you have assets that need managing, or you find investing too confusing and complex, or you have too many assets to manage on your own.
How much money should you have before using a financial advisor?
Generally speaking, you should have at least $100,000 in savings before hiring a financial advisor. Keep in mind that investing can be risky, so be willing to lose some of that money.
How much does a one off financial advisor cost?
For a single consultation, a financial advisor may charge you a flat fee of $1,000 or more. They may charge you by the hour (at lease $200/hr) or a percentage of the value of the assets they manage.
You can use the links above as search tools to access the content more easily.
Roles of Top Financial Advisors
Since the top financial advisors are specialists in the field, you would expect "financial advisors near me" to perform several tasks like;
Financial Planning

Risk Management

Tax Planning

Retirement Planning

Investment Management and Selection

Real Estate Planning services

Legacy Planning

Debt Management

Business Planning
Aside from doing all these, "financial advisors near me" would probably work with other professionals like tax accountants, insurance advisers, institution wealth advisers, social security optimization, and other money advisers to ensure that my funds are well accounted for.
Do Ultra-High Net Worth Families Need Financial Advisors?
If you are thinking about what a top wealth adviser does and how they can benefit super-rich investors, you must know that wealthy clients hire dedicated wealth advisors and qualified wealth managers to meet their long-term financial objectives in the shortest period. A reliable advisor is a well-educated, credentialed, and financial professional who can serve your financial interests in the best possible manner. They can assist potential investors in many ways, including providing investment management services. Read below:
Manage Money Better
Wealthy families need the support of advisors because of their level of expertise. They are field experts and understand more about managing money and investing than most investors. They can guide potential investors to make better choices so that they can earn high returns in both the short-run and long-run.
As much as wealthy individuals need investment advice, average individuals also need help with matters like credit card management, loans, and others. The best financial advisors can cater to the needs of all these clients.
To learn more about how financial advisors help direct portfolio performance, click here to read our guide.
Separate Emotions from Decision-Making
Financial markets have no place for emotions. An experienced financial planning expert helps wealthy investors stay on track so they can make decisions that are not backed by emotions. Financial advisors guide clients to buy on market lows and sell on market highs. They direct potential investors to benefit from the sudden dips of financial markets. Schedule a Call with CEO and Co-Founder Hutch Ashoo
Devise Best Strategies for financial planning
"Financial advisors near me" will be able to devise appropriate strategies for ultra-wealthy clients so that they can positively improve their finances. They run a market analysis to understand investments best suited for their investors.
If you are interested in learning more about this, order a free hardcover of our book, The Art of Protecting Ultra-High Net Worth Portfolios and Estates – Strategies For Families Worth $25 Million To $500 Million.
Handle Interaction between Investments & Taxes
You should expect expert "financial advisors near me" and financial planning firms to offer great assistance in investment management and tax issues. It is difficult for investors to understand everything about tax laws. They can introduce alternative investment options, such as hedge funds and venture capital, to earn tax-adjusted returns. They can open up the world of investment based on the tax ecosystem so that big players can employ effective investment strategies to maximize after-tax returns.
If you have over $10 million in liquid assets and need financial planning services or one of the "financial advisors near me," who will prioritize tax minimization, click here to read our exclusive guide.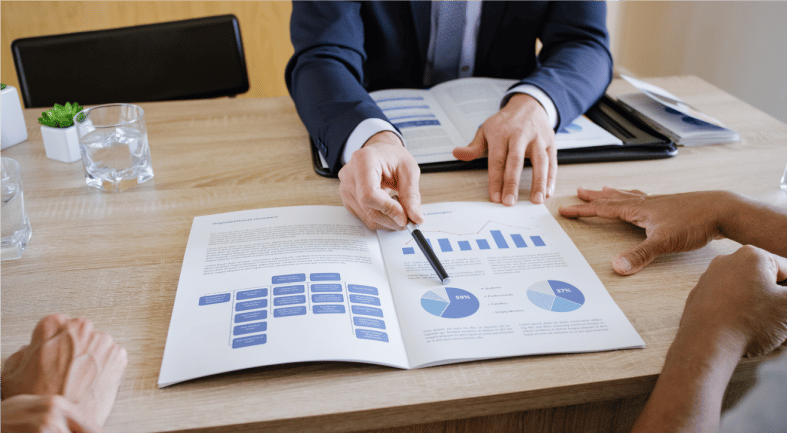 Adjust Financial Plans
Financial advisors thoroughly direct clients to deal with changing life circumstances. They can help modify strategies and adjust financial plans to cope with changing needs, market fluctuations, and current economic conditions.
Focus on Actions
It is vital to take active steps to make the most out of the assets. Since most investors are too occupied and uncertain about what necessary actions to take, you would want to work with "financial advisors near me" to smoothly handle all the investment strategies. They will make sure that all resources are being deployed in the best possible way.
Insurance management
Whether life insurance or business insurance (family office), "financial advisors near me" will include insurance specialists, helping to secure your assets and life against unforeseen situations. Our founders finished from ivy league schools with top results and have been some of the biggest financial advisors in Washington DC, replicating that result in the life of every client they work with.
The Real Cost of Top Financial Advisors
As you try to find "financial advisors near me," you will learn that big financial advisors and financial planning firms are a real need for affluent investors and wealthy families. If you wonder how much financial adviser and financial planning services cost, you need to review this section carefully. Generally speaking, top-rated "financial advisors near me" will aim to charge rational fees as they work hard to drive their investors' investment portfolios successfully. They aim to earn rewards in exchange for their valuable services.
Typically, the fee is around 1% annually, but with some firms like Pillar Wealth Management, LLC, where we cater to clients with a minimum of 45 million and up to $500 million, our fees are discounted once at $10 million. Some advisors equally opt for an annual fee or even an hourly consultation fee. However, for some of the best in this niche, they typically charge a fee of 1% of assets that they are managing. You should certainly ask "financial advisors near me" what they charge for their services.
Furthermore, ultra-wealthy clients have to pay less for quality financial advice because they obtain valued and promising services to grow their assets against fees charged. Searching for expert "financial advisors near me" reveals that some offer personalized services and unique financial plans to their clients for an annual fee of 0.3% of assets.
Breaking Down wealth adviser/Financial Adviser Fee Structures
In 2020, any "financial advisors near me" would typically charge a flat fee of $1500 to $2500 for a one-time full-fledged financial plan. There are five ways they charge for their investment advisory services: fixed fees, hourly charges, commissions, percentage of assets under management, and performance-based fees. Make sure to ask any "financial advisors near me" to discuss their fee structure with you.
Average fees for "financial advisors near me"
Percentage of Assets Under Management
Fixed Fees
Hourly Fees
Each one of the above fees does not affect the level of financial planning service we will offer you. Remember that our company is a fee-only firm, which means we will not charge anything on your cash flow after paying the fees. Any "financial advisors near me" should be able to make their fee structure understandable to their clients.
Finding the Top Financial Advisor/Financial planning service
If you are considering, "how to check the top-rated financial advisors near me?" or "how to find the right financial advisors near me?", you should first speak to your wealthy friends to independently pick an expert wealth management company. People share personal experiences that can substantially benefit you in more than one way. You can also search online to pin down a few big "financial advisors near me" offering fee-based local financial services. Reputable websites are an excellent place to start. You can check on the performance ratings of these "financial advisors near me" to learn more about each advisory firm. Here are five steps to choose the best financial adviser to serve super-wealthy individuals' increasingly complex needs.
Determine Type of Advisor
First and foremost, you need to identify which specialist from your search for "financial advisors near me" can help you with your needs. You can determine different types of financial advisors based on how they get paid. Up next, you can shortlist a financial advisor from your search for "financial advisors near me," depending on how much help you need: asset management, financial planning, investment strategy considerations, and hourly consultation. When it comes to managing massive wealth and portfolios, you should look for qualified and appropriate-fit "financial advisors near me." It would be best if you also had an advisor that will take your charitable giving into account.
Select a Fiduciary
Find a fiduciary to well serve your investment interests. It is recommended to look at "financial advisors near me" that perfectly meet this standard. A fiduciary advisor is ethically, morally, and legally required to do what is in the clients' best interest.
Consider the Five Core Areas
In addition to the fiduciary factor, wealthy clients need to consider all the five core areas to make the most of their wealth and diversify portfolios in the best possible manner. The core areas are income planning, investment planning, tax planning, health care planning, and estate/legacy planning. It is imperative that any "financial advisors near me" offer written plans to ensure stable income, handle the matter of inflation promptly, cover rising health care costs, pay for taxes, and cater to program & policy changes made by the government.
Look for Reputable Credentials
High net-worth investors need to look for "financial advisors near me" that are CFPs (Certified Financial Planners), CFA (Certified Financial Analysts), or CPAs (Certified Public Accountants). Potential investors can also look for financial planners or advisors who are PFSs (Personal Finance Specialists). It should also be checked if particular "financial advisors near me" are members of NAPFA (National Association of Personal Financial Advisors), a financial planning trade organization established in 1983. Check on the records to verify credentials by looking at backend records and the history of financial advisors with the Financial Industry Regulatory Authority (FINRA), the Security and Exchange Commission (SEC), and the CFP Board. This will help ensure whether the advisor is offering legitimate services.
Cost for Services
The costs for payments and services are an essential factor to consider when searching for "financial advisors near me." The fees for advisory services depend on the particular needs of clients. Financial advisers are suggested to provide expected costs for their services. Wealthy investors can also enquire with advisory firms whether the price will be based on a flat annual percentage, an advisor's hourly rates, or a percentage in the form of commission.
Why You Need To Start Searching For Top "Financial advisors near me"
When you don't feel confident in your investment choices, you need unbiased third-party opinions to help you make, keep, and grow your wealth. It would be best if you started caring for your investments to mitigate potential risks. Look at the following points to help you identify the signs when you need to seriously consider "financial advisors near me":
You Desire to Hit Maximum Investment Opportunities
Understandably, investing your money in a financial market, business idea, or piece of real estate can be an excellent opportunity to gain maximum benefits in the future. Unfortunately, hitting opportunities without proper analysis can result in severe financial losses. Therefore, hiring a financial analyst is imperative to help you achieve high returns on low-risk investment opportunities.
You Have Specific Financial Goals
"Financial advisors near me" can well serve the specific financial goals you have for the long-run. It is thought-provoking to make the most out of your investments. But with professional support, you can receive market insights on how to make the right investment decisions to earn high returns in the future. At Pillar Wealth Management, we can help you reach your financial goals without taking on excessive risks while ensuring high performance. To learn more about this, click here to read our guide on the 5 critical shifts that influence portfolio performance.
You Failed to Employ a Disciplined Process
Hunches don't work in the financial world. If you have repetitively failed to choose and stick to appropriate investment strategies, then it's time to hire a financial adviser with extensive investment experience. This way, you can potentially save your wealth from market rumors.
You Need to Balance Your Investment Portfolio
If you feel reluctant to make productive moves or execute effective risk management strategies, the chances are high that you end up selling well-performing assets. You can ruin your entire investment portfolio. However, many of the "financial advisors near me" can help you avoid rebalancing a portfolio.
You Need to Cope with Changes in the Market
The financial market is a highly volatile place. It would help if you learned the art of dealing with market tops and bottoms. Many of the "financial advisors near me" can guide you to maintain your portfolio's value during the ups and downs of the market. With professional assistance, you can take advantage of adverse market conditions. An advisor helps you pull the trigger so that you can "buy low, sell high."
You Aren't on the Same Page with Your Current Advisors.
Hire a qualified advisor if you are facing constant financial tensions. If you have drastically different investment strategies compared with your current advisors, it's a sign that you should start working with a new investment advisor to gain clarity and employ a productive strategy.
You Want to Start Saving for Retirement
Retirement planning is one of the most important things to do as a young earner. It prepares you for life after work is done. The top-rated "financial advisors near me" will not only invest your money but also sit down with you to tailor an investment portfolio that will help you reach your retirement goals. Among the "financial advisors near me," you will find one who understands that investments grow over time. They enable you to figure out ways to earn maximum returns so that you can build a retirement income portfolio.
You Have Insurance Concerns
You should turn to a financial expert if you have trouble selecting the right insurance policy. Insurance policies for ultra-wealthy consumers are often hard to understand. Your decision can make a huge difference when it is backed by the opinions of an advisor who holds substantial knowledge and financial literacy. You can decide on coverage that matches your demands. This is another area where a fiduciary and fee-only financial advisor will offer unbiased advice since they cannot collect any commissions from insurance policies.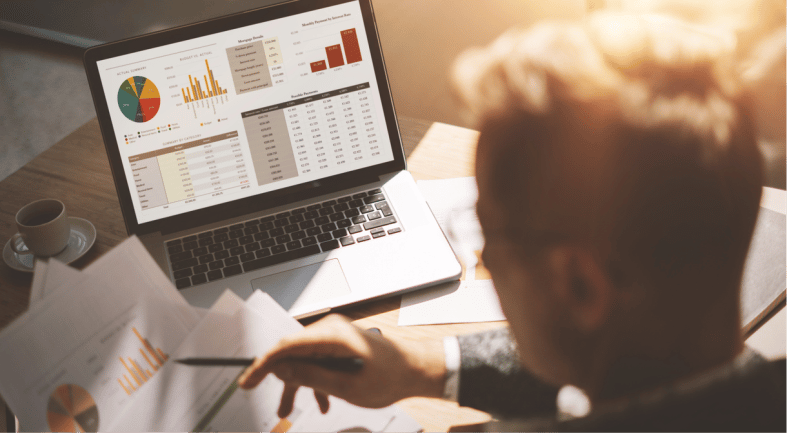 Pillar's Private wealth management offers custom, sophisticated, and trusted financial advice to high net worth investors with between $5 million and $500 million of investable assets. Our expert founders understand the complex paradigm of investing and planning and can provide you with the advice you seek.
What Makes Pillar WM wealth services different?
As an investor, you may wonder what separating Pillar WM from the other wealth management firms. It is a reasonable question, especially when you are looking for somebody that you can trust to manage your wealth. A financial advisor can come up with a financial strategy that is specifically for a UHNW client. Since we believe that each case needs a personalized approach so you should never generalize it. Therefore, this is the main reason that differentiates us from any other wealth management firm. And when you are working with us in the future, you will know that our service can actually help you reach your financial goals.
Conclusion
PillarWM is one fee-only firm involved in wealth management, financial planning, retirement planning, estate planning, investment management, and several other wealth planning services. After one year of working with Hutch and Chris, who are certified financial planners (CFPs), you will notice a great turnaround in your financial life that you will not consider ever working with any other financial planner.
Our fee-based services are offered to clients in Washington DC, New York, and several other places in the US. You will find us in any big listing you search for as our services are promoted on the biggest directories.
Related Post