Best Wealth Management Firms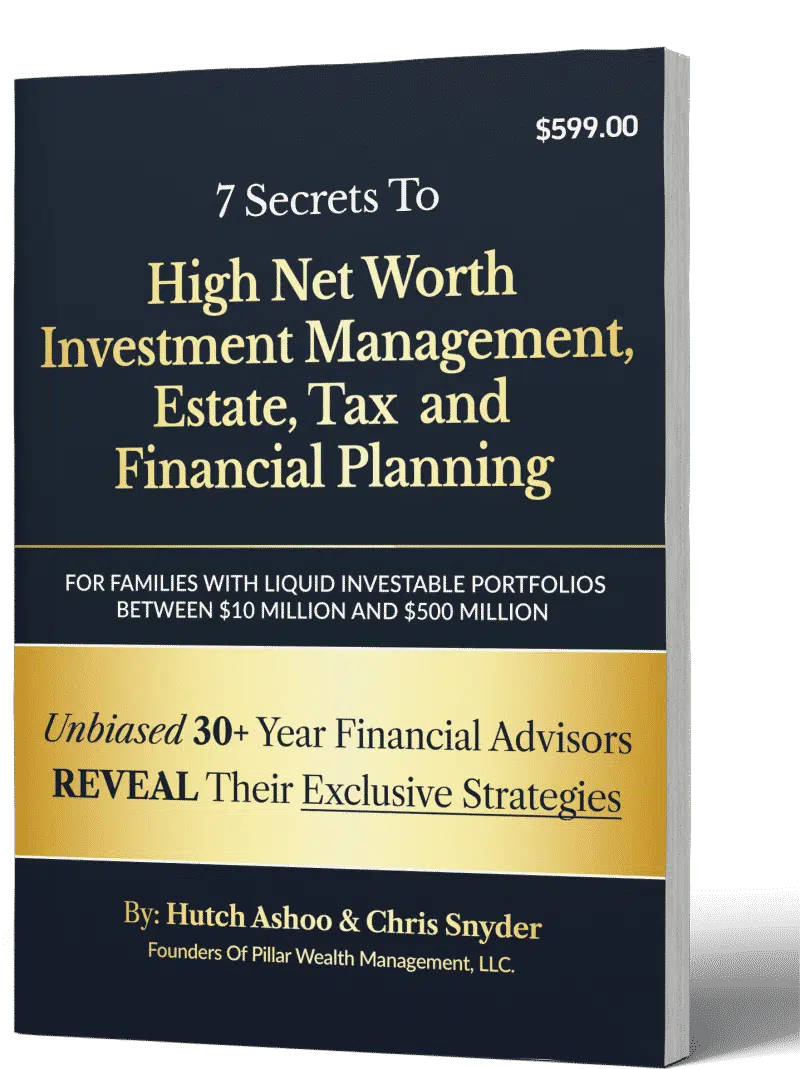 STRATEGIES FOR FAMILIES WORTH $5 MILLION TO $500 MILLION
7 Secrets To High Net Worth Investment Management, Estate, Tax and Financial Planning
The insights you'll discover from our published book will help you integrate a variety of wealth management tools with financial planning, providing guidance for your future security alongside complex financial strategies, so your human and financial capital will both flourish.
Clients frequently share with us how the knowledge gained from this book helped provide them tremendous clarity, shattering industry-pitched ideologies, while offering insight and direction in making such important financial decisions.
Pillar Wealth Management has over 60 years of combined experience in offering fiduciary advisory services to individuals having $5 million to $500 million in liquid assets. Click here to arrange a free consultation with us.
In this article, we discuss what wealth managers do and how the best wealth management firms operate.
A wealth manager's job is to secure your standard of living and your financial future, something you work very hard for every day of your life.
Fulfilling these responsibilities requires a practical thought process, good risk management, reasonable cost control, and a proactive (rather than reactive) attitude. Those wealth management firms who embed these qualities in their processes tend to come out relatively unscathed from a major crisis. Those who do not establish a process and rather follow a generic strategy end up suffering the most.
In order to know which wealth management firms have the best 10 year performance, which wealth management firms are recognized to be the best, what wealth management is and do you need it, we have prepared the following guide.
We will try and answer all these questions below, in what we consider to be the ultimate guide to find the best wealth manager. For those of you who have over $5 million and up to $500 million, we recommend you download this guide.
What Is Wealth Management, And Do You Need It?
Wealth management is an advisory service that is used by high-net-worth individuals. It covers a wide range of aspects of a person's financial life.
These aspects can include estate planning, retirement planning, tax planning, investment management, legal and financial planning, risk management, insurance, and philanthropic planning. Wealth managers often have a minimum account size threshold that they adhere to.
Wealth management is a specific form of financial advisory. Simply put, it is the highest level of financial planning service. If you work with an established wealth management firm like Pillar Wealth Management LLC, then the big advantage is that you only deal with one wealth manager who specializes in helping families with $5 million to $500 million in liquid portfolios.
This characteristic is one of the primary differences between a generic financial advisor and a wealth manager.
The benefit of working with a trusted wealth management firm is that one entity handles all aspects of your financial life for you. And even if your wealth manager is not an expert in a particular area, then the right expert could be engaged by your wealth manager for a specific purpose. But, you will still deal with only one wealth manager.
Secondly, financial advisors tend to service accounts of all sizes. They may, therefore, not be ideally positioned to handle portfolios worth a few million dollars. High-net-worth accounts have their own nuances. Hence, their management requires someone who is experienced in dealing with large account sizes.
Another point worth noting is that some financial advisors are domain experts. Therefore, you may end up having to engage the services of multiple such experts to handle various aspects of your finances. Dealing with each one of them can be time-consuming. Besides, each of those advisors may not work in a coordinated manner.
Lastly, an important benefit of engaging a successful wealth management firm is that you get a custom plan which works for your situation. A personalized approach means that the wealth manager can tailor his/her efforts to fit your needs.
There is no cookie-cutter, one-formula-for-all strategy. You may be surprised to know how many "big name" advisory firms simply copy-paste the same financial plans for many of their clients. That is really surprising given the fact that each person's financial situation is unique and different. Wealth management is one field where standardization does not work well for the client.
We hope that by now, you are starting to find answers to the questions "What is wealth management, and do you need it?"
If you are someone who has a few million dollars to a few hundred million dollars in liquid investable assets, and if you need a single entity to craft and execute a financial plan that fulfills your dreams, your goals, and secures your lifestyle, then wealth management is for you.
If you do not yet have the kind of assets mentioned above or are looking for services in specific areas of your financial life, and if the lowest cost (for such services) is a top priority, then perhaps meeting a financial advisor may be a better idea.
If you are still unsure, then read this complimentary guide about wealth management and choosing the best advisor for investors with $10 million or more in liquid assets.
To be 100% transparent, we published this page to help filter through the mass influx of prospects, who come to us through our website and referrals, to gain only a handful of the right types of new clients who wish to engage us.
We enjoy working with high net worth and ultra-high net worth investors and families who want what we call financial serenity – the feeling that comes when you know your finances and the lifestyle you desire have been secured for life, and that you don't have to do any of the work to manage and maintain it because you hired a trusted advisor to take care of everything.
You see, our goal is to only accept 17 new clients this year. Clients who have from $5 million to $500 million in liquid investable assets to entrust us with on a 100% fee basis. No commissions and no products for sale.