Portfolio Management Services: Invest Wisely–PillarWM
Investing in high value assets can be rewarding for high net worth and ultra high net worth folks when it comes to growing their wealth. However, with high stakes come high risks. Seeking assistance from professional portfolio management services can give you a more well-informed experience in consolidating your current and future monetary needs. If you're an investor with $10+ million in liquid assets, our exclusive guide can help you find the best financial advisor for your financial needs.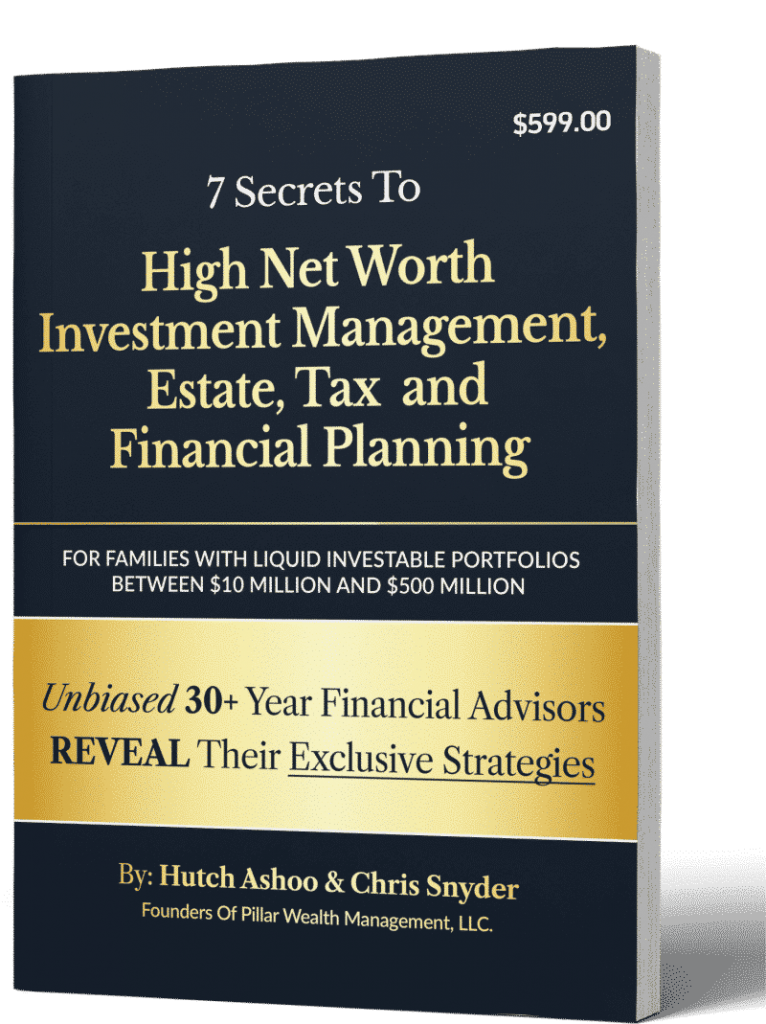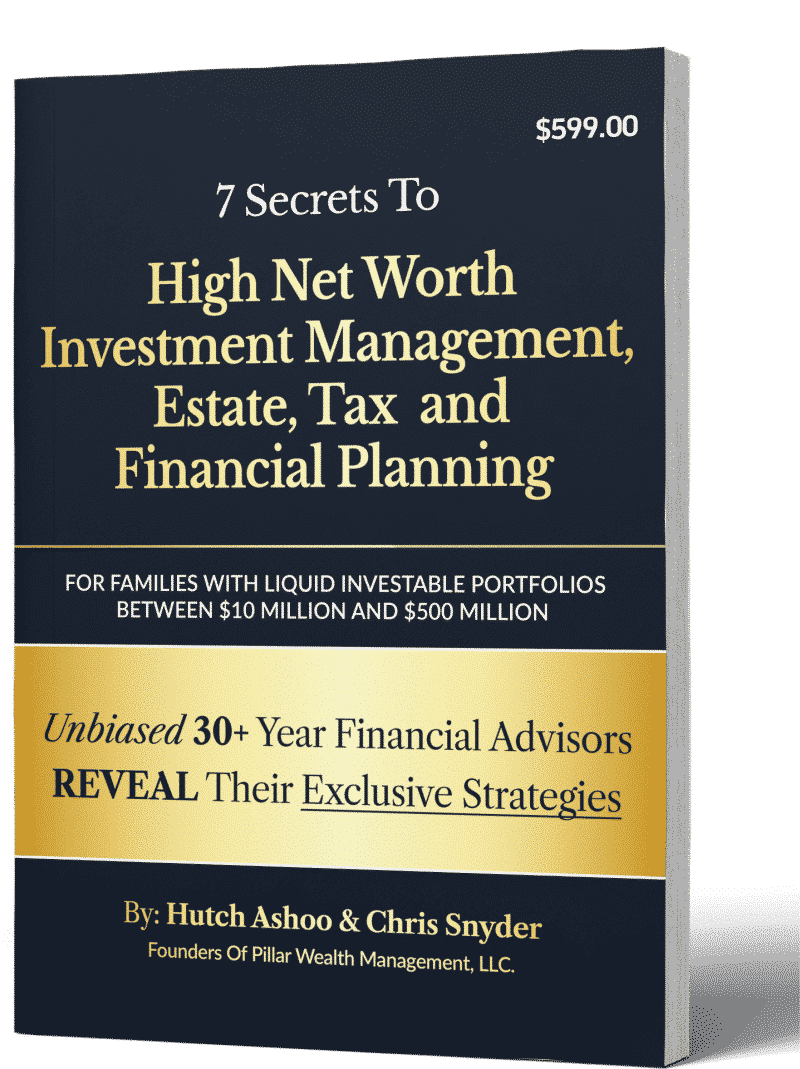 STRATEGIES FOR FAMILIES WORTH $5 MILLION TO $500 MILLION
7 Secrets To High Net Worth Investment Management, Estate, Tax and Financial Planning

The insights you'll discover from our published book will help you integrate a variety of wealth management tools with financial planning, providing guidance for your future security alongside complex financial strategies, so your human and financial capital will both flourish.
Clients frequently share with us how the knowledge gained from this book helped provide them tremendous clarity, shattering industry-pitched ideologies, while offering insight and direction in making such important financial decisions.
Your portfolio objectives give us direction in creating an investment portfolio that suits your financial standing. At Pillar Wealth Management, we specialize in helping investors with $5 million to $500 million in liquid investment assets.Contact us to learn more about your portfolio's performance.
What are Portfolios?
A combination of financial assets or financial investments is known as a 'portfolio.' These investments primarily consist of stocks and bonds, cash and cash equivalents, commodities, mutual funds and ETFs (exchange-traded funds). However, other assets can also be added to your portfolio collection. These can include real estate, private investments, high value items and even art pieces.
The wide range of valuable assets can become challenging to oversee.Many high net worth and ultra high net worth investors prefer to hire a professional, such as a financial advisor or an investment manager, to manage their portfolios. These experts have the expertise to estimate the return to risk ratio of your portfolio according to the value of your assets.
You have the option to approach banks, hedge funds, financial institutions, or individual investors. At Pillar Wealth Management, our team of experienced financial advisors can offer you personalized financial advice to design your portfolio to meet your needs. Use this opportunity to start a conversation with one of our experts.
Different Kinds of Portfolios
Portfolios tend to vary a great deal with respect to the investor themselves and the financial manager. Some investors may prefer keeping multiple portfolios, each structured for a specific purpose or strategy.
Most portfolios come under three broad categories.
Income Portfolios
Income portfolios offer more security, as they focus on fortifying a regular income from your investments, with little or no capital gains.They mostly comprise of coupon-yielding bonds and dividend-paying stocks.
Growth Portfolios
The name itself indicates that growth portfolios focus on increasing your wealth. They are high-risk, high-reward portfolios which involve investing in newer companies or industries that have a high growth potential.
Value Portfolios
Investors go for value portfolios when they want to focus more on risk management. Value investing takes advantage of bargaining low value assets to ensure a safety-net for recessions.
In addition to the abovementioned categories, portfolios are also classified into hybrid, aggressive, defensive, equities-focused and speculative portfolios.
Portfolio investments expect a return or monetary growth over time. Strategic investments allow long-term security, while tactical investments help you achieve short-term gains.Hybrid portfolios consist of investing across an array of asset classes, thereby creating diversification.
Aggressive portfolios take high risks for high returns by investing in companies with a high growth potential. Defensive portfolios aim to safeguard your assets, focusing on investments that are resistant to downturns.
Speculative portfolios, like aggressive, also play into a high-risk profile. They could include stocks that are potential takeover targets, firms on the brink of a breakthrough product, or initial public offerings (IPOs).
Your profile and objectives will determine the type of portfolio you have.

Who Manages Portfolio Investments?
High net worth portfolio management requires knowledge and experience. Portfolio managers specialize in managing investment portfolios and optimizing them for maximum capital growth and minimal risk. Our guide discusses how you can maximize your portfolio growth using 5 critical shifts in your strategies.
Individual portfolio managers prioritize the earning goals of their clients. They study your financial status, risk tolerance, time horizon and use this information to form and manage your portfolio. They will analyze the performance of your portfolio and prepare periodic reports for you to go through.
Institutional portfolio managers have corporate or institutional investors as their clients. Their target is the financial growth and risk minimization of the institute as a whole.
Portfolio Management Services
Portfolio management services involve selecting and supervising multiple investments to meet your long-term financial objectives. Portfolio managers should be detail-oriented, client-focused, and equipped with the skill to use a combination of strategies on multiple assets to meet your financial goals, considering your time frame and risk confidence.
What to Look for in Portfolio Management Services
Any portfolio management service you opt for should be skilled in the art of selecting and supervising multiple investments to meet your long-term financial objectives. This is crucial for high net worth and ultra high net worth investors, who have numerous high-value assets dispersed across multiple accounts.
Portfolio managers should be detail-oriented, client-focused, and should be able to provide you with a quantitative analysis of your investment portfolio. They should be equipped with ample knowledge to use a combination of strategies on multiple assets to meet your financial goals.They will consider your time frame and confidence to take risks to narrow down the most suitable prospective investments.
If your next question is, "How do I find portfolio management services?" your best bet is to do some research. Look for a reputable financial firm with a clientele similar to your financial background. We highlight some of the qualities you should look for in a financial advisor in our Ultimate Guide.
How Does Portfolio Management Help?
If you're asking yourself, "Should I meet with a portfolio management services advisor?" you may want to know more about how it can benefit you.
Assembling a well-diversified portfolio allows you to allocate your investments amongst various asset categories, therefore reducing risk. Portfolio management can determine which areas you can invest in depending on your future goals and appetite for risk. A professional in this field knows which assets or resources to prioritize for which investments and can measure their performance to adjust their allocation as deemed necessary.
Efficient portfolio management services can help enhance your returns by implementing tried and tested strategies for high value assets. Our guide for investors with $10 million or more outlines some of these safe investment strategies. This systematic approach allows them to make timely and premeditated decisions that can give you long-term benefits while safeguarding your active income.
Who Needs Portfolio Management?
Wealthy individuals with high-value assets need an organized and well-structured method for their investment plan. Portfolio managers have the experience to offer that to them.
High net worth and ultra high net worth investors who are saving up for retirement are advised to take the assistance of portfolio management services. We talk more about how you can adapt your portfolio to secure your assets in our book – The Art of Protecting Ultra-High Net Worth Portfolios and Estates – Strategies For Families Worth $25 Million To $500 Million. While you may have enough wealth to sustain you through your retirement, you should want the certainty that your standard of living will remain the same. Unpredictable market fluctuations, inflation, taxes, interest rates and potential liabilities are factors that can leave a dent in your savings. Portfolio management will help you secure your future assets by taking calculated steps today. Portfolio Management: 9 Reasons High Net Worth Families Need it.

What Do Portfolio Management Services Offer?
Portfolio managers utilize a combination of methods and principles to manage your asset allocation and calculate portfolio performance and returns. Dividend weighing, capitalization-weighting, modern portfolio theory, equal weighting and the value at risk model are a few examples.
Portfolio management services determine the client's objective and investment goals to choose the most optimal asset class i.e., equities, real estate, bonds etc. Then, they strategize asset allocation by setting weights for each investment and rebalance it periodically according to deviations in expected returns. This gives more control over risk management.
If you're wondering, "How much money do I need to hire portfolio management services?" the amount depends on the type of service you're looking for. Are you looking for someone to only manage your investments or someone to assist you in your overall financial life? Our wealth managers at Pillar Wealth Management cover a multitude of financial aspects at a fixed, pre-disclosed rate. Get in touch with us to schedule a free consultation.
Additionally, portfolio management services can offer active and passive portfolio management. Passive management typically costs less than active portfolio management.
This is because active investing requires portfolio managers to keep an eye out for market trends, shifts in the economy, and policy changes. This data is used to determine the most advantageous time to buy or sell stocks for higher returns. In-depth research and expertise in market forecasting govern the success of actively managed investments.
On the other hand, passive investing is a safer option for investors with a low-risk profile. It uses the information from a particular market index to mimic the same results.
How can your portfolio be improved?
Ideally, your portfolio should have some degree of diversification and should clarify your risk tolerance. Your return objectives and time horizon should be clear, and you should always mention any financial constraints. This can include your current tax position, legal situation, liquidity needs and other circumstances.
That being said, there are always steps that you can take to improve your portfolio performance.
Asset Allocation
Some assets are more volatile than others, which is why asset allocation needs to be done with caution.
Individuals with aggressive portfolios lean more towards volatile assets such as growth stocks, while individuals with conservative portfolios opt for more stable investments such as bonds.
Portfolio managers use the nature of your portfolio to allocate your assets accordingly.
Diversification
Your portfolio manager can help you create a diversified portfolio to reduce volatility and maintain a stable risk to reward ratio. They accomplish this by investing in a broad category of assets.It is advised against relying on a single investment, as this increases the overall risk for the investor.
Rebalancing
Rebalancing at regular intervals is essential to reinstate your portfolio's original target for risk and return. It usually involves selling high-priced securities and re-investing in lower-priced securities.
Investment professionals advise diversification and optimization of your portfolio to achieve long-term financial goals. You can learn more about improving your portfolio's performance in our very own Performance Guide.
Conclusion
Investment portfolios are tailor made to the investor, according to their personality, financial standards and variety of assets. Enlisting a portfolio management service to assist you can go a long way in your wealth enhancement.
Portfolio managers or financial advisors are skilled in this field, with vast knowledge on how to tweak your profile to get you the results you desire.
Financial advisors at Pillar Wealth Management have over 60 years of experience in working with investors having $5 million to $500 million in liquid investment assets. Sign up for a free consultation with us today!