Florida Financial Advisors: How to Find One?
Is it common to wonder if you need advisors, can Florida financial advisors help you to manage your assets and optimize your investment portfolio when you have more than $10 million in investable assets? The simple answer is yes! Here's our ultimate guide to help you find the best financial advisor who can understand your financial situation and create the best financial plan for you.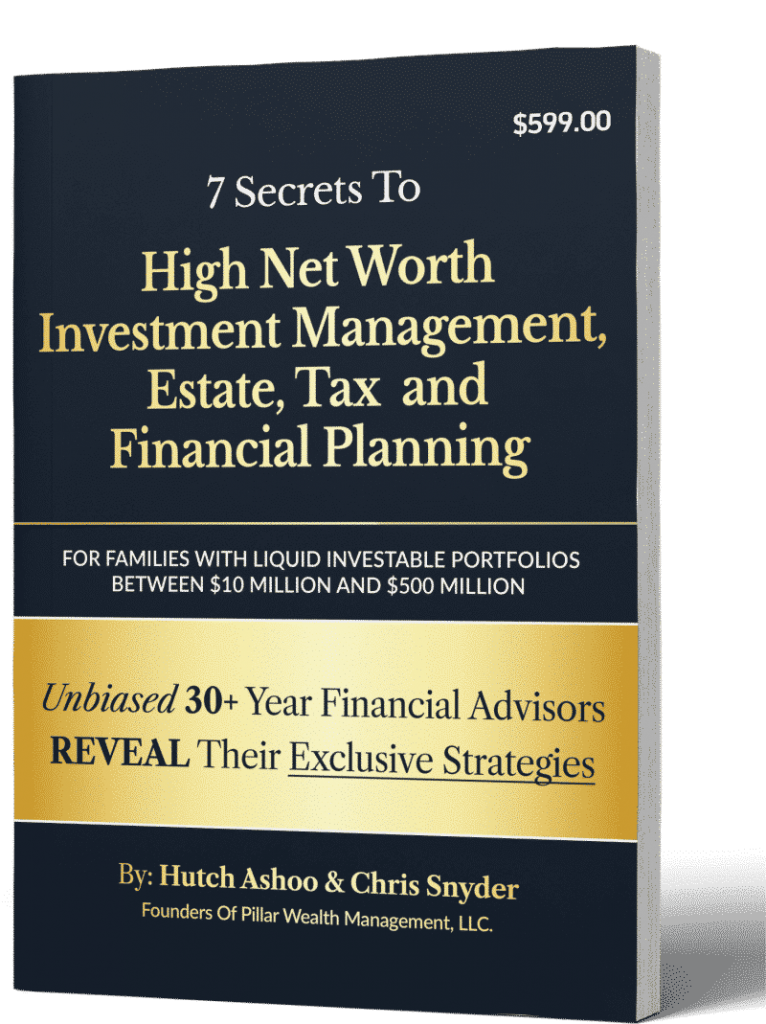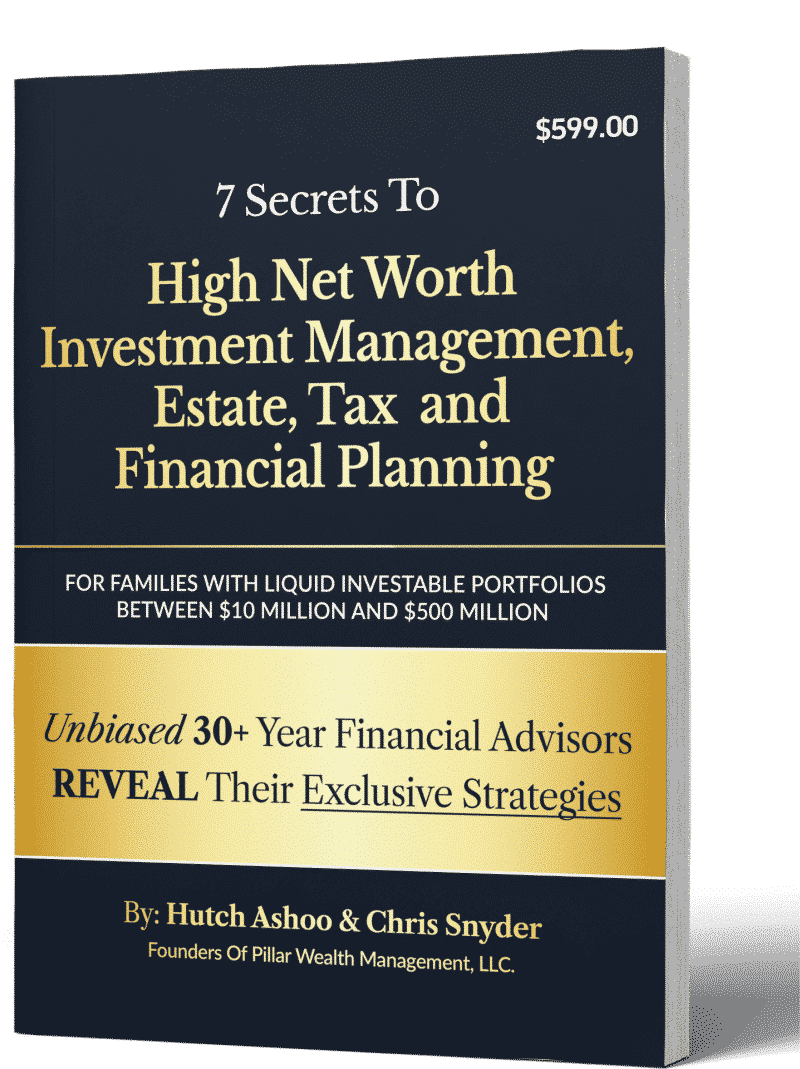 STRATEGIES FOR FAMILIES WORTH $5 MILLION TO $500 MILLION
7 Secrets To High Net Worth Investment Management, Estate, Tax and Financial Planning

The insights you'll discover from our published book will help you integrate a variety of wealth management tools with financial planning, providing guidance for your future security alongside complex financial strategies, so your human and financial capital will both flourish.
Clients frequently share with us how the knowledge gained from this book helped provide them tremendous clarity, shattering industry-pitched ideologies, while offering insight and direction in making such important financial decisions.
4 Traits of The Most Successful Florida Financial Advisors
Florida is a great state in which to build your wealth. Many Floridians need to work with an experienced and professional financial advisor who has a soul focus to be able to grow their wealth. This might make you ponder, "Who are the most successful Florida financial advisors?" You may have heard the name Jason Mickool, the President of Florida Financial Advisors that is located at 2330 W Horatio Street, Tampa, with his success stories.
Well, here are four traits that all successful Florida financial advisors share.
1.They Are Dedicated to Helping Their Clients
The most successful Florida financial advisors are fully dedicated to helping their clients accomplish their long and short-term financial targets. They will always take steps that will help you rather than prioritize their own interests.
At Pillar Wealth Management, the success key is that we provide our clientele with meticulously curated plans tailored according to their unique financial circumstances, needs, and challenges. Our top-rated financial advisors have the ability to provide services to high net worth and ultra-high net worth individuals who own $5 to $500 million worth of liquid assets. If you reside in Florida, Miami, Orlando, or anywhere, and need a financial advisor's services to manage your wealth and investment portfolio, you should schedule a free meeting with our team.
2.They Are Well-Versed in Tax Saving Techniques
The most successful Florida financial advisors are fully aware of the fact that taxes can be a big obstacle in the process of building your wealth. Thus, they will closely monitor your tax situation and encourage you to hold on to your investments for a long period so you can make long-term profits. This will help you save significantly on your taxes. Moreover, successful Florida financial advisors will also guide you about the various tax-free bonds available.
3.They Expertly Allocate Your Assets
As a wealthy individual, you will need advice to smartly allocate your assets and diversify your investment portfolio. Skilled and knowledgeable Florida financial advisors will allocate your wealth over various stocks, bonds, collectibles, and cash. This diversity will help to keep your financial risk under control.
The most successful Florida financial advisors know the importance of portfolio diversification and can help you maintain a low-risk, steady-return investment portfolio. For more details on asset allocation for wealthy individuals, read The Art of Protecting Ultra-High Net Worth Portfolios and Estates – Strategies for Families Worth $25 Million to $500 Million.
4.They Are Excellent at Evaluating Their Clients' Financial Situation
Since successful Florida financial advisors generally have years of experience, they know that every client has a unique financial situation. The problems, goals, and requirements of two clients can never be the same. Hence, they don't use a standardized, cookie-cutter approach for all clients who come their way. Successful Florida financial advisors will take the time to assess your financial situation and discuss your goals and needs. Based on the information you provide, your financial advisor will be able to come with customized solutions and advice.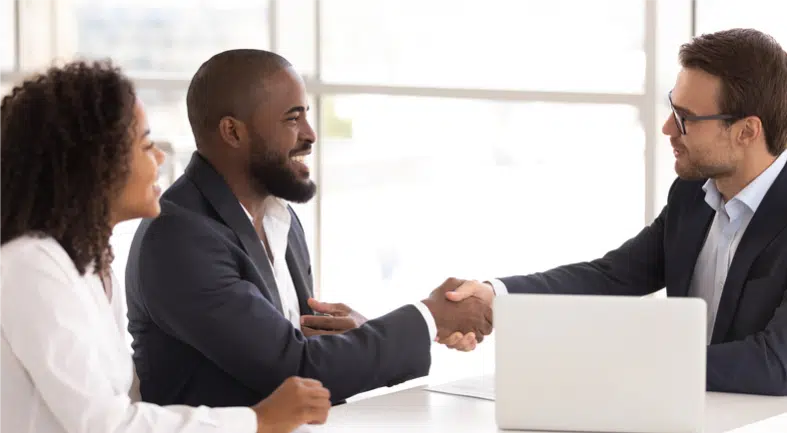 Are High Net Worth Florida Financial Advisors Worth It?
If you're still asking, "Are high net worth Florida financial advisors worth it?" then check out these additional benefits of working with a financial advisor.
1.Expert Knowledge and Data Accessibility
Financial advisors have vast experience when it comes to managing the wealth, investment portfolio, and overall finances of people. These experts have thorough knowledge and insights about the various financial products and investment options. They monitor the ever-changing market movements to swiftly make the most of any lucrative opportunity.
Moreover, if you're a millionaire, you may not have the time needed to analyze historical economic data, which is essential for curating financial plans. If you invest a lot of time and effort, you may be able to get 5 to 10 years' worth of data, but that's really not sufficient. Nevertheless, Florida financial advisors who have been working for decades have plenty of data that they use to create financial strategies for their clients. At Pillar Wealth Management, we have financial data that goes back almost 100 years that we use to provide impartial and objective advice to our clients.
2.Personalized Financial Strategies
If you search the internet to get financial advice, you might learn some general things that may or may not be useful for your financial circumstances. Even if you have the same amount of wealth as another affluent individual, your financial requirements will certainly be different, requiring an absolutely different plan.
If you hire a financial advisor, you won't just get plain, run of the mill financial recommendations. Rather, these advisors will schedule detailed meetings and consultations with you to know about your goals and formulate a plan around that. At Pillar Wealth Management, we take pride in offering tailored and personalized financial advice to our clients. Fun fact – we only took 17 new clients this year to ensure that we create personalized financial strategies for each one. To start working on your own personalized financial plan, get in touch with our team today!
3.Fiduciary Services
Another great benefit of hiring a financial advisor is the fiduciary services they provide. Fiduciary services mean that the financial advisor will make sure that all the decisions and steps taken are in your best interests and help you attain your financial goals. Moreover, fiduciary financial advisors also have a legal obligation to eliminate any possible conflict of interest.
At Pillar Wealth Management, our financial advisors offer fiduciary services to our customer base. With our financial advisors onboard, you can be assured that your wealth is in safe hands!
What Are Florida Financial Advisors Services
Now that you know all the benefits of hiring a financial advisor in Florida, you might be thinking, what are Florida financial advisor services? Some of the most common services financial advisors provide include:
– Investment Management
– Retirement Planning
– Insurance Planning
Investment Management
Investment management is one of the most common financial advisory services offered by financial advisors. Here a financial advisor will manage your investment portfolio and other financial products such as real estate, collectibles, etc. Many people think that investment management solely encompasses buying and selling investments. However, it's much more than that! For instance, investment management includes tax management, budgeting, banking, and creating a comprehensive investment strategy.
At Pillar Wealth Management, our financial advisors are highly knowledgeable about the numerous financial markets. We can properly advise you on when and how much money you should invest in them. Additionally, we will carefully go through your investment portfolio to create plans to help you receive the maximum investment returns. You can even read our guide, Improving Portfolio Performance, and know more about how you can get the investment performance you need to live the life you always dreamed of.
Retirement Planning
A peaceful, relaxing, and comfortable retirement is possible for everyone. However, to attain it, you need to start thinking about it from now. Even if you know the importance of retirement income planning, you might not know what to do to carry it out properly.
Retirement income planning is undoubtedly the most essential service you can avail from a financial advisor, especially if you have crossed 50. At Pillar Wealth Management, we have adequate experience in curating retirement plans for wealthy individuals who have liquid assets worth at least $5 million. You can also read our guide here and learn the five critical shifts you need to make to live an amazing post-retirement life.
Insurance Planning
If you don't have an investment plan, you won't be able to invest your wealth in the optimum places. Or if you don't have a well-thought-out retirement plan, you won't be able to spend a comfortable retirement. However, if you do have an investment or retirement plan but don't have an insurance plan, your investment and retirement planning can go in vain.
A holistic financial plan will allow you to identify and mitigate all the risks present in your financial life. So, where investment management will increase your wealth, insurance planning will help to safeguard and protect it.
At Pillar Wealth Management, we know the complexities of the insurance industry and how manipulative the reps from these companies can be. Nevertheless, with our comprehensive analysis, you can be confident that you aren't spending your wealth on non-viable insurance policies. Plus, our team will even assess your current insurance plan to identify any loopholes that can lead to trouble for you and your loved ones. Last but not least, we will frequently re-assess your insurance plans to know that they are aligned with your continuously evolving life.
How Do I Find Florida Financial Advisors?
If you're convinced to hire a financial advisor, the biggest question on your mind will be, "How do I find Florida financial advisors?" Today, numerous Florida financial advisors are offering their services, claiming to be the best. So, it's really hard to decide which one you should pick, and which one is just making false promises. The steps outlined below will help you identify and find the best financial advisor to fulfill your financial goals. For more detailed information on how to find the best financial advisor, read this guide here.
Step #1 – Get Recommendations from Trusted Friends and Family Members
The best way to start searching for a financial advisor is to ask your high net worth and ultra-high net worth friends and family members that are based in Florida for recommendations. There are high chances that some of these people have already worked with a financial advisor and can let you know which ones provide the best services.
Pillar Wealth Management firm can help you to achieve your financial goals with the best results and returns.
Step #2 – Conduct Research
Before selecting a financial advisor, you need to carry out a thorough background check. There are several directories, such as the National Association of Personal Financial Advisors (NAPFA), or Financial Industry Regulatory Authority (FINRA) that you can look up. Other than that, you can read reviews of your shortlisted Florida financial advisors on online platforms such as the Better Business Bureau.
You can even lookup Florida financial advisors on LinkedIn to learn more about their educational qualifications, professional experiences, etc. Any books or guides that they have authored will also add to their trustworthiness and credibility.
Step #3 – Prepare for A Meeting
Before hiring a financial advisor, you don't just have to research them and assess your own financial situation. Here are a few things you should prepare before you schedule a meeting with a financial advisor.
– Your financial circumstances, such as your assets, liabilities, and debt.
– Your current and expected cash inflows and outflows.
– Your financial targets and goals
– Financial documents such as 401(k) statements, 529 savings plan, property documents, information about your investment portfolio, tax records, life insurance, and wills.
Step #4 – Schedule A Meeting
After you've finished steps 1 to 3, you should directly speak to the financial advisor you have selected. This will help you learn more about them and allow you to determine if you want to work with them in the future.
You should use this meeting as an opportunity to put forward your queries related to Florida financial advisors. Some possible questions that should be on your list include the following:
– What kind of financial advisory services do you provide?
– Do you have experience in working with high net worth or ultra-high net worth clients?
– What is your fee structure? Or do you have a commission-based model?
– What financial advisory approach do you use?
You can read this guide and get additional questions that you can ask a financial advisor before you hire them.
Wrapping It Up
Now that you know everything about Florida financial advisors get ready to work with professional, amazing people skills, and start handling your wealth optimally. You can search on Facebook or Google search to get the information. Based on our experience of over three decades, we believe that we are the best you can choose. With our guidance and advice, you can grow and preserve your wealth while lowering your risks and taxes. Visit our website, click on the menu, and register your email or phone number to get the latest news from us or Click here to book a free consultation with us!
To be 100% transparent, we published this page to help filter through the mass influx of prospects, who come to us through our website and referrals, to gain only a handful of the right types of new clients who wish to engage us.
We enjoy working with high net worth and ultra-high net worth investors and families who want what we call financial serenity – the feeling that comes when you know your finances and the lifestyle you desire have been secured for life, and that you don't have to do any of the work to manage and maintain it because you hired a trusted advisor to take care of everything.
You see, our goal is to only accept 17 new clients this year. Clients who have from $5 million to $500 million in liquid investable assets to entrust us with on a 100% fee basis. No commissions and no products for sale.
Related Post
Are Wealth Management Fees Worth It

– The question really is, are wealth management fees worth it? If you have $5 million or more in investible assets…

How to Hire a Financial Advisor – There are several advantages to hiring a financial advisor, particularly when you have $5 million or more worth of liquid assets…
Fiduciary Financial Planner Near Me – Most affluent individuals with more than $10 million in investable wealth are busy searching…
Investment Services Near Me – Investment growth is essential for any high net worth or ultra-high net worth investor…