High Net Worth Pros & Cons – Fidelity vs Schwab vs Vanguard
For high net worth and ultra high net worth investors and families, choosing which financial advisor to work with is a difficult task. Large brokerage firms like Fidelity, Schwab, and Vanguard all offer a high net worth advisory service. But how do they compare to each other, and do any of them deliver the outcomes and service you need most?
We Are Different Because We Are Laser Focused On Helping You Achieve Financial Serenity Through Our Proven Comprehensive Goals-Based Planning & Investing Strategies.
The biggest Financial Planners' Mistake That Will Hurt Your Financial Security!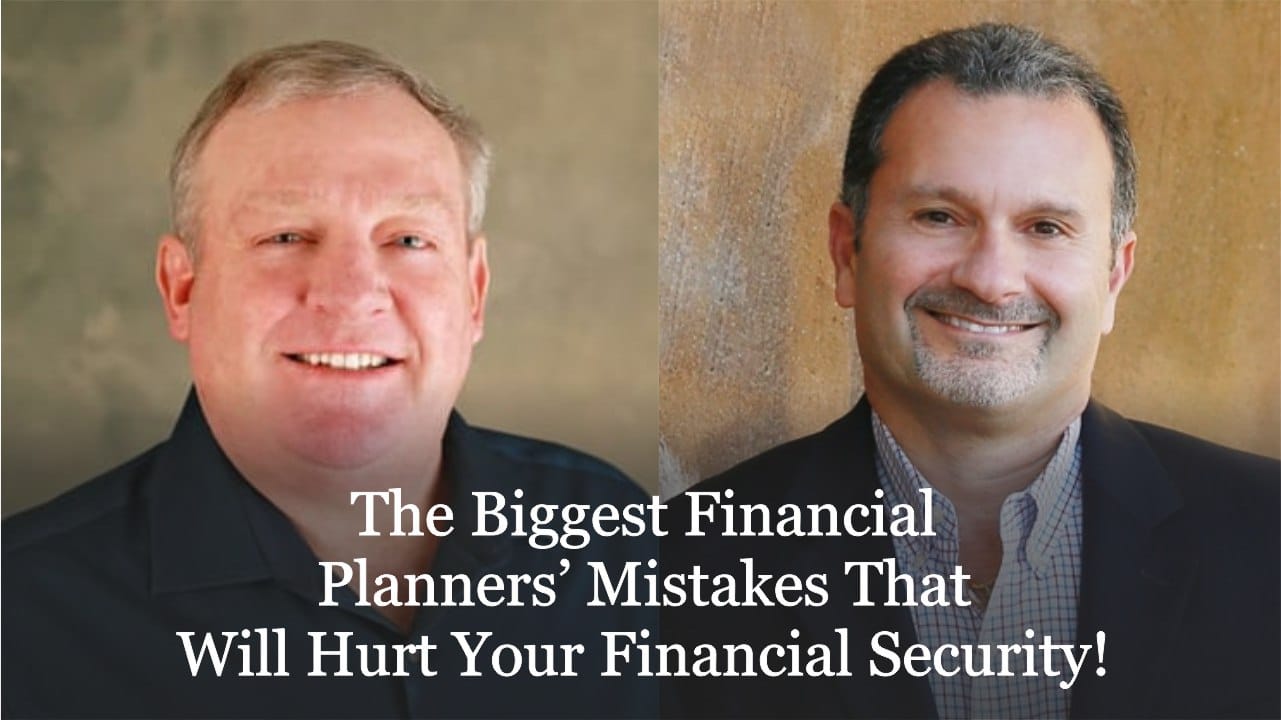 How To Find Your GO-TO High Net Worth Financial Planner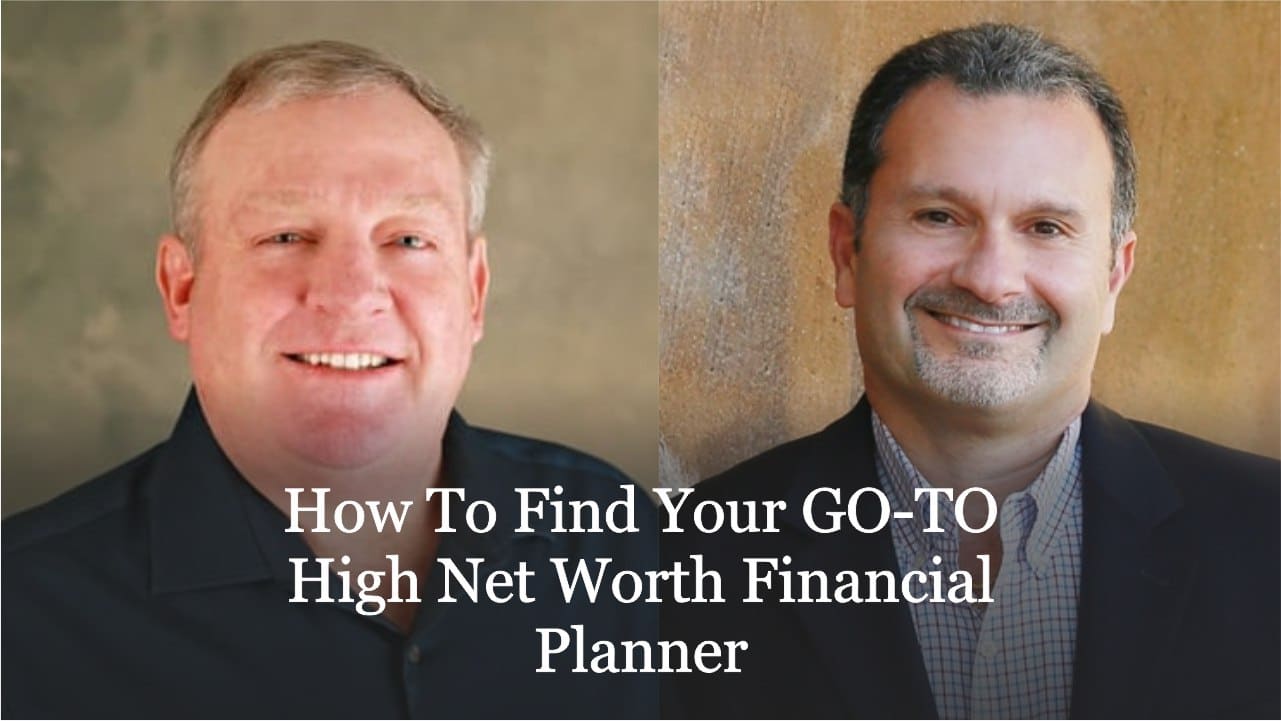 How Pillar's High Net Worth Financial Planning Process Is Different

Multi-Family Office For Ultra-High Net Worth Families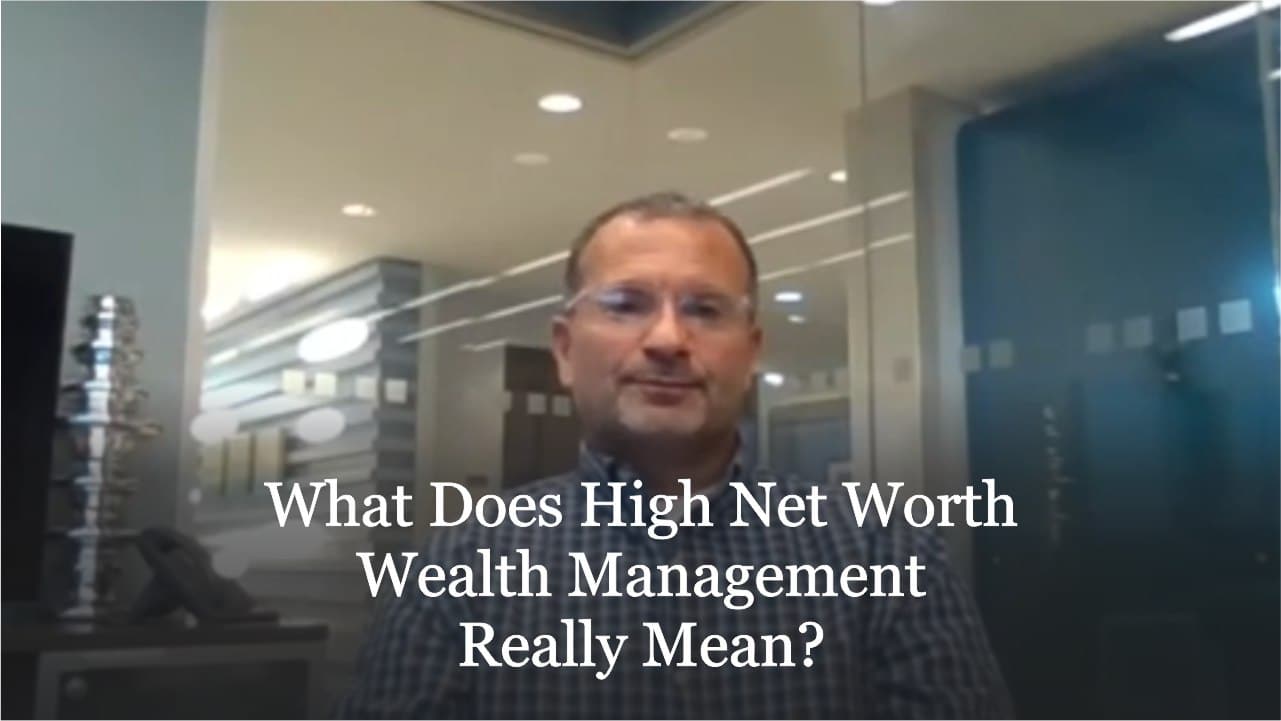 Founder & Managing Member Pillar Wealth Management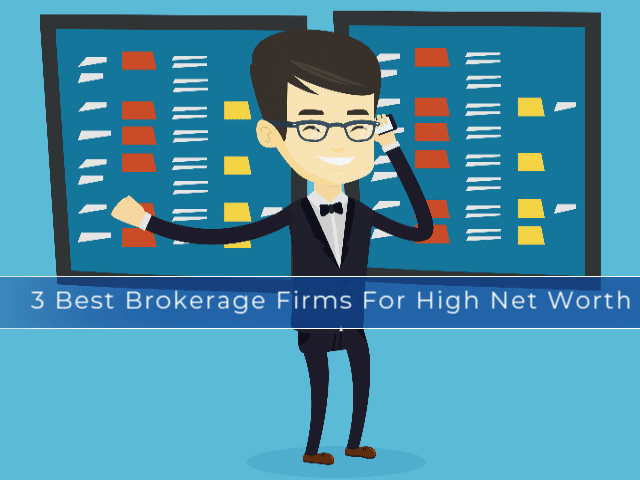 3 Best Brokerage Firms for High Net Worth
Vanguard
Schwab
Fidelity
This article will reveal the pros and cons of working with Vanguard, Schwab, and Fidelity – specifically from the perspective of an ultra high net worth investor.
These large firms all have excellent online tools that make it easy to monitor and adjust your investment portfolio. And they are trustworthy, reputable, professional institutions that deliver good service to wealthy clients.
However, especially for ultra-high net worth families with well over $10 million, you're going to find that a multi-family office approach will serve your needs far better than these large institutions can deliver. They simply aren't built for that level of service. You will miss out on high level coordination between elite level specialists, which will result in frustration, tax inefficiencies, and wasted time.
For example, we met with an investor with a nine-figure portfolio. His tax return was four inches thick. He went to a well-known bank for ultra high net worth service. What he really wanted was what a multi-family office provides, though he wasn't yet aware of that term. What he got was a presentation that made it clear they just wanted to manage his assets and take their fee.
Testimonial From Satisfied Clients
If you want to see more ways the large brokerage firms fall short for ultra high net worth investors and what you should expect for the level of wealth you've accumulated, get our free guide revealing the 7 Secrets to High Net Worth Investment Management, Estate, Tax and Financial Planning.
A high-net-worth investor is someone with $1 million in investable assets. Investable assets are assets that are easily converted to cash, such as stocks and bonds.
Fidelity wealth management is offered for $250,000 through Fidelity Wealth Services. Fidelity's Private Wealth Management requires $10 million in investable assets with an investment of $2 million.
The median pay for a Fidelity associate is around $100,000, corresponding to earning 1% on 10 accounts worth $1 million. The Fidelity associate is expected to be an experienced finance professional.
Vanguard has well over $5 trillion in assets, while Fidelity has nearly $2.5 trillion. Vanguard is the world's largest provider of mutual funds, and the second-largest provider of ETFs.
According to stockbrokers.com, Fidelity is better than Schwab, although both are highly successful and reputable brokers. Fidelity is better for active traders, who will expect to pay lower fees.
The minimum investment amount for Schwab Wealth Advisory is $1 million, with a starting fee of 0.80% of the value of the assets in the account, decreasing with increasing asset value.
Vanguard's wealth management services start with as low as $50,000 with fees of 0.30 percent of asset value, up to $5,000,000. Fees decrease to 0.05% above $25,000,000.
Flagship Select provides wealth management services to individuals with $1 million to $5 million in Vanguard assets, giving the investor access to personalized financial services.
Among the top brokerage firms are Fidelity, Schwab, and Vanguard. Finding the firm that's right for you will involve doing some research and talking to a financial advisor.
According to Investopedia, Fidelity is the top broker in the world today, considered best overall for low costs and ETFs. TD Ameritrade (owned by Schwab) is considered the best broker for beginners.
How We Created This Article
Pillar Wealth Management wants affluent investors to have clear and thorough information about the very significant life and financial decisions they face. Whether you work with us or not, you need to know the facts so you can make intelligent choices with confidence.
To that end, we did what's referred to as 'mystery shopping.' We created a fictional persona with a unique ultra high net worth life situation, and paid someone to call up each firm, present their situation, and work through each firm's process.
The whole process took several months. We held multiple calls with each firm, received a proposal in some form detailing what they would do with our assets, experienced their customer service, worked with their online platforms, and got a pretty good sense of their service to ultra high net worth clients.
This article is one of many we will be writing based on that investigation. Reach the other articles from this main page.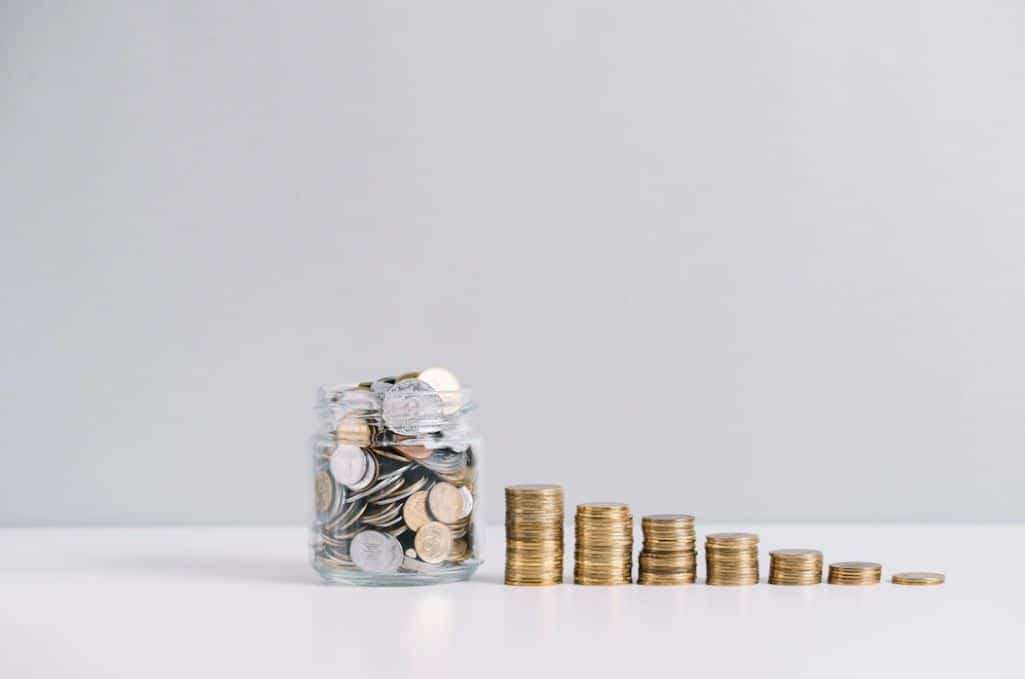 The Six Pros of Working with Fidelity, Schwab, and Vanguard – for Ultra High Net Worth
All three of these large discount brokerage firms share several strong points in their favor, even for ultra high net worth investors.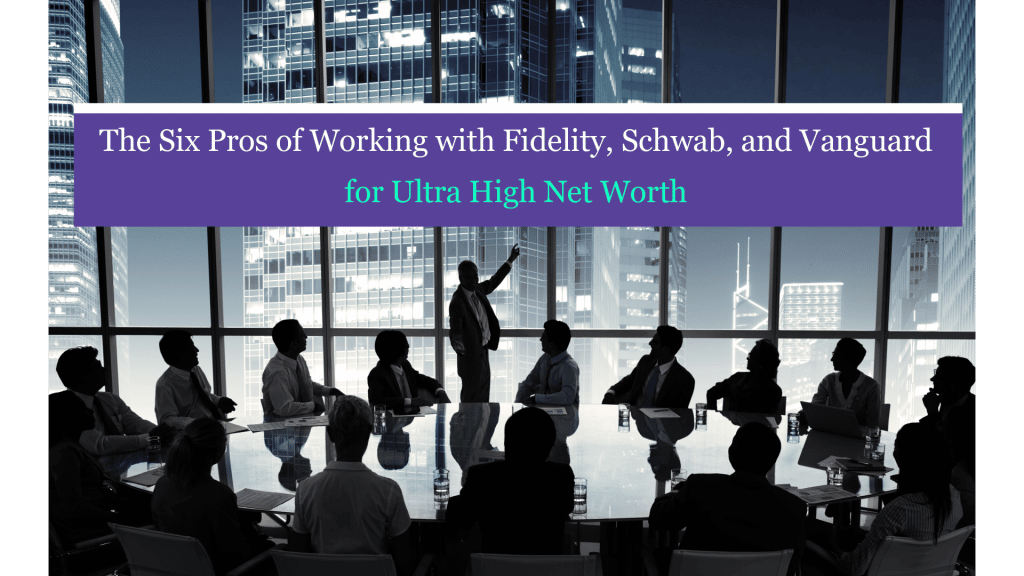 Separate Service for High Net Worth Investors
High Quality People
Team Approach
Low Fees
Commitment to the Client
Robust Online Tools for Self-Managed Accounts
1. Separate Service for High Net Worth Investors
All three companies offer a separate service for clients with greater wealth. Vanguard's high net worth service is called Flagship Select. Schwab's is called Private Client. Fidelity's is simply called Wealth Management.
Having a separate service enables them to offer more personalized and customized investment management and portfolio planning.
2. High Quality People
Once you reach their high net worth financial advisors, all three firms have exemplary people. We had long in-depth conversations about a variety of issues, and the interactions were pleasant, informative, and respectful.
There was no pressure to choose them or to rush to make a decision – and they all knew we were looking at other firms too.
3. Team Approach
Being such large firms, Fidelity, Schwab, and Vanguard all utilize a team approach to working with high net worth clients.
You will have a main point of contact, and that person is either a certified financial planner (CFP) or a registered investment advisor (RIA). They have other people who help process transactions such as moving money around, and others who manage your actual investments.
The point of contact is your consultant. This is the person you will know, trust, and work with for a long time. They are your advocate. But they rely on others to handle various tasks and provide extra expertise when needed.
4. Low Fees
All three firms offered us low fees, in part because the amounts we were investing were going to be quite high. Like most firms, (including Pillar Wealth Management), Fidelity, Schwab, and Vanguard charge lower percentage fees as the amount of assets under management increase.
5. Commitment to the Client
It was clear that all three high net worth advisors were willing to invest time with us, getting into the details – the weeds – of our persona's situation. Had we continued the process, it was clear they were going to walk with us every step of the way and not leave us hanging.
6. Robust Online Tools for Self-Managed Accounts
If you want to manage your own investments instead of using a financial advisor, all three companies offer outstanding online platforms that are relatively easy to use and understand.
To learn these tools, you don't need the high net worth advisor's help either. Fidelity, for example, first connected us with a different advisor, who walked us through many of the various retirement planning and investment tools available on their site. Each of these companies has powerful online services for investors who want to do their own research and investment management.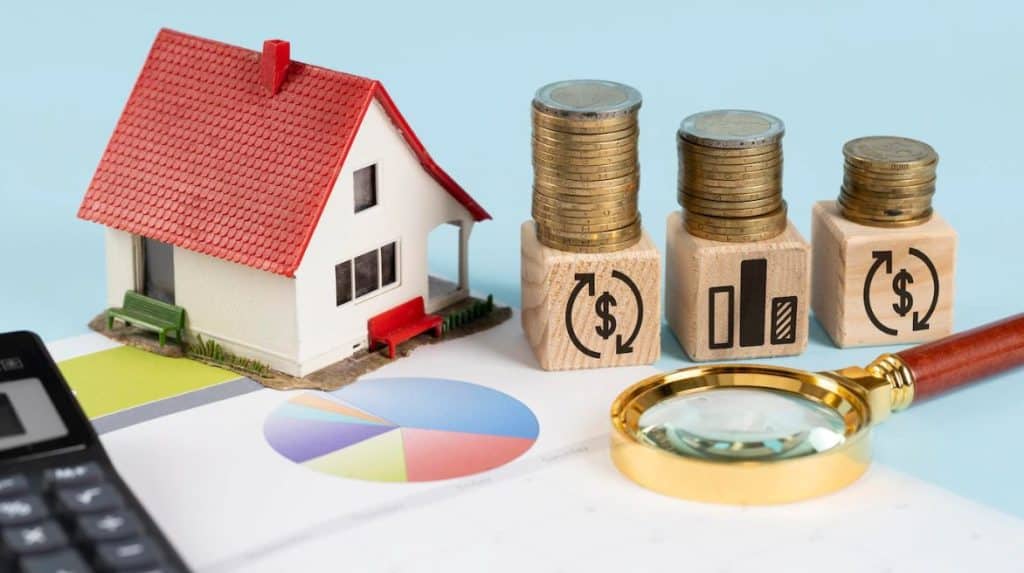 4 Shortcomings of Fidelity, Schwab, and Vanguard for Ultra High Net Worth Investors
Just as they have strengths, all three of these large discount brokerage firms revealed some inadequacies in their ability to serve high net worth clients. Here are a few: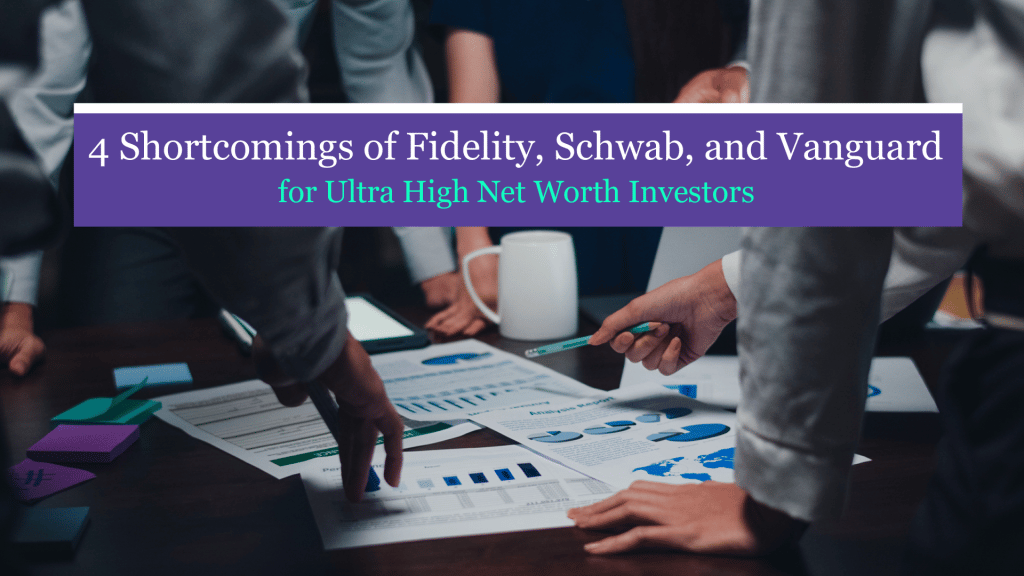 Hard to Connect with the Right Person
Hard to Get a Proposal Out of Them
Falter at Risk Management
Advisors' Expertise is Limited
1. Hard to Connect with the Right Person
It takes a fair amount of initiative on your part to get through all the red tape before you reach the high net worth financial advisor you were hoping to speak with. All three companies use gatekeepers to vet potential clients before passing them on to the actual wealth managers.
And there's nothing wrong with this. It's understandable that they don't want to waste the time of their specialists. But the flip side of that coin is, naturally, that it wastes your time.
It took multiple long conversations in some cases before we even got introduced to the high net worth advisor. This is frustrating, because their websites all have contact forms and phone numbers on their pages for their high net worth services. The natural assumption is, if I use the number on this page to contact them, it will take me straight to the advisors who work with clients like me.
But that turns out not to be the case for any of these companies. You cannot reach the specialist on your first call.
And, in Vanguard's case, they fumbled the handoff. While they were the fastest to reply and set up the first meeting – with the person who turned out to be the gatekeeper – over a month went by before we got to meet the high net worth advisor. We heard nothing for weeks.
Fidelity sent us to a person who clearly was not attuned to the needs of high net worth clients, and it took several conversations for this to become clear. Schwab did a good job of getting us to the right person, but their initial response of setting up the gatekeeper meeting was very slow.
In all three cases, we had to take initiative at some point to make sure we talked to the right person.
In contrast, if you call an ultra high net worth wealth management firm like Pillar Wealth Management, who exclusively serves affluent investors, you talk to the high net worth advisor on your very first call. This saves you lots of time, and gets you moving forward faster with getting your situation addressed.
2. Hard to Get a Proposal Out of Them
The details would take a while to explain, but getting some kind of proposal document showing how they would invest our assets, with projections of what we could expect and a rationale for why this plan makes sense, was difficult in all three cases.
Vanguard was the only one of the three that volunteered a proposal without having to be asked. But then, when their proposal came, it was only hypothetical, not based on the actual assets we would be investing. So, it wasn't customized to us. And this was after a long phone call detailing our persona's specific situation.
3. Falter at Risk Management
Incorporating risk is a cornerstone of any financial plan – but especially for high net worth investors.
First, risk must be defined. It is more than just a feeling. Then, it must be quantified.
All three firms did an excellent job of explaining how risk influences your financial plan. They asked good questions, used helpful analogies, and clearly laid out the various options.
But none of them appeared to have any sort of defined process for how to quantify the impact of risk on the financial plan. It never advanced very far beyond how we feel about how much loss or gain we're willing to tolerate or pursue.
But risk must be more than just a feeling. Begin Pillar's process by scheduling your first call, and see what we do with risk.
4. Advisors' Expertise is Limited
This is a hard one to describe, because all three high net worth advisors demonstrated great command of their industry. The simplest way to say it is this:
All three advisors mentioned the option of using outside advisors to help manage our actual investments. Fidelity and Schwab even have names for these networks of advisors whom they have vetted and approved. Schwab in particular pushed pretty hard on this – it is their process to connect you with one of the expert – but external – advisors in their network.
So that begs the question: If these high net worth advisors are experts, why do they need an external network? If they're just going to connect you with an outside wealth manager, wouldn't it be easier to just go straight to that person?
Viewed in this way, the large firms take on the role of a middleman. And ultra high net worth investors, in most cases, don't want to work with a middleman. Managing your investments does not appear to be the central role of your primary advisor, especially at Fidelity or Schwab.
It was also apparent that they didn't have deep and granular knowledge about the intricacies of tax planning, estate planning, and insurance. Again, it's hard to describe the differences here, because they do know a lot about these topics. But each one had moments where they didn't know the answers to certain questions that an expert would know.
What to see what Pillar knows about these critical topics?
Request a complimentary copy of our book – The Art of Protecting Ultra-High Net Worth Portfolios And Estates: Strategies for Families Worth $25 Million to $500 Million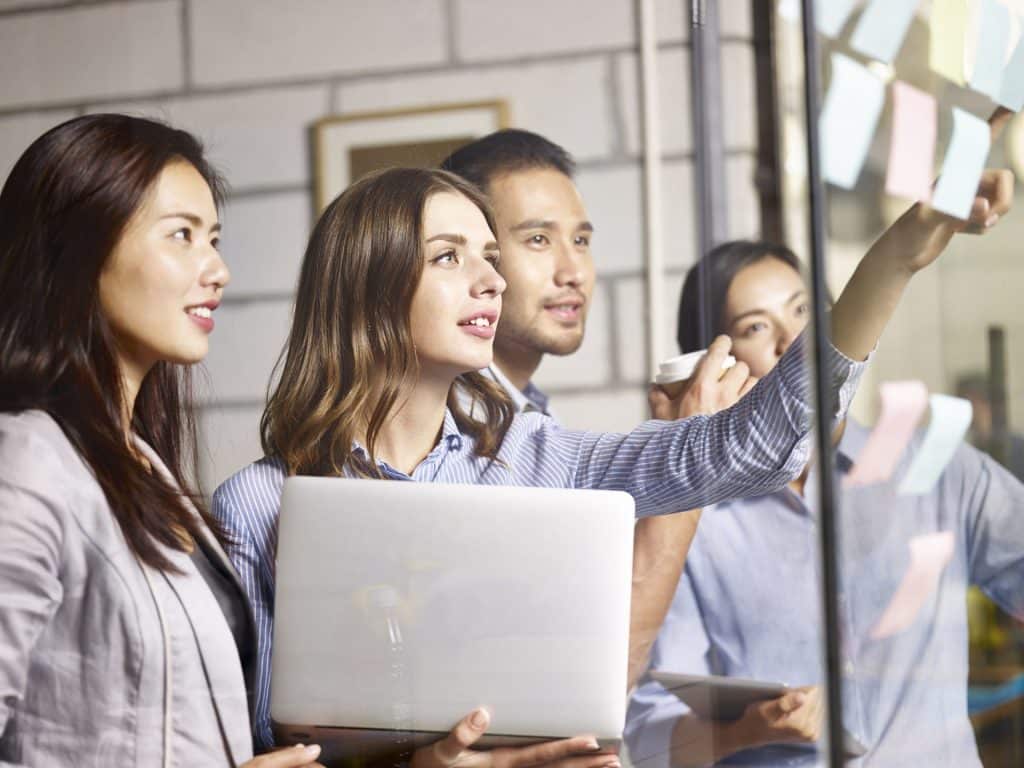 Vanguard vs Fidelity vs Schwab
Here are a few ways these firms distinguished themselves from each other.
Vanguard
Vanguard probably has the clearest value proposition of the three.
They push very strongly about their low fees, their cost transparency, and the fact they have no shareholders, no commissions, and no owners reaping billions off the customers.
Vanguard also stresses that they prefer to work almost exclusively with ETFs and index funds because these have the lowest expense ratios. Vanguard will not invest in individual stocks for their clients.
Vanguard also had the best email follow-up. We received several reminders and other helpful information, and we always knew where we were in the process – aside from the pretty serious fumbled transition between the gatekeeper and the high net worth advisor.
Vanguard doesn't offer any local presence. They don't have local branches, unlike the other two. And this was made pertinent when the subject of state taxes came up, because their advisor didn't know our state's tax laws.
Fidelity
At first, Fidelity did a poor job of funneling us to the right advisor. It took several calls before they figured out who should have been serving us from the outset.
But, once we finally reached a high net worth advisor, we received the best and most customized experience among the three companies. This advisor's recommendations were very specific to our situation. It was clear he had listened well, and incorporated our specific needs and preferences into his recommendations, which were well thought out and had clear rationale behind them.
In contrast, the proposals from the other two were more vague and broad, and didn't really address the biggest challenges of our situation. They were mostly just focused on investment projections. That was important, but it wasn't the only issue.
Schwab
Schwab offered the most personalized service of the three, and their high net worth advisor had the best phone follow-up. We were called several times once we got connected with their high net worth advisor. We felt like our situation really mattered to them, and that they truly wanted to help, not just make money off us.
In contrast to Vanguard, the Schwab advisor also had deep knowledge of the local and state tax situation, as well as federal. With estate and property taxes, this is a significant variable in your financial plan, especially if you live in a high tax state.
However, Schwab also made the biggest fuss about the proposal. They would not send an electronic copy unless we opened an account, which we didn't want to do since we hadn't chosen to go with them yet. So, we had to have the proposal mailed.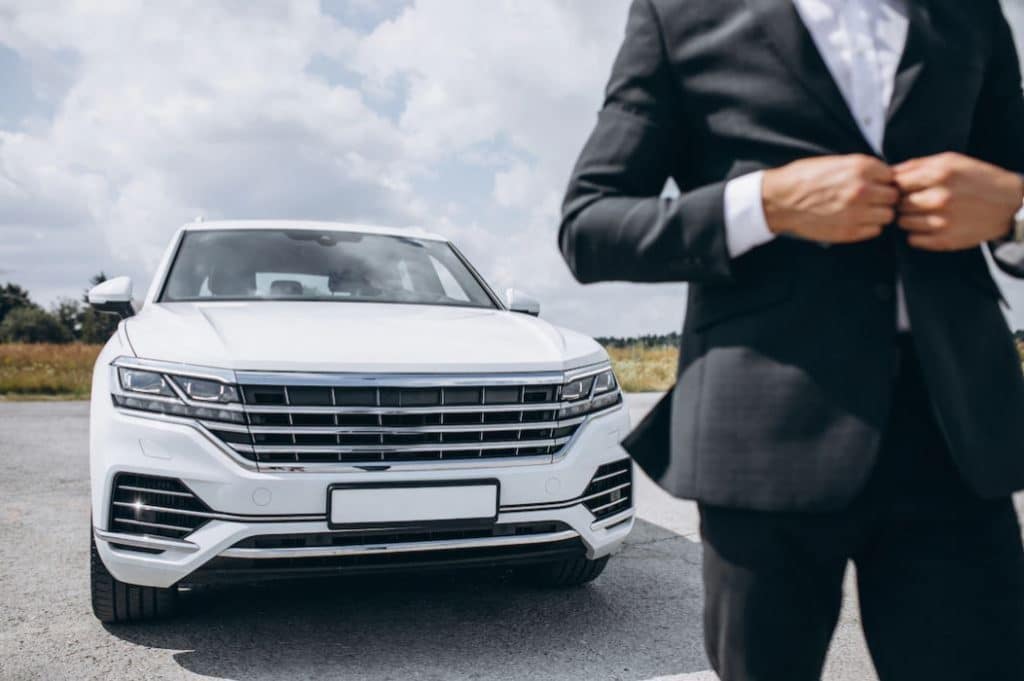 Vanguard vs Schwab for Ultra High Net Worth
Platforms and trading
Both Schwab and Vanguard have online and mobile platforms. You can set up an account online with either firm, but with Vanguard you may have to wait a few days to log in. Also, Vanguard's mobile app has fewer features than Schwab's as Vanguard is generally more appealing to buy-and-hold investors. Schwab is a good choice for someone looking for lots of tools.
On StreetSmartEdge and Schwab.com, all of Schwab's asset classes can be traded. The Schwab app is more versatile than Vanguard's, catering to the wants of traders who tend to be more active than buy-and-hold investors. StreetSmartEdge is intuitive to use and helps option traders browse and analyze trades efficiently. Vanguard's platform is not as easy to use, nor does it have as many features, while still letting you place orders and monitor your performance.
Services and order types
Schwab provides the usual banking services, while at Vanguard you will pay a fee for their VanguardAdvantage account.
Schwab and Vanguard offer short sales, ETFs, bonds, complex options, robo advisors, international exchanges, fractional shares, and penny stocks. Schwab offers, in addition, futures and future options, Bitcoin futures, and Forex, thus providing a greater range of offerings than Vanguard. However, Vanguard's 500 ETF and its funds are among the best on the market.
Schwab supports day-only orders, good-until-cancelled orders (good for 60 days), fill-or-kill orders, and immediate-or-cancel orders. Vanguard has limit orders, market orders, stop orders and stop-limit orders.
Vanguard supports market, limit, and stop-limit orders. With Schwab, you can stage orders as well as place conditional orders.
Order routing
Schwab has its own proprietary order routing system that provides a price improvement on more than 96.6% of its orders, yielding an average savings of about $27 per order. The system has an average execution speed of 0.04 seconds. Vanguard's order routing technology boasts a price improvement of $0.023 per share, which is quite high for the industry; however, you cannot route your own orders or automate a strategy. In contrast, Schwab does have strategy testing tools.
Costs
Broker-assisted trades with Vanguard vary in price between $0 and $25, whereas at Schwab, you pay $25 per trade. Both firms have $0 commissions for online trades made by U.S. clients. Mutual funds are more expensive to buy at Schwab. Both Schwab and Vanguard earn interest income on the money in your account, but you can move funds into a money market account for better earnings.
Schwab's wealth advisory program has its highest fee set at 0.80% of AUM, with an account minimum of $1 million. With a minimum account value of $500,000, you can take advantage of having an advisor, who will set their own fees. Other account minimums have their own fee structure.
Vanguard Personal Advisor Services provide automated and human advice for managing your finances and require a minimum of $50,000. You will pay up to 0.20% of the value of your assets in advisory fees.
Research and analytics
Schwab, as it caters to more self-directed traders, offers more online tools for researching trades than Vanguard. It provides charting tools and idea generators. Vanguard has no online technical analysis capability, but there is limited charting and tools for retirement planning.
With Vanguard, portfolios can be saved and they can be compared against Vanguard models, which range from 100% bonds to 100% stocks. Schwab offers Portfolio Checkup to check your diversification and ratings on your stocks and mutual funds. Both firms generate PDFs of portfolio analysis results.
Customer education and security
The Vanguard website provides customer education through its offering of videos and articles, numbering in the hundreds. They cover subjects such as how to invest, financial management, planning for retirement, and investing for life events. Vanguard provides education through its personal advisor services, where investment professionals can help their clients better understand markets, investment vehicles, and risk.
Schwab provides Schwab Live Daily, a video stream that can educate investors in investment topics relevant today, in addition to on-demand videos and articles written by trading experts at Schwab. And education is provided by personal advisors in the Schwab Advisor Network.
Both Vanguard and Schwab provide access by telephone to a customer service representative as well as live online chat. Vanguard's customer service hours are restricted to Monday and Friday, but the live chat is available at all hours.
Both Vanguard and Schwab utilize two-factor authentication for access to their services. Both firms utilize SIPC insurance, which protects brokerage accounts up to $500,000.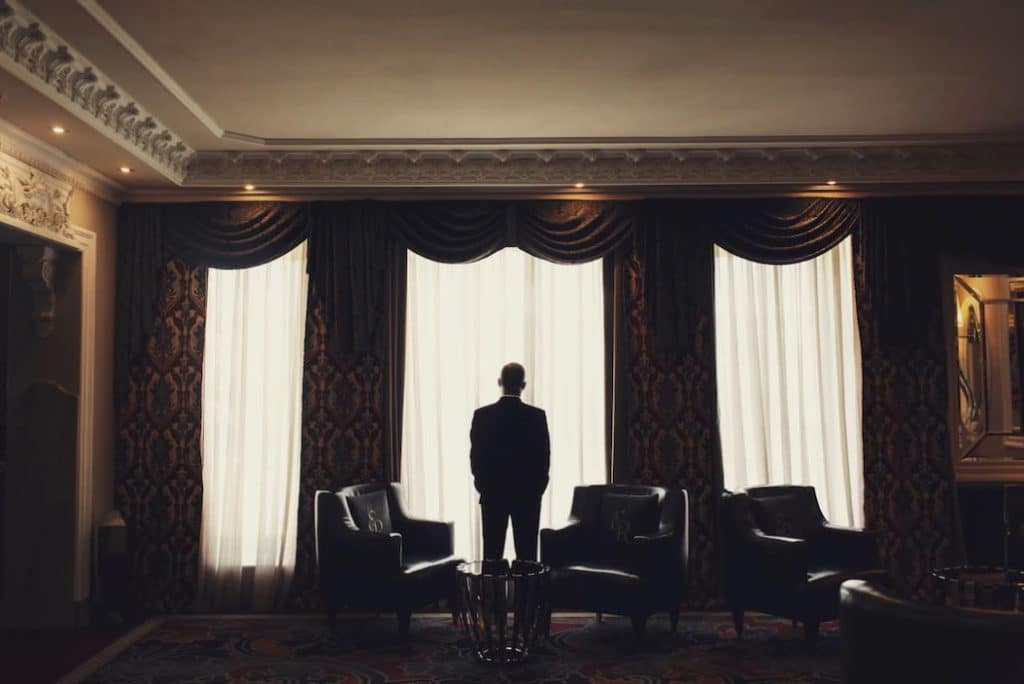 Do You Want Ultra High Net Worth Caliber Wealth Management Services?
While we have great respect for Fidelity, Schwab, and Vanguard, and use them for custodial accounts for some of our own clients, after reading this you can probably see the shortcomings of using them for ultra high net worth financial planning and wealth management. Feel free to schedule a free consultation to talk to us – on your first call.
To be 100% transparent, we published this page to help filter through the mass influx of prospects, who come to us through our website and referrals, to gain only a handful of the right types of new clients who wish to engage us.
We enjoy working with high net worth and ultra-high net worth investors and families who want what we call financial serenity – the feeling that comes when you know your finances and the lifestyle you desire have been secured for life, and that you don't have to do any of the work to manage and maintain it because you hired a trusted advisor to take care of everything.
Related Post
Money Management – Money management begins with financial planning. You cannot separate the two, even…
Private Banking Vs Wealth Management

- How is wealth management different from private banking? Do you have to choose between these...

High Net Worth Investing 2021 – It's easy to let your guard down now that covid appears to be mostly in the rear view mirror…
Traditional Financial Advisors – If you're feeling uncertain about how to manage your investments during this new period in history…