Fee-Only Wealth Management for the Affluent
Wealth management firms are crucial for high-net-worth individuals as well as ultra-high-net-worth families. They can help grow your assets through asset allocation and smart investment strategies. They can help protect your wealth through risk management and insurance planning. They can make your wealth management strategy more effective by developing comprehensive plans, following tax reduction strategies and a lot more. However, to avail all these benefits, affluent individuals need to choose the right wealth management firm, and it starts by choosing a fee-only wealth management firm. We explain the importance of finding such firms in our detailed guide on finding the best financial advisor for high-net-worth investors worth $10 million or more.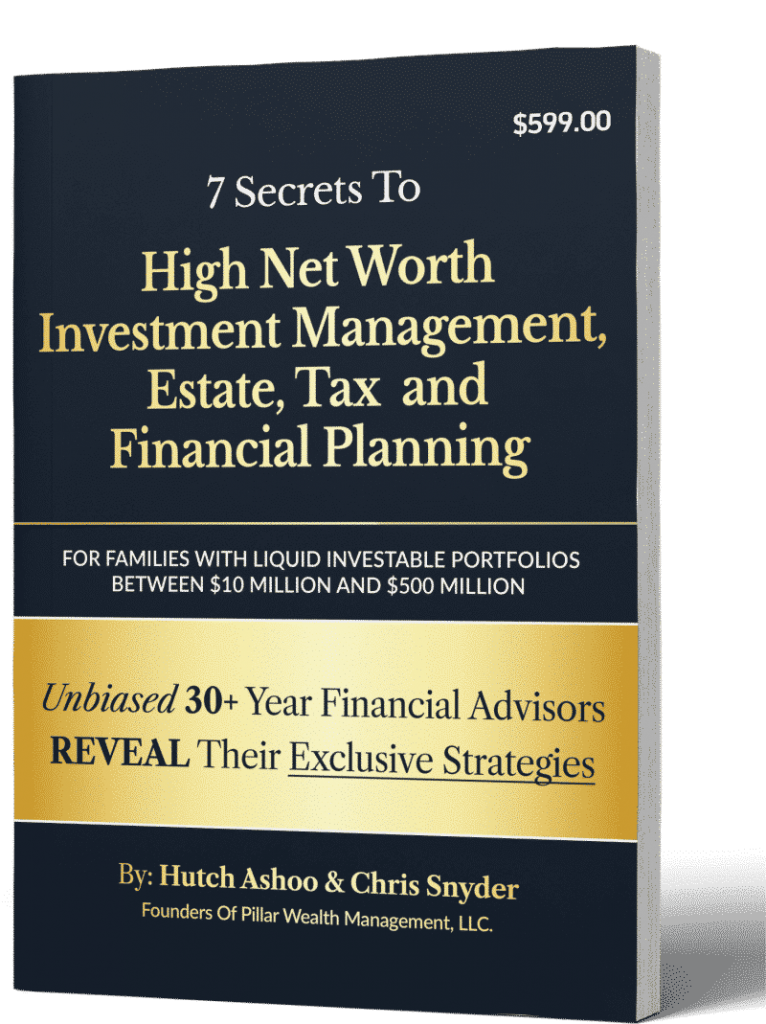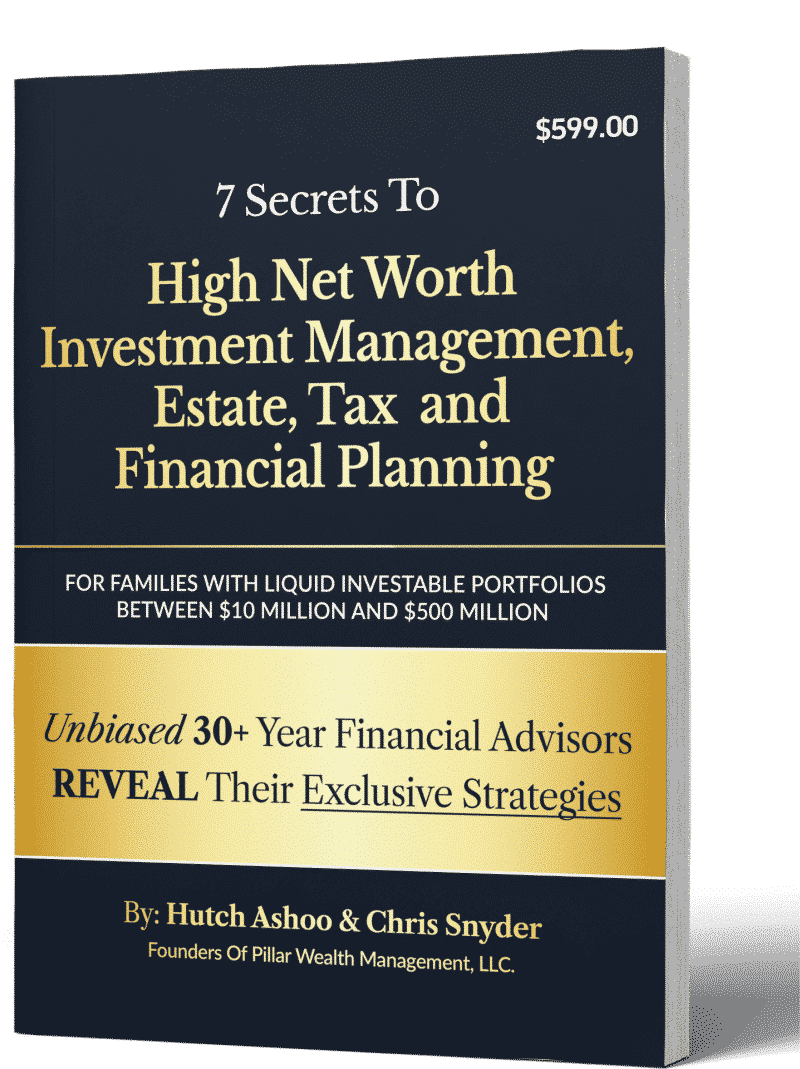 STRATEGIES FOR FAMILIES WORTH $5 MILLION TO $500 MILLION
7 Secrets To High Net Worth Investment Management, Estate, Tax and Financial Planning

The insights you'll discover from our published book will help you integrate a variety of wealth management tools with financial planning, providing guidance for your future security alongside complex financial strategies, so your human and financial capital will both flourish.
Clients frequently share with us how the knowledge gained from this book helped provide them tremendous clarity, shattering industry-pitched ideologies, while offering insight and direction in making such important financial decisions.
When talking about the best fee-only wealth management firms, it's hard not to talk about Pillar Wealth Management. We are a private firm offering various financial planning, financial advisory, investment management, and wealth management services. Our clients exclusively consist of high or ultra-high-net-worth individuals and families with $5 to $500 million in liquid assets. We have highly skilled financial advisors and wealth managers who have been offering wealth management services for more than 3 decades. We take on a limited number of affluent clients every year so that we can truly understand each client and their needs and develop comprehensive and customized financial solutions accordingly. Plan a free chat with Pillar Wealth Management today.
In this blog, we'll be discussing what fee-only wealth management firms are, how much they charge, whether they are worth it and how to choose the best wealth management firm according to your needs. Let's get started.
What is a Fee-Only Wealth Management Firm?
In today's world of complex financial challenges and unpredictable markets, it can be near impossible for high-net-worth individuals to manage their wealth themselves and employ the right strategies to meet all their goals.
That's why it is so vital to partner with an experienced wealth management firm that can help you meet all your goals. However, what is even more critical is to choose the right kind of wealth management firm.
Just like there are various types of financial institutions, there are different kinds of wealth management firms as well. As an individual with $5 million to $500 million in liquid assets, you need to choose fee-only wealth management firms.
Fee-Only Wealth Management Firms
While it sounds simple, there's a lot more to fee-only wealth management firms than how they charge clients. Their compensation method can affect various aspects of their services, which is why this distinction is so critical.
As the name suggests, fee-only wealth management firms charge their clients a straight fee only. However, there are different types of these fees too.
One Time Flat Fee
A one-time flat fee means that the wealth management firm will charge you a simple, just one time for a particular service or one consultation session. If you already have your wealth management under control and don't need extensive services from a third party and simply require advice for a small, short-term concern, a one-time flat fee is ideal.
You can discuss your problems and work out the most appropriate solutions, all in one sitting, and then pay for that one session. But if you need wealth management services on a continuous basis, paying a fee for every single session can become quite expensive.
Percentage Based Fee
That's why you have a percentage-based fee, which is more common amongst wealth management firms, such as Pillar Wealth Management. A percentage-based fee is ideal for when you need wealth management services for the long run and for comprehensive services rather than just one service.
The fee-only wealth management firm will charge a fixed percentage of your assets as the fee every year. Since this relationship will be on a long-term basis, such a wealth management firm will be much more invested in your financial success and security. Consult Pillar Wealth Management today to learn more about how such fees work.
Hourly Fee
An hourly fee is usually a combination of the one-time and percentage-based fee. If you require constant services but not on a regular basis and don't want to pay that one-time fee every session and neither want to pay the percentage-based fee every year, you can opt for an hourly fee. Any time you consult them for any concerns or services, you can simply pay for that hour.
Commission-Based Firms
Besides fee-only wealth management firms, there are commission-based firms, such as brokerage houses. They suggest various financial products and services, and they can earn commission on it.
The problem with such firms is that firstly, they offer a very limited range of services which can be a hassle for high-net-worth individuals requiring numerous financial services. Secondly, and more importantly, commission-based firms always face a conflict of interest.
They might steer clients towards products that earn them better commissions rather than those that best align with the client's goals.
Fee-Based Firms
Finally, there are also certain fee-based firms that are a mixture of fee-only and commission-based firms. Usually, they charge a simple fee for their services, but along with that, they also provide other secondary services on a commission basis.
They don't always disclose which services these are or how much their commission is to the clients either. Therefore, it's best to stick with fee-only wealth management firms. Learn how to find the best ones from our extensive guide on choosing the best financial advisors for investors worth $10 million or more.
How Much Does a Fee-Only Wealth Management Charge?
Now that you know what a fee-only wealth management firm is, the next crucial question is, how much do they charge? The answer isn't simple because the charges depend on several factors.
Moreover, you have to remember that the wealth management firm's fee will not be the only cost you will have to bear. There will be numerous other expenses. But if you manage to find the right wealth management firm, they will help minimize all your costs so that you can retain the maximum amount of your wealth.
If your advisor isn't telling you about these extra costs and what they are doing to reduce them, it's a warning sign. Read our exclusive guide on financial advisors to learn about other such warning signs.

Services Acquired
For starters, how much a wealth management firm will charge you depends on the services you are acquiring. For instance, if you are simply hiring them to develop a financial plan for you, they might charge anywhere from $1500 to $5000 for just that service.
In comparison, if you are hiring them for comprehensive wealth management services that require much more time and effort, the charges will increase.
Net Worth
The charges also depend on your net worth. Firstly, most wealth management firms have a strict net worth cut off at $1 million. Based on that, they then charge a fixed percentage, usually around 1 to 2%, on the assets under management (AUM). So, if you have $1 million worth of liquid assets, they would charge you around $10,000 every year in management fees.
In addition to that, many firms also reduce their percentage fee as your net worth grows. For instance, at Pillar Wealth Management, we only cater to clients with at least $5 million in liquid assets and discount our rates when their net worth crosses $10 million. Plan a free chat with us to learn more about it.
Management Style
Other than that, how much the wealth management firm charges also depends on its management style. For instance, if a certain firm follows active money management, which involves numerous transactions during the year and constantly timing the market, they will charge higher fees for the extra services.
On top of that, you will have to bear the additional taxes and internal expenses as well. On the other hand, a firm that focuses more on passive money management, which aims for higher long-term returns, won't have that high charges.
You can read more about the difference between active and passive management from our handy guide on portfolio growth strategies. At Pillar Wealth Management, we aim for holistic wealth management, and that's why we employ an optimal combination of active and passive money management. This way, our clients can benefit from high returns as well as low costs.
Our Fee-Only Wealth Management Worth it?
So, then are fee-only wealth management firms worth it? Why should high-net-worth individuals with $5 million to $500 million in liquid assets choose such wealth management firms over other types of firms? Here's why.
Fiduciary Services
Most fee-only wealth management firms offer fiduciary financial services. This is a strict standard of care which forces wealth management firms to offer their best services to their clients while looking out for their interests.
They have to always prioritize the clients' best interests over their own. Moreover, they have to disclose all relevant information to their clients, which can help them make more informed decisions.
No Conflict of Interest
Unlike commission-based firms, fee-only wealth management firms tend to have no conflicts of interest. Since they charge a percentage based on the client's net worth, helping their clients succeed ultimately helps them succeed. The more their clients grow their wealth, the more they can earn through their fees.
Comprehensive Wealth Management
Since such wealth management firms are not just focused on short-term returns, they adopt a more holistic and comprehensive wealth management approach, where they aim to grow theirclients' wealth as well as protect their assets from high costs, tax bills, market volatility and more.
Discover how else such firms protect your wealth from our book, The Art of Protecting Ultra-High-Net-Worth Portfolios and Estates – Strategies for Families Worth $25 million to $500 million.
Financial Serenity
Most importantly, with experienced fee-only wealth management firms, you can finally attain financial serenity in life, which is everyone's goal. This means that you can truly relax about your financial success and future and not worry about a thing because you know that your wealth management is in good, capable, and trustworthy hands.
You can learn more about the shifts millionaires need to make to achieve financial serenity from our brilliant guide on portfolio performance.
Choosing the Best Fee-Only Wealth Management Firm
The last step is to actually choose a fee only wealth management firm out there, and this is probably the trickiest part. There will be loads of wealth management firms out there, making big claims and promises.
However, you have to choose the one that best aligns with your specific needs, and that can handle someone of your caliber. Therefore, evaluate the wealth management firms on the following factors to find the right firm for yourself.
• Credentials
• Experience
• Customized Financial Plans
• Reviews
You can also approach Pillar Wealth Management directly as they tick all the boxes. They have decades of experience, highly trained and licensed financial advisors, and they always provide tailored financial solutions according to each client's needs and personal goals. Set up a no-obligation conversation with Pillar Wealth Management today.
To be 100% transparent, we published this page to help filter through the mass influx of prospects, who come to us through our website and referrals, to gain only a handful of the right types of new clients who wish to engage us.
We enjoy working with high net worth and ultra-high net worth investors and families who want what we call financial serenity – the feeling that comes when you know your finances and the lifestyle you desire have been secured for life, and that you don't have to do any of the work to manage and maintain it because you hired a trusted advisor to take care of everything.
You see, our goal is to only accept 17 new clients this year. Clients who have from $5 million to $500 million in liquid investable assets to entrust us with on a 100% fee basis. No commissions and no products for sale.
Related Post