If you have gathered wealth by working hard, often it gets confusing as to where you should invest to get the best returns on your investments.
With your busy daily schedule, it is not possible to manage your own finances appropriately, which is why firms like Pillar Wealth Management, LLC. manages investments for clients that have $5 million to $500 million in liquid assets.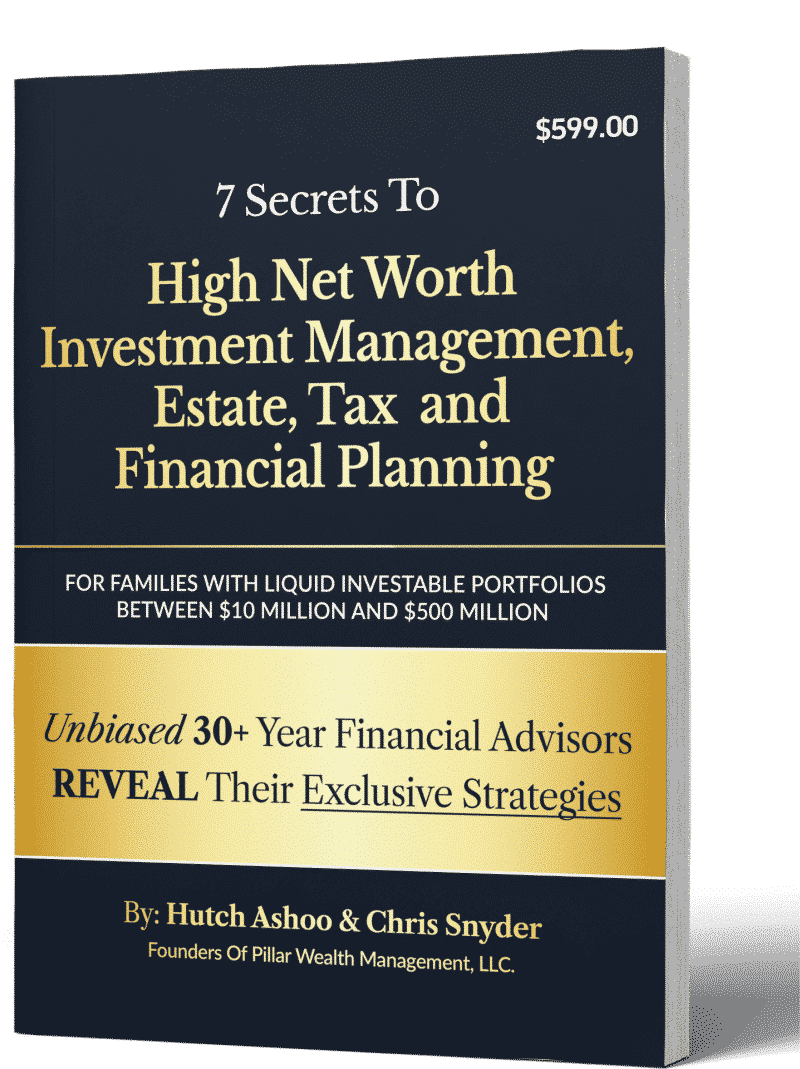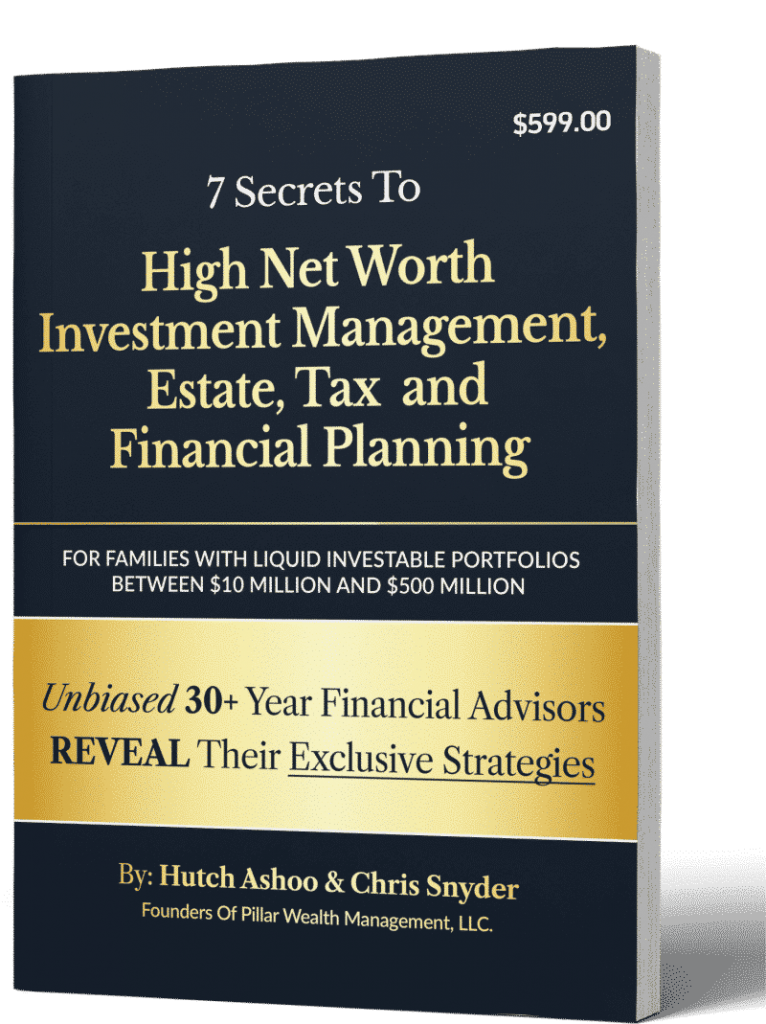 STRATEGIES FOR FAMILIES WORTH $5 MILLION TO $500 MILLION
7 Secrets To High Net Worth Investment Management, Estate, Tax and Financial Planning

The insights you'll discover from our published book will help you integrate a variety of wealth management tools with financial planning, providing guidance for your future security alongside complex financial strategies, so your human and financial capital will both flourish.
Clients frequently share with us how the knowledge gained from this book helped provide them tremendous clarity, shattering industry-pitched ideologies, while offering insight and direction in making such important financial decisions.
Between investing in the stock market, buying mutual funds, and making bank deposits, taking the correct decision at the right moment becomes difficult.
Some investments may give high returns but incur huge taxes, while others may seem to be too low to be worthwhile. The general types of securities and investments including stocks, bonds, mutual funds, exchange-traded funds (ETFs), real estate investment, index funds, and so on.
Are you searching for an investment firm that can help manage your wealth? Schedule your consultation call with Pillar Wealth Management, LLC.'s co-founders Hutch Ashoo and Chris Snyder to discover how we can help.
Again, there should be a balance between your investments and your age. If you are a young adult, you can take more risks, while if you are middle-aged or a senior citizen, the investment needs to be evenly balanced so that there is a reduced risk of losing money.
Very few people are expert enough to personally gauge the pros and cons of investments, to select the right time to invest and withdraw, or to diversify their wealth to maintain the right balance. People need to have a portfolio manager to juggle their funds and give them the best returns. That is why a wealth management firm like Pillar WM can help you.
However, not all individual portfolio managers are good at what they do or trustworthy and can lead you to hardship by investing your wealth in wrong securities or bonds.
So, what can you do to distribute your wealth and get the best investing benefits? It is time to look for some of the best and most successful investment firms that can bring about good services and returns. You should know what precisely the best investment companies do before selecting an investment firm to work with.
All about investment firms
Investment firms that are also known as investment trusts, partnerships, or even corporations collect money from shareholders in a pooled manner. They then invest in a variety of security instruments for increasing their client's money.
Unlike a single professional who manages the portfolio of the customers, an investment firm employs a group of well-trained investment managers that know the tips and tricks of making a profit by timely buying and selling shares in the stock market. They also consider buying properties and other assets or mutual funds on behalf of their customers.
It is the well-trained portfolio managers of the firm who decide where and when to invest or to flip investments so that the client can get the best returns.
They help the customer have a diverse portfolio and create a proper balance of diversified investments. As a client, if you buy shares of the investment firm after investing your bounty, you become a proportionate part of all the investments made by the firm with the collective money from different investors. You, therefore, earn returns as per your proportion of investment.
It should not be difficult to find an exceptional investment firm. Receive your free copy of The Ultimate Guide to Choosing the Best Financial Advisor for Investors with $5 Million to $500 Million in Liquid Assets and discover how to find an advisor that's right for you.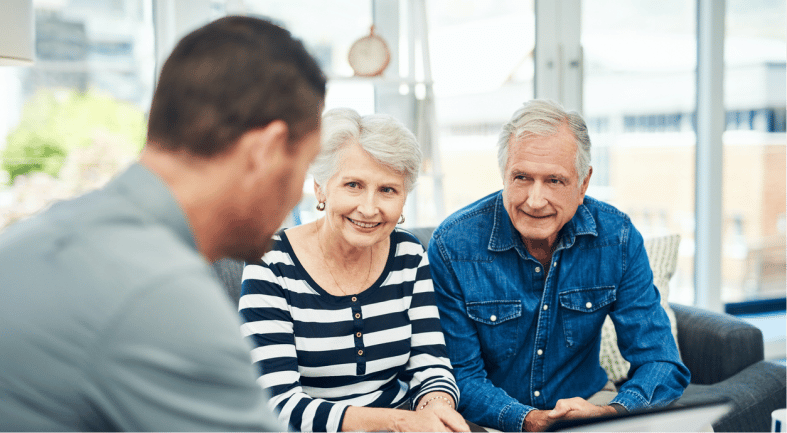 Investing in the biggest and best investment firms
While making your investments, make sure that you are investing in the biggest and the best firms. You can find a host of investment firms while surfing the internet but always choose the best. Make sure to read the reviews, the areas where these firms invest, the returns they give to their customers, the list of clientele, and their investments.
There are some of the biggest and successful investment firms across the globe with trillions of investments by many stakeholders, but many firms like Pillar Wealth Management, LLC., and others are gaining popularity every day.
Their sound understanding of the money market and giving handsome returns to their clients for their investments increases their popularity.
Many firms are quite knowledgeable about the trends in the market and the future demands of particular property types and assets. The diversity the funds accordingly to make more profits that can be passed to their clients proportionately.
They always work to increase the customer's portfolio, taking into consideration all the checks and balances.
The renowned and the top growing investment companies follow some standard features while working in an organized manner. Let us discuss the workings of some of the best and most significant investment companies. There are various organizational structures in operation at the different firms.
Before discovering the organizational structures of different financial firms, get your copy of our guide Improving Portfolio Performance: The Shifts Multi-Millionaires Must Make To Achieve Financial Security and Serenity from our team at Pillar Wealth Management, LLC.
A closed-ended structure
In between the collective investors and the stock market, property investments, debt, and other funds or even cash investments are the investment companies that work as an intermediary.
The firm or the company collets money in the pooled way and invests according to their knowledge and understanding of various market trends and future demands.
With the closed-ended structure, the best and the most prominent firms issue shares occasionally, which are traded in various stock exchanges. As an investor, one needs to buy the stocks of the firm and become a shareholder.
In the closed-ended structure, the fund managers try to deliver long-term sustainable returns and results. They invest less in private equity, venture capital, commercial properties, or liquid assets unless they are blue-chip investments with bright future growth.
Listing in the stock exchange
Firms can get listed in multiple stock exchanges across the globe. As an investor, remember that if the firm is listed in various stock exchanges, it reflects their work coverage, the trust it has gained from the investors, and the areas they invest in for maximum returns.
Run by the Board of Directors
The firms have an independent board of directors to look after and safeguard the interest of the investors, in this case, the shareholders. Their duties are to meet at specified times, inspect the company's performance, offer advice, and review all the activities and disputes that may have arisen.
Let us help if you need a fee-only financial planner and you have $5 million to $500 million in assets to manage. Let us set a time for your free consultation with Pillar Wealth Management, LLC.'s co-founders Hutch Ashoo and Chris Snyder.
Issuing shares
As already discussed, the fund gathered by the best investment management firms is pooled from different investors by selling shares. It can be done in a variety of ways, depending on the firm's business organization structure.
The firm can decide to issue ordinary shares where the investor or the shareholders earn dividends on their investments proportional to their shareholding, as declared by the firm.
Again, if it is a capital investment company, it can issue various classes of shares. In this type of Shareholding Company, the firm invests the money of the shareholders in multiple instruments to give a healthy return to the investors. The firm works as a collective group and earns some percentage of profits that they disburse to their investors or shareholders.
The investor's rights
The investor is a shareholder of the best investment company has certain rights like participating in the AGM or an annual general meeting, motion for EGM's, change directors, and appoint someone of their choice. However, all these depend on the number of shares an investor holds in the company.
Our firm wants to help you protect your investments. Here's a book that we will send you, titled The Art of Protecting Ultra-High Net Worth Portfolios and Estates: Strategies for Families Worth $25 Million to $500 Million.
Investing selectively
The biggest and best investment companies have the right to decide which sectors they will spend their investor's money, often termed as the shareholder. They can choose to invest globally across various business verticals to give the best returns to their investors.
They follow different investment strategies by investing in private equities, property firms, hedge funds, or venture capital trusts. Even some of the big investment firms invest in some of the other similar firms to get the best returns.
Managing the fund is the board of directors responsible for selecting the best fund managers. The fund managers manage the funds regularly and decide when to buy or sell investments.
The biggest and the best companies help the external fund management firms who are monitored by the in-house team. Some of the growing investment firms often manage the investments on their own, hiring the industry's best talents.
Growing the investment
Often, the best and greatest investment companies borrow from outside to invest massive quantities to get more returns. The target is to invest in volumes, get more profits, and return the investor's money with more interest or dividends. The significant investor firms manage additional funds borrowed at a lower rate of interest. They play a pivotal role in making the money market stable and borrow a considerable amount.
Pros and cons of best investment firms
As an investor, you should gauge the pros and cons of the best firms and proceed with one. No one likes to shell out extra fees in the form of transaction charges or any other processing charges. It eats the fruits of the returns.
Having a dedicated advisor
The top investment companies allow the investors to have a dedicated financial advisor or planner, who can understand their investment goals and guide you accordingly to give you the best returns. Decide either human financial advisors or robo advisors to help you achieve the best financial planning.
Address all investor queries
The best firms never let down their investors and are always open to discussion. They do not hide anything, which portrays the right picture to the clients. Many wealth management firms are only caring enough to manage investments and sometimes ignore the investors or avoid taking the responsibility of providing low returns. One should avoid this type of firm.
Charge reasonable fees or commission
Unlike many investment management firms, the best ones charge a minimum commission or fee from the assets under management of the investment account. They invest in volumes, often borrowing from other available sources to give more returns to their clients.
The right firm for you is out there. To find an advisor that puts your needs first, receive our free resource The Ultimate Guide to Choosing the Best Financial Advisor: For Investors with $5 Million to $500 Million in Liquid Assets, from our team at Pillar Wealth Management, LLC.
Multiple avenues to invest
If one chooses the best investment firm, it is assumed that the firm will invest in numerous areas to reduce risk. The investment of an individual is diversified in various sectors to give the best returns.
It is only possible if the form has the best knowledge of the market and does regular market research and collects resource information. These are impossible to monitor by an individual or the ordinary firms who only portray a rosy picture.
The best investment company guide
It is advisable to read various reviews and studies to find out the ratings of the investment companies and select some of the best amongst the top ones for investing. Make sure that the transaction fees are not high and that there are no hidden clauses. Read the terms and conditions in the fine print and then only invest if you are fully satisfied with the firm's operations. Besides, the availability of customer service is important because while you need something immediately, you need assistance from it.
Find out where they are spending and what returns they have given to their existing investors over time while managing the investor portfolios. Look at the customer satisfaction levels, the stock market ratings, and then only invest. A higher rating speaks of the investment firm's credibility.
Who are the best investment firms?
Many investment companies work best irrespective of their turnover. There are world leaders whose names are spelled by almost all investors. There are growing investing firms that have a dream to grow big and work correctly and locate many millionaire clients while creating enough liquidity to protect the portfolios of the investors. They may not be that well-known, but they work silently to multiply your investments and give good returns.
Masterworks
Have you ever thought that you own one of Warhol's famous masterpiece art? It is possible with Masterworks even you do not have $1 million in your portfolio. In Masterworks, you can get benefits once a famous masterpiece art is sold. For instance, if you have invested in Masterworks, once a masterpiece art is sold, you will get the shares from it. The amount is proportional to your initial investment that can range from $1,000 or more depends on the art you choose. Besides, after choosing the masterpiece art, you need to pay at least 1,5% each year as the management charge such as insurance, transportation, and so on. Masterworks' main focus is selling the masterpiece art. Once it sold, the platform will get a 20% commission in case the value is increased.
Charles Schwab Asset Management
Charles Schwab Asset Management includes full-service brokerage firms that can help you to manage your investment that is rated nearly five by JD Power's customer satisfaction and rated full-service brokerages. Investors can invest a minimum amount of $5,000 minimum investment for managed accounts and $1,000 for standard accounts. With at least $25,000 investors can get a one-on-one portfolio consultation. This portfolio consultation can be handled online or by phone. However, if the investors want to meet up in person, this firm has more than 300 branch offices across the United States and served more than 9 million customers along with the establishment and provides no-fee professional portfolio management. Choose what financial services that you want either for mutual funds, stock, or bonds.
VPAS (Vanguard Personal Advisor Services)
There are numerous investment firms in the world. One of them is Vanguard Personal Advisor Services or VPAS. This firm allows you to choose either use the robo advisor or the traditional financial advisor. VPAS will help you to identify your financial needs and goals. They will assist you to make your financial plan from it.
Fidelity Investments
If you want a self-directed account to manage your investment, Fidelity Investments is one of the firms that can give you the service. You can get portfolio management or more complex issues like wealth management services. The example of wealth management services is tax advice, estate planning, and many more. If you own $50,000, you can make investment accounts at Fidelity Investments and they will make a strategy to assist you in investing in your financial goals such as retirement planning. However, if you want to get more services from Fidelity Investments, you need to invest at least $200,000 to get the tax-sensitive investment or portfolios that are separated to specify different equities.
Merrill Edge
Merrill Edge is owned by Bank of America and both of them are merged to gain more financial resources. Merrill Edge is considered an investment firm that has the most analyst with CIMA (Certified Investment Management Analysts). Merrill Edge is focused on building the relationship with clients by having a one-on-one relationship to make sure that the client assets are well-managed. This firm prioritizes transparency to their clients so that they will know and understand the investment options that are adjusted with the client's goals, tracking the goals, and understand where the money they pay is going. This is important because you will know that you are paying for the service and understand the results that you will get. You also need to place a high prioritize on your goals such as credit cards management, gift planning, and so on. Merrill Edge is not a low-cost broker. It is because the advisory fees often charge at least 1% or much higher than that and also additional management fees for the mutual funds or others that are related to your portfolio and trading expenses. Those clients who have engaged with Bank of America and have the account place a high priority to find the values by using Merrill Edge services.
Those are the example of investment firms that are available with their own specialty. However, do you think that those firms can guarantee you the best results and impact your decisions? The answer is no, they cannot. Pillar Wealth Management does beyond that. Even it is not as huge as those firms, Pillar WM can give you the best advice for your investment options and decisions. Besides, other firms like Fisher Investments, TD Ameritrade, E-Trade, or others cannot guarantee you that you will always get the best results. Either you choose a human financial advisor, discount brokers, or others, it does not guarantee you to achieve your goals. Start a conversation with Pillar WM now and get the best investment services for your financial goals.
Overview
It is not always the big brands or the size that matters while selecting the top investment companies to manage your portfolio. The credibility and the sincere effort matter, and one who works sincerely can be relied upon to make investments.
Therefore, take the decision judiciously and invest to receive good returns. If you need an investment firm to manage your multi-million-dollar investment portfolio or between $5 million and $500 million in assets, then you should learn more about Pillar Wealth Management, LLC. Let's schedule a time to have a conversation about your financial needs with company co-founders Hutch Ashoo and Chris Snyder today.