Personal Investment Company: What Does It Do? PillarWM
If you have successfully amassed $5 million to $500 million worth of liquid investable assets, you might feel that all your financial troubles are now over. Nevertheless, if you don't invest your wealth to preserve or grow it, you could find yourself facing financial problems and an unpredictable future sooner than you might think. If you don't want to get caught up in all of this, you need to hire the top personal investment company to secure your assets and build your wealth sustainably. If you are looking to invest $5 million or more of liquid assets, you should request a free copy of our book, 7 Secrets to High-Net-Worth Investment Management, Estate, Tax, and Financial Planning.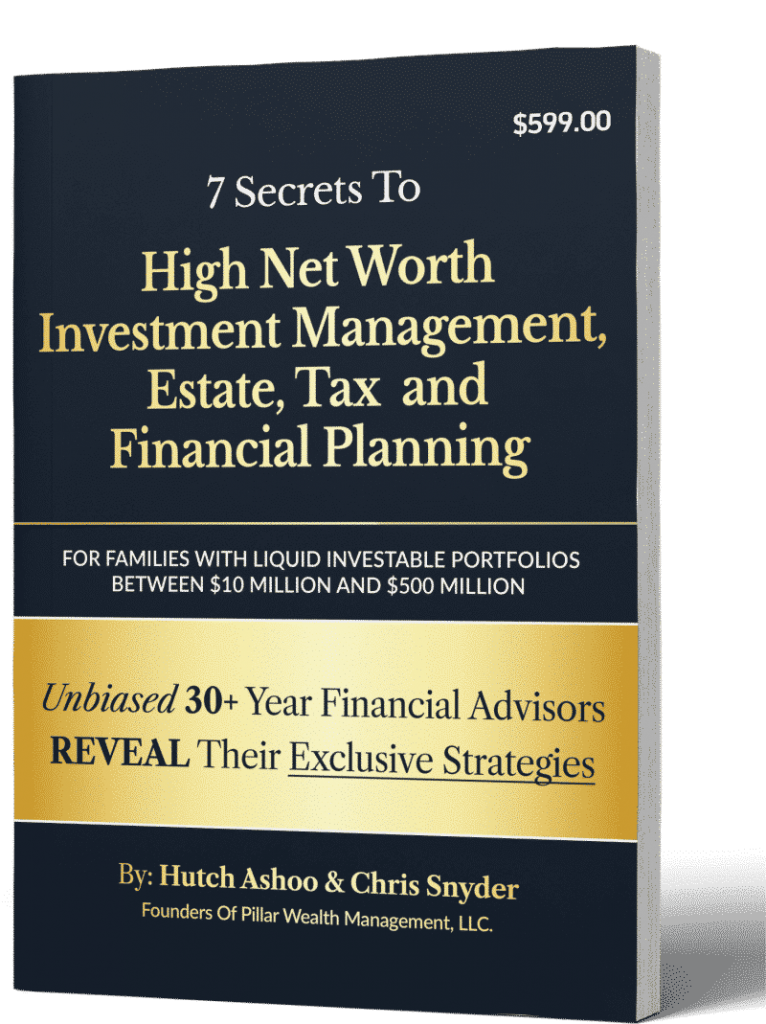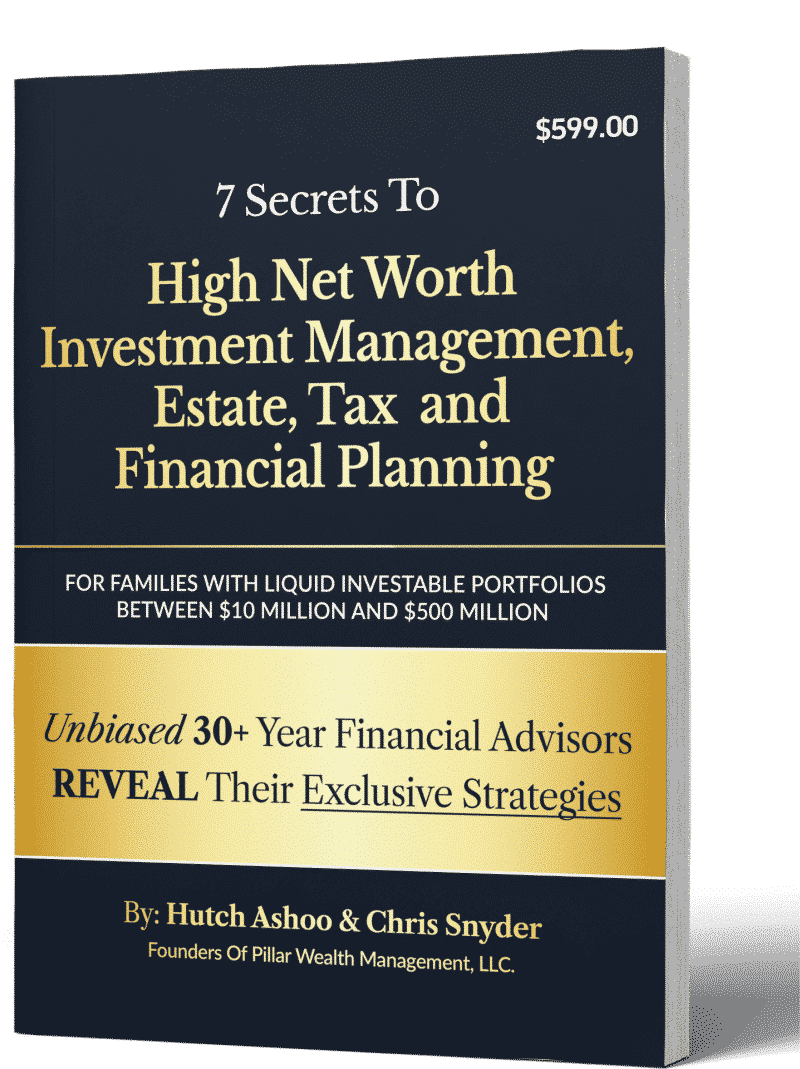 STRATEGIES FOR FAMILIES WORTH $5 MILLION TO $500 MILLION
7 Secrets To High Net Worth Investment Management, Estate, Tax and Financial Planning

The insights you'll discover from our published book will help you integrate a variety of wealth management tools with financial planning, providing guidance for your future security alongside complex financial strategies, so your human and financial capital will both flourish.
Clients frequently share with us how the knowledge gained from this book helped provide them tremendous clarity, shattering industry-pitched ideologies, while offering insight and direction in making such important financial decisions.
Alternatively, you can get in touch with the financial professionals at Pillar Wealth Management directly. We are a private wealth management firm that has been catering to individuals and families with $5 million to $500 million worth of liquid assets for over thirty years. With our high level of training and experience, coupled with our wide range of advisory and financial services and intelligent investment techniques, you can be confident that you will attain all your financial goals.
What Is A Personal Investment Company?
A personal investment company offers a range of investment-related services, including portfolio analysis, asset allocation, and portfolio strategy implementation, all of which revolve around facilitating affluent individuals and families in attaining their financial goals.
1. What Does A Personal Investment Company Do?
High net worth or ultra-high net worth individuals often hire a personal investment company to enhance their financial goals. If you have never used these services before, you might be thinking, "what does personal investment companies do?"
The managers at a personal investment company hold in-depth meetings with their clients to get insights into their risk profile, time horizons, investment goals, etc. They use these insights and information to perform exhaustive research to deduce which investments are most beneficial for the particular client. The professionals at a personal investment company also evaluate the past performance and forecasted performance of those investments, the global and local market conditions, along with various factors.
Additionally, personal investment companies also put together the most suitable asset combination for their client's investment portfolio and execute the investments. Want to know more about what a personal investment company can do for you? Schedule a free chat session with one of our team members.

2. What Are A Personal Investment Company's Services?
Personal investment companies offer a range of investment-related services. These services entail portfolio analysis, asset allocation, portfolio strategy implementation, etc., all of which revolve around facilitating affluent individuals and families attain their financial goals.
Here is a detailed explanation of the services offered by a personal investment company.
1. Asset Allocation
Asset allocation is an investment technique that aims to strike the perfect balance between investment risks and returns. This is one of the critical services offered by personal investment companies to maximize their client's portfolio returns.
Personal investment companies that are well-versed in high-value assets and who understand the goals of wealthy investors can help optimize your portfolio for the highest growth. You can learn more about how to enhance your portfolio performance from our guide here.Asset allocation allows you to stay on track with your long and short-term financial targets and also helps to safeguard your assets.
Having a professional from Pillar Wealth Management monitor your investment portfolio and allocate your assets after meticulous consideration will help you preserve your wealth for the future without compromising your standard of living. A well-devised investment portfolio will help you stand firm against any changes brought about due to life circumstances such as unemployment, lawsuits, accidents, or death. This enables you to stay in complete control of your financial circumstances through thick and thin.
2. Portfolio Management
Your portfolio offers a holistic profile of your financial investments and financial assets, such as cash, bonds, stocks, equities, mutual funds, and other commodities. Portfolio management is a service offered by personal investment companies where they formulate investment strategies to allocate your assets to attain your goals, reduce risks, and boost capital gains.
At Pillar Wealth Management, our team uses an unbiased and objective approach to review and evaluate your portfolios financial structure. We will help you identify new and prolific opportunities after assessing the risk tolerance of each investment. Having a personalized plan allows you to lower investment risk by diversifying the investment of your assets.
3. Retirement Planning
Retirement planning is a crucial element of any person's investment strategy. Everyone dreams of enjoying a peaceful, happy, and financially stable retirement. Bringing this dream to life is significantly complicated for high net worth and ultra-high net worth individuals and families.
Retirement planning is a vital service provided by personal investment companies to wealthy individuals. Your investment portfolio plan primarily determines your retirement strategy. Only when you use suitable investment and portfolio growth tactics will you be able to build and maintain your wealth long enough to live a financially sound retirement.
The truth is that your investment plan will also require modifications based on where you stand in life. For instance, when you are young, you can afford to pick riskier investments that require you to wait out slow economic cycles. However, if you are close to retirement, you will be much better off with low-risk and reliable investments.
4. Tax Planning
You probably know that you need to pay a certain amount of tax every time you make profitable investment gains. But did you know there are various strategies to successfully lower the amount of tax you are required to pay? Well, this is exactly what tax planning is all about!
Tax planning is a service offered by a personal investment company that entails assessing your investment portfolio or financial situation from a tax perspective. This means that a financial professional will review each of the elements of your situation or portfolio to determine where the possibilities for taxes are high and then devise strategies to lower your tax obligation.
At Pillar Wealth Management, we are fully aware of the importance of an exhaustive financial strategy because, without it, your entire portfolio can get consumed by taxes. Hence, we are committed to providing you with the best tax plan that will effectively reduce your tax bill. If you are an investor with $5+ million worth of liquid assetsaiming to save on taxes, we highly recommend you request a free copy of our latest book, 7 Secrets to High-Net-Worth Investment Management, Estate, Tax, and Financial Planning.
5. Risk Management
Financial markets can be highly volatile and almost impossible to predict. This is bad news for your investments. Many affluent families and individuals often lose a large percentage of their wealth because they are not prepared to deal with sudden market shifts.
Because of this reason, personal investment companies also offer risk management services that diversify your investments across various kinds of assets and lower your losses in cases of market volatility.
The risk management services offered by our team at Pillar Wealth Management help you withstand market fluctuations without throwing you for significant losses. Order a free copy of our hardcover book, The Art of Protecting Ultra-High Net Worth Portfolios and Estates – Strategies for Families Worth $25 million to $500 million, to get more information on how you can protect your wealth.
3. What Are the Types of Personal Investment Companies?
If you have researched about personal investment companies, you probably know there's more than one kind. So, what are the types of personal investment companies?
Typically, they are categorized into managed investment companies and unit investment trusts. Managed investment companies are generally private institutions or associated with a brokerage firm or an insurance company. They are further classified into closed-end and open-end funds.
On the other hand, unit investment trusts are categorized into bond and stock trusts. Let's have a look at each of the different types of personal investment companies in detail.
1. Closed-End Investment Company
Closed-end funds have a set number of shares that are listed with a stock exchange. Such firms offer a higher level of returns and greater diversification and have flexible investment policies. They generally trade close to the net asset value.
2. Open-End Investment Company
Open-end funds are perfect for small investors as they offer high gains and start at low rates. Also referred to as mutual funds, these firms can buy their own share close to their net asset value to raise capital.
3. Unit Investment Trusts
As opposed to managed investment companies, unit investment trusts don't have portfolio managers or a board of directors. These companies allow you to invest in a fixed set of securities without modifying the structure of your investment portfolio. The dividend isn't reinvested into the fund, and any gains are directly transferred to the unitholders.
Stock trusts provide you capital appreciation and dividend income after a fixed time, which is established by a termination date. On the contrary, bond trusts have a fixed monthly income.
4. Exchange Traded Funds (ETFs)
It is either an open-ended investment company or a Unit Investment Trust (UIT) whose shares are traded at market rates on stock exchanges every day. ETFs help preserve professional management and a diversified investment portfolio, and they trade on the stock exchanges like equity securities.
Deciding which investment organization to choose can be challenging, particularly for investors who have more than $5 million worth of liquid investable assets. Schedule a free meeting with our team to find out which company is best suited for your financial needs.
4. Why Should You Work with Pillar Wealth Management?
A personal investment company can help you accomplish your long and short-term financial goals. However, high net worth or ultra-high net worth individuals can significantly benefit from using a wealth manager for investment management services.
Here is a list of reasons why you should work with a wealth manager.
1. Experience
Experience is one of the most important factors used to judge the credibility of a financial institution. At Pillar Wealth Management, we have a joint experience of over six decades in assisting affluent clients with their financial needs. This experience has allowed us to expand our knowledge and enhance the quality of our services with time.
2. Tailored Financial Plans
We provide our clients with tailored financial plans that align with their unique needs and portfolio. This is very different from investment managers who use a standardized investment approach for all clients, irrespective of their requirements and financial circumstances.
We understand the importance of evaluating every client separately and providing personalized solutions to help them attain their objectives.
3. Active and Passive Investment Management
The investment management style of a firm says a lot about its credibility. Generally, most investment companies focus more on active money management, which entails buying and selling several assets within a year.
While active investment management can lead to high returns, it also comes with high fees, transaction charges, taxes, and risks. In contrast, passive investment management aims to create a portfolio based on the market index and focus on long-term gains with reduced risks. This leads to lower taxes and fees. Read our guide to learn more about the difference between the two investment management styles.
At Pillar Wealth Management, we strike an optimal balance between active and investment management approaches so that our clients benefit from high returns at minimal costs.
4. Range of Services
At Pillar Wealth Management, we provide a more comprehensive range of services than personal investment companies. This includes services related to wealth transfer, estate and legacy planning, insurance planning, balance sheet optimization, etc. Each of these services plays a vital role in helping you move towards your financial targets.
When combined with investment-related services, you can attain goals such as leaving a large inheritance for your offspring, supporting charitable organizations of your choice, and spending a worry-free retirement. Head over to our website to sign up for a free exclusive consultation and get started with availing our financial, investment, and wealth management services today!
To be 100% transparent, we published this page to help filter through the mass influx of prospects, who come to us through our website and referrals, to gain only a handful of the right types of new clients who wish to engage us.
We enjoy working with high net worth and ultra-high net worth investors and families who want what we call financial serenity – the feeling that comes when you know your finances and the lifestyle you desire have been secured for life, and that you don't have to do any of the work to manage and maintain it because you hired a trusted advisor to take care of everything.
You see, our goal is to only accept 17 new clients this year. Clients who have from $5 million to $500 million in liquid investable assets to entrust us with on a 100% fee basis. No commissions and no products for sale.
Related Post