Family Financial Planning
The quality of life that your family enjoys can be dependent on how well your wealth is managed. As economists have told us, human wants are insatiable, but the available resources are limited. This means that for your family to achieve all their goals and desires, you must plan your resources quite well.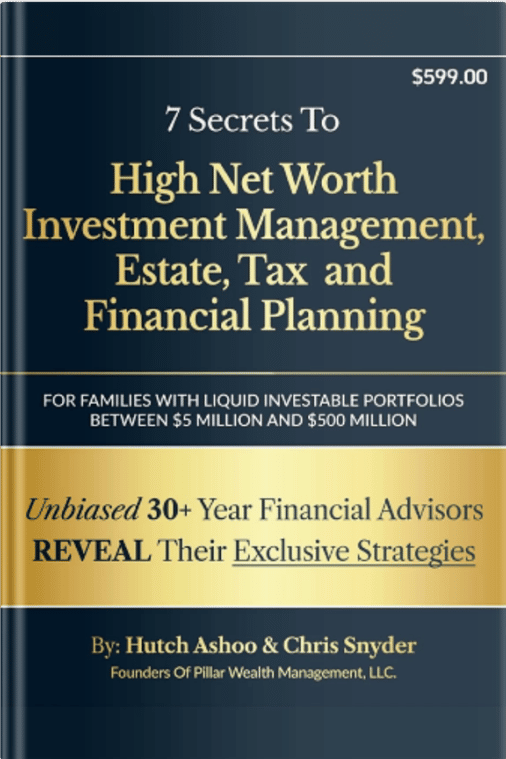 STRATEGIES FOR FAMILIES WORTH $5 MILLION TO $500 MILLION
7 Secrets To High Net Worth Investment Management, Estate, Tax and Financial Planning
The insights you'll discover from our published book will help you integrate a variety of wealth management tools with financial planning, providing guidance for your future security alongside complex financial strategies, so your human and financial capital will both flourish.
Clients frequently share with us how the knowledge gained from this book helped provide them tremendous clarity, shattering industry-pitched ideologies, while offering insight and direction in making such important financial decisions.
As a high net worth individual, you already know how important it is to invest your assets wisely. Investments are an exceptionally good way to protect, grow and even multiply your wealth, which is especially true if your investment portfolio is a considerable one.
If you have an investment portfolio of $10m and above, check out our free resource titled The Ultimate Guide to Choosing the Best Financial Advisor: For Investors with $5 Million to $500 Million in Liquid Assets.
In this guide, Pillar Wealth Management covers exactly what you need to know about investments and investing, as well as the need for a financial advisor to ensure that you get the best possible results from your finances.
In this article, we look at why financial planning for your family is important and how you can go about it. We will delve into a lot of topics such as budgeting, taxes, investments, insurance, and so many others that are important for your family to enjoy a fruitful financial life.
This article will prove helpful to high net-worth individuals, as it was prepared by Pillar Wealth Management LLC, a wealth management firm that caters to the needs of affluent clients who have between $5 million and $500 million in liquid assets and are looking to protect and increase their wealth.
How to make a financial plan for your family.
Just before we start discussing the exact steps you need to take to make a financial plan for your family, we must establish just how important a financial plan is.
Imagine you are going to build a house, what is the first thing you do? Draw a plan, of course. With a good plan drawn up, your chances of success when building the house increases drastically. Now imagine that your family's financial fortune is a house that you are building.
Going by what we said previously, a financial plan is crucial to that house being built. In the absence of a financial plan, you are more likely to take steps that although they look good in the short term, can harm you in the long term.
For example, as a high net worth individual, you can probably afford to take an expensive vacation every year. However, if you do not plan it well, especially in the context of your long-term goals, your investment portfolio might not grow as much as it could.
And some of your longer-term goals, like a large nest egg for your retirement or planning for generational wealth, might not be achievable anymore. So you can see that the financial plan for your family is something that you must take very seriously.
Creating a financial plan on your own can be quite hard, especially if you are a high net worth or ultra-high net worth individual. You can schedule a free consultation call with the co-founders of Pillar Wealth Management LLC, Chris Snyder and Hutch Ashoo to help you figure how best to plan your family's wealth and manage your investment portfolio.
Now, let us delve into how to create a financial plan for your family.
Set Financial Goals
The first step to creating a financial plan for your family is to consider your goals. What is it that you want to achieve in your family? Now, you must understand that your goals will depend on where you are currently. Your age and the stage of life that you are in will affect the kind of goals that you have.
For example, if you are young and just got married, much of your goals will centeraround raising kids, planning for your dream home, and building your investment portfolio. At that stage of your life you would still be in your prime working years, and as such, can afford to take on more risk when it comes to investment.
You might also want to start saving up to pay for your mortgage so that you can own your dream home or start saving up for your kids'college education. If you are older, however, your goals might be geared towards leaving an inheritance for your children, building up a retirement portfolio for yourself, or ensuring that all debts and mortgages are paid off.
Whatever your financial goals are, you and your family must know them and actively work towards achieving them.

A good way to do this is to list out all your family's needs and wants. Consult with all the members of your family and find out what they would love to accomplish both in the short-term and the long-term, even as far as what you want to do with your Estate when you pass.
If you need some help mapping out your goals, you can schedule a free, no-obligation consultation call with Pillar Wealth Management LLC's co-founders, Hutch Ashoo and Chris Snyder today.
Once you have a comprehensive list of all the things that your family would like to accomplish, you need to arrange those goals in order of priority as well as time. Some goals will be short-term, while others will be long-term; some goals will also be more important than others.
By arranging your financial goals according to the order of importance and the time of importance, you can easily work out an implementation schedule for it.
Set Milestones
Once you have your goals listed, you should set out milestones that would aid in tracking your progress at reaching those goals. For example, if one of your goals is to have $100,000 saved up for your kids' college fund, you can set up smaller milestones leading to that goal.
A good milestone could be to have $20,000 saved up by the time your kids are entering high school. By breaking down your goal into milestones, they become easier to achieve, and you can track your progress along the way.
Setting up milestones also helps you set up a system that makes your goals more achievable. For example, if you are planning to save $10,000 to help your child with their deposit on their first house, how long would you need to save for, and how much do you need to save.
If you choose a low-risk investment with an annual interest rate of 5%, you will need to save $35 per month for 19 years and 10 months to get $10,000. While $10,000 might seem like a huge goal, $35 a month is an easier task.
At this point in your financial planning, you should get a financial advisor that will provide you with important financial advice on how best to approach your goals. However, you must ensure that you find the best financial advisor that will suit your unique financial needs.
This is especially important for you as a high net-worth individual. To make sure that you find the best financial advisor, request for our free guide titled: The Ultimate Guide to Choosing the Best Financial Advisor: For Investors with $5 Million to $500 Million in Liquid Assets. It was specially created by our team at Pillar Wealth Management LLC and will help you find the best financial advisor to help with your family's financial planning
Track Your Spending
Meeting your financial goals for your family will involve a level of fiscal discipline. In other words, you must be careful how you spend and what you spend on. Even though you are a high net worth individual, you can make mistakes and likely will in your lifetime. Tracking your spending is a great place to start.
Thankfully, there are tons of smartphone applications out there that help with that. If you like to be in more control, you can use a spreadsheet or plain old pen and paper. Add up all your income, as well as your expenses.
This will give you a fairly accurate picture of your cash flow, so you can understand exactly where your money is going to. Having trouble tracking your spending, or desperately need financial advice?
Then schedule a free no-obligation consultation call with us at Pillar Wealth Management LLC today. Our company co-founders will be on hand to help you decide where you need help the most to manage your finances.
You should also divide your spending into essential and non-essential spending. By doing this, you can quickly see if there are any unnecessary spending that you can cut to improve your savings and Investments.
Create a family budget planner
The cornerstone of a financial plan for your family is a good family budget. As a high net worth individual though, your budget might be more complicated than an average middle-class family. All the same, the basic principles of creating a budget still ring true no matter how wealthy you are.
Once you know what your expected expenses are, and what your expected income is, you then build a budget around that. Your budget should cover how much you spend on necessities such as food, transportation, and of course, your other bills. Your budget should also cover things like savings and investment.
Once you come up with a tentative budget, have a sit-down and discuss with your family. Let them know what expenses are considered normal, and what is considered as luxuries. If every member of the family understands the budget and why it was designed the way it is, it becomes easier to stick to it.
Creating a budget is not the hardest part of budgeting and planning your family expenses. The greatest challenge will be sticking to the budget. This is especially true for wealthier families. Because you have all kinds of expenses, and the financial means to meet them, it can be tempting to spend without a budget.
However, if you are going to achieve your financial goals, increase your investment, and protect your portfolio, you will be to create a budget and stick with it.
In case you're finding it hard to manage your spending and your wealth properly, the team at Pillar Wealth Management LLC has put together a hardcover book titled, The Art of Protecting Ultra-High Net Worth Portfolios and Estates: Strategies for Families Worth $25 Million to $500 Million.
It will help you in managing your investment portfolio and protecting your estate, so request for your copy now.
What to do with your savings
One of the most important and basic principles of managing wealth is to save. Every standard financial plan will always set aside a percentage of your earnings to be saved. Financial advisors do advise that you have at least six months' worth of living expenses saved up at any time.
As a high net worth individual, your savings are likely to be substantial, but what should you do with them? This is an important question because inflation ensures that the value of money is constantly dropping.
In situations where the inflation rate is greater than interest rates you are receiving on your savings, you might be losing money in the long run. It is therefore important that you allocate your savings properly, to provide the best financial results.
Clear any debts
The first thing you want to do with your savings is to ensure that you are not in debt. This is because the interest that accumulates on debt can eliminate any interest gained on your savings or investments. This is also true if your family uses a lot of credit cards. If left unchecked, your credit card debt can skyrocket quickly and can cost you unnecessary interest costs.
Have an emergency fund
A good use of your savings is to have an emergency fund that can be easily accessed whenever it is needed. This is important because some longer-term savings and investment plans do not allow for easy or early withdrawals.
Having money in an emergency fund means that you can quickly deal with any emergencies or unexpected costs. How much you put in your emergency fund depends on you and your financial capability.
However, many financial advisors do suggest that you have a minimum of 3 months living expenses saved up as an emergency fund. Six months is, however, considered to be ideal.
Invest
Another important thing you want to do with your savings is to invest it properly. Investments allow your money to work for you, rather than you working for money. This is where a financial advisor is needed the most.
Investing can be tricky, especially if you do not have the required knowledge to navigate the investment world.
If you want to improve your portfolio performance, then get a copy of our guide, Improving Portfolio Performance: The Shifts Multi-Millionaires Must Make To Achieve Financial Security and Serenity. A good financial advisor is uniquely trained to synchronize your financial goals with the proper investment that will help you achieve them.
What's more, when you get a proper financial advisor, you can be very sure that you'll be getting the best financial advice possible.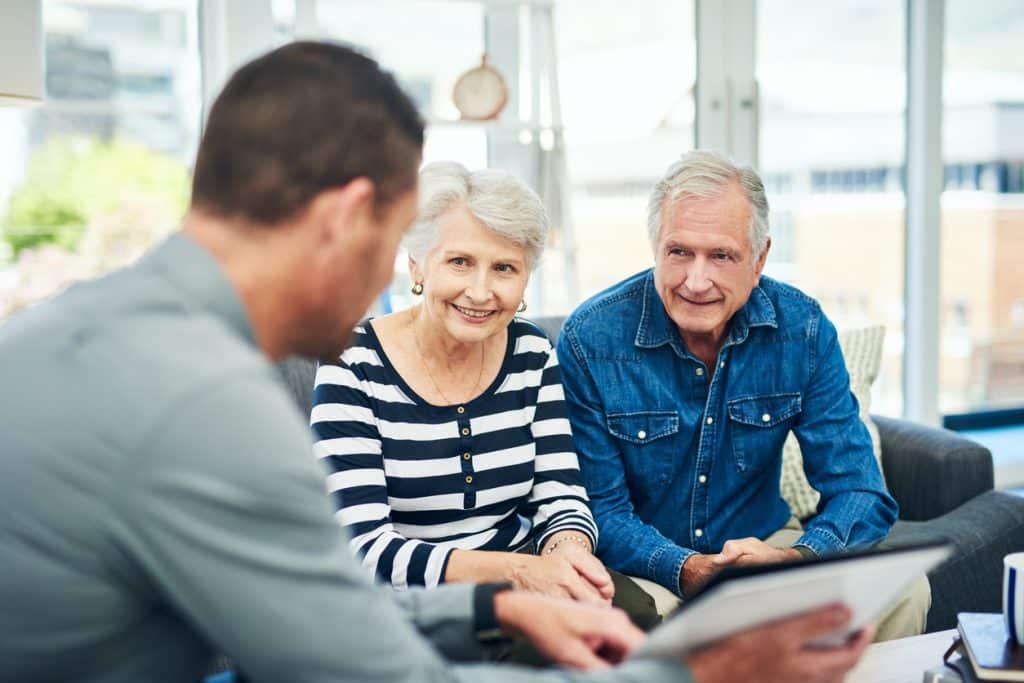 Using a financial advisor is very important, especially if you have an investment portfolio worth $10 million and above. This is because regular investment brokers are usually not well equipped to deal with the complexities that come with handling a large investment account.
Use Pillar Wealth Management Service for your family financial planning
With over 30 years of experience managing wealth for affluent clients, Pillar wealth Management is a wealth management firm that offers financial advisory services in California and environs.
They specialize in family financial planning for families that are worth between $5 million and $500 million in liquid assets. Contact us today to schedule your free consultation call with our co-founders Hutch Ashoo and Chris Snyder, who will help you decide how best to protect and manage your investments.