Best Private Banks: Do You Need to Hire One? –PillarWM
The exclusive perks and benefits offered by private banking might appeal to many investors if they are eligible for its services, but the question remains, is it worth it? The best private banks might promise you financial security and growth, but high earners require more personalization and attention to detail than a private banker can provide. If you're planning to invest over 5 million dollars, we suggest that you request our book, 7 Secrets to High Net Worth Investment Management, Estate, Tax, and Financial Planning, for insights into high net worth wealth management.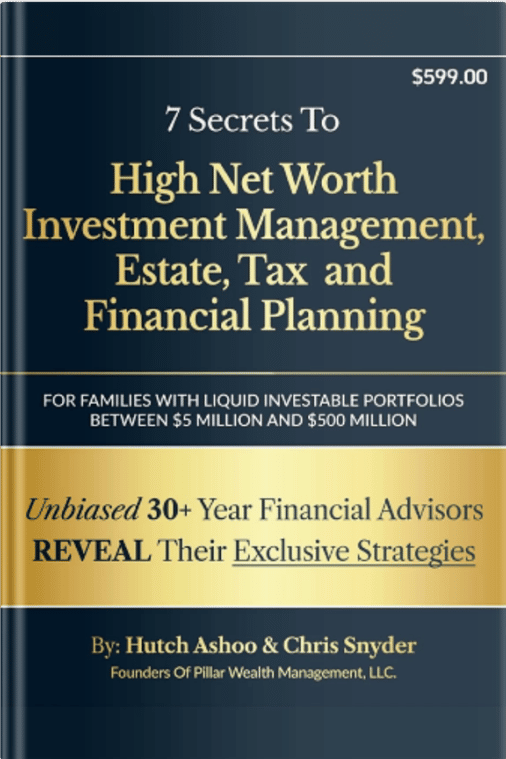 STRATEGIES FOR FAMILIES WORTH $5 MILLION TO $500 MILLION
7 Secrets To High Net Worth Investment Management, Estate, Tax and Financial Planning
The insights you'll discover from our published book will help you integrate a variety of wealth management tools with financial planning, providing guidance for your future security alongside complex financial strategies, so your human and financial capital will both flourish.
Clients frequently share with us how the knowledge gained from this book helped provide them tremendous clarity, shattering industry-pitched ideologies, while offering insight and direction in making such important financial decisions.
Private wealth management firms, on the other hand, have experience in dealing with complex financial situations and managing a large number of assets. Pillar Wealth Management offers fee-only, fiduciary, expert wealth management services to people looking to invest 5 million to 500 million dollars. We can help you create a customized financial plan that caters to your financial goals and aspirations while keeping an eye on your risk and tax management. If you are interested in working with one of our expert wealth managers, you can schedule a free, no-strings-attached consultation with our team.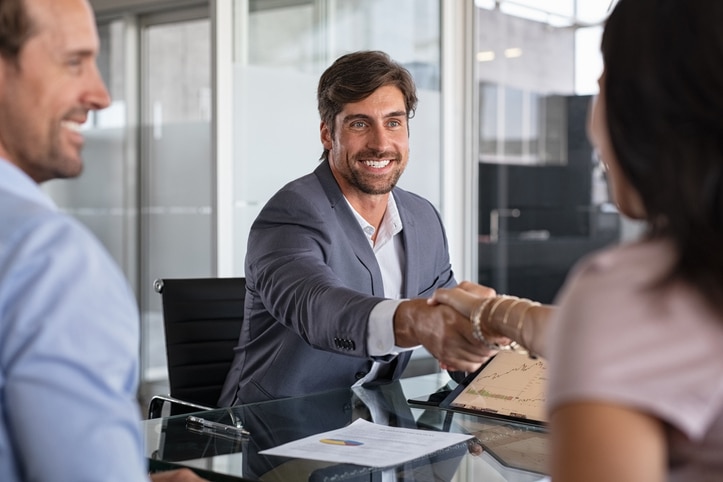 Private Banks and Private Banking Services
A private bank offers millionaires customized investment advice and solutions based on their unique financial challenges, requirements, and goals. They strive to maintain confidentiality and offer you discounts, lower prices, checking accounts, mortgages, and higher savings rates.
This financial institution designs its services exclusively for clients with a significant amount of money. In addition to the traditional banking services of paying your bills or using safe deposit boxes, you are able to avail yourself services that improve your financial management.
Private bankers work hard to earn complete customer loyalty by employing aggressive strategies and providing high-quality service in a short amount of time. They offer high-end products to a wider market and offer customers reduced savings interest rates.
Which Services Do They Offer?
The best private banks offer a multitude of wealth management services that appeal to high earners. At Pillar Wealth Management, our advisors are experts in a number of financial aspects. If you want to invest over 5 million dollars, you can benefit from the strategies we discuss in our book,7 Secrets to High Net Worth Investment Management, Estate, Tax, and Financial Planning. If you would like to request your own copy, click here.
Here are some of the services you can find at private banks:
Financial Planning
Quality of service sets apart the best private banks from the rest. Private bankers often act as financial planners, advising you on important financial decisions, such as purchasing another house or opening a savings account for your children's education fund. A good financial planner analyzes your goals and objectives and helps you optimize your financial profile to meet those goals. In our five critical shifts guide, you can find out more about how we use strategies to maximize the profits you generate from your investments.
Tax Planning
Private banks are normally well-informed of tax laws and policies. Thus, they can help you lower your tax burden by using tax minimization strategies. They can assess your tax and credit needs, as well as your targets, savings, and costs, to help you manage your portfolio.
Investment Advice
Private bankers frequently step into the role of investment managers and advisors by providing investment advice to their customers, which includes everything from asset allocation to portfolio optimization.Their rigorous research allows them to have a thorough understanding of the market trends, which they use to present you with the most advantageous opportunities.
Experts in investment management can use strategies to help you maximize your profits and minimize your risks. We talk about some of the strategies that we use to improve portfolio performance in our guide, Improving Portfolio Performance: The Shifts Multi-Millionaires Must Make to Achieve Financial Security and Serenity.
Wealth Management
While private bankers do not specialize in wealth management itself, they do offer related services to their clients, such as risk management or tax-loss harvesting. Our wealth managers offer a holistic approach to your wealth management, along with a comprehensive analysis of your financial situation. Moreover, they abide by a fiduciary standard of care, so you can rest assured that they will act only in your best interest. You can book a meeting with us to get started on your journey to financial serenity.
Better Rates
Some of the best private banks offer greater APYs on savings accounts, interest-bearing checking accounts, CDs, and money market accounts. They can also benefit from decreased or waived account fees, as well as favorable pricing on loans and mortgages.
Estate Planning
Private bankers can advise clients on how to create their estate plans, while certain aspects of the process will necessitate a visit to another specialist, such as an estate attorney. For this reason, private bankers frequently recommend their clients to trustworthy professionals.
Wealth managers specialize in estate planning and can help you plan your wealth transfer in a way that minimizes estate and inheritance taxes. If you would like more information regarding this subject, you can request a copy of our book,7 Secrets to High Net Worth Investment Management, Estate, Tax, and Financial Planning – For Families With Liquid Investable Portfolios Between $5 Million and $500 Million. It offers exclusive insights into wealth management for high-net-worth and ultra-high-net-worth individuals.
Loans and Credits
Many financial institutions have lines of credits with low rates, specifically for their high-net-worth clientele.
Clients who want to buy a house, an investment property, or a high-end item can contact their private banker to get the process started. Even if your bank doesn't often lend for the type of purchase you're making, a private banker could be able to help you get the loan you require.
What are the Requirements of a Private Bank?
In order to work with the best private banks, you need to identify whether you are eligible for one. Unfortunately, private banking is not open to anyone who wants to open a savings or checking account. Each bank has its own eligibility criteria as to whom they provide its services to.
Generally, private banks reserve their services for individuals who are considered to have high or ultra-high-net-worth, i.e., at least 750,000 dollars in investable assets. That being said, most private banks maintain a benchmark of 1 million dollars, while others can have a higher benchmark, up to 10 million dollars. Having this much income enables you to take advantage of their various perks are services.
Our services at Pillar Wealth Management are exclusively for individuals who have a net worth of over 5 million dollars. Our experience in working with high earners allows us to anticipate your needs and goals and help you customize a financial plan accordingly. If you are interested in working with us to avail of our services, you can book a meeting with one of our advisors.
What is a Banker's Acceptance?
A banker's acceptance or a private bankers acceptance is a document that represents a bank's pledge to make a future payment.It includes the name of the entity to which the payments must be transferred, as well as the payment amount and date. As a short-term instrument, it has a maturity ranging from 30 to 180 days. They are often used as a safe investment as they promise a future payment from a financial establishment. The value of these instruments is frequently negotiated with buyers and is heavily impacted by the credit rating of the bank that assured payment.
How Much Do Private Bankers Make?
As a high-net-worth or ultra-high-net-worth investors, you would want to work with the best private banks and private bankers. This might lead you to wonder, "What are salaries for private client bankers?"
On average, a private banker in the United States can make up to 95,000 dollars a year. However, a private banker's annual salary can range from as low as 26,000 dollars, soaring up to more than 190,000 dollars. The determining factors in these cases can be the banker's individual skill level, years of experience, area of expertise, and the bank at which they work.Many finance graduates chase a private bankers salary by trying to work at the best private banks in the area.
Now that we've discussed how much salary private bankers make, you might be interested in knowing how much they charge their clients. In addition to their basic salary, private bankers can charge a commission based on assets under management (AUM). This fee is typically more or less 1% of the AUM.
Is Private Banking Worth It?
Even though private banking offers exclusive services to an elite class, it does come with its own drawbacks. Enlisting with a private bank could mean tying up a large chunk of your money with a single financial institution while also missing out on better interest earnings.
Moreover, a private bank will encourage you to select products from their specific pool of opportunities rather than offering you a mix of high-rate accounts from different institutions. Hence, you could be pressured into investing in securities that you didn't want in the first place.
Private bankers are not fiduciaries, and so, they are not obligated to act in your best interests. Their advice can be influenced by the institution they work for or their own commission-based earning. When cross-sold services and proprietary products are used, conflicts of interest might emerge. If a specific action facilitates the bank in collecting a hefty fee, they may not explicitly state how it will affect you or your finances.
Hidden fees and transaction costs are common in private banking, which might eat up more of your money than you intended. Even if their services appear to be attractive on paper, they lack the same level of safety and security as a fiduciary wealth advisor.
Final Words
High earners want to ensure that their money is safe and managed efficiently. Trusting the best private banks or the best private wealth management firms can help you achieve that. We highlight the importance of making the right decisions to protect your wealth in our book, The Art of Protecting Ultra-High Net Worth Portfolios and Estates – Strategies for Families Worth $25 Million To $500 Million.
The best private banks offer exclusive services to high-net-worth individuals, but they often lack the level of personalization and dedication that you need. At Pillar Wealth Management, our wealth managers are experts in giving fiduciary, unbiased advice to individuals seeking to invest 5 million to 500 million dollars in investable assets. We can help you with our wide range of wealth management services, from estate and tax planning to risk management and investment management. If you would like to consult with one of our expert advisors, you can schedule a no-strings-attached, free consultation with us today!
To be 100% transparent, we published this page to help filter through the mass influx of prospects, who come to us through our website and referrals, to gain only a handful of the right types of new clients who wish to engage us.
We enjoy working with high net worth and ultra-high net worth investors and families who want what we call financial serenity – the feeling that comes when you know your finances and the lifestyle you desire have been secured for life, and that you don't have to do any of the work to manage and maintain it because you hired a trusted advisor to take care of everything.
You see, our goal is to only accept 17 new clients this year. Clients who have from $5 million to $500 million in liquid investable assets to entrust us with on a 100% fee basis. No commissions and no products for sale.