Fund Management Company: Do I Really Need One?
Considering how volatile the market and economy can be as well as the rapid depreciation of money over time, the only sure-fire way of sustaining your wealth and living the kind of life you desire is through investment and fund management. As a high or ultra-high-net-worth individual with $5 million to $500 million in liquid assets, you may feel that you are safe from any dangerous financial positions. However, the fact is that the market is too unpredictable. Even if it's not something external, internal, family conflicts, or surprise medical conditions, factors can also suddenly put your financial future at risk. The only way to prepare yourself for these situations is through strategic investment and fund management with the help of the right fund management company. High-net-worth individuals or families who are looking to invest their $5 million to $500 million worth of liquid assets can greatly benefit by requesting a copy of our book, 7 Secrets to High Net Worth Investment Management, Estate, Tax, and Financial Planning, and learning about complexities and challenges involved in high-net-worth investment management.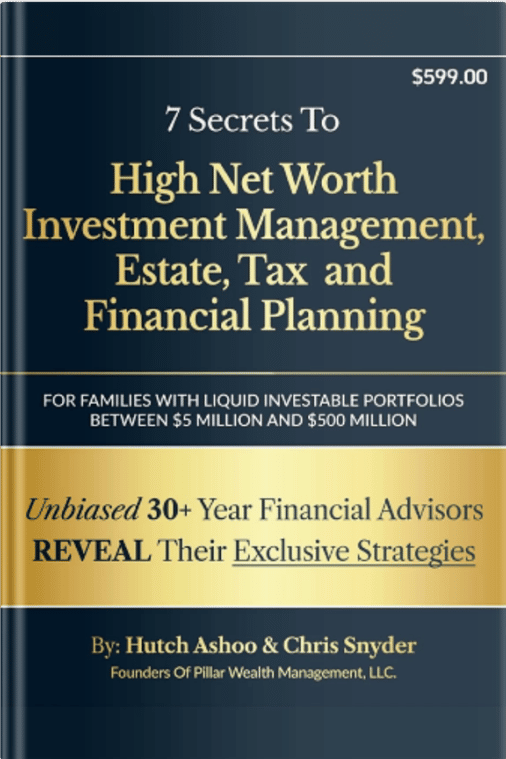 STRATEGIES FOR FAMILIES WORTH $5 MILLION TO $500 MILLION
7 Secrets To High Net Worth Investment Management, Estate, Tax and Financial Planning
The insights you'll discover from our published book will help you integrate a variety of wealth management tools with financial planning, providing guidance for your future security alongside complex financial strategies, so your human and financial capital will both flourish.
Clients frequently share with us how the knowledge gained from this book helped provide them tremendous clarity, shattering industry-pitched ideologies, while offering insight and direction in making such important financial decisions.
Such individuals can also consult a private wealth management firm like Pillar Wealth Management. We are a fee-only firm that has been dealing exclusively with high-net-worth individuals for the better part of a century altogether. Our financial advisors and wealth managers are true fiduciaries and always attempting to assist our affluent clients in meeting all their short as well as long-term financial goals and attaining financial success. Our services include financial planning, investment management, tax planning and optimization, risk management, insurance planning, succession planning, and much more. Therefore, if you are searching for a holistic service to protect your assets and grow your wealth at the same time, consider arranging a free chat with Pillar Wealth Management today.
In this blog, we'll be going over whether high-net-worth individuals really need a fund management company, how to find a good one, and how much money you need to hire them. Let's get started.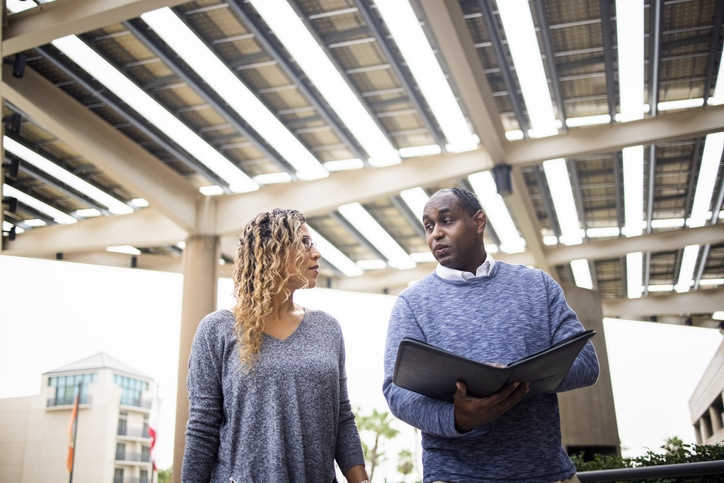 What Does a Fund Management Company Do?
Fund management, similar to investment or asset management, primarily involves overseeing and managing the financial assets on behalf of an individual or group. It is a complex financial service often utilized by high-net-worth investors with $5 million to $500 million in liquid assets to grow their wealth in a sustainable manner.
There are two important things to focus on here. A fund management company helps you grow your wealth and helps you grow it in a sustainable manner. Many high-net-worth individuals tend to make the mistake of not investing their wealth at all, assuming that it will be enough to get them through retirement.
However, this very rarely happens as inflation and other market forces leave all that wealth with way less worth than what they had imagined. As a result, they not only miss out on growing their wealth but also lose it all slowly over time, leaving them in a dangerous financial position by the time they reach retirement.
Furthermore, even if they do invest their wealth, their lack of skills or time prevents them from executing effective fund management strategies. Therefore, again, they end up losing their assets in risky investments, high tax bills, and other excessive costs.
Fund management companies understand the complexities of the market and the challenges faced by high-net-worth investors. That's why they offer services like fund management to oversee individuals' investments, from the planning stage to the execution stage.
They carry out the necessary research, due diligence, analysis, etc., to help you design a successful investment portfolio.Initiate a free conversation with Pillar Wealth Management to learn what else is involved in investment and portfolio management.
Should I Hire a Fund Management Company?
If, after all that, you are still wondering whether you really need to hire a fund management company, keep reading to find the answer to your question. Fund management is a crucial financial service for affluent individuals and can directly impact their financial success and security.
It ties into everything from their retirement plans to tax plans to even their legacy plans. So, not working with a fund management company can come with a hefty price. Here's why ultra-high-net-worth families and individuals need to hire a fund management company.
Extensive Experience and Expertise
While you may only have a few years' worth of experience, and even that may be limited to a limited number of assets within your portfolio, fund management companies have decades and decades of experience.
They are familiar with a large number of investment assets as well as the infinite ways of forming a portfolio. Depending on past market performance, future forecasts, international situation, as well as your unique personal circumstances, they can analyze and determine which assets will be best for you at any given time.
Their knowledge and experience allow them to create much better portfolios with higher chances of success in the market.Read our exclusive guide on portfolio performance to learn about the complex process involved in portfolio designing.
Portfolio Diversification and Asset Allocation
As mentioned earlier, markets can be incredibly volatile and unpredictable. Assets that are performing really well one day can start losing value the very next day, leaving you with big losses. That's why you need to design and manage your portfolio in such a way so as to minimize those risks and protect your wealth.
Many high-net-worth individuals opt for portfolio diversification, which is certainly important but by no means enough. If you buy thirty different stocks within the energy sector, any economic crisis that affects that energy sector will send all those thirty stocks spiraling down.
That's why high-net-worth individuals need to combine portfolio diversification with the right asset allocation to properly spread out the risk. Learn about other strategies to protect your assets from our brilliant book, The Art of Protecting Ultra-High Net Worth Portfolios and Estates – Strategies for Families Worth $25 million to $500 million.
Portfolio Rebalancing
Designing a portfolio and managing risk is not enough. You also have to constantly rebalance the portfolio according to other factors. For instance, your own goals and priorities may change. You may want to buy another car, or you may suddenly develop an interest in real estate.
As a result, the fund management company will rebalance your portfolio to reflect your new objectives to ensure the portfolio remains effective. Similarly, there may be some changes taking place in the market due to local or international forces. So, you will have to adjust your portfolio to account for new risks and dangers. This is another aspect of risk management.
Tax Planning and Optimization
Your funds and investments are not just endangered by market risks and volatility, but they can also be prone to excessive taxes, which cause you to lose significant portions of your wealth. Accordingly, fund management companies employ tax planning and optimization strategies to help you save those tax dollars and retain as much of your wealth as possible.
They might include tax-free assets like municipal bonds in your portfolio or suggest moving to a no-income-tax state. They can also change your management style and adopt an optimal balance between passive and active money management. You can learn about the tax implications of these management styles in more detail from our excellent guide on portfolio growth strategies.
How Do I Find a Good Fund Management Company?
Now comes the most difficult part. All those benefits sound great, and you might have been convinced to hire a fund management company. However, if you don't find and work with a good fund management company that is right for you, you might as well not work with them at all.
Working with the wrong company can bring you a lot of trouble and take you further away from accomplishing your goals. That's why high-net-worth individuals and families need to be extra careful in choosing who they work with.
Here are a few things they need to do to find a good fund management company.
• Evaluate their needs and determine which services they really require from the company.
• Research online to find some potential companies that could be the right fit for you.
• Run a background check to see their credentials, experience, the standard of care, and other important information.
• Consider their compensation model to avoid any conflicts of interest.
• Set up a meeting and ask the right questions from the advisor to see if they are the one.
You can also line up a free chat with Pillar Wealth Management to consult our expert financial advisors directly.
How Much Money Do You Need to Hire a Fund Management Company?
If you simply wish to invest your money and grow your funds, you can start with as little as $500. However, if you plan to hire an investment or fund management company, things are a bit different.
For starters, there are different types of financial institutions offering fund and investment management services, and each of them can have different requirements for the minimum amount needed.
For instance, there are certain private banks that offer investment management services, and they require clients to have at least $100,000. On the other hand, there are certain private wealth management firms, such as Pillar Wealth Management, which have a higher minimum investment amount.
Such firms require clients to be high-net-worth or ultra-high-net-worth individuals with $5 million to $500 million in liquid assets. Therefore, if you wish to hire a fund management company and really benefit from their services, you should at least have $1 million worth of liquid assets that you are willing to invest.
We also suggest requesting a copy of our book, 7 Secrets to High Net Worth Investment Management, Estate, Tax, and Financial Planning, to understand the complexities involved in high-net-worth fund and investment management.
Final Thoughts
With the right fund management company, high-net-worth individuals with $5 million to $500 million in liquid assets can expect to avail many benefits, the most important of which are financial serenity and freedom.
These companies have years and years of experience in not only fund management but fund management for affluent individuals. This equips them with the right skills and expertise to carry out the complex financial service effectively and efficiently.
With their comprehensive services and fiduciary duty, they allow their clients to experience true financial serenity where they don't even have to worry about their funds or their financial future. They have the freedom to leave everything to these fund management companies and pursue their other hobbies or be as involved in their fund management as they wish.
At Pillar Wealth Management, we understand our high-net-worth as well as ultra-high-net-worth clients' sentiments perfectly. That's why we are constantly striving to come up with new strategies to effectively grow our clients' wealth while also safeguarding their assets from various internal and external forces. We use more than 100 years of market data to test our portfolios in a number of different situations and make sure they are up to withstanding the most dangerous of situations with the least number of losses. Our expert financial advisors are always watching the market to help you capitalize on new opportunities and leverage strategic investment plans. So, if you wish to grow your funds, protect your wealth and attain financial serenity, consider setting up a no-obligation appointment with us today.
To be 100% transparent, we published this page to help filter through the mass influx of prospects, who come to us through our website and referrals, to gain only a handful of the right types of new clients who wish to engage us.
We enjoy working with high net worth and ultra-high net worth investors and families who want what we call financial serenity – the feeling that comes when you know your finances and the lifestyle you desire have been secured for life, and that you don't have to do any of the work to manage and maintain it because you hired a trusted advisor to take care of everything.
You see, our goal is to only accept 17 new clients this year. Clients who have from $5 million to $500 million in liquid investable assets to entrust us with on a 100% fee basis. No commissions and no products for sale.