Offering Exclusive High Net Worth Portfolio, Estate and Tax Protection Strategies developed over 30+ years
Investments Near Me: Are They Really Worth It– PillarWM
Offering Exclusive High Net Worth Portfolio, Estate and Tax Protection Strategies developed over 30+ years
YES, I'd like advice from an un-biased advisor
Schedule A Free Consultation
Exclusively Offered To Investors with $5 million to $500 Million Of Liquid Investable Assets
YES, I'd like advice from an un-biased advisor
Schedule A Free Consultation
Exclusively Offered To Investors with $5 million to $500 Million Of Liquid Investable Assets
An investment portfolio can help you accomplish your long-term financial goals. For instance, it can help you repay your mortgage early, cover your children's college expenses, or create an adequate retirement fund. Investing in the right places can offer a high level of returns in the long-term, but with a higher degree of risk. However, identifying the right areas might not be that simple. So, if you're thinking, "what are the suitable options forinvestments near me?"then make sure you continue reading and get the answer to your question! You should also read this guide for investors with $10 million and learn why there's no such thing as the "best" investment.
At Pillar Wealth Management, we offer investment services to high net worth and ultra-high net worth clients who have liquid investable assets ranging from $5 million to $500 million. Our investment services encompass research and due diligence, portfolio design, asset allocation analysis, monitoring and rebalancing, and tax-loss harvesting. To know more about the investment-related services we provide, click here to schedule a free consultation session with one of our team members.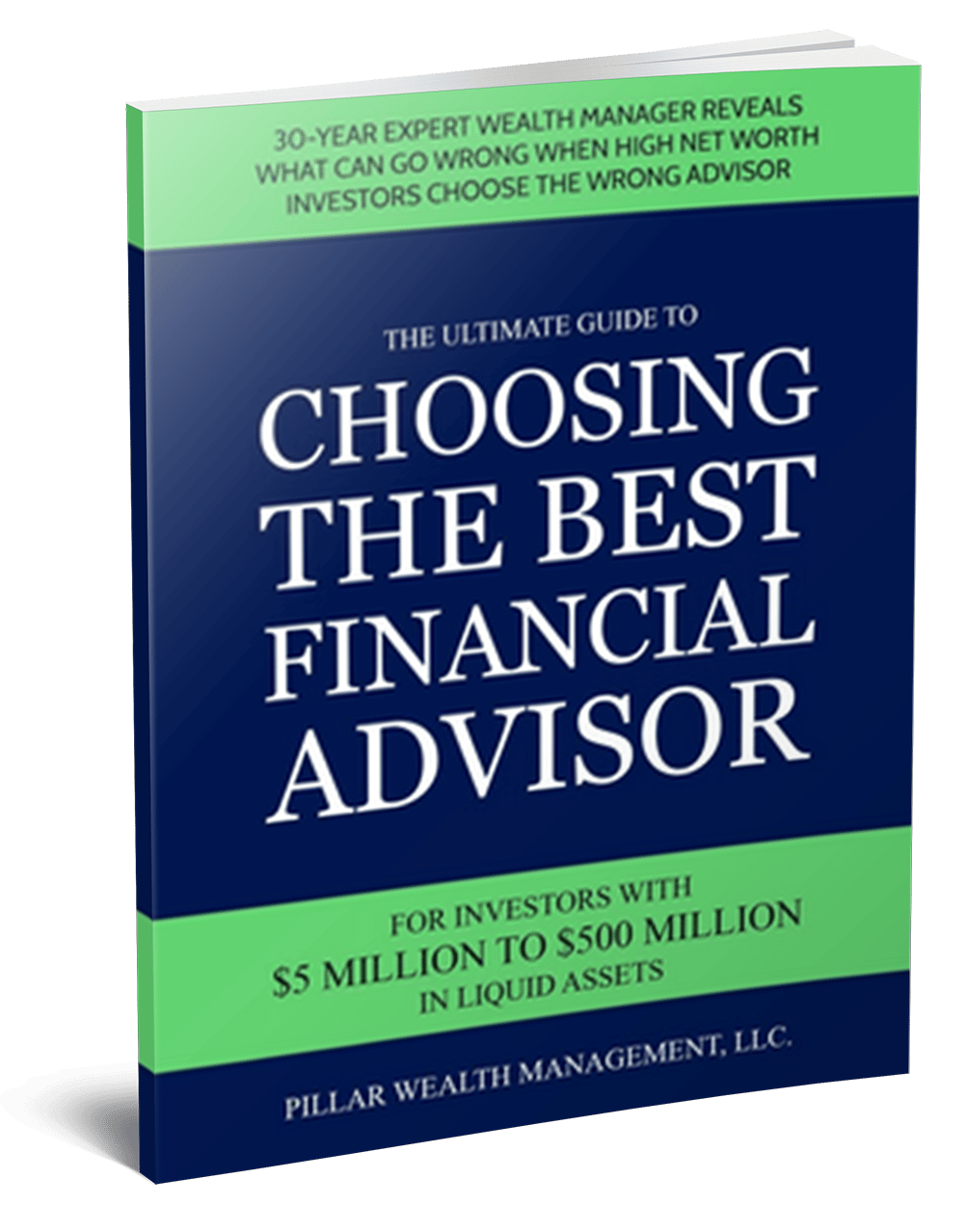 Strategies For Families Worth $5 Million To $500 Million
The Ultimate Guide To Choosing the Best Financial Advisor
The insights you'll discover from our published guide will help you integrate a variety of wealth management tools with financial planning, providing guidance for your future security alongside complex financial strategies, so your human and financial capital will both flourish.
Clients frequently share with us how the knowledge gained from this guide helped provide them tremendous clarity, shattering industry-pitched ideologies, while offering insight and direction in making such important financial decisions.
Is It Smart to Invest Money?

         
Before moving on to how to invest money, let's first answer one of the most popular investment-related questions – Is it smart to invest money? There are plenty of people who are wary of investing their wealth because they aren't sure if it's the right move to make.
If you're also uncertain about investing your wealth, then let us tell you that investing money is a great step, especially if you have long-term financial goals. This is because inflation can significantly depreciate the value of your cash savings over time. Here is a complete list of benefits that you can get by investing your wealth.
Investing Can Grow Your Wealth
One of the most significant advantages of investing is that it can help to build your wealth. Most investment options, such as certificates of deposits, growth stocks, mutual funds, hedge funds, etc., provide returns on your wealth in the long run. This return allows your wealth to grow and increase over time.
There are several ways in which you can invest and grow your wealth. If you're serious about growing your wealth, you need to come up with an investment plan that suits you and is perfectly aligned with your goals. We highly recommend you read our recent book,The Art of Protecting Ultra-High Net Worth Portfolios and Estates: Strategies for Families worth $25 Million to $500 Million and learn the importance of using the right investment strategy.
Investing Helps You Spend A Comfortable Retirement
Do you wish to spend a very comfortable, peaceful, and enjoyable retirement? If you answered yes, then let us tell you that this wish is very much attainable, giving that you start planning ahead for it.
Retirement income planning is undoubtedly one of the most vital tasks you can take up for yourself – especially if you're over 50 years of age. In fact, retirement planning is essential regardless of how much wealth you own because the quality of your future will eventually depend upon it. 
For effective retirement income planning, you need to keep in mind that you won't have an active source of income after retirement. Instead, you'll have to fulfill your financial needs from the passive income created by your investments. In a nutshell, the income created by your investment portfolio will allow you to spend a comfortable post-retirement life.
Moreover, being a high net worth or an ultra-high net worth individual, you may have some specific retirement goals. For instance, you might want to travel the world, purchase a luxury car, or simply live peacefully in your country estate. Whatever goals you might have, the income created by your investments will help you successfully attain them.
Investing Wealth Can Lower Your Tax Obligation
Another major benefit of investing your wealth is that it allows you to lower your tax obligation. This is because the money you invest in specific retirement saving options, such as the SEP-IRA, 401K, and the Traditional IRA is not taxed the year you earn it.
Instead, you have to pay taxes on it when you withdraw it during retirement. If you're an affluent or an ultra-wealthy individual, this strategy can help you save hundreds of dollars in the year that you contribute.
Nevertheless, if you choose to pay taxes the year you contribute, you can simply opt for a retirement account such as the ROTH IRA. With this option, you can pay tax the year you contribute instead of paying taxes when you withdraw. To learn more about how you can save on taxes and grow your wealth, click here to speak to one of our financial advisors.
How Can I Invest Money At 30?
You might not have invested your wealth during your 20s because you were busy paying off student loans or caught up in your newly established career. Nevertheless, your 30s are when you absolutely have to start investing. At this period, you're old enough to be investing around 10 to 15 percent of your income.
Even if you are paying for a mortgage or planning to start a family in your 30s, investing wealth to live a peaceful retirement should be your top priority. Keep in mind that you still have almost 35 active working years remaining, so this is really the time when you need to start maximizing your investments.
So, if this has made you start wondering about "How can I invest money at 30," continue reading and find your answer.We also highly recommend you read this guide here and learn about the five critical shifts you need to make to maximize portfolio growth strategies.
Take as Much Risk as Possible
Risk is the primary reason why there's so much focus on investing while you're young – young people usually have a longer time horizon before retirement. This means that they don't have to worry too much about short-term volatility and can take up risks that can result in higher average returns in the long run.
When you are in your 30s, you are still relatively young and can take on an investment risk, deploying a significant chunk of your long-term savings – around 70 to 80 percent – in mutual funds and stocks. Read our exclusive guide for investors with $10 million and get a deeper and richer understanding of how investment performance relates to your risk tolerance.
Conduct an Asset Allocation Analysis
Asset allocation is one of the most important investment strategies that high net worth or ultra-high net worth investors in their 30s can adopt. The primary goal of asset allocation is to create the perfect balance between potential risks and returns. However, there's no one way to estimate the most appropriate asset allocation for each investor. Everyone in their 30s has their own set of long and short-term financial goals, risk tolerance, and time horizons.
For instance, if you're investing to live an enjoyable retirement, you can invest in risky or volatile investments because you can wait out the unpreventable market fluctuations and slow economic cycles. Alternatively, if you invest in your 30s to buy a luxury home, you might have a shorter time horizon, so you might not be willing to take up a high-risk investment.
At Pillar Wealth Management, our financial advisors can factor in all such details when analyzing your portfolio and create a tailored asset allocation strategy for you. Read our short guide here and learn how to choose the best financial advisor who can help you optimally invest your wealth.
Invest in the Right Places
There are plenty of investment options that you can choose to invest in your 30s. These include low-risk options such as certificates of deposits and money market accounts to medium-risk options such as corporate bonds and even high-risk investments such as stock index funds.
If you're a high net worth or an ultra-high net worth individual in your 30s and want to build your wealth, you can opt for a low-risk investment that offers a decent return. Or you can go with investments that are riskier but offer higher returns as well. Nevertheless, the best thing to do is to take up a balanced approach to protect your existing wealth and allow it to grow in the long run.
Here is a list of investments suitable for high net worth and ultra-high net worth investors in their 30s.
1. Real Estate – Real estate is divided into residential and commercial real estate. Investing in traditional real estate involves purchasing a property and selling it after some time at a higher price. It can also include owning property and receiving rent as a form of fixed income.
2. Precious Metals – Precious metals such as gold, silver, palladium have long been accepted as excellent investment options. Even today, many high net worth investors and ultra-high net worth investors choose to invest in them as a way of diversifying their investment portfolio and safeguarding against inflation.
3. Growth Stocks – Another great investment opportunity for wealthy investors in their 30s is growth stocks. Rather than paying dividends, these stocks generate returns in the form of share price appreciation. This means you don't have to pay any taxes on your growth as it occurs.
4. Collectibles – These are items that are far more valuable than their actual selling price. Collectibles are regarded as alternative investments, which means they don't come under any other category such as real estate, cash, stocks, or bonds. Some common collectibles include wine, fine art, classic cars, and stamps.
To learn more about how you can ideally invest your wealth in your 30s, click here to schedule a meeting with one of our team members.
How Can I Double My Money?
In this section, well answer another prevalent question related to investments -how can I double my money?
Aim to Maximize Your Investment Performance
Keep in mind that investment performance isn't just about the posted growth rates. Instead, it's about reducing as many of your costs as possible.
Ideally, you should be obsessed with minimizing your costs as they can add up to millions of dollars. By removing the most actively managed assets, lowering your tax obligation, avoiding big investment firms, and refusing to work with non-fiduciary wealth managers, you can get a higher performance even as you earn the exact same reported rates.
Focus on Passive Investment Techniques
Active investment strategies involve a lot of buying and selling. This ends up resulting in several short-term capital gains taxable events. These events then get taxed at the marginal tax rate, which is presently 37 percent.
However, if you only invest in investments that generate long-term capital gains, your gains will only be taxed at a rate of 20 percent. Since the passive approach creates less disruption, less turnover, and reduced tax rate, it can allow you to get more money in your pocket and eventually double it.
Making the Right Investments Near Me
At Pillar Wealth Management, our financial advisors have a combined experience of over 60 years in helping high net worth and ultra-high net worth investors make the right investment decisions.
We will carefully review your long and short-term financial goals and develop an investment strategy that will allow you to enjoy the maximum possible returns. We create custom investment solutions to help grow your wealth in the best possible manner. So, click here and begin your consultation with our highly competent and experiencedfinancial advisors.