Investment Company and Services for Millionaires – PillarWM
Wealthy investors are aware of the benefits they can receive when working with the right investment company, and the consequences of working with the wrong one. High net worth and ultra-high net worth families should be wary of who they trust their finances to. Our guide, The Ultimate Guide to Choosing the Best Financial Advisor for Investors with $5 Million to $500 Million in Liquid Assets, can help families with over 10 million in liquid assets discover the best financial advisor for them.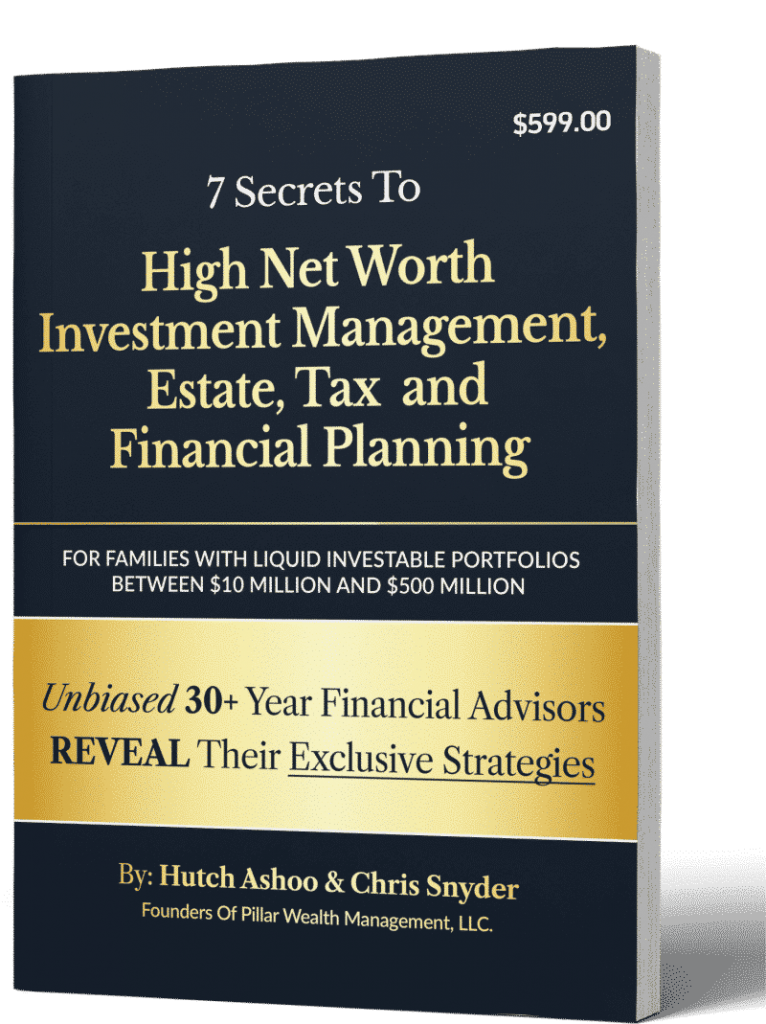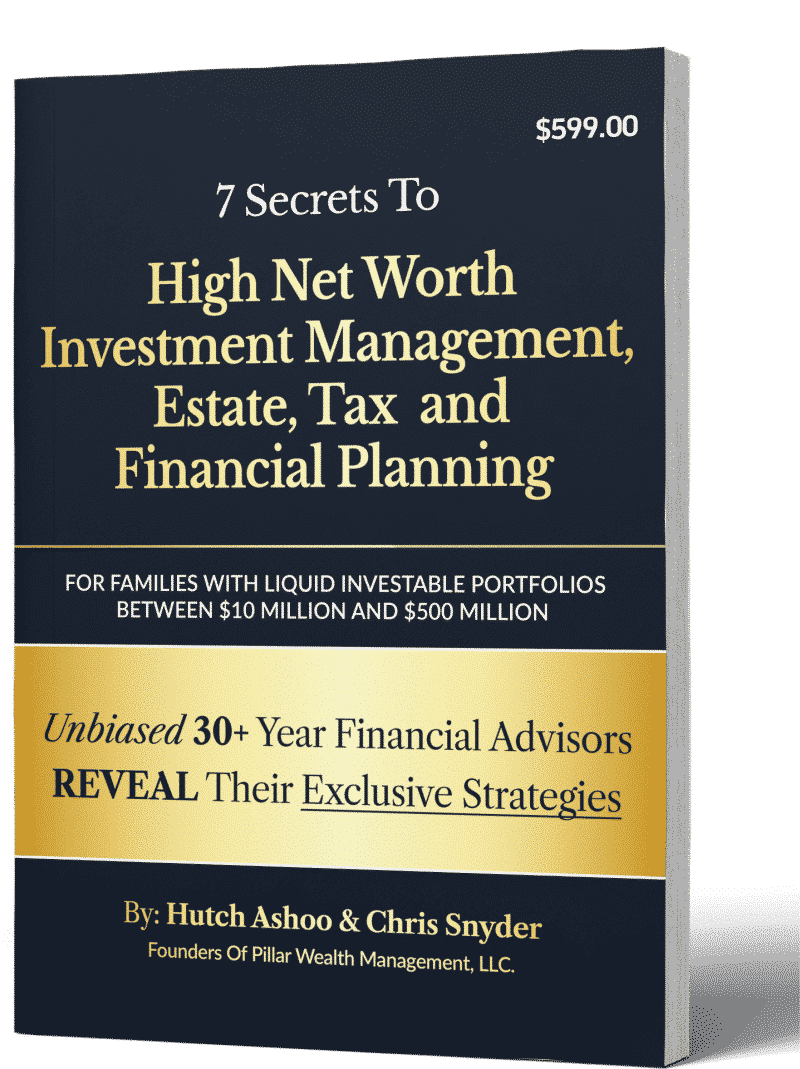 STRATEGIES FOR FAMILIES WORTH $5 MILLION TO $500 MILLION
7 Secrets To High Net Worth Investment Management, Estate, Tax and Financial Planning

The insights you'll discover from our published book will help you integrate a variety of wealth management tools with financial planning, providing guidance for your future security alongside complex financial strategies, so your human and financial capital will both flourish.
Clients frequently share with us how the knowledge gained from this book helped provide them tremendous clarity, shattering industry-pitched ideologies, while offering insight and direction in making such important financial decisions.
Our investment approach focuses on growing your investments while keeping an eye on protection by avoiding unnecessary risk. Pillar Wealth Management offers fiduciary, fee-based services in investment and wealth management to clients who have 5 million to 500 million dollars in liquid investable assets. We strive to provide you tax-efficient, low turnover, liquid, and diversified institutional-style investments, active money managers, electronically traded funds, impact investing strategies, and advice on alternative investments. Schedule a consultation with us to get started!
What is an Investment Company?
Investment companies are corporations or trusts that are registered with the Securities and Exchange Commission (SEC) to engage in the process of investing the assets of investors in financial securities. The SEC regulates these companies under the Investment Company Act of 1940.
Investment companies can often sell mutual funds by partnering with third-party distributors, and are hence known as "fund sponsors" or "fund companies."
An expert fund manager chooses specific markets, industries, or businesses you can invest in to create a diversified portfolio. Their strategies determine how successful your fund is. The company itself can yield an income by purchasing or selling shares, bonds, property, cash, and other funds and assets.
You can invest your money and buy shares or units of diverse firms through an investment company. Selling off these shares can yield profits and enhance your portfolio's performance while mitigating your risk. Enhancing portfolio performance is a skill that our wealth managers are experts in. You can read our Performance Guide to learn about some of the strategies that they implement.
Types of Investment Companies
Contrary to what you might think, there is more than one type of investment company. We will elaborate on three major types.
• Open-end Management Investment Companies
These companies' products start at minimal rates and yield higher returns; therefore, they accessible to small investors. Also known as mutual funds in the US, they are a cost -effective and simple way to purchase a diversified portofolio. The net asset value of the shares you buy or sell can increase or decrease each day.
• Closed-end Management Investment Companies
Investment firms that deal with only closed-end funds provide limited non-redeemable shares. You are restricted to buying and selling shares only in the market, and you cannot create new shares. They typically trade above or below the net asset value.
• Unit Investment Trusts
This type of investment company does not reinvest the dividend back into the fund, but instead, transfer the profits directly to the unitholders. They are further divided into stock and bond trusts. Stock trusts allow you to receive dividend income and capital appreciation upon fixed termination dates, while bond trusts have a fixed income on a monthly cycle.
Some investment firms or brokerage firms offer self-directed brokerage account, in which case the customers can choose numerous investment options such as bonds (closed-end fund shares), mutual funds, and so forth. The main objective of a self-directed account is that you can make your own investment decisions. Whether you lose money or make money, it is because of your decisions.
If you would like to learn more about to select a great investment company, you can read our Ultimate Guide. We have prepared it especially for investors who have more than 10 million dollars in liquid investable assets, as we know how significant a decision this is for wealthy people.
What Can Investment Companies Do?
Now that you know what an investment company is, it is important to know what an investment company or investment management firm can do for you. Here are a few of the advantages you gain by working with them.
Manage Your Investment Portfolio
Investment managers are well-versed in handling multiple assets and investing them in appropriate securities. A good investment management company will ensure that they look at your goals and objectives to create and manage a portfolio that enhances your wealth and protects your assets. They can guide you on creating a diversified portfolio by investing in various vehicles such as equities, bonds, real estate, cash, stocks, and more.
It is their job to factor in your risk tolerance and time horizon to make investment decisions to support your financial profile. Moreover, if you're a high net worth or ultra-high net worth investor, you likely have numerous assets spread across different accounts. Managing all of those investments can be time-consuming and overwhelming. Investment managers or wealth managers can help you through the process. To contact one of our wealth managers for advice on improving your portfolio's performance, schedule a meeting with us.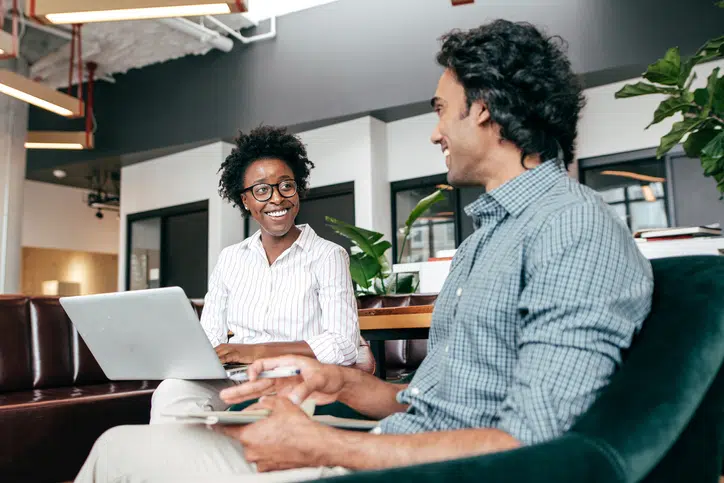 Use Well-Researched Methods and Strategies
Investment companies ensure that all investment deals and transactions are legitimate and in line with your financial goals. They have access to resources that allow them to explore the various opportunities that you can invest in. Reputable investment companies use tried and tested methods to optimize your portfolio's performance. They can implement strategies that maximize your profits and lower your risk and liabilities.
The right investment managers will know how to use methods and tools to diversify your portfolio and secure your assets. They will make your objectives a priority, whether it be safeguarding your wealth, growing your money, or finding more investment opportunities. Our wealth managers can help you in these aspects. You can schedule a free consultation with us to discuss how we can help you manage your investments.
Use Their Extensive Experience
Even if you have been investing for a long time, you might not be aware of the different ways or asset classes you can use to enhance your wealth. Investment companies and services that are used to working with high-net-worth and ultra-high net worth clients are equipped with the knowledge and experience of managing high-value assets. They can leverage investment opportunities and safely maximize your portfolio returns to meet your needs.
Give You Financial Freedom
Working with a professional to select the best investment opportunities will not only free up your time, but it will also give you a clearer understanding of your budgeting. While you might think that as a wealthy individual this doesn't concern you, it is better to be safe than sorry. Your wealth is not infinite. Without the proper security and growth strategies, you might find yourself relying only on your savings after you retire. The issue with this is that you will not be able to maintain the living standard that you are used to enjoying now.
Investing wisely through the help of an investment company can give you financial freedom as they can allocate your asset in such a way to let you spend comfortably, grow your wealth, generate an active income, save for your retirement or manage your retirement accounts, and secure your assets all at the same time.
Manage Your Taxes
Investment decisions directly impact your tax bill, which could result in you losing a large portion of the revenues you generated to pay off those taxes. An investment firm can analyze how each investment will affect your tax bill, and allocate them in vehicles that result in fewer taxes.
Similarly, they are aware of tax-loss harvesting strategies to mitigate your taxes and unnecessary costs. This can legally help you bring down the amount of money you lose to taxes every year.
Do You Need to Hire an Investment Company?
Knowing when you need to enlist the services of an investment firm can be tricky, especially for those who like to be in charge of their own finances. However, there are two critical circumstances that lead most people to seek any kind of financial advice, i.e., protecting their wealth and securing their financial future. Basically, investment companies will invest the assets or money in the name of their clients, from which they will share in the profits and losses. However, this takes time as investment companies are meant to be used for the long term.
As a wealthy individual, you have undoubtedly spent a lot of time and energy building your fortune. Protecting it is necessary to make sure that you can maintain a high living standard for the rest of your life. Moreover, a large fortune can be liable to threats from unforeseen circumstances. A balanced investment portfolio can shield you from any major losses. To read more about how you can protect your family from these threats, you can read our book, The Art of Protecting Ultra-High Net Worth Portfolios and Estates – Strategies for Families Worth $25 Million To $500 Million.
A retirement plan often requires you to make investments that allow you to generate wealth even in those golden years. An investment manager can advise you on how you can invest in assets that safeguard your financial future for you and your family. This includes advising you on when you should invest in high-risk assets or low-risk assets based on your objectives. However, given these facts, have you ever thought:
If I can save money with zero risks, then why should I invest?
Basically, investing is an action where you place your money and want to grow it such as investing in stocks. Your investment manager will manage and oversee your capital. It is clear that is risky. However, once you start to see profits, this will become an attractive proposition!
How Can You Select the Right One?
When you hire any service, you want to make sure you are working with the best of the best. Our Ultimate Guide can help you find the best financial advisor to fit your financial profile. With all the information you have now about investment companies, you might be wondering, "How do I get an investment company that is right for me?"
When considering, "What does an investment company look for?" you should keep in mind that they look for clients with a diverse portfolio or numerous assets. Many commission-based companies look for an asset allocation that can generate the most returns for the company itself at the expense of the investor. Hence, we suggest that you clarify the company's payment structure beforehand to avoid any conflicts of interest.
Your investment goals are a critical part of your financial plan. Therefore, spending time researching your options is the first step towards finding the perfect investment company to take care of your wealth and where you should establish your investment account.
Investment companies can offer various investment plans, such as investment management services, financial planning services, and financial advice, including personal advisor services. It would be best if you determine what exactly you need assistance with before you hire an investment firm. This includes having an idea of your risk tolerance and time frame. With other wealth management firms in the United States or elsewhere, such as Charles Schwab, Vanguard National Trust Company, Fidelity Investments, and so on, those firms will not guarantee you that you can achieve your investment goals.
Once you know what you need from an investment company, you can start your search by looking online for the companies with the highest investment returns, minimum transaction fees, and those that meet your criteria. As a high net worth or ultra-high net worth individual, you should take a look at their clientele. A wealthy clientele will indicate that they have the resources and experience to diligently cater to the needs of your high-net-worth portfolio.
A wealth investment advisor can also help you to maintain your asset classes, including using an options trading approach.
Credentials are a clear indication of the qualifications and expertise of any financial professional. Most credible firms post their credentials on their website, or you can simply ask them for verification information in your first consultation. Keep in mind that you might have to consult with more than just one firm before you find the right fit. With multiple high-value assets, you cannot take the risk of trusting the wrong company with your portfolio. That is why we suggest that you do thorough research and take your time to make this crucial decision.
Trusting the Right Firm or Company
The right investment company will help you meet your investment goals and enhance your portfolio's performance while minimizing risk. Here are some shifts that our wealth managers use to maximize your growth.
If you have 5 million to 500 million dollars worth of liquid investable assets, you can consider our wealth management firm for your investment management. Wealth managers at Pillar Wealth Management can allocate and rebalance your portfolio with an eye on costs, asset protection, and tax ramifications. We can help you create fully personal advisor services to meet your needs, goals, and objectives. Contact us for your very first free consultation!
Related Posts
Asset Management Companies – Producing strong investment returns is one of the most significant achievements that a wealthy investor…
Index Investing – Investing in an exchange-traded funds and index mutual funds garners plenty of positive press…
Preserve Capital – For people who own more than $10 million in investable liquid assets,one of the biggest concerns…
Financial advisors New York – If you have more than $10 million in liquid assets but aren't able to grow your wealth…