Investment Companies Near Me: Who to Work With –PillarWM
If you have amassed wealth in the millions of dollars in liquid assets, you may believe your financial worries are over. However, if you do not invest and cultivate your wealth in order to maintain your capital, you could soon face financial difficulties and an uncertain future. Rich investors understand the advantages of partnering with the right "investment companies near me," as well as the risks of working with the wrong ones.
If you seek to invest more than 5 million dollars, you will want to work with the best "investment companies near me." You can request a copy of our book, 7 Secrets to High Net Worth Wealth Management, Estate, Tax, and Financial Planning For Families With Liquid Investable Portfolios Between $5 Million and $500 Million, to learn more about some of our best investment strategies.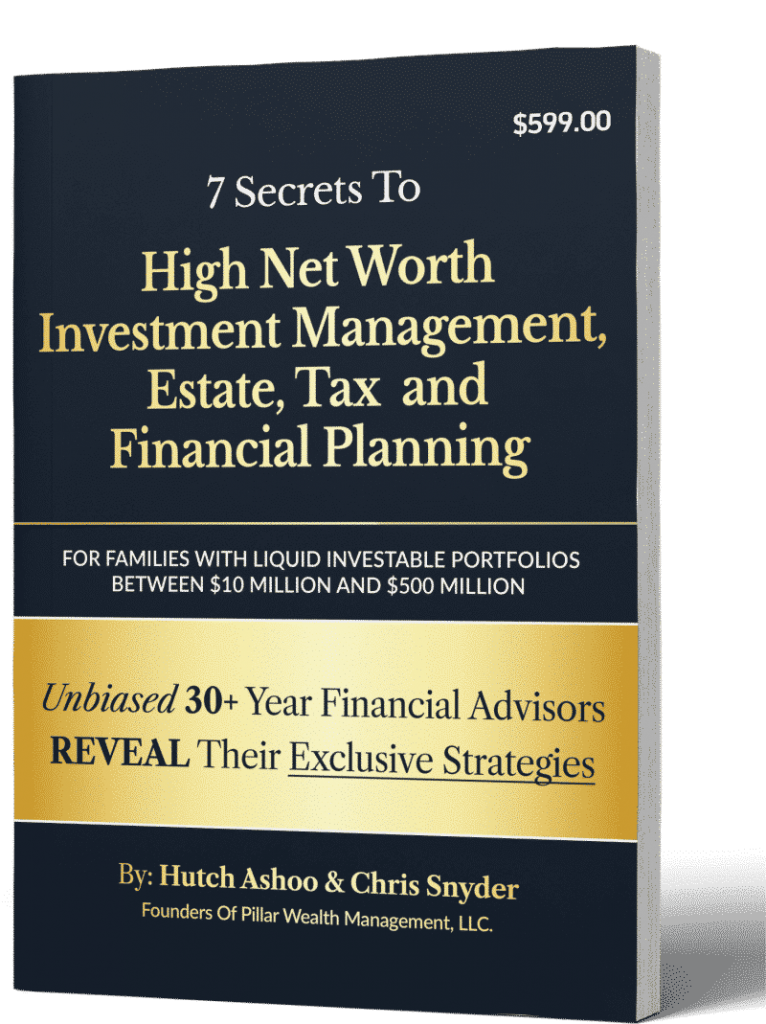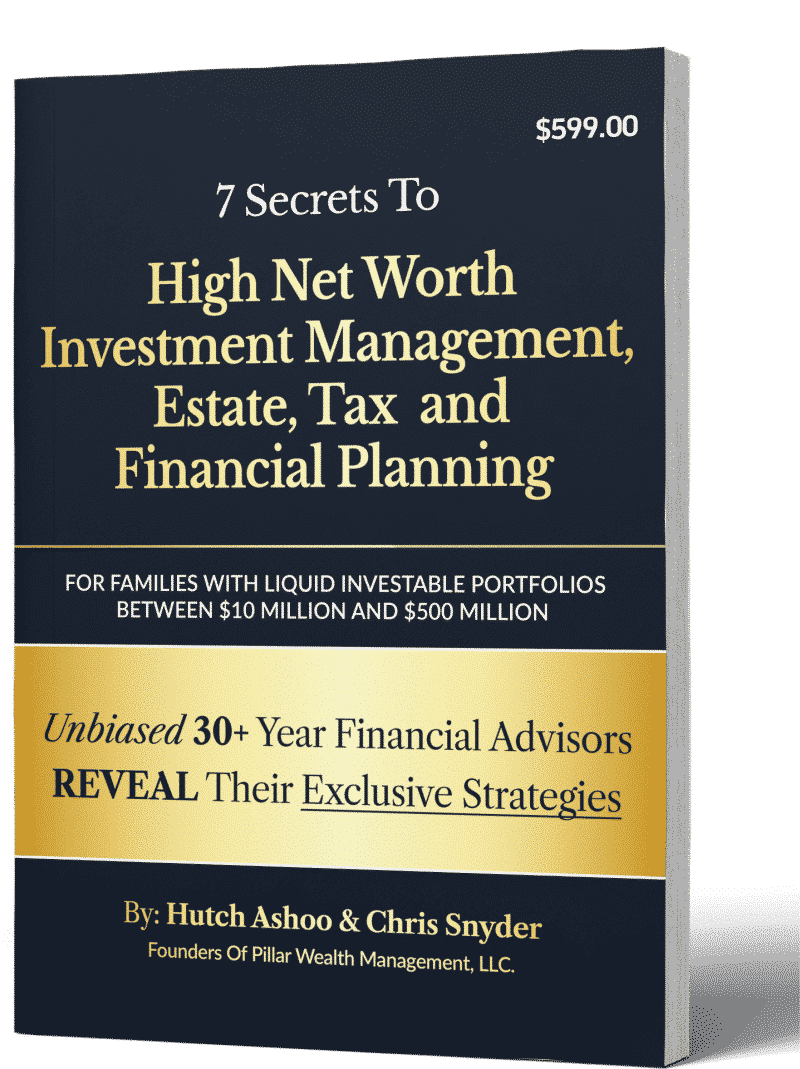 STRATEGIES FOR FAMILIES WORTH $5 MILLION TO $500 MILLION
7 Secrets To High Net Worth Investment Management, Estate, Tax and Financial Planning

The insights you'll discover from our published book will help you integrate a variety of wealth management tools with financial planning, providing guidance for your future security alongside complex financial strategies, so your human and financial capital will both flourish.
Clients frequently share with us how the knowledge gained from this book helped provide them tremendous clarity, shattering industry-pitched ideologies, while offering insight and direction in making such important financial decisions.
Our investment strategy focuses on increasing the value of your assets while protecting them by minimizing unnecessary risk. Pillar Wealth Management offers fiduciary, fee-based investment and wealth management services to individuals looking to invest in liquid assets worth $5 million to $500 million. We can research the market and build your portfolio based on your risk tolerance, projected returns, and financial objectives, among other factors. You can learn more about the complexities of investment management from our knowledgeable advisors. Your first consultation with us will be free! Find us in your search results for "investment companies near me."
In this article, we'll talk about who are the best investment companies, the different types of investment companies, why wealthy investors need investment management, and how do investment companies work. Let's begin.
Why Do Wealthy Investors Need Investment Management?
A partnership, trust, or organization that "pools" capital from shareholders and invests it in suitable security instruments to multiply investment money is known as an investment company or firm. You might ask yourself why a wealthy investor should use investment management services.

When your liquid assets worth 5 million dollars or more are on the line, investing in high-risk securities can be daunting. Not to mention, unless you want to gamble your whole fortune, you simply cannot afford to experiment and discover everything yourself. However, for high net worth and ultra-high net worth individuals, investment management is intriguing and, more importantly, necessary.

A large wealth comes with high risks. Even if you have $500 million or more in your account right now, any unforeseen circumstances could mean losing everything. You can invest your money in a variety of goods and services with the guidance of "investment companies near me." This will allow you to grow your wealth over time while securing your retirement and living the high life you want. You can protect yourself from big losses with a well-balanced investment portfolio. You can read our book, The Art of Protecting Ultra-High Net Worth Portfolios and Estates – Strategies for Families Worth $25 Million to $500 Million, to learn more about how you can protect your family from these risks.

Retiring comfortably with enough money to support your luxurious lifestyle is a major goal for wealthy investors. However, a retirement plan often necessitates making investments that enable you to generate wealth even in your golden years. Any of the "investment companies near me" can advise you on how to invest in assets that will support your and your family's financial future. This includes advising you on whether you can invest in high-risk or low-risk assets, depending on your priorities, and suggesting strategies to boost your capital. You can learn about some of the techniques our wealth managers by reading our 5 Critical Shifts Guide.

4 Categories of "Investment Companies Near Me"

If you've been on the lookout for "investment companies near me," you have most likely learned that there are different types of investment companies.
Investment companies are divided into four categories, each of which provides different financial services.
1. ETF (Exchange-Traded Fund)
It is either a Unit Investment Trust (UIT) or an open-end investment company whose shares are traded at market rates on stock exchanges on a daily basis. ETFs help preserve professional management and a diversified portfolio, and they trade on the stock exchange like equity securities.
2. Unit Investment Trust (UIT)
UIT "investment companies near me" purchase and manage a fixed bond and equity portfolio. They are handled externally because the share units are sold to investors who continue to receive dividends as long as the units are retained. According to the complexity of the investment instrument, the units have an expiration date.
3. Mutual Funds
Mutual funds, like closed-end funds, are controlled by third parties. Licensed "investment companies near me" purchase security portfolios or assets to help an investor achieve a specific financial target. Mutual funds can be withdrawn at any time.
4. Closed-End Fund
In the stock market, a fixed number of shares are given that have lower liquidity but provide long-term benefits. These funds have well-defined goals and are controlled by third parties.
Selecting the right investment company is critical to your financial success. You can request a copy of our book, 7 Secrets to High Net Worth Wealth Management, Estate, Tax, and Financial Planning For Families With Liquid Investable Portfolios Between $5 Million and $500 Million, to learn more about some of our investment strategies.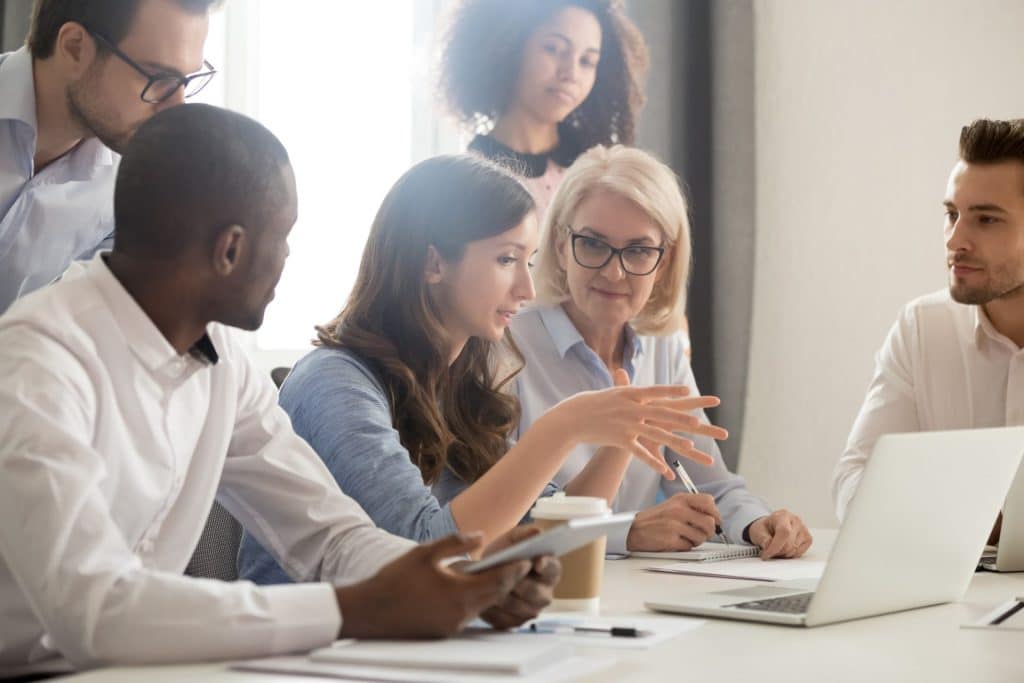 Which Are the Best "Investment Companies Near Me?"
When you think about "investment companies near me," big Wall Street names may come to your mind. After all, it makes sense to work with the best of the best, right?
While these big companies offer you what any average investor will want, i.e., information and advice on different investments and securities, they cannot give you the level of personalization that you need as a high net worth or ultra-high net worth individual. Your wealth and unique financial status entitle you to investment management services that are tailor-made to suit your needs and help you achieve your personal and financial goals.
Moreover, among the "investment companies near me," these big firms take on a large number of clients every year, making it difficult for them to focus all of their attention on you. If expert investment management is what you're looking for, a private wealth management firm might be exactly what you need.
Wealth managers are trained to handle numerous high-value assets and portfolios. This makes them well-equipped to anticipate your needs, goals, risks, and financial concerns. At Pillar Wealth Management, we offer expert investment management services to wealthy investors by creating a customized plan that caters to your goals and unique financial status. We work with a fixed number of clients every year so that your investment portfolio receives the attention, time, and effort it deserves. If you would like to consult our wealth managers, you can book a meeting with us.
One of the most important elements of an investment plan is the creation of a well-diversified investment portfolio. Many high-net-worth investors believe that by diversifying their portfolio, they will make good investments on their own. However, "investment companies near me" can help you use more innovative strategies in addition to this to boost your income. You can read more about these in our Performance Guide.
How "Investment Companies Near Me" Work
If you have more questions, such as "How do investment companies work?" we can help you answer that. They typically have a closed-ended structure, which means they only issue a certain number of shares for a certain period of time. The stock exchange is where these securities are traded. To deliver long-term sustained results, fund managers invest in less liquid assets such as venture capital, commercial properties, and private equity in this framework.
Investment companies make sure that all investments and agreements are legal and in accordance with the financial objectives. They have access to tools that allow them to investigate the numerous investment options available to you. Reputable investment firms use tried-and-true approaches to improve the value of your portfolio. They can adopt techniques that increase your income while lowering your costs and reducing risk.
They are skilled at managing a variety of assets and allocating them to the most suitable securities. A good investment management firm will consider your priorities and objectives while constructing and managing a portfolio that will increase your wealth and protect your assets. They will help you build a diversified portfolio by investing in a variety of assets such as shares, equities, real estate, cash, stocks, bonds, and other assets.
The right investment company will know how to diversify your investments and protect your assets using various methods and resources. They will prioritize your goals, whether they are to protect your capital, build your wealth, or find opportunities to invest. Wealth managers art Pillar Wealth Management are skilled in this aspect. You can meet with us for a free consultation to discuss how we can assist you in managing your investments.
Finding the Right "Investment Companies Near Me"
The right investment company for you will assist you in achieving your investment objectives and improving the efficiency of your portfolio while mitigating risk. So, how can you find them?
Investment companies may provide a variety of investment services, including investment management, financial planning, and financial advisory services. Before you employ an investment firm, it's best if you figure out just what you need help with. This entails determining your risk tolerance and time horizon.
A majority of companies have a website that details their services and advisor profiles. A simple internet search will reveal the companies that provide services in your region. It may be useful to filter through the companies that specialize in providing services to high-net-worth individuals. This will ensure that their consultants are aware of your specific needs and objectives as a wealthy investor.
Credentials are a direct indicator of a financial professional's credentials and experience. Most reputable companies can list their qualifications on their website, or you may simply ask for confirmation during your initial consultation. Keep in mind that ideally, you should speak with several firms before finding the best match.
Lastly, make the most of our initial consultation by asking the right questions. You want to test their knowledge, understand their breadth of services, ad clarify their payment structure. If you want to know which questions to ask your financial advisor, you can request our book, 7 Secrets to High Net Worth Investment Management, Estate, Tax, and Financial Planning. We have an exclusive offer for investors with a high net worth.
Working with Pillar Wealth Management
The basis of your wealth and any subsequent wealth management practices is your investments. They're the means by which you'll achieve your retirement goals, carry out your succession plans, keep track of your spending, and build your wealth. As a result, you'll need the best "investment companies near me" on your side to help you achieve your objectives while still safeguarding your money.
If you're interested in working with one of the best "investment companies near me," you can consider a private wealth management firm for a more holistic approach to your finances. Pillar Wealth Management's wealth managers will rebalance and diversify your portfolio while keeping costs, asset security, and tax implications in mind. We specialize in assisting individuals looking to invest between 5 million to 500 million dollars in liquid assets. We will assist you in creating a portfolio that is fully tailored to your needs, goals, and objectives. Get in touch with us today to book your first free consultation.
To be 100% transparent, we published this page to help filter through the mass influx of prospects, who come to us through our website and referrals, to gain only a handful of the right types of new clients who wish to engage us.
We enjoy working with high net worth and ultra-high net worth investors and families who want what we call financial serenity – the feeling that comes when you know your finances and the lifestyle you desire have been secured for life, and that you don't have to do any of the work to manage and maintain it because you hired a trusted advisor to take care of everything.
You see, our goal is to only accept 17 new clients this year. Clients who have from $5 million to $500 million in liquid investable assets to entrust us with on a 100% fee basis. No commissions and no products for sale.
Related Post