When it comes to investment management, there are tons of options out there. However, many high net worth along with ultra-high net worth individuals and families, tend to stick to the traditional stocks or bonds due to their limited experience and expertise. Individuals of that caliber need to carefully study the market and invest in diverse financial vehicles beyond the usual options. One such financial vehicle is mutual funds which can benefit investors with $5 million to $500 million in liquid assets. However, you can't just invest in mutual funds companies without very careful consideration. High-net-worth individuals who are planning to invest their $5 million to $500 million worth of assets can request a copy of our illuminating book, 7 Secrets to High Net Worth Investment Management, Estate, Tax, and Financial Planning, which will explain how important it is to maintain a diverse portfolio by investing in different kinds of assets.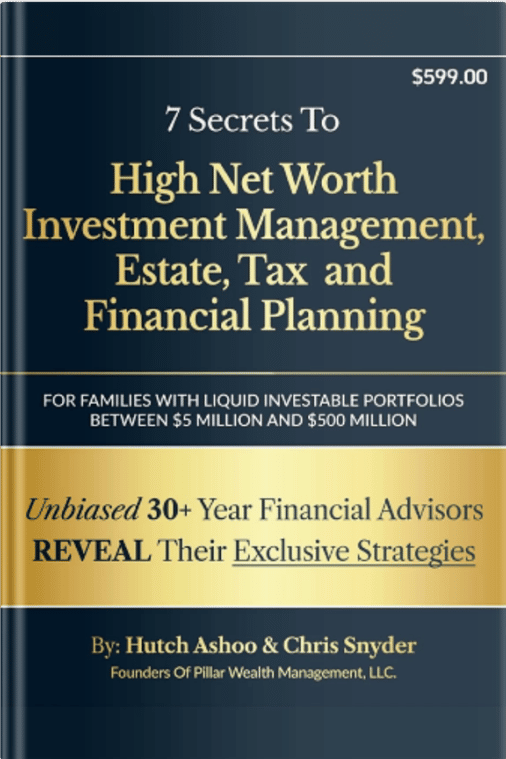 STRATEGIES FOR FAMILIES WORTH $5 MILLION TO $500 MILLION
7 Secrets To High Net Worth Investment Management, Estate, Tax and Financial Planning
The insights you'll discover from our published book will help you integrate a variety of wealth management tools with financial planning, providing guidance for your future security alongside complex financial strategies, so your human and financial capital will both flourish.
Clients frequently share with us how the knowledge gained from this book helped provide them tremendous clarity, shattering industry-pitched ideologies, while offering insight and direction in making such important financial decisions.
Mutual fund companies can sometimes be an individual company or operate within a larger investment firm. At Pillar Wealth Management, our financial advisors have been offering a wide range of investment and portfolio management services. We have been helping our affluent clients invest in the best assets according to their goals, including mutual funds and other investment options. We understand the complexities involved in designing an effective investment strategy for our high-net-worth clients. That's why we are always trying to better understand and track the market to capitalize on new opportunities right away. So, if you are interested in investing in mutual funds or need general help with your portfolio, schedule a no-obligation chat with our advisors for a quick consultation.
In this blog, we'll be going over what mutual funds companies are, why you need them, when you should hire them, and how to choose the best ones. Let's get right into it.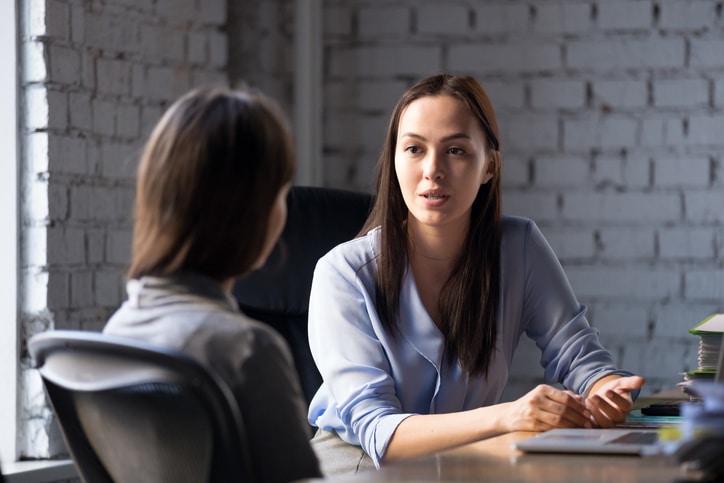 Who Are Mutual Funds Companies?
To understand who mutual funds companies are and what they do, we first need to understand what mutual funds are. A lot of new investors seem to think that simply buying stocks and bonds directly is the only profitable option out there.
No doubt that these are definitely an important part of your portfolio, but there are many other investable assets as well, such as mutual funds. As the name suggests, mutual funds are a kind of investment where several investors pool in their funds together, and then once the pool is large enough, it is invested into several other assets.
Mutual funds are typically managed by a professional money manager or a similar financial advisor who has the necessary knowledge and experience of managing mutual funds. Depending on the objectives or goal of the mutual fund, it can have different kinds of assets in its portfolio.
Like stocks, investors buy shares of mutual funds. But, unlike stocks, they don't get voting rights or other similar benefits that come with company stocks. Instead, they earn profit proportional to their share of the mutual funds, depending on the performance of the portfolio.
Normally, mutual funds have about 100 different securities, which, as you can imagine, offers a lot of diversification. So, what are mutual fund companies then? Well, mutual funds, by nature, are a company itself as well as a financial vehicle.
Mutual funds are a type of investment, as explained earlier. However, it is also a company that is sometimes managing that pool of funds and overseeing the investment assets within the portfolio. So, technically, you are investing in a company that deals with mutual funds. If you still have questions, you can always start a quick chat with Pillar Wealth Management.
Is it Worth Hiring a Mutual Fund's Companies?
Since mutual funds rely on multiple investors to pool their money together, it's impossible to do on your own. You need to rely on others to bring those investors together and create a portfolio. And there's no one better for it than mutual funds companies.
There are several ways to earn by investing in a mutual fund. However, that's usually only possible when you are working with a mutual funds companies. Here are some reasons why high-net-worth individuals need mutual funds companies.
Expertise
The most important reason why you need to hire mutual funds companies and why they are worth it is their extensive expertise, knowledge, experience, and high level of skills in managing mutual funds for investors. Even selecting just one investment asset can take a lot of time and effort.
Can you imagine how grueling and complicated it would be to create a portfolio with a 100 or even greater number of securities? Mutual funds companies have a lot of experience and carry more expertise in this area. They can design various kinds of portfolios depending on the investors' sentiments.
For instance, they can go for cost-saving portfolios or portfolios intended for aggressive growth. These money managers overlooking the mutual funds keep a close eye on the market to manage the investment effectively. You can even go through our comprehensive guide on portfolio performance to learn how complicated the entire process is and why you really need an expert for it.
Fiduciary Services
Another great advantage of mutual funds companies is that they offer fiduciary services. They are obligated to provide their very best services that align with their clients' or investors' best interests. The mutual fund companies have to be transparent in their dealings and remain open and honest with all the high-net-worth individuals involved.
The companies are held accountable for their actions according to industry regulations.As a result, it is easy for affluent individuals to trust these companies and follow their guidance when it comes to investing in mutual funds. At Pillar Wealth Management, our fiduciary and fee-only financial advisors are always looking out for your best interests only. Arrange a conversation with us today.
Diversification
Perhaps the biggest reason why any high-net-worth investor needs mutual funds companies is diversification. The investment market always comes with a lot of risks, and that's why it is extremely crucial that every investor utilize certain risk management strategies.
One of the most effective strategies is diversification and wide asset allocation. The more diverse your portfolio is, the thinner the risk is spread out. This is exactly what a mutual fund does. It combines many different assets into one portfolio to increase its returns and also bring down risks and other costs.
Now, if you are thinking that you could probably create such a portfolio yourself and you don't really need a mutual funds company for it, you could be making a big mistake. Even selecting just one asset for your portfolio takes so much time and analysis.
As mentioned earlier, mutual funds tend to have around 100 different assets and securities. Therefore, it would be very hard to do on your own, or even if you manage to do so, the chances of it performing well in the market could be low.
Furthermore, mutual funds are also great for high-net-worth investors who don't want to invest a lot at the moment. Normally, if you try to diversify your portfolio on your own, you will need a lot of wealth to buy up the different assets.
However, with a mutual fund, you can get all that diversification for a small fraction of the price. Learn about more risk management strategies from our book, The Art of Protecting Ultra-High Net Worth Portfolios and Estates – Strategies for Families Worth $25 million to $500 million.
Cost Savings
Despite what some people may believe, mutual funds are not very expensive. In fact, it's the opposite. Mutual funds can be quite cost-efficient. When you buy single assets and securities, one at a time, you have to bear the transaction costs and other management fees for every single purchase.
If you are buying 30 different assets, all those costs can quickly add up. However, with mutual funds, you can avoid all those extra costs as you will be directly buying just shares of that one portfolio that includes all other assets. Although, sometimes, this depends on the kind of mutual funds company as well.
Financial Freedom
If nothing else, you need to work with mutual funds companies because they can offer you financial freedom and serenity in life. For starters, even within mutual funds, there are a lot of options, such as equity funds, fixed-income funds, index funds, money market funds, and so on.
Depending on your financial plan or investment philosophy, you can choose the type of fund that best aligns with your interests. Additionally, you also don't have to worry about your investment as there will be experienced money managers handling it for you.
These people will have decades of experience that makes them quite good at overseeing mutual funds. So, you can rest easy and without any fears, knowing that your money is in the right hands. We suggest reading our eye-opening guide on portfolio growth strategies to see how you can assess your priorities and evaluate what really matters to you.
When Should You Use Mutual Funds Companies?
If you are a high-net-worth individual with $5 million to $500 million in liquid assets, you should consider working with a mutual funds company right away. As discussed earlier, these companies have a lot of benefits, and including mutual funds in your investment portfolio can also be a great step.
That's why you need to start investing in mutual funds as soon as possible. The earlier you begin to invest in it, the more time you will have to grow your wealth and secure your retirement. There are many different types of mutual funds, so if you feel like your costs are getting too high, you can invest in a mutual fund that is specifically designed for cost-sensitive investors.
If you are nearing your retirement, you can opt for a fixed-income fund to supplement your retirement income and live a comfortable life. We also suggest high-net-worth individuals looking to invest their $5+ million worth of assets to request a copy of our book, 7 Secrets to High Net Worth Investment Management, Estate, Tax, and Financial Planning, to learn more about the complex nature of high-net-worth investment management.
Choosing the Best Mutual Funds Companies
Now before you rush off to work with the first mutual fund company you find, you need to understand that not all such companies will be good for you. Only the best mutual funds companies that align with your interests and goals will actually be able to help you achieve financial success. So, here is what high-net-worth individuals should do.
• Check their background.
• Consider their experience.
• Make sure they offer other services.
• Look for reviews and testimonials.
You can start your search by considering Pillar Wealth Management. We are an independent firm that has been operating in the industry for many, many decades now. Our financial advisors and wealth managers are well aware of the financial challenges faced by high-net-worth and ultra-high-net-worth individuals, and so, we exclusively work with this class of clients only. Our services include financial planning, investment management, tax optimization, retirement planning, estate planning, and much more. If you want to improve your portfolio performance and discuss investment options, consider starting a free conversation with our financial advisors today.
To be 100% transparent, we published this page to help filter through the mass influx of prospects, who come to us through our website and referrals, to gain only a handful of the right types of new clients who wish to engage us.
We enjoy working with high net worth and ultra-high net worth investors and families who want what we call financial serenity – the feeling that comes when you know your finances and the lifestyle you desire have been secured for life, and that you don't have to do any of the work to manage and maintain it because you hired a trusted advisor to take care of everything.
You see, our goal is to only accept 17 new clients this year. Clients who have from $5 million to $500 million in liquid investable assets to entrust us with on a 100% fee basis. No commissions and no products for sale.