Wealth Management Tulsa – Best Financial Advisor Tulsa
As a high net worth investor having $5 million to $500 million, you need a financial advisor with the experience, commitment, and prudence required to handle your investment smartly and help you achieve your goals. Unfortunately, this can be a challenge for most investors seeking assistance with wealth management Tulsa. While they are not exactly a rarity, findingbest wealth management firms can be hard. In many cases, you might feel you have a great wealth manager handling your assets. By the time you realize your wealth manager has failed to deliver what was promised, it is too late. If you want to avoid a similar fate, we recommend reading our guide to the qualifications a financial advisor must havefor families with a net worth of 10 million and above. You can also get in touch with us and schedule a free consultation.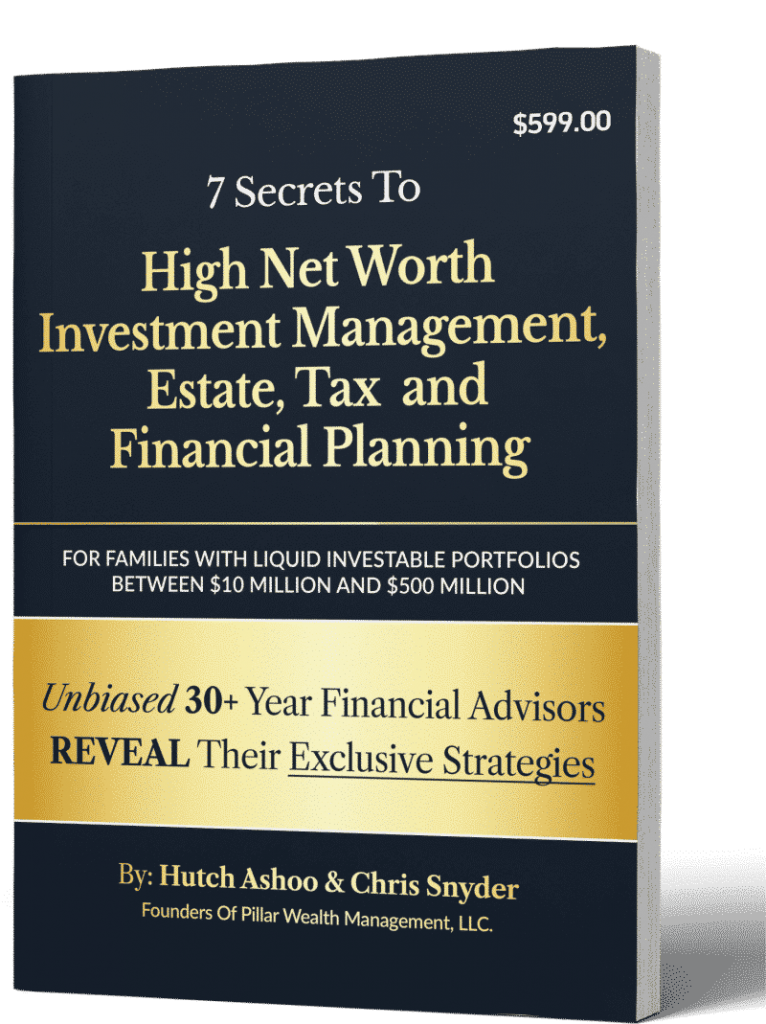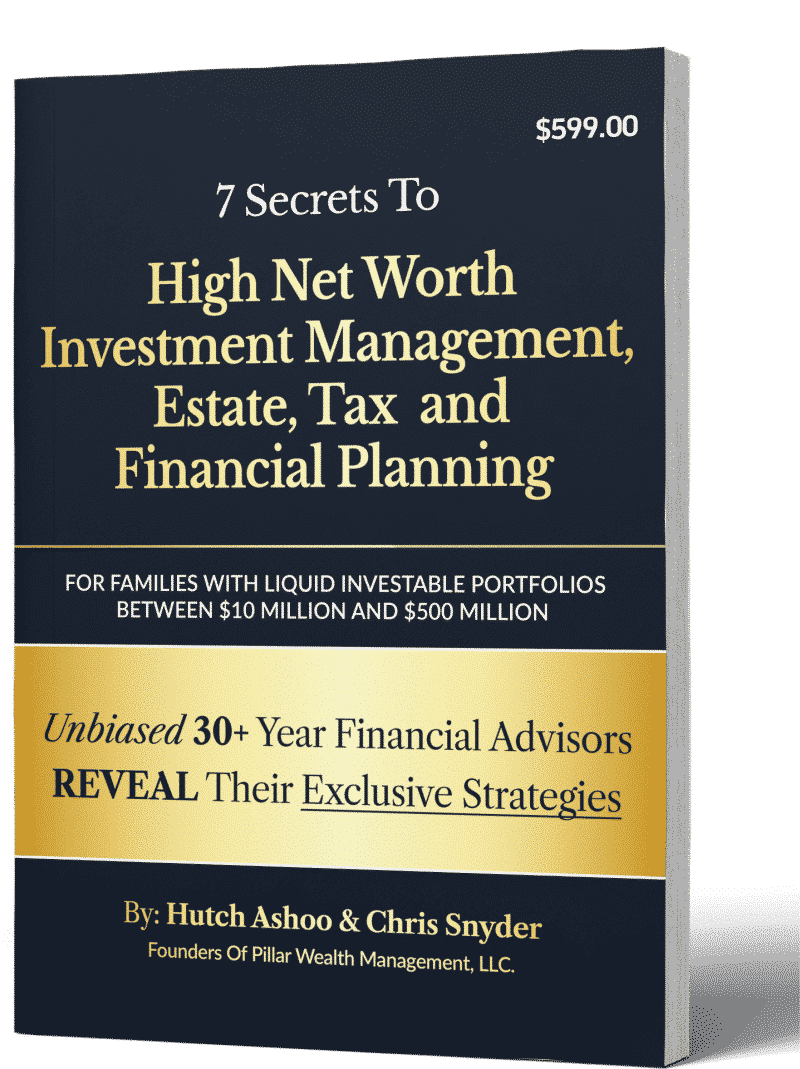 STRATEGIES FOR FAMILIES WORTH $5 MILLION TO $500 MILLION
7 Secrets To High Net Worth Investment Management, Estate, Tax and Financial Planning

The insights you'll discover from our published book will help you integrate a variety of wealth management tools with financial planning, providing guidance for your future security alongside complex financial strategies, so your human and financial capital will both flourish.
Clients frequently share with us how the knowledge gained from this book helped provide them tremendous clarity, shattering industry-pitched ideologies, while offering insight and direction in making such important financial decisions.
Pillar Wealth Management is a premium wealth management firm that delivers what many large investment firms and banks fail to. We have over 60 years of experience in expense and tax minimization and work exclusively with investors having $5 million to $500 million in liquid assets. We can create a custom investment strategy for you that helps you realize your goals, cuts back your losses and maximizes your gains.
In this blog, we will be answering some essential questions about choosing the right financial advisor for managing your wealth. Let's begin.
1. Have They Worked With High Net Worth Investors Before?
Experience plays a vital role in findingbest wealth management firmsand selecting the right financial advisor Tulsa. A premium wealth management firm won't just set you up with a financial advisor with an abundance of experience. Instead, it will focus on providing you with someone who has worked with investors with a similar net worth. This is important because not every wealth manager has the skills required to manage a portfolio with a net worth of $5 million to $500 million. This issue is particularly prevalent for large investment firms. Despite the image they project, these companies assign newbie advisors to high-profile clients and have them stick to a standard formula for guiding their investments.
This isn't good enough. What you need is a tailored approach that fits your financial goals and needs. So, when you are looking for a suitable financial advisor, make sure you ask them how their skills complement your unique situation. You can also ask them follow-up questions on how they helped a previous client enhance their portfolio, avoid losses, and more.
2. What Is Their Strategy for Maximizing Market Returns?
As a high net worth or ultra-high net worth investor, the second thing you need to ask your potential financial advisor is how they plan to leverage market growth. In most cases, your advisor will hand over your investment to a money manager. These can be active or passive managers. It's vital that you ask which type of money manager they plan to use. This can have a significant impact on your returns, as well as your costs. Active managers try and outperform the indexes by actively observing current market trends and making changes to your portfolio. Passive managers take amore straightforward approach and track a particular index. The value of your investment will rise and fall as per this index.
We know what you are thinking. Isn't it smarter to work with an active manager who can help you beat the market? As it turns out, no, it is not. This is primarily because despite the promises they make, most active managers cannot outperform the market. What's more, passive managers can dofar better at growing the value of your portfolio without exposing you to unnecessary risks. They also cost a lot less than active managers.
An active manager will charge a service fee between 0.75% and 2%, while a passive manager will charge 0.2%. The difference here can have a HUGE impact on your costs and can eat away at your gains.

3. What Is Their Strategy for Minimizing Losses?
The next thing you need to ask your financial advisor is how they plan to prepare for 'unprecedented' losses. Most financial advisors will focus on growing your returns but will fail to do their homework on risk minimization. This may work in the short-term if the market is performing well, but it can have a devastating effect on your investment portfolio if the market crashes. When this happens, most financial advisors will try and save face by insisting they couldn't have planned for a particular event and how it was wholly unexpected.
It is true that no one can predict the future. However, in our experience, many 'unprecedented losses' can be avoided if you do your due diligence and carry out a robust risk analysis on a client's investment portfolio. Only a handful of wealth managers bother with this. At Pillar Wealth Management, we run stress tests on your portfolio by examining how it holds up against 1000 risk-based scenarios. These scenarios are developed using historical data that goes as far back as 1925. To learn more about our portfolio stress tests and how they can help you prepare for unexpected shifts in the market, start a conversation with Pillar Wealth Management.
4. What Are Their Costs for Optimal Wealth Management, Tulsa?
As a high net worth investor, you also want to find out as much as you can about the cost of a financial advisor. This isn't limited to the fees you are paying for their advisory services. It's a lot more complex than that. Here's a quick rundown of the costs you can expect to pay:
Taxes from capital gains
Costs of active vs. passive management
Bond sale spread
Commissions
Tax-loss cultivation
Internal expenses
Service fee
We have already discussed the costs of active vs. passive management. You also need to be careful about taxes from short-term capital gains. These are a byproduct of using an active manager that moves your money around during the year by buying and selling equities, investing in mutual funds, and engaging in other investment activities. The capital gains that result from these investments will be taxed as income. If you are not careful, you will end up paying A LOT of money in taxes because of this investment approach.
Figuring out the cost of a financial advisor also helps you:
Establish a transparent relationship from the get-go
Control your expenses
Understand whether a financial advisor has the experience required to handle your funds
We stress more on the third point because most financial advisors don't hide the costs of managing your wealth for the sake of deceiving you. More often than not, it is because they are entirely unaware of these costs to answer your question adequately. Thus, asking them about these costs can help you distinguish between an experienced financial advisor and an amateur.
To learn more about the costs mentioned above, click here to read our guide on choosing the best financial advisor for high net worth and ultra-high net worth investors.
5. How Do They Plan to Allocate Your Assets?
Smart asset allocation is among the most important qualifications a financial advisor must have for wealth management, Tulsa. It involves balancing your assets between equities, bonds, and cash to ensure appropriate diversification. Many financial advisors attempt to 'diversify' your investment by buying shares belonging to different companies within a high-growth sector. They might also lend all their focus to helping you earn through the sale and purchase of bonds.
While this may work as a standalone investment approach, it should not be mistaken as asset allocation. A qualified wealth manager understands this difference. They know how to allocate your assets in a manner that lets you achieve your goals and exposes you to minimum risk.
To learn more about asset allocation and how it affects your portfolio, click here to read our guide on improving portfolio performance to achieve financial serenity.
6. How Can They Manage Your Expenses?
In an earlier section, we talked about ascertaining the cost of a financial advisor. You can't avoid some costs, but others can be reduced, granted you choose the right person to manage your assets. You'll be surprised at the difference this makes to your overall gains too.
Most wealth managers fail to focus on this and stress on performance instead. However, when it comes to wealth management, Tulsa, it is just as important to figure out where you can cut back and avoid expensive investment strategies that aren't as lucrative as they appear to be.
Efficient cost-cutting is also crucial for planning for retirement and ensuring your assets can help you lead a comfortable life. In addition, your financial advisor must prevent you from overspending and help you make room for large one-time purchases that impact the overall value of your funds. To learn more about how an experienced financial advisor can help you avoid certain costs and optimize spending, talk to the experts at Pillar Wealth Management.
7. How Are They Different From Other Financial Advisors?
While most of the questions discussed above will help you identify whether a financial advisor has the vision, commitment, and expertise to handle your assets, you can also ask them upfront about what makes their investment philosophy unique. What do they offer that other financial advisors may not?
Given how most large investment firms stick to standard investment practices and make the same series of promises to all their clients, this question can be very effective in determining whether a financial advisor will give you the customized treatment you deserve. As is normally the case, these advisors treat their clients as a number added to their quota for achieving a predefined target. As a high net worth or ultra-high net worth investor, you don't want that.
Finding best wealth management firms can help you avoid this. These organizations will be willing to go above and beyond to serve your financial needs. This is especially important for ultra-high net worth investors. If you have a net worth of $25 million to $500 million, then we recommend placing an order for a free hardcover copy of our book "The Art of Protecting Ultra-High Net Worth Portfolios and Estates – Strategies For Families Worth $25 Million To $500 Million" to learn more about this. You will find it a useful guide on how an exclusive goal-oriented strategy can boost your portfolio performance and provide you with the financial security you desire.
8. How Can They Help You Evolve as an Investor?
You don't just need a financial advisor that thinks outside the box. You also need someone willing to invest time and energy into guiding you in becoming a smarter investor. We are not saying they need to educate you about the intricacies of investment. This is far too complex and time-consuming, and you are paying for that expertise anyway. What we mean here is, understanding what's been missing from your vision as an investor and helping you discover new investment ideologies that help you lead a more secure life and attain your goals.
At Pillar Wealth Management, we emphasize on 5 critical shifts in your investment approach to achieve success. These include changing your perception about portfolio performance, choosing the right investment strategy, tracking your goals, risk-testing your portfolio, etc. To learn more, click here to read our exclusive guide on the 5 critical shifts that high net worth investors must embrace for maximizing portfolio performance.
The Bottom Line
Figuring out the qualifications a financial advisor must have is the key to optimal wealth management, Tulsa.
At Pillar Wealth Management, we offer fiduciary advisory services to families with liquid assets valued at $5 million to $500 million and work to protect their interests. Ourwealth management services include custom strategies, extensive risk-testing to minimize losses, and smart investment choices that cut your losses. We can help you plan for retirement, manage your inheritance, enhance the value of your estate, and more. To learn more, click here to schedule a free consultation session.
Related Post
Wealth Management Portland – The world of wealth management is changing. Technology has changed the expectations…
Wealth Management Long Beach – Are you wondering how to get more out of your investment portfolio…
Wealth Management New Orleans – Wealth Management is all about smart financial planning for high net worth…