Wealth Management Pompano Beach: Retirement Tips
Are you an affluent individual who has managed to amass over $10 million in liquid assets? Do you have a retirement plan in mind? If no, you need to get started right away to ensure effective wealth management Pompano Beach. It's not uncommon for high net worth and ultra high net worth individuals to face uncertainty regarding the preservation of their wealth for the post-retirement period. No matter how secure your financial future looks today, it's best to start retirement planning as early as possible with the help of an experienced wealth manager. Click here to discover the top factors you need to keep in mind when choosing the right expert for your individual needs.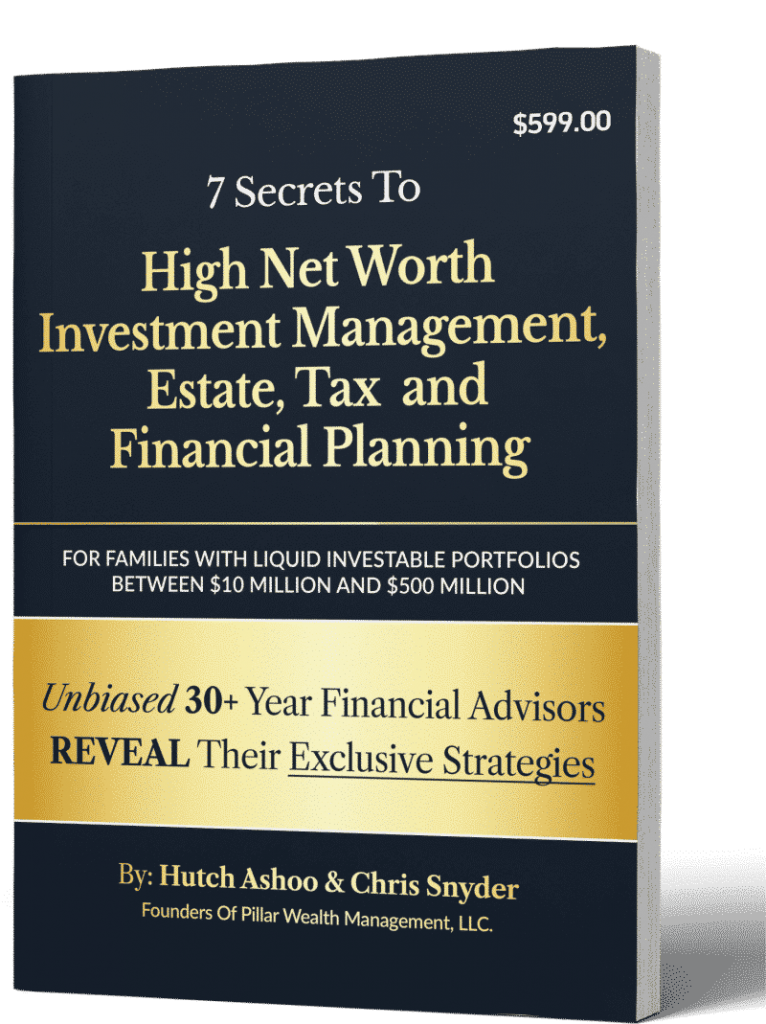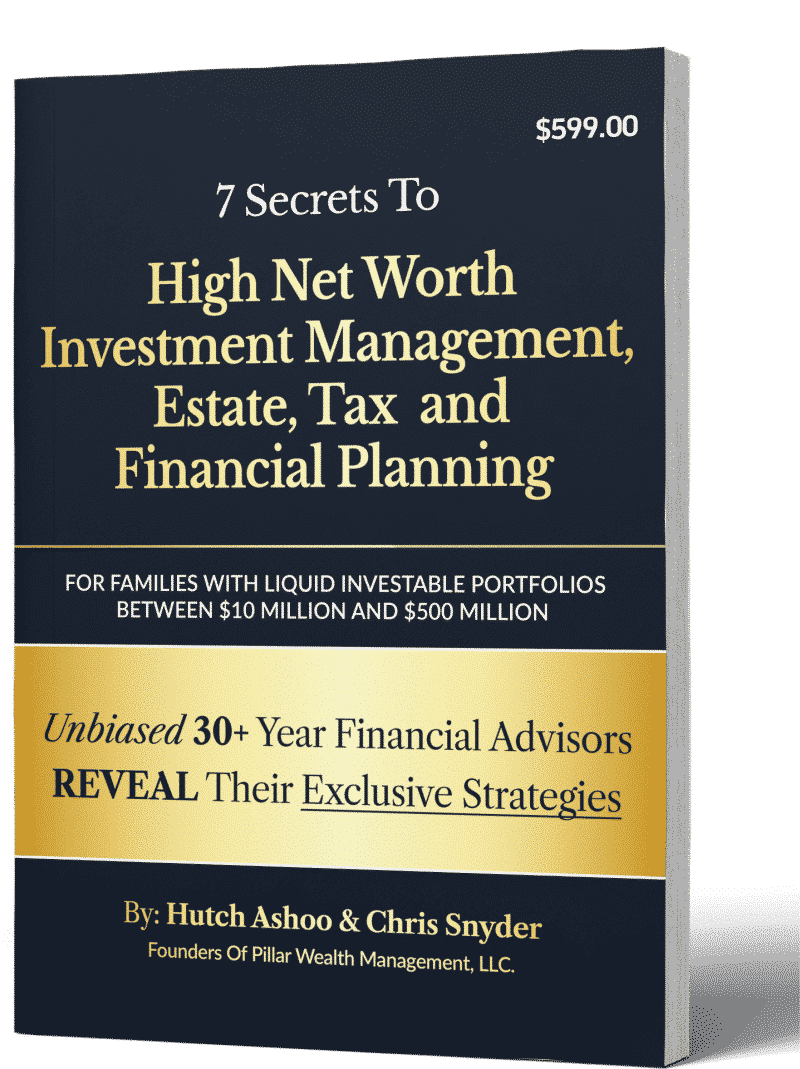 STRATEGIES FOR FAMILIES WORTH $5 MILLION TO $500 MILLION
7 Secrets To High Net Worth Investment Management, Estate, Tax and Financial Planning

The insights you'll discover from our published book will help you integrate a variety of wealth management tools with financial planning, providing guidance for your future security alongside complex financial strategies, so your human and financial capital will both flourish.
Clients frequently share with us how the knowledge gained from this book helped provide them tremendous clarity, shattering industry-pitched ideologies, while offering insight and direction in making such important financial decisions.
With the right retirement strategy, you can lay the groundwork for a comfortable, lavish lifestyle for yourself as well as your children and grandchildren. This is where Pillar Wealth Management comes in as a trustworthy partner. With a combined experience of six decades in the field, we can safely say that we will take care of your wealth management needs like a pro. Our wealth managers utilize proven wealth protection and growth strategies to help affluent individuals achieve their short and long-term financial goals with minimum exposure to risks. We work exclusively with individuals who have investable wealth worth $5 million to $500 million. Let's start a conversation and discuss how we can create a smart retirement plan for you!
Why is Retirement Planning so Crucial for High Net Worth Individuals
Creating a well-tailored retirement plan is integral for high net worth wealth management Pompano Beach. Since you have accumulated a large amount of wealth, you're likely to face complicated financial situations. Your financial risks and taxes will also be higher than an average American.
In light of this fact, you can't rely on traditional investment vehicles and savings to last you through retirement and beyond. They are not enough for protecting your assets and growing your wealth. This is why you must start planning your retirement now!
A professional wealth manager can help you plan your retirement so that you're in the best position to create the legendary financial legacy you've always wanted. You need to start optimizing your portfolio performance today in order to enjoy a peaceful and worry-free life tomorrow! You can learn about the ins and outs of portfolio enhancement in our exclusive guide here.
How Much Money Will Be Enough for Your Golden Years?
Honestly, the amount that will be enough for your retirement days depends on what kind of lifestyle you plan to achieve. There's no rule for the amount of money you should have before you retire.
However, since you are a high net worth or ultra high net worth individual, you must aim to have 75% of your income per year in the golden years. This should be enough for you to live comfortably.
Now, when you sit down to calculate how much money you should be saving and investing, make sure you take inflation into account. It's best to add a few years to your life expectancy to be on the safe side. The next step is to think about how you plan to sustain this income. You should add all your retirement income sources, including social security, real estate rental income, investment returns, inheritance, business distributions, and the like. This will help you assess if you need to do anything to increase your retirement income.
For expert help and guidance on calculating the ideal retirement income based on your current financial situation and future needs and goals, feel free to schedule a consultation with our expert wealth manager.
It is rightly said that wealth management Pompano Beach is an art – and as a high net worth or ultra high net worth individual, you must learn this art at all costs. We have rounded up some of the best strategies for people like you in our book, The Art of Protecting Ultra-High Net Worth Portfolios and Estates – Strategies For Families Worth $25 Million To $500 Million.

Where to Find Wealth Management Pompano Beach
You can easily find a list of Pompano Beach wealth management service providers on the internet. However, not all wealth managers can be trusted to handle the personal finances of a high net worth or ultra high net worth individual.
The key is to consult with multiple professionals before choosing the ideal expert for your individual needs. A wealth manager who is right for you won't hesitate to go out of their way to understand your financial situation and the challenges you may face. They will create a custom-tailored retirement plan for you without exposing your portfolio to unnecessary risks.
That being said, a smart retirement plan focuses on creating a balance between performance and security. Make sure that you aren't chasing performance and compromising your financial security along the way. While you may be tempted to improve your portfolio's performance as much as possible, taking unnecessary risks isn't worth it in the long run.
Once you have embraced this approach, you need to make five other crucial mindset shifts for successful wealth management Pompano Beach. You can read all about them in our helpful guide here.
Furthermore, wealth managers tend to take on different approaches to high net worth asset allocation and retirement planning. Some rely on active management while others swear by passive management techniques. Don't forget to go through this guide if you want to know how to find the perfect wealth manager for your retirement planning needs.
At Pillar Wealth Management, we believe that a mix of both approaches is what you need to sustain your wealth in the long run. Our wealth management specialists know how to combine the strengths of active and passive management to ensure that nothing comes in your way of living comfortably in retirement. Let's discuss this in detail!
How Much I Must Pay For Wealth Management in Pompano Beach
There are no fixed charges for wealth management Pompano Beach. Different professionals charge differently, depending on their qualifications and experience working with high net worth and ultra high net worth individuals. Generally, the more knowledgeable and experienced a wealth manager is, the higher you'll have to pay for their services. But you can rest assured that you'll get good value for money for Pompano Beach best wealth management services.
That being said, some experts charge a fixed fee to their clients while others ask you to pay an hourly rate. What's important is that you must discuss how your wealth manager will charge you before you decide to work with them on your retirement plan.
The reason so many affluent individuals trust and love working with Pillar Wealth Management is that we have a transparent cost structure and a super cooperative team. Our experts will happily answer any questions that you may have regarding the pricing of our services. Start a conversation with us now!
Related Post