Wealth Management Oklahoma City – Financial Advisor Oklahoma City
When it comes to wealth management, Oklahoma City, do you know the one thing that's common between people in their late 40s or 50s with $5 million and those with $500 million in liquid assets?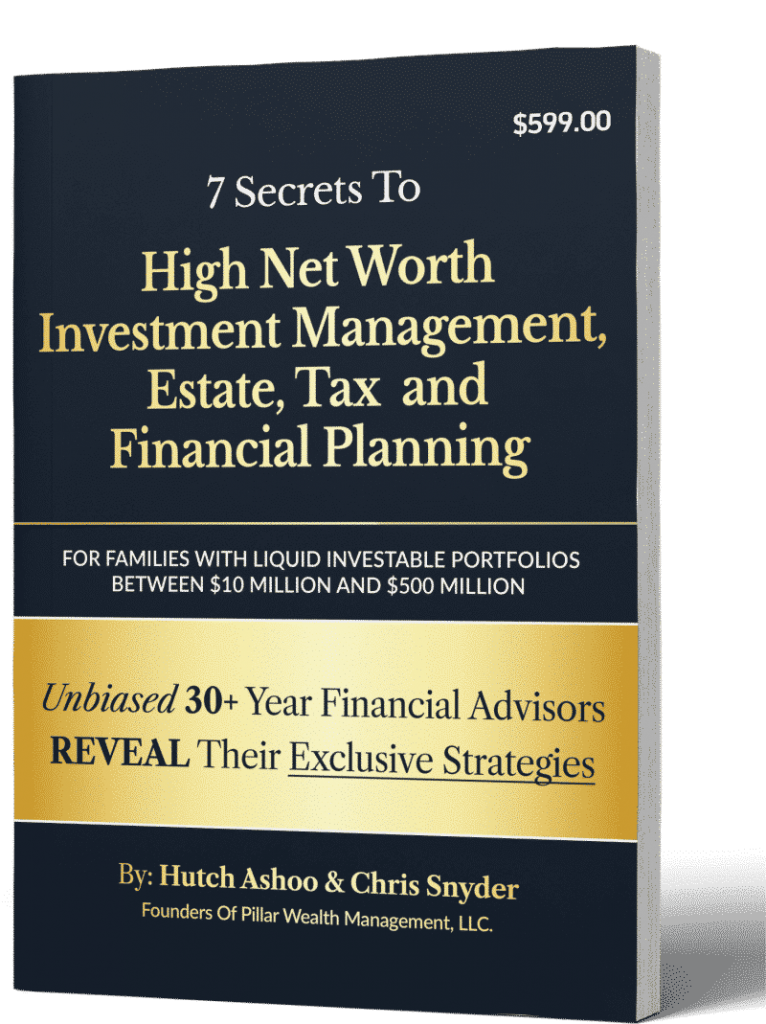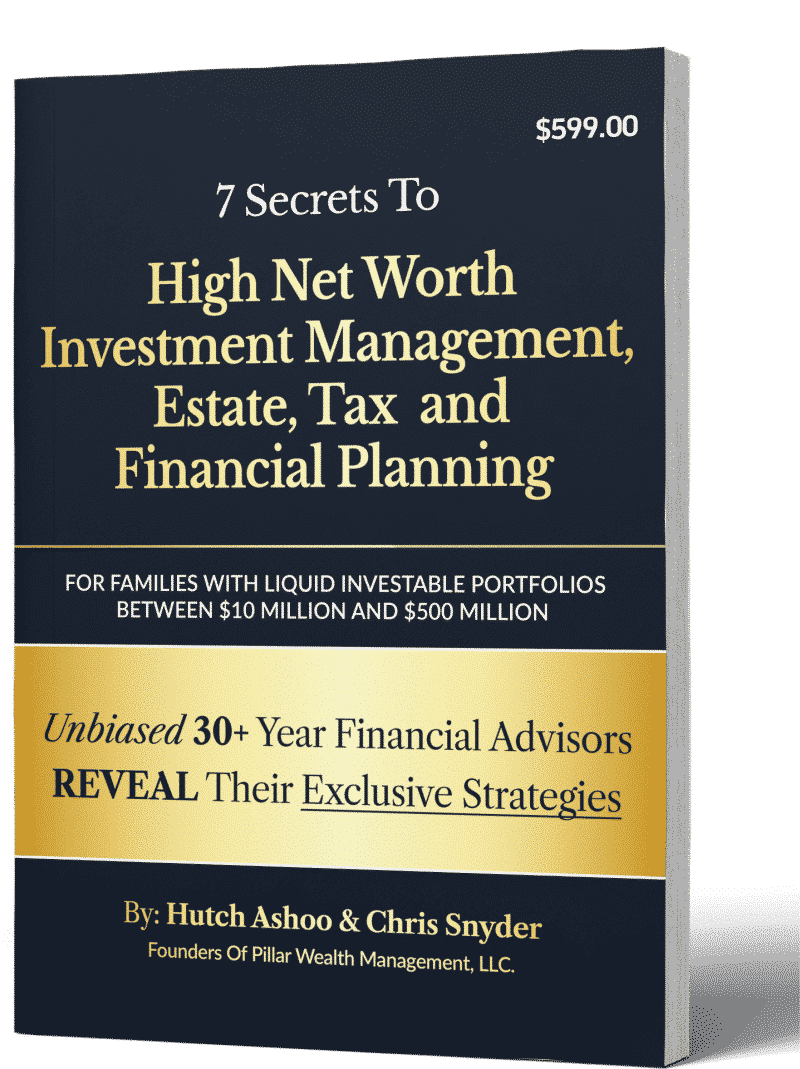 STRATEGIES FOR FAMILIES WORTH $5 MILLION TO $500 MILLION
7 Secrets To High Net Worth Investment Management, Estate, Tax and Financial Planning

The insights you'll discover from our published book will help you integrate a variety of wealth management tools with financial planning, providing guidance for your future security alongside complex financial strategies, so your human and financial capital will both flourish.
Clients frequently share with us how the knowledge gained from this book helped provide them tremendous clarity, shattering industry-pitched ideologies, while offering insight and direction in making such important financial decisions.
Concerns about retirement!
No matter how strong your current wealth portfolio is, you must strive to improve its performance to celebrate the significant milestone and live well in your golden years.While it's natural to have financial fears considering you won't have any direct source of income, investing in high net worth retirement planning can make you feel more financially secure down the road.If you have liquid assets valued at $10 million and more and still haven't consulted with a financial advisor Oklahoma City, you may be missing out on incredible opportunities to secure a rewarding retirement. Read our free guide TODAY to ensure you choose the best wealth management advisorfor retirement income planning. Feel free tocontact Pillar Wealth Management and sign up for a free consultation for expert wealth management advice and guidance.
Pillar Wealth Management specializes in providing wealth management and financial planning services to individuals with $5 million to $500 million in liquid assets. Our financial advisors are dedicated to helping high net worth and ultra-high net worth investors enhance their portfolio performance and plan a successful and content post-retirement life. Using highly customized, carefully devisedretirement income planning strategies, we strive tooptimize your portfolio and minimize your financial risksto pave the way for a worry-free life ahead.
Read on to explore how high net worth retirement planning can help you achieve the financial serenity you desire and truly deserve!
But First, What'sthe Deal with High Net Worth Retirement Planning Anyway?
Before we dive into the importance of retirement income planning, let us take a minute to discuss what it actually means for high net worth and ultra-high net worth individuals.
It is common for the wealthy to disregard retirement planning while dealing with wealth management Oklahoma City. It's probably the last thing on your mind as well.According to a 2018 study, 'U.S. Trust Insights on Wealth and Worth,' the majority of high net worth individuals do not have a retirement plan. Andeven those who do,don't take full advantage of it. This is saddening in every sense of the word.
Even if you are in your prime earning age and are fully enjoying your pre-retirement life, we urge you to give high net worth retirement planning a serious thought. We cannot stress enough that it goes a long way to ensure maximum peace of mind later in life.And the earlier you consider it, the better!
Retirement planning is all about determining your retirement income goals and finding ways to achieve them.Think of it this way: No matter how financially stable you currently are, you'll likely get distressed when you see your expenses with no income to compensate for them after retirement.
You may have to take care of an ailing parent, pay your own hospital bills for a medical condition you didn't see coming, or give money to your children or grandchildren. Life is full of unpredictable situations and you may never know when you're caught in the middle of it. All of these added expenses and others might shake up your financial stability.
Simply put, high net worth retirement planning is crucial to sustaining your wealth over the years.

3 Retirement Income Planning Steps for SmartWealth Management, Oklahoma City?
As a wealthy individual with over $5 million in liquid assets, it's high time now that you take the following three steps to secure your portfolio and lay the foundation of a peaceful post-retirement life.
1. Determine Your Core Expenses
It all begins with creatinga list of all your major expenses.Think of all your mortgage payments, loans, and debts.If you pay for your college, count that in too.
How much do you spend on food, entertainment, transportation, travel, and gifts?
Do you have any pets to take care of?
What about membership fees, donations, medical bills, and home maintenance?
Basically, you need to calculate the amount you spend each month and determine the expenses that you can cut down on.No pressure! All you need to see is how flexible things are and work accordingly.If the monthly core expenses are $40,000, do you think you can work with $35,000 without compromising your lifestyle, of course?
Before you assume we are pushing you to stress over your future and obsess over savings, let's make it clear that the idea is to maximize your spending in retirement. Look at it as a way to take your lifestyle up a notch and enjoy financial serenity after you retire. You can read this guide to dive into the details of optimizing your portfolio performance while eliminating risk from the equation.
2. Think of Everything You Want to Do after Retirement
There's a reason why retirement is referred to as the 'golden' years of your life. Think of all the time you'll have on your hands to do the things you've always wanted to do! Having bid farewell to work, you can indulge in the activities you find pleasure in and enjoy the hobbies you never got time for.
Retirement presents an opportunity to spend more quality time with friends and family, travel more often, support your children or grandchildren to start a new business, spend more time on your yacht, sign up for volunteer work, write a book, enroll in an educational course, or even learn a new language!
The options are endless, and you are going to have all the time and freedom to do what you want.High net worth retirement planning can help you make your retirement life productive and enjoyable. If you don't plan anything, you'll likely become a couch potato and eventually get frustrated over the fact that you have nothing to do anymore.
Your retirement isn't supposed to be spent in isolation. It can cause your mental health to take a plunge and you may struggle with identity issues. A wealth manager can help you make a plan based on your financial goals and desired lifestyle to ensure that you stay happy, healthy, and productive in retirement. To learn more about how retirement planning and wealth management, Oklahoma City work, start a conversation with us.
3. Determine Your Retirement Monthly Income and Its Sources
You know your core expenses and you have specific retirement goals in mind. Now, it's time to determine the amount you'll need in retirement to continue to live the way you want. We're not asking you for an estimate; you need to be precise with the numbers.
Once you have all the critical details at your fingertips, you can devise a plan to optimize your portfolio and manage your wealth such that you don't have to worry about missing out on your dreams and not achieving your goals in the golden years.
The next step is to determine your retirement income sources. You know exactly how much you'll need to live a luxurious life. But where will that money come from?
Do you have real estate or any other passive income generating assets under your name? If you do, that's great! If not, you'll have to rely on the following sources for your retirement income:
CDs and cash accounts
Investments (bonds, 401k, equities, and IRAs)
Fixed income (pension or social security)
There may be some varieties and exceptions within these for most people. To learn more about the options you have and how you can exploit them without taking unnecessary risks, get in touch with an expert at Pillar Wealth Management.
You should also consider getting a free hardcover copy of our book – The Art of Protecting Ultra-High Net Worth Portfolios and Estates – Strategies For Families Worth $25 Million To $500 Million.It has all the insider tips and valuable insights and information you needtochoose the right path on high net worth retirement planning.
Stock Option Planning and Private Wealth Management: Must-Explore Arenas of High Net Worth Retirement Planning
Shifting your focus from just earning and saving money to improving your wealth portfolio is critical to achieving long-term financial security. Here's an ultimate guide on how you can optimize wealth management, Oklahoma City and prevent financial woes in retirement by making five essential shifts.
When it comes to integral aspects of retirement income planning for high net worth and ultra-high net worth individuals, nothing beats stock option planning and private wealth management.
Many modern-day employers offer stock options to high-performing employees. When planning for retirement, you'd want to derive the maximum value out of your stock-based compensation. For you, 'value' may be about obtaining maximum cash after selling the stock, minimizing your tax, or limiting the cash outlay upon exercising the stock option.
Another promising portfolio enhancement option for high net worth retirement planning is to invest in private wealth management.The financial decisions you make on a day-to-day basis have a much greater impact on your retirement fund than you think. Private wealth managers are equipped with the knowledge, tools, and resources to offer a full range of financial planning services along with investment advice and management. They will analyze your wealth portfolio as well as your financial goals for retirement to come up with a highly customized, well-balancedplan that maximizes your gains and minimizes potential risks. Find an expert who is perfect for youis the ultimate goal here. Click here to find out how you should go about hiring the best financial advisor for wealth management, Oklahoma City.
Whatever goals you have in mind, a financial advisor like Pillar Wealth Management can guide you on stock option planning and private wealth management to ensure optimal financial serenity in retirement. Consult with an expert TODAY!
Make Your Retirement Years Truly Golden With Pillar Wealth Management
High net worth retirement planning may seem like a daunting task, even for those with $500 million in liquid assets, especially when taxes, inflation, and social security payments enter the picture. Smart thinking and careful planning can make things go smoothlyfor a risk-free experience. This is where wealth management, Oklahoma Citycomes in. With the right wealth manager by your side, you cancreate a fruitful retirement plan and make the most of stock option planning and private wealth management.
Remember, the sooner you start with retirement income planning, the higher the financial security you will enjoy in the golden years. At Pillar Wealth Management, we aim to optimize your wealth portfolio by utilizing a variety of effective wealth management and risk assessment techniques. Instead of taking a generalized approach, we offer personalized services to help you create a retirement plan that perfectly aligns with your financial needs and retirement goals. At our fee-only wealth management platform, you can expect to get expert advice on asset allocation, stock option planning, and private wealth management for maximum returns.
To learn more about our services at Pillar Wealth Management and how we can help you overcome retirement fears and achieve the financial serenity you deserve,book a free consultation with us.
Related Post