Northern Trust Wealth Management – PillarWM
All investors need assistance with growing and protecting their wealth at some point. Many individuals turn to financial advisors for help with these tasks. However, others require more specialized services and reach out to firms such as Northern Trust Wealth Management. A wealth management firm can make protecting and building wealth far more manageable. You can learn some great investment strategies for portfolios worth $5+ million by requesting a free copy of our book 7 Secrets To High Net Worth Investment Management, Estate, Tax and Financial Planning For Families With Liquid Investable Portfolios Between $5 Million and $500 Million.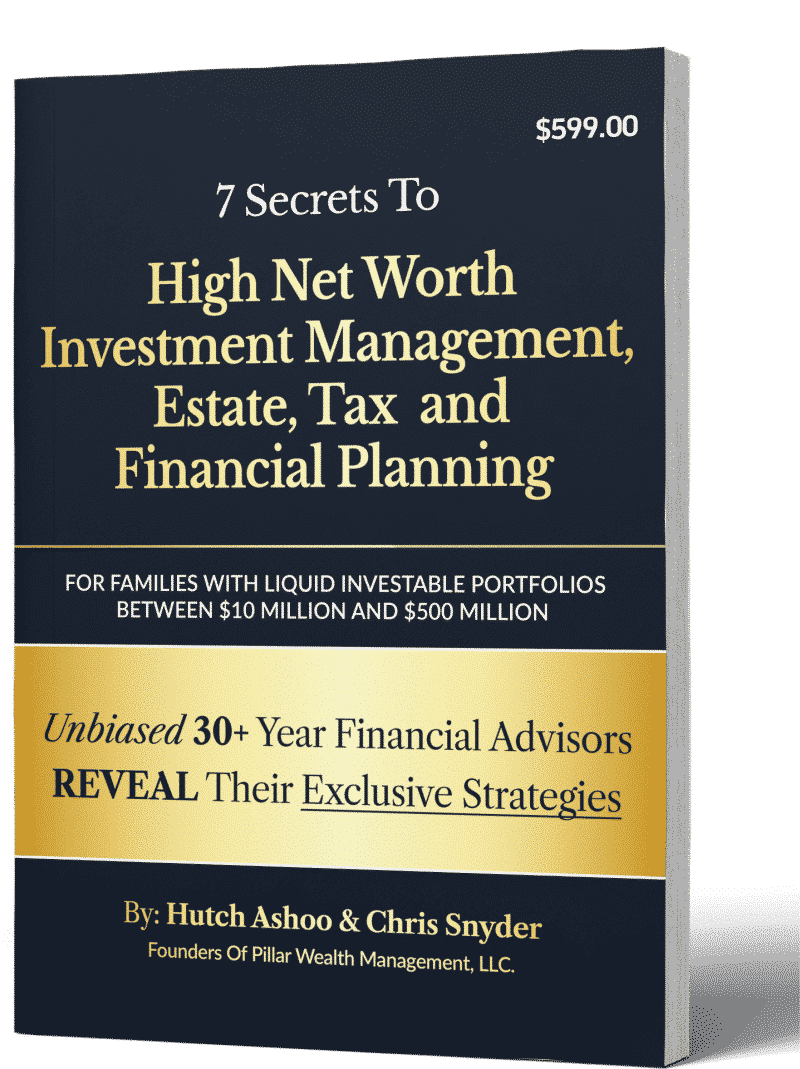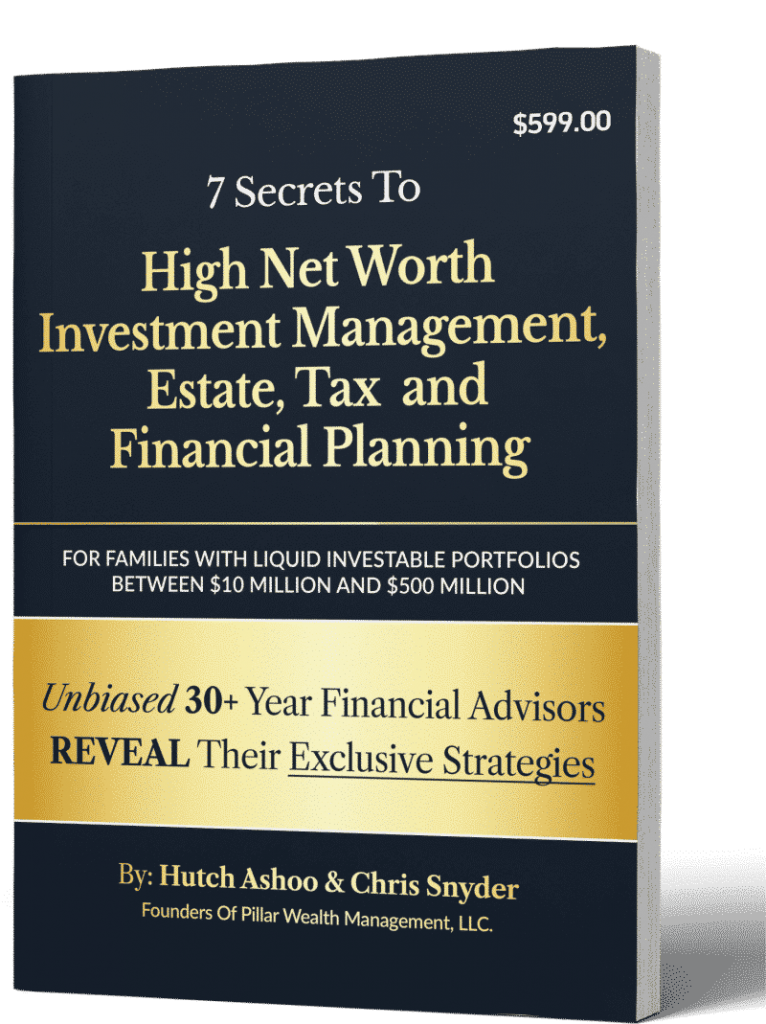 STRATEGIES FOR FAMILIES WORTH $5 MILLION TO $500 MILLION
7 Secrets To High Net Worth Investment Management, Estate, Tax and Financial Planning

The insights you'll discover from our published book will help you integrate a variety of wealth management tools with financial planning, providing guidance for your future security alongside complex financial strategies, so your human and financial capital will both flourish.
Clients frequently share with us how the knowledge gained from this book helped provide them tremendous clarity, shattering industry-pitched ideologies, while offering insight and direction in making such important financial decisions.
What is Wealth Management?
The term "wealth management" is used frequently in the financial world. Many assume it refers to the practice of taking care of your wealth. This definition is partially correct, as wealth management refers to the practice of building and protecting wealth. Please get in touch with our wealth management experts to learn more about wealth management.
Wealth management firms provide specialized services for investors that wish to maintain better control of their wealth. Their wealth managers offer advice and financial planning services to help you achieve different financial goals.
Some of the services wealth management firms typically provide include:
• Portfolio Analysis
• Asset Management
• Retirement Planning
• Estate Planning
• Tax Planning
You may require some or all of these services, depending on your exact needs. However, many would consider each one to be essential in some way. For example, portfolio analysis services help with identifying risks and inefficiencies in your portfolio. The wealth manager may then recommend ways to mitigate these risks and improve your portfolio performance. You can learn about some of our recommended portfolio performance improvement strategies by reading our special guide.

What is Northern Trust Wealth Management?
Northern Trust is a financial services company that is based in Chicago. They are also one of the largest and oldest operating banks in the country.
So what does Northern Trust do? They generally offer wealth management, asset management, asset servicing, and banking solutions for investors, families, and corporations.
Northern Trust Wealth Management Services
You may be wondering, "What are the services provided by Northern Trust?" Some of the wealth management services they offer include:
• Investment management
• Wealth planning advisory
• Retirement solutions
• Trust and estate services
Investment Management
Northern Trust provides investment management services for their clients. Their experts can offer advice after studying your portfolio carefully. They weigh up the risks and returns of different investment options and recommend strategies accordingly. The company also has an Investment Policy Committee composed of global capital market experts that determine the right allocation strategies.
They can also help with portfolio diversification using a risk and risk control building approach. You can learn about some of our portfolio growth strategies at Pillar Wealth Management by reading our special guide.
Wealth Planning Advisory
Northern Trust's wealth planning advisory services use a collaborative approach to help investors with complex wealth management needs. Their financial experts take the time to understand your business and financial goals and integrate them to create robust wealth plans for meeting them.
This includes solutions such as business advice, family education, financial planning, philanthropy advice, tax advice, and wealth transfer advice.
Retirement Solutions
Northern Trust offers a number of retirement solutions for clients. Investors will work with a provider that can help them navigate market trends, manage risks, and stay ahead of regulatory changes. Such solutions are vital for any investor that wishes to achieve the dream retirement they have envisioned.
Trust and Estate Services
Northern Trust's Trust and Estate services aim to help clients with the complexities of managing their trusts and estates. After all, a poorly thought-out estate plan can lead to family conflict and legal disputes.
This company can serve clients in many capacities, including:
• Custodian
• Executor
• Investment Advisor
• Guardian
• Trust Consultant
• Trustee, co-trustee and successor trustee
These services offer their clients peace of mind. They use checks and balances that ensure proper oversight of assets and their distribution following your passing.
What Services Does Pillar Wealth Management Provide?
At Pillar Wealth Management, our wealth managers offer a variety of wealth management services. This includes:
• Portfolio Analysis
• Asset Management
• Retirement Planning
• Estate Planning
• Tax Planning
Is PillarWM a Good Wealth Management Company?
You may be wondering, "Is PillarWM a good wealth management company?". It's unfair for us to praise our own services. However, we can assure you that our wealth managers strive to help our clients in essential areas.If you own assets worth at least $25 million, you may want to read our book The Art of Protecting Ultra-High Net Worth Portfolios and Estates – Strategies For Families Worth $25 Million To $500 Million.
We believe most investors need a helping hand at some point. Our managers can lend their expertise at the right time for those in need.
For example, you may need advice on how to achieve a comfortable retirement. When you sign up with Pillar Wealth Management, our wealth managers will take the time to understand your exact retirement needs and goals.
They may then suggest different strategies to help you build up your retirement savings. This could be through a combination of budgeting and selecting the right retirement plan. They can also offer advice on how you can earn passive income to maintain a comfortable retirement lifestyle. Please talk with our wealth management experts to learn more.
What Fees Do Wealth Management Firms Charge?
Wealth management firms and wealth managers charge their clients a special type of fee. This is generally an annual fee based on a percentage of the client's asset value. This special fee structure can be advantageous in many respects.
Clients can use the wealth manager's services multiple times without worrying about hourly charges or hidden costs. This encourages them to seek out advice whenever needed and leads to better decision-making. Please speak with us to learn more about our fees.
Are Wealth Management Services Worth It?
As an investor, you might be wondering if it is worthwhile to use wealth management services. Some reasons why wealth management services can be beneficial include:
Getting Advice in Multiple Areas
Wealth management uses a multifaceted approach to help you build and protect your wealth. You could seek out each of the services wealth managers provide from different financial advisors. However, this would be more time-consuming and complicated.
By choosing a wealth manager, you will have to explain your portfolio and goals to only one advisor. This wealth manager can then tailor each of their services to help you manage risks and meet your goals. You can learn about some special asset management strategies by requesting a free copy of our book 7 Secrets To High Net Worth Investment Management, Estate, Tax and Financial Planning For Families With Liquid Investable Portfolios Between $5 Million and $500 Million.
Receiving Services Geared Towards High Net Worth and Ultra-High Net Individuals
Ordinary financial advisors may accept clients of any net worth. This isn't necessarily a bad thing, as individuals from all backgrounds require financial advice at some point. However, if you are a high net worth or ultra-high net worth investor, you may prefer getting advice from a professional who deals with clients similar to you.
The good news is that wealth management firms such as Pillar Wealth Management offer services exclusively for both high net worth individuals and ultra-high net worth individuals. Our wealth managers understand the needs of such individuals and tailor their advice accordingly.
Assistance With Advanced Strategies
There are numerous financial guides available for investors in the modern era. However, learning about advanced financial strategies can be difficult for investors without an in-depth understanding of the topic.
By hiring a wealth manager, you won't need to worry about learning advanced financial strategies. They can guide you in executing these strategies easily. This way, you get the benefits of these strategies without the learning process typically associated with them. If you would like to test your wealth manager's knowledge, consider asking them some of the questions in our guide to choosing a financial advisor.
When Should I Start With Wealth Management Services?
The best time for any investor to start with wealth management services is now. Hiring a wealth management firm gives you access to many planning services. If you intend to achieve your dream retirement, you will have a much easier time meeting your goals by starting the planning process as early as possible. This gives you more time to start budgeting and build up your retirement savings.
Similarly, estate planning should be completed as quickly as possible as you never know when tragedy will strike. Failing to have a proper estate plan in place leaves your wealth in the hands of the court system, which can be both time-consuming and costly. If you would like to save time and effort on your family's part, it is vital to start estate planning with a wealth manager as soon as possible.
Why Choose Pillar Wealth Management?
Pillar Wealth Management stands apart from other wealth management firms in America. Our clients return to us for wealth management services for many reasons. These include:
Our Experience
Experience is vital for any wealth manager. However, few possess the six decades of experience our wealth managers have under their belts.
Our experts have gained this experience assisting clients over the decades, during which time they have become familiar with their unique needs and helped them overcome hurdles in their wealth-building journey.
This experience also adds to their bank of knowledge, and they become more knowledgeable with each passing year.
Our Knowledge
Our wealth managers are knowledgeable in a variety of areas. This is an essential quality, as they are expected to possess expertise related to investments and financial planning. We can make our bank of knowledge available for you when you turn to our wealth managers for assistance.
Our Reliability
Some of the most experienced and knowledgeable wealth managers may be a poor fit for investors due to poor reach ability. A wealth manager that doesn't make time for you or is difficult to reach on short notice won't be very useful. This is especially true if you require quick advice on a time-critical problem.
We understand the need for reliable wealth management services, which is why we ensure our wealth managers are always easy to reach. Your needs are our top priority, so do not hesitate to reach out to us for help when you need it.
Our Personalized Services
Personalized services are a must in the wealth management world. After all, you may have a unique portfolio or a financial background that sets you apart from the rest. We understand that generic financial plans or one-size-fits-all services rarely work for all investors.
By hiring Pillar Wealth Management, you can always expect to receive personalized services that are tailored to fit your unique needs. Our wealth managers will spend time learning about you and your portfolio so that they can serve you better. Please contact us and set up a complimentary introductory meeting to get started with our wealth management services.
To be 100% transparent, we published this page to help filter through the mass influx of prospects, who come to us through our website and referrals, to gain only a handful of the right types of new clients who wish to engage us.
We enjoy working with high net worth and ultra-high net worth investors and families who want what we call financial serenity – the feeling that comes when you know your finances and the lifestyle you desire have been secured for life, and that you don't have to do any of the work to manage and maintain it because you hired a trusted advisor to take care of everything.
You see, our goal is to only accept 17 new clients this year. Clients who have from $5 million to $500 million in liquid investable assets to entrust us with on a 100% fee basis. No commissions and no products for sale.
Related Posts