Wealth Management Little Rock:Financial Advisor Little Rock
Have you heard of the saying, 'The first generation makes it, the second generation spends it, the third generation blows it'?
Well, if we look at the numbers, this appears to be quite accurate. Roughly,one in three businesses passes to the next generation. Moreover, only 10% of family businesses pass on to their grandchildren. Wealth advisors consulting to individuals with over $10 million in liquid assets blame poor wealth management Little Rock. You must take this as a motivation to manage your assets smartly. If you start now with retirement planning Little Rock and estate planning Little Rock, you can ensure a happy and prosperous future for you and your family.Read our free guide to find out how you can find an expert wealth manager. For further assistance and support, you can also get in touch with our team at Pillar Wealth Management.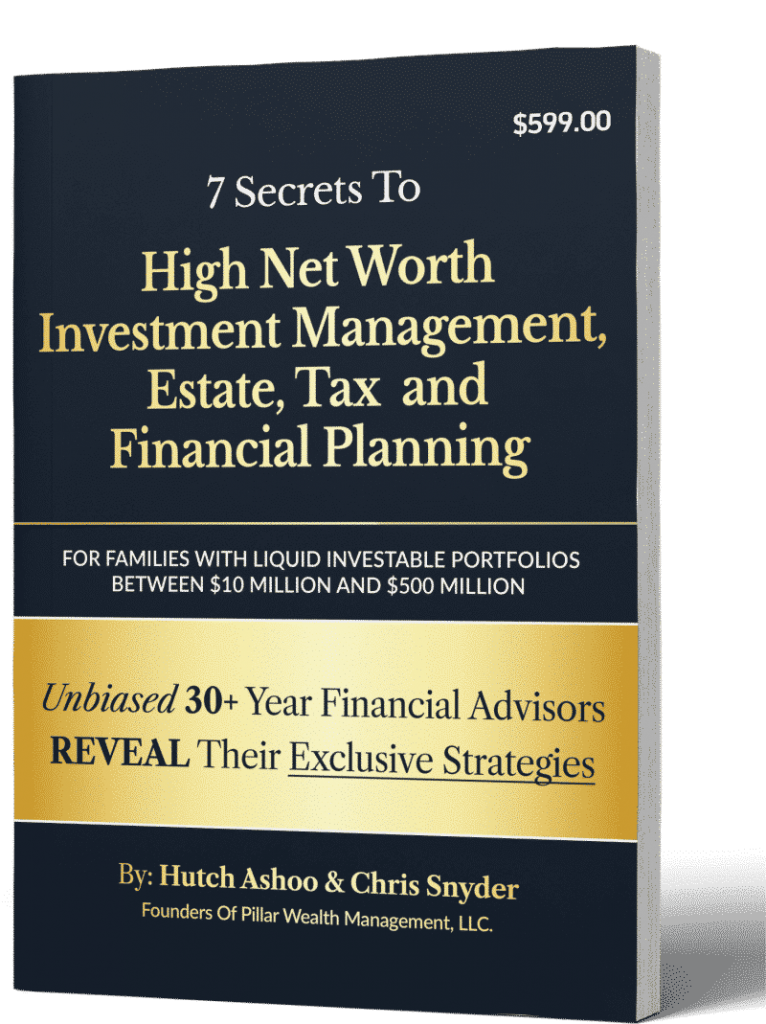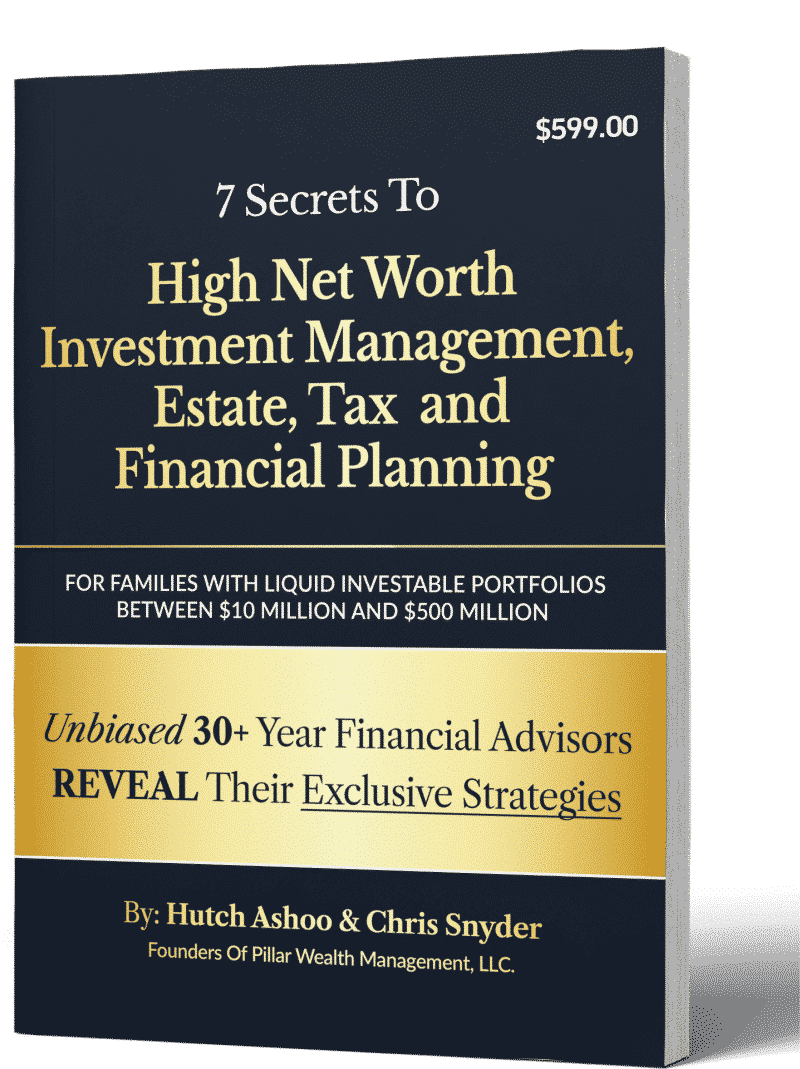 STRATEGIES FOR FAMILIES WORTH $5 MILLION TO $500 MILLION
7 Secrets To High Net Worth Investment Management, Estate, Tax and Financial Planning

The insights you'll discover from our published book will help you integrate a variety of wealth management tools with financial planning, providing guidance for your future security alongside complex financial strategies, so your human and financial capital will both flourish.
Clients frequently share with us how the knowledge gained from this book helped provide them tremendous clarity, shattering industry-pitched ideologies, while offering insight and direction in making such important financial decisions.
Pillar Wealth Management is a leading wealth management firm that offers fee-only financial advisory and management services to the wealthy, who have $5 million to $500 million in investable wealth. Our team of experienced wealth managers will help you determine your long-term financial goals as well as devise an effective plan to secure your financial position. We will not only focus on growing your wealth but will also keep an eye out for potential risks for optimal wealth and asset preservation.
In this article, we'll shed light on the importance of retirement planning and estate planning Little Rockand give you some insider tips and insights into achieving long-term financial serenity.
Understanding Retirement Planning Little Rock
Retirement planning is a crucial part of wealth management Little Rock.You have worked hardover the years to build your wealth and now, you think you'll likely have more than you need in retirement. While that's commendable, you need to start managing your money and assets tax-efficiently today if you want to be in your desired financial position in retirement.
It all begins with determining your retirement goal. Will you be spending the wealth in your golden years or do you see yourself pursuing new targets and habits in retirement? No matter what you plan to do, we are sure you'd want to live comfortably and see your children and grandchildren achieve all their goals without facing any financial troubles.
How Much Money is Enough for a Happy, Peaceful Retirement?
There's no fixed amount that can ensure a happy, stress-free retirement. It depends on your lifestyle and financial situation.
However, a good rule of thumb is to have at least 75% of your annual pre-retirement income saved for the golden years. This retirement income will enable you to live exactly the way you want with maximum peace of mind. You don't have to worry about the 25% reduction because you'll be able to cut down on your expenses after retirement.
When calculating your retirement income, make sure you use conservative numbers, take inflation into account, and add a few years to your life expectancy.To avoid unnecessary risks, you should consider working with a professional financial manager. With their assistance, you can determine how much you need to retire comfortably. Based on that, they will come up with a smart plan to help you generate income from investments and other sources, such as social security, real estate rental income, and business distributions in retirement.
At Pillar Wealth Management, our wealth managers specialize in retirement planning Little Rock for affluent individuals.

Five Retirement Planning Mistakes You Need to Avoid for Effective Wealth Management Little Rock
When it comes to devising strategies for wealth growth and preservation in retirement, you must know exactly what to do.High net worth and ultra-high net worth individuals who decide to do everything on their own without consulting with a professional wealth advisor often end up making the following mistakes.
1. Disregarding the Importance of Investment Management
The first mistake that you must avoid at all costs for successful wealth management Little Rock is not managing your investments. You need to take a comprehensive approach to retirement savings. Otherwise, it will negatively affect your wealth.
Our financial advisors provide you with a highly customized investment management plan to optimize your portfolio based on your specific financial situation, needs, and goals.
2. Not Focusing on Tax Efficiency
Many wealthy individuals don't focus on choosing tax-efficient investments. Consequently, a major chunk of their wealth is spent on taxes. Considering the fact that the highest tax bracket is 37%, you need to act smart and move your money to 401ks, Roth, and Real Estate Investment Trusts (REITs).
That being said, we urge you to order and read our book – The Art of Protecting Ultra-High Net Worth Portfolios and Estates – Strategies For Families Worth $25 Million To $500 Million.It will tell you all about high net worth investment management and the various ways toachieve optimal financial security by leveraging the right techniques and strategies.
3. Not Making the Most of Income-Generating Investments
Income-generating options, such as multifamilyinvestments help with cash flow, making it easier for you to bounce back from downturns. When you have cash flow, your chances of selling in distress and liquidating your assets at the wrong time also go down.
To learn more about income-generating investments, click here to schedule a free consultation with us.
4. Underestimating Inflation and Longevity
Although the average inflation rate in the U.S. decreased from 2.5 in January 2020 to 1.4 in September 2020, you must factor in a 3% inflation rate when it comes to retirement planning Little Rock.
On the other hand, when you're planning for your retirement, you must aim to live comfortably into your 100s. 67% of Americans report that they think they will outlive their retirement savings. As a high net worth individual, you must think proactively in case you end up living much longer than you think you would.
5. Not Talking about Wealth Management Little Rock with the Heirs
Many affluent individuals don't bother discussing wealth management with the upcoming generations. Thekey to sustaining generational wealth is toensure wealth transparency, communicating about wealth management strategy, and establishing specific roles and expectations. By thinking and planning proactively, you can ensure that your heirs will manage your wealth efficiently.
By avoiding these mistakes and with the help of a wealth manager, you can ensure that your retirement planning is on point and you and your family are all set to enjoy a financially secure future. Click here to read our guide on how you can optimize the performance of your wealth portfolio without taking unnecessary risks.
High Net Worth Estate Planning Little Rock
Estate planning Little Rock is another important aspect of wealth management Little Rock. We get that it can be a challenging task, considering the highamount of wealth you possess in liquid assets and the ever-changing market conditions.
Your goals for estate planning Little Rockmust include reducing estate taxes, protecting your wealth for the heirs, and avoiding the probate process.
Below is a quick guide to navigate you through the process.
Choose the Right Professional for Your Estate Planning Needs
The first step to smart estate planning Little Rockis towork with a professional wealth advisor who is well equipped to take care of your financial needs.Many professionals focus solely onguiding you on the path with the most income opportunities and do nothing to help you minimize your costs and risks. They fail to ensure that your assets end up in the right hands.
At Pillar Wealth Management, we strive to analyze your financial situation and identify your unique needs and goals before devising a personalized estate plan.To learn more about what we can do to help you achieve long-term financial serenity, start a conversation with one of our experts today.
Minimize Your Taxes
As a high net worth individual, you obviously expect to save plenty for your retirement and leave a considerable amount of wealth for your children and grandchildren.But do you realize that you have taxes to pay on your estates? Since you have $5 million to $500 million in liquid assets, your taxes can deplete the amount in your estate pretty quickly if you aren't smart about financial decisions.
As a part of your estate planning Little Rock, you should considerall kinds of tax scenarios, including income taxes and wealth transfer taxes. For each type, you should check the applicable federal taxes and see if your state also imposes taxes.
Plan for Incapacitation
In the event of incapacitation, all your efforts of retirement planning and wealth management can go down the drain. Therefore, you must act proactively and take effective measures to protect your wealth. In case you become incapacitated because of aging or an accident or illness,you'd want to make sure that:
Ensure proper management of yourproperty
Take care of family members who depend on you
Appoint a trustee
Specify your end-of-life treatment
To meet these goals, you will have to take the following steps:
Hire a reliable power of attorney to take care of your financial and legal matters
Appoint a healthcare power of attorney to determine courses of medical treatment and long-term care
Appoint a release agent for the Health Insurance Portability and Accountability Act to access protected health-related information
Prepare a living will to clarify if you would want healthcare professionals to stop treatment for a natural death
Create a revocable trust to appoint a successor trustee
Specify potential caretakers of any minors
For smart wealth management Little Rock, it's high time thatyoustop focusing solely on portfolio performance and start planning for long-term financial security. We have discussed the five essential shifts that every high net worth individual needs to make in our guide. It will help you grow and protect your wealth like a pro.
Avoid Probate
You may not know this but many estate planning professionalsconvince you to complete a traditional will for their own benefit.
Yes, you heard that right!
A traditional will brings them more benefits than a living trust.People may tell you to go for a traditional will emphasizing that a living trust is more expensive.The truth is that a living trust may cost you more money upfront but if you look at the bigger picture, you will actually be saving plenty of money in the long run.
The key to saving yourself from unnecessary frustration and time and financial costs is to avoid the probate process. And the only way you can do so is by creating a living trust. The thing with a living trust is that not everything will be in your name and so, you won't have any trouble bypassing probate.Please note that you will have complete control over your assets as long as you're alive. Remember, you have the option of appointing a successor in case of incapacitation.
It is also important to note that if your living trust is revocable, you can easily have it modified, amended, or revoked. You can also move your assets in and out of the trust without having to pay any taxes. Besides, you are free to set limitations if you're concerned about how the potential beneficiary will handle the inheritance.
The idea is to create a trust where the shares will remain in the trust's name and transfer to the heirs upon your death so that you can ensure that your assets don't go into the wrong hands. Lastly, such specially designed trust will protect your heirs from bankruptcy and creditors.
To make sure everything goes smoothly, you must work with a qualified and experienced professional. Read our guide to explore how you can find the right financial advisor based on your specific financial situation and needs.
Create a Sure-fire Strategy for Wealth Management Little RockWith Pillar Wealth Management
Choosing a wealth manager to advise on the performance of your wealth portfolio is not an easy decision. You can't trust just anybody with your hard-earned wealth. First and foremost, make sure the professional you are considering working with is an expert in their field and they have extensive experience working with high net worth and ultra-high net worth individuals for wealth management Little Rock. The best wealth managers not only focus on helping you grow your wealth but they also go out of their ways to guide you on asset protection and wealth preservation so that you can enjoy maximum financial peace of mind in retirement.
At Pillar Wealth Management, we have a team of expert wealth managers specialized in retirement planning Little Rock and estate planning Little Rock. They'll be happy to help you determine your long-term financial goals and devise an action plan to achieve the financial serenity you've always wanted. Most importantly, our financial advisor Little Rock prioritize risk management to help you strike the perfect balance between risk and security. Instead of providing you with solutions and advice off the table, we create custom-tailored strategies that align with your unique goals, needs, and preferences.
Please book a consultation session with us if you're interested to learn more about Pillar Wealth Management and the services we provide to affluent individuals.
Related Post