Life and Wealth Planning for Affluent Investors –PillarWM
Achieving true financial serenity is not something that can be acquired merely through investing in various assets. It requires detailed planning and preparation for the future so that you can take the necessary steps to attain success. Life and wealth planning are crucial aspects of financial management that help you monitor your expenses and financial decisions. As affluent investors with numerous high-value assets and investments, it is imperative for you to have a crystal-clear plan which ensures your personal and financial well-being. Trusting an expert to create or adjust this plan for you can help you be sure that your future is on the right track. However, selecting an appropriate financial advisor may get complicated. Our Ultimate Guide is tailor-made for ultra-high net worth investors with more than $10 million in liquid assets to guide them through the process of finding the best financial advisor.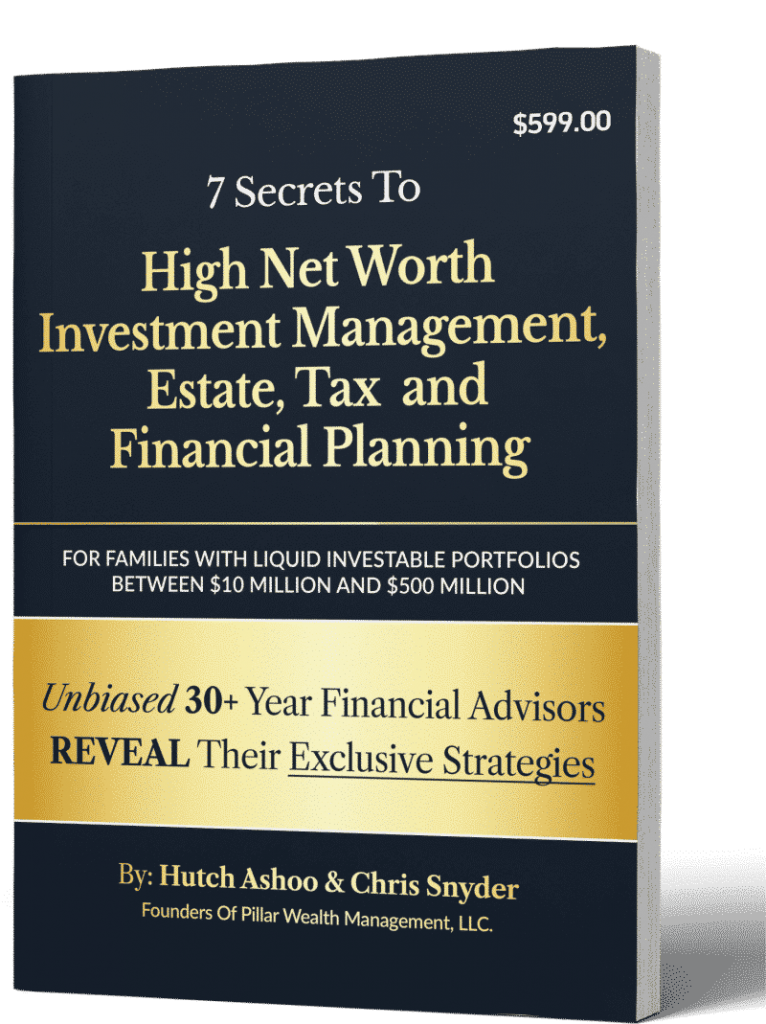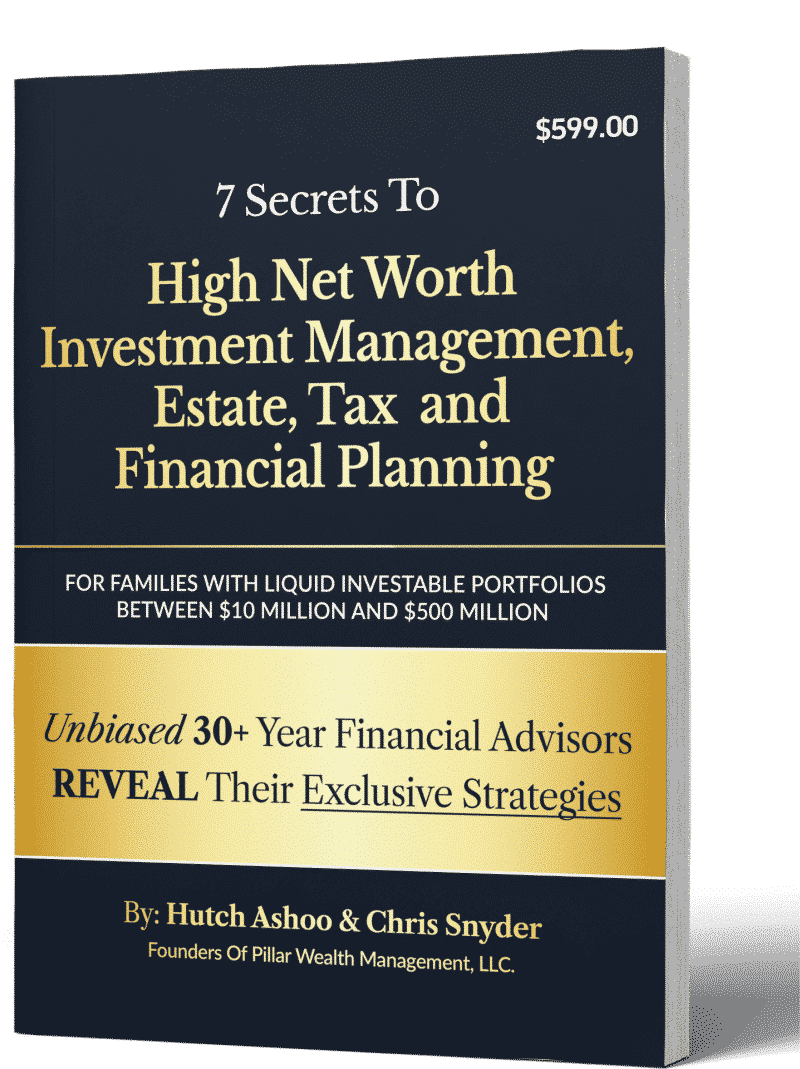 STRATEGIES FOR FAMILIES WORTH $5 MILLION TO $500 MILLION
7 Secrets To High Net Worth Investment Management, Estate, Tax and Financial Planning

The insights you'll discover from our published book will help you integrate a variety of wealth management tools with financial planning, providing guidance for your future security alongside complex financial strategies, so your human and financial capital will both flourish.
Clients frequently share with us how the knowledge gained from this book helped provide them tremendous clarity, shattering industry-pitched ideologies, while offering insight and direction in making such important financial decisions.
Wealth managers are experienced in dealing with large sums of money and managing multiple assets spread over various accounts. This makes them the most qualified advisors to create your wealth plan. Pillar Wealth Management has a team of expert wealth managers who help affluent clients transition from their current financial situation to where they wish to be. We have a combined experience of more than sixty years in providing wealth management services to investors with $5 million to $500 million in liquid investable assets. If you'd like to discuss your financial situation with someone from our team, book a meeting with us.
What is Life and Wealth Planning?
Life and wealth planning can give you more control over your life and expenses. It provides a roadmap to achieving the things you want. You can clearly visualize your goals and prioritize them accordingly. Creating a balance between your life expectations and budgetary expenses is necessary. Since life circumstances and your beliefs and values change over time, your life and wealth plan needs to be adjusted regularly. This will help you ensure that you stay on track with your goals and aspirations.
Outlining your values can help you in making wise decisions for your future. It can help you make financial choices in the present, such as changing your career path or starting your own business. When money comes into the picture, you need to rely on more than just your intuition and determination. Professional financial advice goes a long way in helping you achieve your life and wealth plan. To learn more about who you should hire for financial advice, read our Ultimate Guide.
Wealth planning itself is a monumental task that can overwhelm people who do not have a clear understanding of money management. As a high net worth or ultra-high net worth investor, your assets might be spread across multiple accounts. Managing numerous high-value assets requires experience and skill. Wealthy people's assets are more at risk due to liabilities such as lawsuits, market volatility, policy changes, and inflation. We discuss more about protecting your affluent financial status in our book, The Art of Protecting Ultra-High Net Worth Portfolios and Estates – Strategies for Families Worth $25 Million To $500 Million.
Creating a Life Plan
The first step in life and wealth planning is to create a life plan. You can start by creating a vision of your ideal life. Define what success means to you in terms of career, income, family, values, connections, and skills. You can identify areas of weakness you want to overcome by assessing yourself on your roles and responsibilities. This will act as a stepping stone for you to create your life plan.
Once you have a vision and know which areas of your life you want to focus on, you can begin prioritizing them. Your beliefs and moral values will determine the decisions you make and clarify your limitations. With a direction to follow, you can create an action plan for your goals. It is simpler to start by planning for the near future, taking into consideration how each step will impact your long-term life plan.
Wealth Management
For affluent investors, planning finances requires expertise and professionalism. Wealth management services offer advice to people with a high or ultra-high net worth. They restructure your financial life to help you invest your money in securities that will enhance and protect your wealth.
Wealth managers improve your portfolio performance by using tools and strategies to increase your passive income and allocate your assets wisely. These strategies are highlighted in our Performance Guide.In addition to implementing strategies to boost cash flow, wealth managers also cover other numerous financial aspects, from retirement planning to legal inheritance.

How Wealth Management Helps with Life Planning
Now that we have talked about what is life and wealth planning, we will discuss how life planning is linked to wealth management.
Wealth managers do more than just give you advice on where you should invest your money. They create a comprehensive plan for your wealth, keeping your goals and objectives in mind. They take the time and effort to understand your household expenses and cash flow, to help you manage your wealth effectively.
Wealth managers ask about your tax situations, family needs, medical expenses, and more so that they can customize your financial plan to align with your life plan. Ultimately, most of the short-term and long-term goals in your life plan will need a strong financial foundation. For example, providing your children with private education, planning a dream vacation, or even purchasing real-estate.
They provide suitable recommendations for you and your family and help you develop and execute a cohesive life plan which complements your current financial situation. They understand that life and wealth planning will inevitably have changes and revisions with time, so they check in to make sure you stay on track. If you'd like to contact a wealth manager, schedule a free consultation with our team.
Where to Find Life and Wealth Planning Services
You may be wondering, "What do you need to prepare for life and wealth planning?" The only things you need are a vision for your future and a financial advisor or wealth manager. If your advisor is truly good at their job, they will take the wheel and guide you through the rest of the process. Contact one of our expert wealth managers to understand more.
Life planning is something that anyone can give advice on. Life coaches, life counselors, and motivational speakers have unlimited resources available for you online. The tricky part is planning your wealth to meet your life plan. Financial management can be daunting for some people, which is why you should hire financial advisors or wealth managers.
Finding the right advisor will require some research on your part. You can choose to go through online platforms and databases, such as the Better Business Bureau. They will show you advisors with the relevant experience and certifications. Alternatively, you can take recommendations from your friends or family who are satisfied with their financial advisor.
Since everyone's financial circumstances are unique, it is important to ensure that the advisor you choose to go with understands your specific requirements. If you don't see eye to eye with them, it will only make the process stressful and frustrating. That is why it is best to schedule a consultation with your short-listed advisors and communicate your values and goals.
Searching for private wealth management firms is a good start because you can rest assured that they are devoted to their clientele and give them ample time and attention. At Pillar Wealth Management, we take on only a limited number of clients at a time so that you can receive our full attention. Your financial health is our priority.
Wealth Planning Companies
Wealth planning companies or wealth management firms typically cater to high net worth or ultra-high net worth clients. This allows them to comprehend the preferences and complex financial requirements of wealthy individuals. They know your priorities, so every decision they make is centered aroundprotecting and growing your money.
They can assist you in investment management, risk management, tax planning, estate planning, retirement planning, and private banking.However, not all advisors are suited to provide ultra-high net worth help with life and wealth planning. Read our guide to learn how you can find the best ultra-high net worth financial advisor who can manage liquid assets worth more than 10 million dollars.
Moving Forward
Communicating your life goals and future aspirations to the correct finance or wealth advisor can motivate you to take the steps to achieve them. Life and wealth planning go hand in hand to ensure a successful future for you and your family. Reaching milestones becomes much easier when you have a plan to guide you through each task or hurdle. Managing your wealth helps you organize your money to sustain you in the present and future without compromising your standard of living. With financial security, you have the freedom and confidence to live out your dreams, even in retirement. So, now it is time to ask yourself, "Are life and wealth planning worth it?"
Pillar Wealth Management is an independent, fee-only, private wealth management firm. We cater to high net worth and ultra-high net worth clients with $5 million to $500 million in liquid investable assets. We can help you create a fully customized financial plan to help you deal with changes in life or monetary circumstances. Make an appointment with one of our expert wealth managers for a free consultation, and get started on your journey to success.
Related Post