How to Pick a Wealth Management Firm – Things to Look For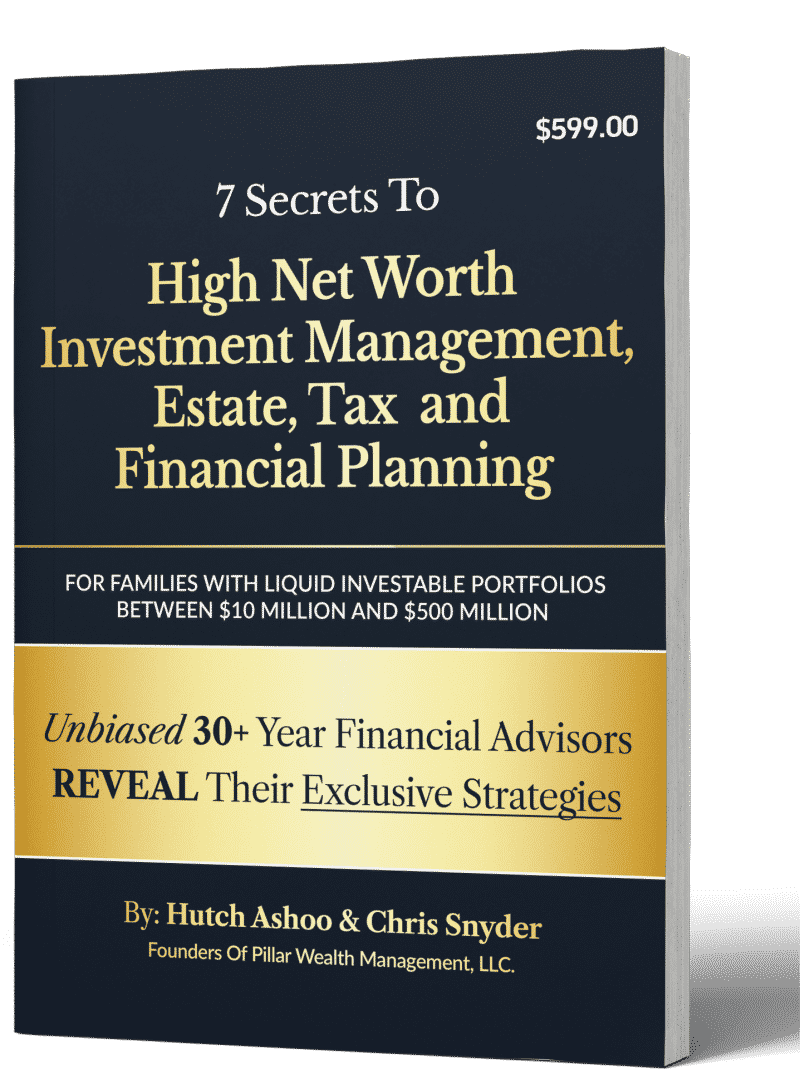 STRATEGIES FOR FAMILIES WORTH $5 MILLION TO $500 MILLION
7 Secrets To High Net Worth Investment Management, Estate, Tax and Financial Planning
The insights you'll discover from our published book will help you integrate a variety of wealth management tools with financial planning, providing guidance for your future security alongside complex financial strategies, so your human and financial capital will both flourish.
Clients frequently share with us how the knowledge gained from this book helped provide them tremendous clarity, shattering industry-pitched ideologies, while offering insight and direction in making such important financial decisions.
What makes wealth management companies special is that they don't just serve anyone. Most firms only serve high net worth and ultra-high net worth individuals. For example, Pillar Wealth Management only exclusively services individuals with $5 million to $500 million in liquid assets. Plus, their services go beyond just providing investment advice or giving investment options. The best wealth managers help you manage more than just one aspect of your financial life.
Ready to learn more? Keep reading!
What Do Wealth Management Firms Do?
Before we can tell you how to pick a wealth management firm, you need to understand what these companies do and why they're important for high net worth and ultra-high net worth individuals.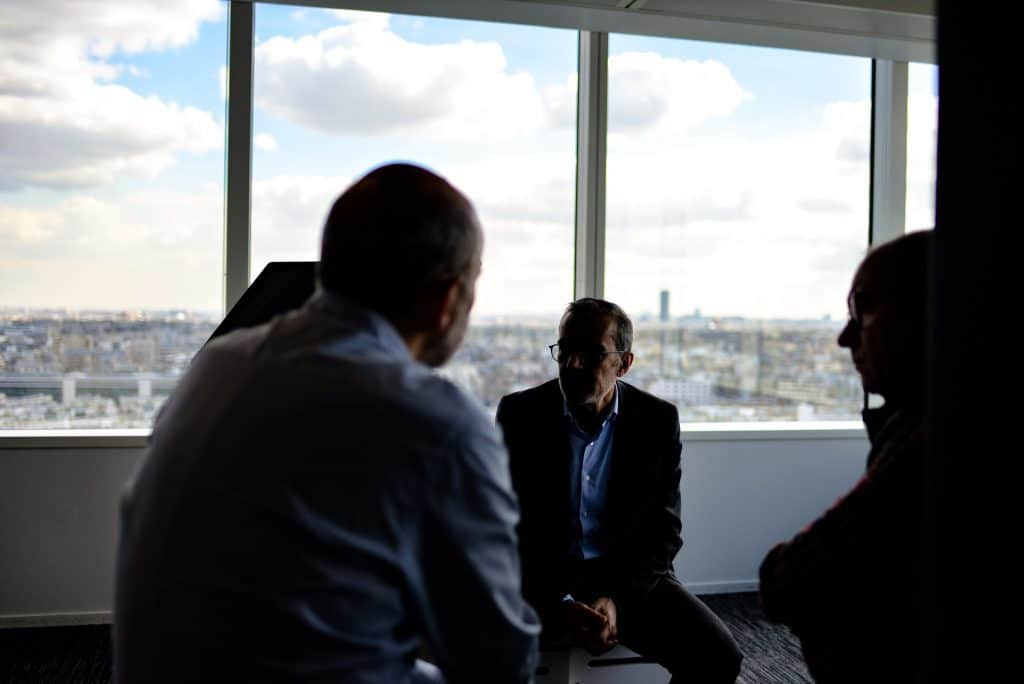 Wealth management firms consist of Registered Investment Advisors (RIAs) or wealth managers who offer a wide range of financial advisory services and investment management. For example, the wealth managers and advisors at Pillar Wealth Management help individuals with $5 million to $500 million in liquid assets to grow, safeguard, or manage their money and assets to achieve their life goals. Our managers deploy their 60 plus years of combined experience to help you transition from where you are now to where you want to be. Ready to talk about your life goals? Schedule a free meetingwith us via our website.
Wealth management firms specialize in many aspects of money and asset management. Here are services you can expect from wealth management firms:
Analysis of your current financial position and portfolio.If you want more information on how we optimize portfolio performance, read our guide here.

Establishment of your life and financial goals via a comprehensive line of questioning.

Minimizing risks to yourinvestments from market volatilityand other losses.

Asset allocation analysis for a consistent allocation strategy.

Assistance in retirement planning by deployingthe best financial instruments that ensure a safe and smooth retirement.

Development of a strategy that allows you to attain all life and financial goals with the right investments.
What is Ultra-High Net Worth?
You may have seen the terms "high net worth" and "ultra-high net worth" within this article and in other wealth management resources. When you're looking to know how to pick a wealth management firm, this is a fundamental question because many of these advisors (like Pillar Wealth Management) only serve a certain type of clients.
A high net worth individual refers to any person with more than $1 million in liquid assets. In contrast, an ultra-high net worth individual is someone with over $25 million in liquid assets. Both of these classes of individuals have different kinds of needs and require different strategies for wealth management.
Pillar Wealth Management realizes this difference. We always make sure to personalize and customize our services to the needs of each client rather than apply the same strategies to every client.
For example, our hardcover book on The Art of Protecting Ultra-High Net Worth Portfolios and Estates – Strategies For Families Worth $25 Million To $500 Million is designed specifically for ultra-high net worth individuals to help them protect their assets.
We've also got a guide for high net worth investors with more than $10 million in liquid assets that helps them optimize their portfolio performance and achieve their life goals.
How to Pick a Wealth Management Firm Effectively?
Now that you've learned what wealth managers do, you might be wondering, "How do you find a high net worth wealth management firm?"Well, here are the most crucial factors to consider when searching for wealth management firms.
1. Do They Have a Track Record of Success with People of Your Caliber?
High net worth and ultra-high net worth individuals have worked hard all their lives to get to where they are and accumulate the wealth they have. As someone who falls in this category, you can't afford to put your assets in the hands of someone who doesn't really understand your individual circumstances and why you require a different strategy.
Some big firms have a massive caseload, which means that they are concurrently dealing with a large number of clients. This usually leads to a case where they're unable to create a custom plan for you and end up funneling your money into the same investments as their other clients. They may already have a few pre-designed set investment plans that they fit you into. Though these may sometimes work in getting you a good return, the risks associated with these plans are quite high, and they don't account for your personal goals.
That's precisely why we only work with a few exclusive clients with $5 million to $500 million in liquid assets at Pillar Wealth Management. Weare wealth advisors for high net worthclients and make sure we give full attention to figuring out your life goals and setting up your investments to achieve said goals.
We recognize that goal realization for you isn't about netting 12% or some arbitrary return rates per year; it is aboutattaining your goals and living the life you want. We utilize our 60+ years of combined experience in serving affluent clients to assist you in goal setting. Our professional wealth managers then create a comprehensive financial plan on how you canattain them. Want to get started on discussing your life goals?Schedule a free chat session with us.
2. Do They Have a Plan to Reduce Your Taxes and Other Expenses?
When you're thinking about how to pick a wealth management firm, you absolutely deserve to know your wealth managers plan to reduce all of your costs.
Quite often, the best way for high net worth or ultra-high net worth individuals to preserve and grow their wealth is to reduce their costs as much as possible. Not only does this minimize risks, but it also means you don't have to aim for earning unrealistic returns that you can seldom achieve.
The tiniest of expenses can add up to hundreds of thousands of dollars (or more!) when working with the wealth of high net worth and ultra-high net worth individuals.
What Costs Should I Watch Out For?
Imagine this: Would earning a 10% annual be worth it if you're paying
37% income tax over 20% capital gains tax;

extra active management fees;

commissions;

a whole bunch of other unnecessary costs?
Asking your wealth management firm for their plans on decreasing your costs is absolutely necessary since most of it can be done with smarter money and wealth management. For example, active management is almost always more expensive and riskier than passive management. Active managers try to 'beat' the market and earn returns. Though it works sometimes, more often than not it's almost impossible to beat the market in the long run. Plus, capital gains from active money management are taxed as income. This means you have to pay 37% income tax on your capital rather than the 20% capital gains tax you have to pay on the long-term capital gains you get in passive management. Think of all the extra moneyyou can save with just one simple switch!
Here are examples of a few other costs you should ask your wealth managers about.
Taxes on short term capital gains

Bond sale spreads

Commissions

Margin interests

Internal expenses

Tax loss cultivation
At Pillar Wealth Management, our experts obsess over saving you every distinctdollar wherever possible. We realize that the best strategy to making money last is to make sure you don't lose it in the first place. We aim to help you make some critical paradigm shifts in a bid to improve portfolio performance.

3. How Will They Balance Your Investments?
There are two very important aspects of balancing your investments: asset allocation and risk minimization. Diversification isn't enough to get the best investment balance. You need asset allocation in cash, bonds, and equities. Knowing how well your wealth managers balance your investments is vital in knowing how to pick a wealth management firm.
The advisors should allocate your assets without emotion and should only aim for a consistent asset allocation that will align your goals to the risks and returns. They need to make sure you remain within the optimal ratios of cash, bonds, and equities.
For instance, Pillar Wealth Management does this through the use of a 1000 Scenario Portfolio Stress test and an Efficient Frontier. Your investment portfolio is run through all kinds of different scenarios. This includes the worst cases, like multiple recessions, wars, etc.
We also make sure that we are never bound by industry norms. We will never assume that just because something worked before, it will work again. Experienced wealth Advisors for high net worth clients know that it is near impossible to consistently time the market.
We strive to keep your portfolio in the 75%-90% confidence level. This means that the performance of your portfolio OUTPERFORMS your goals in at least 75%-90% of the scenarios in our stress test. We always aim to bring shifts in perception like these to make sure you can maximize portfolio returns. You can learn more about other portfolio maximizing shifts by reading our easy guide on portfolio growth strategies by clicking here.
4. Will They Act Only In Your Best Interests?
This isn't just about making promises that they will act in your interests. This promise needs to be backed up by the fact that the wealth managers have a fiduciary obligation to you.
A true fiduciary is someone who does not earn any commissions or product-based compensations by steering you towards any specific investment products. If an advisor does such a thing, it is a conflict of interest that can cause them to make decisions in their own interests.
A fiduciary like Pillar Wealth Management is obligated to work only in the client's best interests because we are registered with the SEC. The Advisors Act of 1940 obliges us to always work towards achieving your goals without any emotion.
Emotions and investments can't go hand in hand. Emotions can lead to investors making rash decisions and losing their client's money. Though most advisors agree that emotions have no place in investments, not all of them have processes that allow them to do this. Want to spot more warning signs of unsuitable advisors? Check out our easy guide here.
On the other hand, Pillar Wealth Management does have such a system that uses stress tests and other components to invest without emotions. We make sure that all of our decisions are based on data and the knowledge from our experience. Though there are rarely any conflicts of interest, we always disclose any such cases if they do occur.
Having a fiduciary advisory is essential to making sure you're protecting your wealth and are in a prime position to reach your goals. Want to learn more about how our wealth managers can work for you? Schedule a free consultation with us for more information on our fiduciary services.

How Do I Find the Best Wealth Management Firm?
Finding the best wealth management firm is all about identifying your needs and the services you require to ensure financial serenity.
Pillar Wealth Management experts will work with extreme determination to provide fiduciary wealth management services to enable you to protect your assets and achieve your life goals.If you're a high net worth or ultra-high net worth individual with $5 million to $500 million in liquid assets,visit the Pillar Wealth Management website to book a free consultation today to learn more about the work we do.