Wealth Management Fresno – Financial Advisor Fresno
With over $10 million in liquid assets, your financial profile may look pretty solid today. However, if you look at the bigger picture and see your wealth in the context of your life rather than as quantitative data, you might almost not believe how big a gap there still is between your financial goals and the wealth you have accumulated over the years to attain them.This is why you should consult with the right private wealth manager. Read our guide on choosing the best financial advisor to avoid risking your financial serenity. For more information and expert guidance, contact Pillar Wealth Management Fresno and schedule a free consultation TODAY!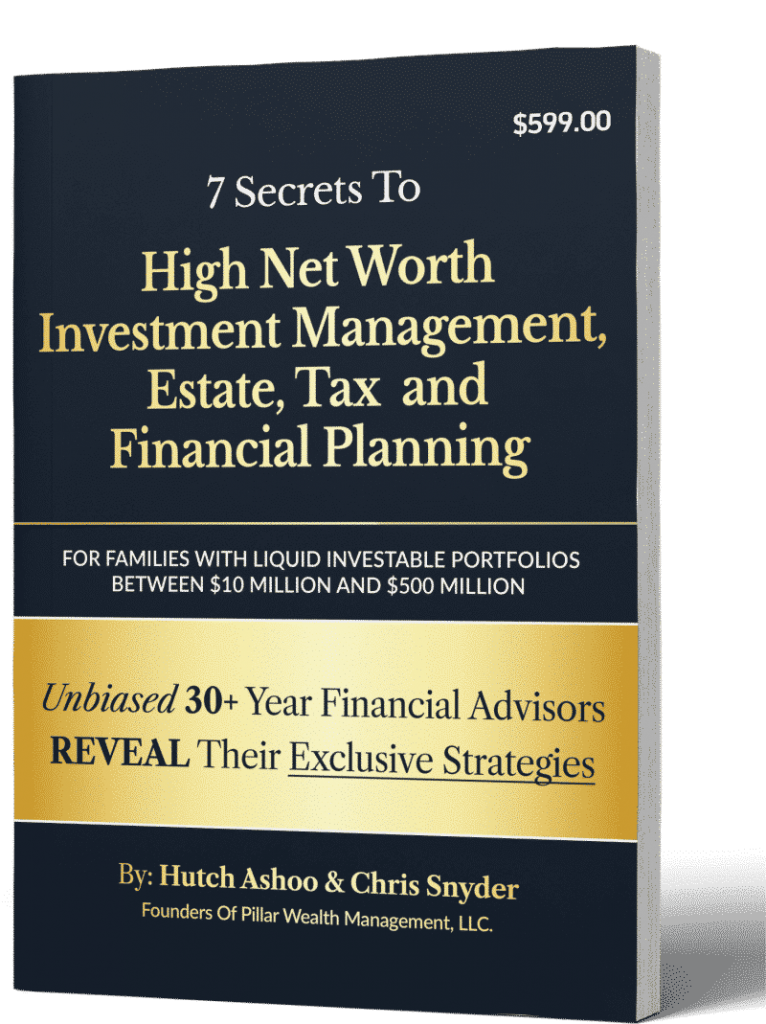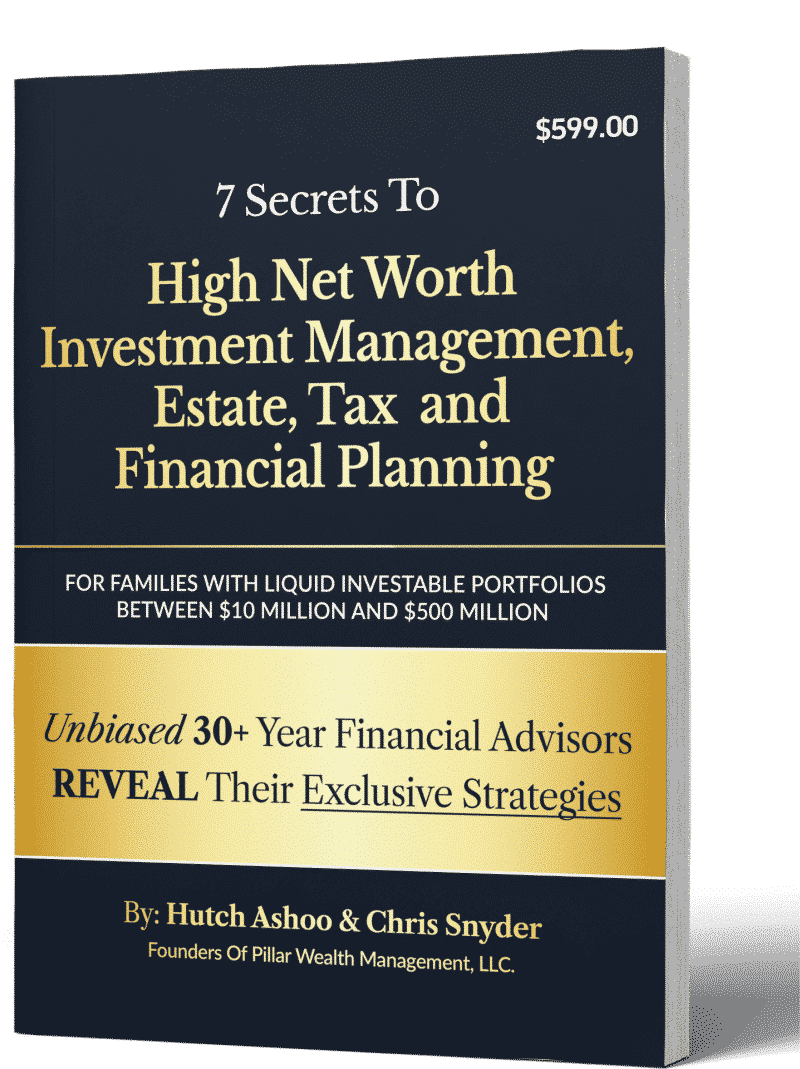 STRATEGIES FOR FAMILIES WORTH $5 MILLION TO $500 MILLION
7 Secrets To High Net Worth Investment Management, Estate, Tax and Financial Planning

The insights you'll discover from our published book will help you integrate a variety of wealth management tools with financial planning, providing guidance for your future security alongside complex financial strategies, so your human and financial capital will both flourish.
Clients frequently share with us how the knowledge gained from this book helped provide them tremendous clarity, shattering industry-pitched ideologies, while offering insight and direction in making such important financial decisions.
In this blog, we'll discuss private wealth management in detail, highlighting its importance and benefits for high net worth and ultra-high net worth individuals. Pillar Wealth Management specializes in fiduciary advisory services for high net worth and ultra-high net worth investors with liquid assets worth between $5 million and $500 million. No matter how complicated or far-fetched your investment goals are, our wealth managers will come up with effective investment strategies to help you achieve one milestone after the other and optimize your portfolio performance while reducing your risks.
You need more than clearly defined goals to achieve your goals, ambitions, and dreams. You must make smart, impactful decisions around your wealth to make the most of the investment opportunities that await you.As a high net worth or ultra-high net worth individual, you need to look beyond contemporary financial planning practices and look at Wealth Management from a different lens.Your financial situations are more complex than average American's, and they warrant a greater degree of diligence and active management. Hence, you need the assistance and support of an expert wealth manager taking a holistic approach to high net worth Wealth Management Fresno.
This is where private wealth management Fresno comes in!
Read on to explore how private wealth management can take you a step closer to achieving your financial goals.
What Does Private Wealth Management Mean?
Private wealth management Fresno is a unique investment advisory approach designed to meet the needs of wealthy individuals and enhance their finances by incorporating financial planning, retirement planning, portfolio management, investment management, and various other services related to individual wealth.
It's about focusing on the bigger financial picture, which allows you to exploit a full range of products and an endless possibility of combinations to achieve your goals. With this 360-degree approach, you can create a clear path to the life of your dreams.
You can expect private wealth management Fresno to solve your financial issues or fortify your financial situation by helping you achieve both short and long-term goals pertaining to wealth or accumulation of assets.
Whether you are facing income tax or legal issues or having trouble with estate planning or investment management, private wealth managers bring the knowledge, expertise, and attention required to cater to your specific needs.
Let's dive in to discuss what private wealth managers do to help wealthy individuals with retirement planning and wealth management.
What Do Private Wealth Managers Do?
Private wealth managers are qualified to offer a wide range of financial planning and investment advisory services to wealthy individuals.Whether you plan on starting your dream business, want to set up a trust or foundation, or wish to minimize the estate tax burden on your heirs by managing planned giving, you can rely on an expert private wealth manager to help you achieve financial serenity in coordination with your attorney and accountants.
The variety of services offered by these financial advisors includes:
Financial planning
Retirement planning
Estate planning
Investment advisory and management
Social security benefits planning
Tax services
Insurance services
Risk management
Philanthropic planning
Charitable giving planning
Private wealth managers start by determining your personal and financial goals and analyzing your financial portfolio. Based on the information collected and your specific needs and goals, they will then devise an effective financial plan and investment strategy for you.

Private Wealth Management vs. Financial Planning
There is a thin line between private wealth management and financial planning, which is often blurred by financial planning entities. Both involve a thorough evaluation of an individual's current financial situation and careful planning of their future. Both services include retirement planning, estate planning, and tax planning.
However, financial planning specifically caters to the needs of investors at all levels. On the other hand, private wealth management is designed for high net worth and ultra-high net worth individuals. While every individual strives to get their estate in order and spend their golden years in peace, affluent individuals tend to have complex financial needs and problems. Their financial situations require greater oversight and careful management.
This is where private Wealth Management comes in the picture.It addresses the unique needs and requirements of the wealthy in areas, such as trust creation and income tax planning.
Apart from this, the key difference between private wealth management and financial planning lies in the kind of investment services they offer. Financial planning specialists may help you create an investment plan based on your financial needs. You will then need the services of a private wealth manager to implement that plan and manage your investment portfolio.
Simply put, private wealth managers are qualified to act as both an investment advisor and a financial planner, specifically for high net worth and ultra-high net worth individuals.
| | | |
| --- | --- | --- |
| | Private Wealth Managers | Financial Planners |
| Services Offered | Provide a variety of financial planning services along with investment advice and management | Focus on planning more so than portfolio management |
| Type of Clients They Cater to | Affluent individuals | Investors at all levels |
The Rise of Private Wealth Management
The golden years of the Baby Boomer generation are just around the corner. In the next 25 years, the biggest generational wealth transfer will happen, with a whopping $68 trillion expected to change hands.
For the young inheritors and to-be high net worth individuals, it will be logical to opt for private wealth management services to effectively manage their finances on a regular basis.
Let's explore the top benefits of this approach for high net worth Wealth Management .
Why Hire an Expert for Private Wealth Management
The benefits of working with experienced independent financial advisors Fresno like Pillar Wealth Management are many. As an ultra-high net worth investor, you can benefit from private Wealth Management in the following ways.
1. A Personal, Highly Responsive Approach
Wealth management is a serious matter. Your financial security and the fulfillment of all your short and long-term financial goals depend on it. Thus, you need someone who is wholly invested in helping you achieve your dreams.
It goes without saying that a one-size-fits-all approach doesn't work for Wealth Management . The best private wealth managers offer personalized services and nurture a strong, lasting relationship with the clients.They go the extra mile to determine and understand your goals and what matters the most to you.
With a strong sense of accountability, they aim to provide you with the right advice and guidance for lifelong financial serenity. They look after the needs of each client personally and prioritize their satisfaction and interests over everything else.
Most importantly, they review how their services are performing from time to time to ensure everything is right on track. This allows them to accommodate new and modified financial goals along the way. To find out how these personalized services work, please schedule a free consultation with us.
2. Custom-tailored Advice
High net worth and ultra-high net worth individuals usually have complex retirement planning and wealth management needs.Not only does private Wealth Management offer comprehensive coverage that works better than financial planning but it also signs you up for expert advice tailored to your specific financial situation, problems, and needs.
At Pillar Wealth Management, we opt for long-term strategic wealth management planning that maximizes your investment performance and protects your wealth. To understand all aboutprivate wealth management and protection of wealth portfolio, order a free hardcover copy of our book, The Art of Protecting Ultra-High Net Worth Portfolios and Estates – Strategies For Families Worth $25 Million To $500 Million.
With optimal research, strategic thinking, and due diligence, our private wealth managers offer alternative strategies, financial planning, advising, and investment management to bridge the gap between you and financial serenity. You can expect us to deliver custom-tailored advice and insights at every step of the process.
3. Maximum Transparency throughout the Process
As far ashigh net worth Wealth Management is concerned, transparency is the key to maximizing client satisfaction. You deserve to be actively involved and kept in the loop for every little detail regarding your private wealth management process. Therefore, we are always straightforward and transparent about our services and fees.
We understand that you want to optimize your wealth portfolio without taking unnecessary risks. Click here to read our guide on improving portfolio performance.
Moreover, we are always at your service to answer questions or address any concerns that you may have regarding private Wealth Management . Start a conversation with us TODAY!
4. A More Diverse Range of Expertise
Private wealth managers are dedicated to helping you achieve the financial security you need to live the life of your dreams. At Pillar Wealth Management, wehave earned a reputation for delivering a broad range of services for private Wealth Management . Whether you're looking for business advice orprofessional assistance with managing investments or retirement planning, we're here to help.
Our private wealth managers have extensive knowledge and awareness of the market and the opportunities it presents. With us, you have the freedom to choose products and services that suit your needs. You can evenselect a combination of different products based on your financial goals and portfolio performance.
Top 3 Functions of Private Wealth Management
Private wealth managers use their experience and expertise in various fields to help high net worth and ultra-high net worth individuals manage their wealth efficiently.
Below are the top three services offered by private wealth managers.
1. Income Generation
The topmost priority of private wealth managers is to help clients generate new income and grow their wealth. Considering the rising rate of inflation and the number of wealthy individuals, every client desires to increase their purchasing power. As a high net worth investor with over $5 million in liquid assets, you need to take on a new perspective to financial security. Click here to discover the 5 essential shifts that you must make to optimize wealth management.
That being said, our private wealth managers have plenty of experience in investment advisory and management. They will help you bring in additional income bytaking advantage of various investment techniques. We help high net worth individuals invest in private equity funds and hedge funds. To ensure that all the decisions regarding your wealth management are smart and potentially fruitful, we will happily collaborate with your attorney and other advisors.
2. Asset and Wealth Protection
Private wealth managers are committed to protecting your assets and preserving your wealth against government authorities, lawsuits, and threats. We have seen many high net worth individuals being sued for property disagreements, succession, or marital issues. In case they lose the lawsuit, they are left with no other option than to compensate for the parties.
Private wealth managers play a crucial role here. They can help you prevent lawsuits or make out-of-court settlements.More often than not, these professionals suggestyou have a portion of your wealth preserved in some offshore banks to avoid over-taxation. They also offer expert advice and guidance on setting up trusts and foundations and managing donations.
Working with the right private wealth manager who helps you create a balanced portfolio is the key. If you're in your middle age looking to optimize your portfolio and minimize risks with efficient retirement planning and wealth management, a strategic investment approach focusing on both active and passive management will be the best bet. Read our guide on finding the right financial advisor whocan help you create a well-balanced portfolio.
3. Tax Management
As a wealthy individual seeking financial serenity, you'll obviously want to make the necessary tax payments on time. However, when you have taxable income coming in from multiple sources, it may become a little challenging to stay on top of your tax payments.
This is where an efficient tax plan comes in!
A small difference in tax can lead to major after-tax earnings gaps. A private wealth manager can help you comply with the authorities while saving you money by suggesting the most favorable tax combination based on your unique financial situation and needs.They understand the intricacies of tax regulations and can offer advice on inheritance tax too.
Leverage the Power of Private Wealth Management, Fresno With Pillar Wealth Management
High net worth Wealth Management can seem like a complicated affair. However, choosing the best private wealth manager can make your life easy.
At Pillar Wealth Management, our wealth managers start by discussing your financial needs and goals and how you plan to manage your wealth. Based on the information collected, we then devise a customized plan for Wealth Management , allowing you to exploit investment opportunities,minimize risk, and plan your journey to achieve financial serenity.
To learn more about Pillar Wealth Management and how you can benefit from our private wealth management services, book a free consultation with us.
Related Post