Wealth Management Coral Springs: 5 Mistakes to Avoid
If you possess investable wealth worth over $10 million, your approach to managing your finances has to be different from an average American. The high net worth status attracts high-level financial risks and complicated tax problems. Unfortunately, many affluent individuals become overconfident after achieving such great financial success and end up making mistakes that can cost them their desired financial legacy. If you want to preserve and manage your wealth like a pro, you need to partner with a qualified and experienced wealth manager. Make sure you read our guide to know what you should look for in an expert for Coral Springs wealth management service.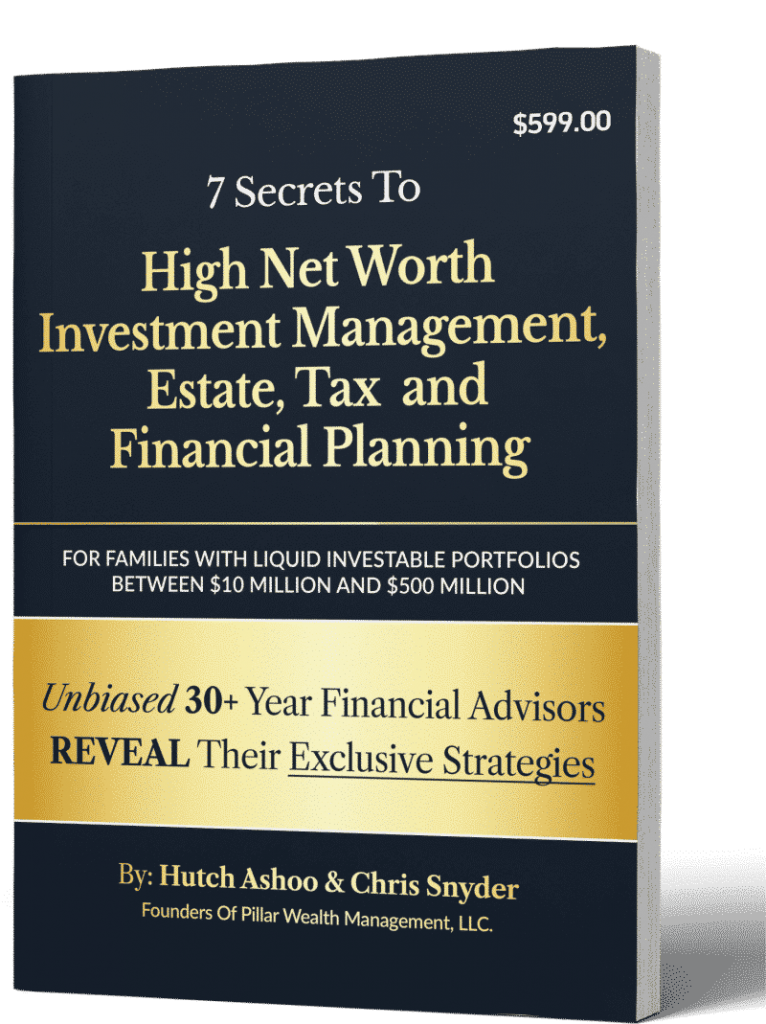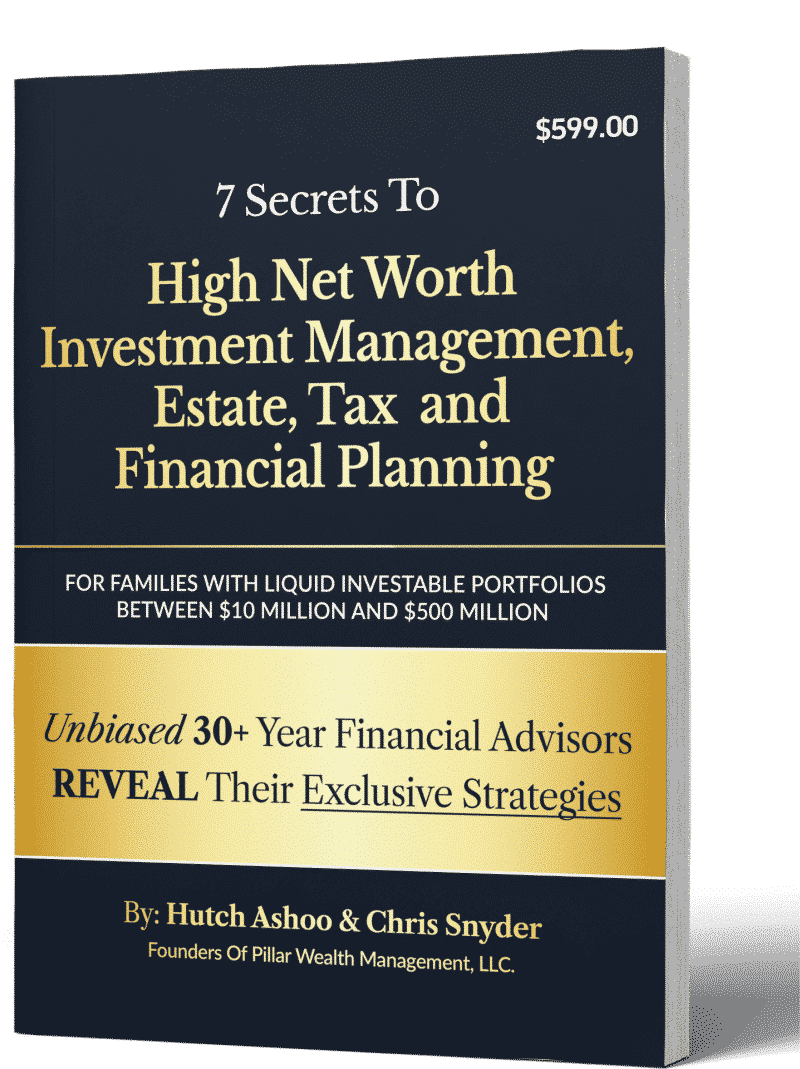 STRATEGIES FOR FAMILIES WORTH $5 MILLION TO $500 MILLION
7 Secrets To High Net Worth Investment Management, Estate, Tax and Financial Planning

The insights you'll discover from our published book will help you integrate a variety of wealth management tools with financial planning, providing guidance for your future security alongside complex financial strategies, so your human and financial capital will both flourish.
Clients frequently share with us how the knowledge gained from this book helped provide them tremendous clarity, shattering industry-pitched ideologies, while offering insight and direction in making such important financial decisions.
Pillar Wealth Management is a reliable name in the wealth management industry. Affluent individuals with liquid assets worth $5 million to $500 million trust our specialists for making critical financial decisions on their behalf. We help our clients avoid common wealth management mistakes to ensure they are on the right track to achieving their financial objectives. To learn more about how we can help you live the life of your dreams, start a conversation now!
For now, let's talk about the benefits of hiring a wealth manager in Hialeah.
Five Mistakes to Avoid for Successful Wealth Management Coral Springs
Coral Springs best wealth management services aim to develop a financial plan based on your unique financial situation, challenges, and goals. Experts understand and know how to help you avoid the common pitfalls discussed below to secure your financial future.
Relying on Concentrated Investments
As a high net worth or ultra high net worth individual, you must understand that what makes you rich may not keep you rich. Most affluent individuals prefer keeping their wealth locked up in their business. Please understand that it's not the right approach to maintaining affluence.
The best way of preserving capital is by diversifying your portfolio. While this means you'll always have an underperforming asset in your portfolio, this approach is critical to prevent your portfolio from imploding.
Wealth preservation and asset protection is an art. You can read about this in detail in our book, The Art of Protecting Ultra-High Net Worth Portfolios and Estates – Strategies For Families Worth $25 Million To $500 Million.
Constantly Tweaking One's Portfolio
While it feels good to have more control over your investment portfolio, you must learn to leave things alone. The idea is to let a professional handle everything for you. They will begin by analyzing your current financial situation, defining your investment goals, and outlining the parameters for healthy asset allocation.
Simply put, they will minimize your urge to experiment with your investments and help optimize your portfolio without taking unnecessary risks. For valuable insights on this topic, don't forget to access our guide here.
Underestimating the Required Capital
People are likely to underestimate the required annual capital when it comes to lifestyle maintenance. As a high net worth individual, you must have a certain lifestyle you'd want to maintain even after your retirement. To achieve this goal, you must work with an expert to properly conduct a cash flow analysis, assess your income needs, and make necessary adjustments to the financial plan when need be.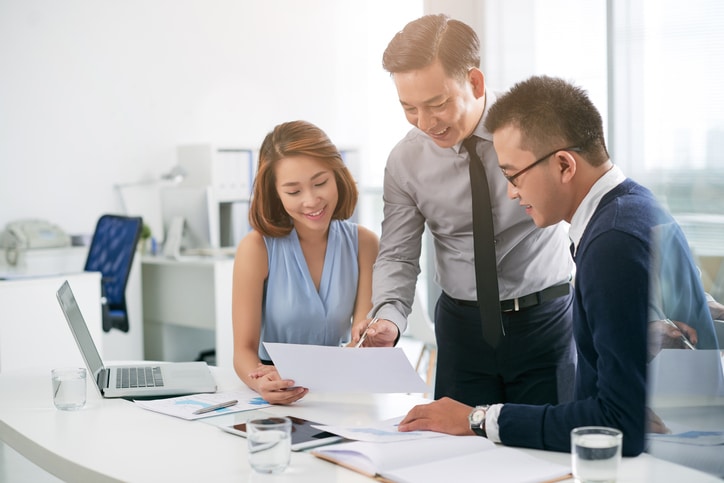 Our experts at Pillar Wealth Management will be happy to help you determine the required capital for your retirement years. Contact us to discuss your financial goals with us today.
Choosing between Active and Passive Management
Many high net worth and ultra high net worth individuals fail to understand that the best asset allocation approach involves both active and passive management. If you want to maximize your returns and minimize your costs and risks, you must look for an expert who knows how to leverage active and passive management techniques. For expert guidance, you must read our exclusive guide on finding the ideal wealth manager for your individual needs here.
Chasing Relative Performance
For high net worth wealth management Coral Springs, one of the biggest mistakes you can make is comparing your portfolio performance against a benchmark. If you want to create a financial legacy, the only thing that should matter is your progress towards your financial goals. You need to prioritize financial security in order to preserve and grow your wealth in the long run.
Once you've made this mindset shift, read about five additional shifts that every affluent individual should consider making for a financially secure future in our guide here.
Where to Find Wealth Management Coral Springs
You don't have to wonder where to find wealth management Coral Springs when the internet is loaded with answers. We do, however, agree that having so many options to choose from can be overwhelming. The key to choosing the best expert is to know what to look for in a wealth manager.
You must make sure that your wealth manager understands the complexities of high net worth money management and is equipped with the knowledge and resources to enhance the performance of your portfolio without taking unnecessary risks.
Book a free consultation with Pillar Wealth Management today to consult with a highly qualified and experienced wealth manager.
How Much I Must Pay For Wealth Management in Coral Springs
Every wealth manager has a unique fee structure based on their qualifications and experience. Typically, you'll have to pay a higher amount to get your wealth managed by the best experts. Your wealth manager may charge you a fixed amount or an hourly rate. You must discuss the cost structure offered by an expert before hiring them to ensure there will be no hidden charges.
At Pillar Wealth Management, we aim to be as transparent and flexible about our pricing as possible. Our experts will explain our fee structure to ensure maximum peace of mind before moving forward. Can't wait to get started? Schedule a free session with us today!
Related Post