Retirement Planner Near Me: Secure Your Future–PillarWM
Wealthy individuals spend their whole life working hard, pursuing new ventures and overcoming numerous challenges to accumulate and secure their fortune. Many find that enlisting a financial expert to help them manage their wealth is useful and productive in the long-run. Financial advice is about more than just money management and investing in assets. Professionals can advise you on protecting your assets, estate and legacy planning, and most importantly, formulating a retirement plan. However, you may want to prepare yourself for the efforts it will take to find a suitable retirement planner near me. As an affluent family with $10+ million in investable assets, you can avail our offer to download our free guide. It can help you understand the various factors you need to consider when selecting a financial advisor.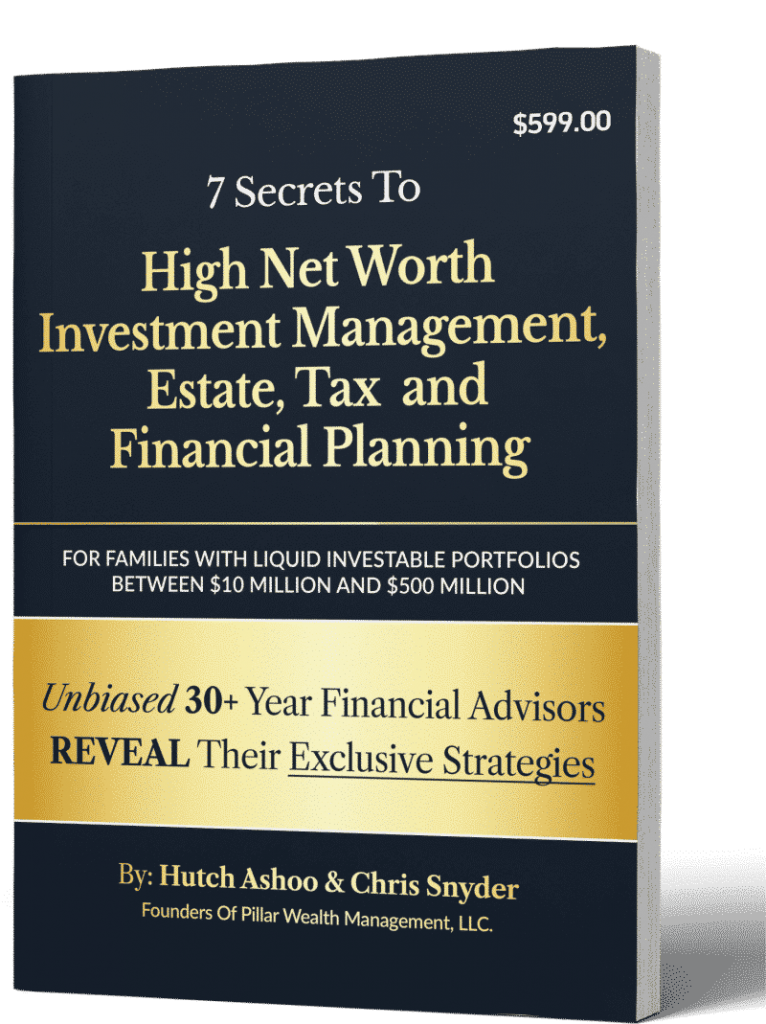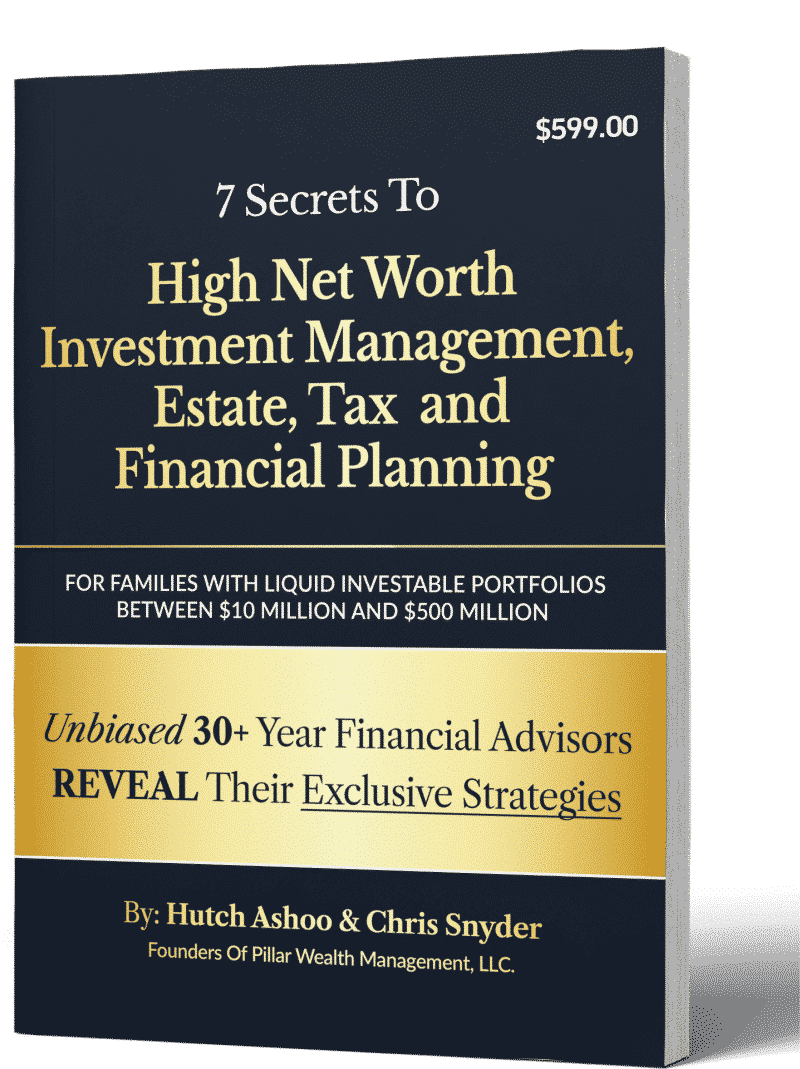 STRATEGIES FOR FAMILIES WORTH $5 MILLION TO $500 MILLION
7 Secrets To High Net Worth Investment Management, Estate, Tax and Financial Planning

The insights you'll discover from our published book will help you integrate a variety of wealth management tools with financial planning, providing guidance for your future security alongside complex financial strategies, so your human and financial capital will both flourish.
Clients frequently share with us how the knowledge gained from this book helped provide them tremendous clarity, shattering industry-pitched ideologies, while offering insight and direction in making such important financial decisions.
Retiring comfortably is a goal that every successful person dreams of. If you have liquid assets worth $5 million to $500 million, you may be under the impression that your retirement is financially sound. However, unpredictable circumstances can affect your plans. So, it is crucial to have expert advice on creating a plan that remains intact through life changes. At Pillar Wealth Management, our wealth managers offer retirement solutions that are specific to high net worth individuals.If you would like to learn more about wealth protection strategies, you can contact one of the experts from our team.
Retirement Planner Services
If you've decided that it's time to begin working on a retirement plan, you may be wondering,"What are retirement planner services?"
A retirement planner is a type of financial advisor who is trained to create a retirement plan for you. They analyze your financial history, income sources, expenses, liabilities and assets to gain an understanding of your financial status. This helps them develop a customized plan for your retirement that ensures you and your family are financially secure and comfortable. If you want to protect your family's assets, you can learn more about it in our book, The Art of Protecting Ultra-High Net Worth Portfolios and Estates – Strategies For Families Worth $25 Million To $500 Million.
You may be used to being at the forefront of all your economic decisions, but planning for retirement can become emotional and overwhelming. Retirement planner services can assist you by guiding you through the process, giving unbiased advice and recommendations when needed. From the very first consultation, they will keep your retirement and life goals in mind when developing a plan. That is to say, you will still be in control, but you'll have a professional supervising the overall process. After all, you want to be confident that you did everything in your power to create the best retirement plan for yourself.
In addition to securing your assets for the future, retirement planners can advise you on your residential situation and when to resign from employment. Where you choose to live, your medical expenses, the need for care-takers, family support are factors that affect how your plan will be constructed.
Retirement planning is one of the categories of financial planning, but it requires more expertise and greater knowledge. A retirement planner is aware of various policies associated with insurance, pensions, home equities, social security, taxes and more. If you want investment advice to secure assets for your retirement, you might need to hire another professional for that service. A wealth manager can help you with both. Contact us to get expert advice on your retirement income planning.
The Importance of Hiring a Retirement Planner
As a high-earner, you might already have a financial advisor in your team. So that raises the question, "Why hire a retirement planner?" In a nutshell, a retirement planner addresses specific characteristics, issues, and complications that come with retirement. In fact, they are skilled in it. A financial advisor will have to look over every other financial aspect as well, while a retirement planner will be more focused and committed to helping you retire comfortably.
When people think of retirement, they typically have a clear idea of how they want to spend their golden years. Some may prefer to live with their families in a holiday home, while some might want to pursue lifelong hobbies or passions that they otherwise may not have had the time to. Others could have a bucket list of vacation destinations or even philanthropic goals to support causes close to their heart.
Goals aside, there are many other aspects that one needs to think about when planning their retirement. Unforeseen expenses can cause an economic drain on your life savings. If you have multiple estates or assets in your possession, you may need to find ways to mitigate taxes to save money. Medical expenses are the biggest financial strain because even insurance cannot cover it all. People with disabilities can require a care-taker or nursing home. You might have family members or relatives who will still be financially dependent on you.
This endless list of possibilities and circumstances makes it imperative that you consult someone who has experience and knowledge in addressing these matters. Even a large fortune can run out if it is mishandled or managed poorly. Ultra-high net worth investors with $10 million or more need a suitable advisor to manage their wealth. Get our Ultimate Guide, which is designed to help you find the best ultra-high net worth, financial advisor.
How Can a Retirement Planner Help?
A good retirement planner should be well-versed in strategies that can secure your savings, generate an income in retirement, provide financial security for your family and legacy, and allow you to live according to your life goals.
Receiving a single monthly deposit from multiple retirement accounts is a commonly requested retirement income strategy. This includes receiving a monetary sum from investments such as IRA, pension, 401k, social security and other assets. Managing all these accounts to provide you with a single monthly income is not an easy task. It requires a complicated process that considers your tax penalties and other economic factors. Additionally, retirement planners can advise you on which withdrawal methods you should opt for, systemic or fixed-percentage. Our wealth managers are knowledgeable and skilled in these matters. Schedule a call with our team to understand how we can help you.
An advisor who specializes in retirement planner can helprearrange investment and reduce taxable income. They are well-versed in insurance policies and help you select the right one. They also keep in mind any debts or mortgages you may have to pay off and whether your retirement income can support monthly installments.If not, they might advise you to sell some of your assets to pay them off before retirement or invest in a high-reward investment vehicle to generate more capital. Securinga sufficient income for retirement can be achieved by having the best-customized portfolio and investment plan.Learn more about strategies to maximize portfolio growth in our guide.
When consulting a new advisor, it is wise to wonder, "How does a retirement planner manage your assets?" The best retirement planners study your portfolio to understand your goals, tolerance for risk, timeframe and your investment history and personality. Furthermore, they consider the resources you have, i.e., assets, and any potential liabilities or future expenses. Using this information, they manage your assets in a way to help you meet your financial objectives, save for retirement and secure your active income. They will review your portfolio performance periodically and adjust assets as required. Improving your portfolio performance can be achieved with a few simple shifts, which we talk about in our Performance Guide.
Choosing from a Retirement Planner Near Me
It's never too early to begin planning your retirement. You can begin your search for a high net worth retirement planner by looking through online listings. Some retirement planners may be independent, or they may be working for a particular firm. Many financial advisory firms or wealth management firms offer retirement planning services as well.
Asking your friends or relatives for recommendations is a safe bet to find a trustworthy and reliable retirement planner. However, it is essential that the advisor or planner you choose is experienced in managing large amounts of wealth and numerous assets. If you want to know whether your planner has the required knowledge to plan your retirement and explain different methods and options available to meet your needs. The more specific they are about their proposed plan, the more confident you can be in their capabilities.
Choosing an experienced retirement planner near me assures you that they have relevant practice and training in implementing various retirement strategies. They will have learned the right tools and methods to use through their experience with numerous clients. Keep in mind that a busy retirement planner may not be able to devote too much time to you. When selecting an advisor, it is best to have a clear idea of how frequently they consult with you to discuss your plan.
How Much Do Retirement Planning Services Charge?
It is best to ask your potential retirement planner about their fee structure. They usually follow one of the following compensation plans:
– Hourly consultation rates
– A quarterly or annual fee
– A percentage of your assets that they manage.
– A one-time, flat fee to formulate a plan or cash flow projection
– Commission based
– A fee and commission-based structure
Selecting which of the abovementioned fee structures you are comfortable with will contribute to your decision of choosing a retirement planner near me.If you think it's time for you to change your financial advisor, our guide can walk you through the process.
What to Expect from a Retirement Advisor
When you first meet with a retirement advisor, you should be prepared to provide the details of your financial circumstances. The advisor will ask you not only about your financial goals but also about your income and expenses, outstanding debts (such as school loans or a mortgage), existing investments and retirement savings, and insurance coverage.
Your advisor will want to know about your plans for retirement. Then, they can help you create a savings and investment plan to meet your retirement needs, as well as decide when to access your Social Security benefits.
Why You Should Consider Wealth Managers for Retirement Planning
Wealth managers cater exclusively to an affluent clientele; therefore, they can easily evaluate and understand their needs. They have the knowledge, experience, specialization, expertise and training to provide you with customized financial advisory services, including retirement planning. This allows them to have an insight into what you envision your retirement life to be. They respect your wishes to maintain your quality of life to pursue various goals and passions.
Tax management, wealth transfer, estate planning, and asset management are all aspects that factor into your retirement plan. With the assistance of a wealth manager, you can have one person managing it all, allowing them to have comprehensive and in-depth knowledge of your financial life. They will provide you with a better quality of service than anyhigh net worth retirement planner or traditional financial advisor would.
How to Hire a Retirement Advisor
Even if you're just starting out, some professional guidance could be of help
It's never too soon or too late to start saving for retirement. Retirement may last as long as your working life! So, you need to know how much it will cost you to live for decades without an income. Will Social Security benefits be enough? It's best to find out now and avoid being surprised later, and a financial advisor can help you get on track toward a fulfilling retirement.
How Can I Find a Retirement Advisor?
One option is to ask around among your friends, colleagues, and family members. Someone you know may have a retirement advisor with whom they have built a trusting, successful relationship.
You can also research various investment firms, banks, and independent advisors before making your choice. Talk to several advisors to find one with whom you feel comfortable discussing your finances.
How Do I Know If I'm Getting Good Advice from My Retirement Advisor?
You need to feel that your advisor is helping you achieve your retirement goals. Look at the growth of your retirement accounts and compare it to any online ratings you can find. Your advisor should recommend long-term investments that will provide the income you'll need when you retire. Are those investments low-risk, and what are their potential returns?
You want to make sure you understand exactly what services you're receiving and how much they cost. Should you be paying a percentage of your account value in fees, or could you simply pay an hourly consulting fee yearly to discuss your progress toward your goals? And you want to know how your advisor handles conflicts of interest, if any arise.
Plan Your Retirement with Pillar Wealth Management
After your long search into finding a "retirement planner near me," you may or may not have narrowed down a few prospective candidates. Before you set it in stone, we would like you to consider a simple question. Why hire a retirement planner when you can hire a wealth manager who can not only plan your retirement but also provide you with an additional array of financial services?
Wealth managers at Pillar Wealth Management use a holistic approach to provide you with a complete overview of your financial life. We understand the financial goals and needs of high net worth and ultra-high net worth individuals who are worth $5 million to $500 million in liquid assets. Therefore, we are experienced in using the best methods and strategies to create a suitable retirement plan for you that will help you sustain your standard of living. Reach out to one of our expert wealth managers for a free consultation.
Frequently Asked Questions
You can expect to pay an annual fee of 0.5% to 2% of the value of the assets managed by your advisor; this percentage typically is lower for assets valued over $1 million or when using a robo-advisor.
A financial planner is a professional who has trained in finance and economics, is knowledgeable in the markets, and has passed a qualifying exam to acquire an advisor certification.
A fee-only financial planner has earnings derived only from the fees paid by the client and does not earn commissions or any other fees for services.
A planner studies the client's situation, including income and expenses, debts, existing investments, insurance coverage, and retirement accounts, as well as their financial goals, to establish a plan to meet those goals.
CFPs have a bachelor's degree and 3 years of personal financial planning experience or the equivalent part-time experience. CFPs must pass a final certification exam and complete 30 hours of continuing education every 2 years.
You may be able to find an excellent advisor by consulting your personal network. Also, do some research online, particularly looking at advisors in your area, so you can meet face-to-face.
Look for a planner with experience working with clients like you, who is transparent about fees and potential conflicts of interest, and has no disclosures on their record.
You should ask them about their certifications and experience, if they are a fiduciary, how often they meet with clients, how they are paid, and what their investment philosophy is.
If you are struggling with sticking to a budget, saving for retirement, or making investments, you could benefit from the advice of a financial planner, who is an expert in all these areas.
Both financial advisors and planners provide financial services, but advisors are more focused on investments, while planners take a more holistic view of financial planning.
To be 100% transparent, we published this page to help filter through the mass influx of prospects, who come to us through our website and referrals, to gain only a handful of the right types of new clients who wish to engage us.
We enjoy working with high net worth and ultra-high net worth investors and families who want what we call financial serenity – the feeling that comes when you know your finances and the lifestyle you desire have been secured for life, and that you don't have to do any of the work to manage and maintain it because you hired a trusted advisor to take care of everything.
Related Posts