Retirement Net Worth For Wealthy Investors – PillarWM
Career-oriented investors work hard to create a lifestyle they can enjoy in the future. These professionals look forward to retiring comfortably, spending their days with their family, and exploring their interests. However, they will need to possess a minimum retirement net worth if they wish to live out a comfortable retirement. Investors that own between $5 million and $500 million in liquid investment assets can reach out to Pillar Wealth Management to learn how to boost their retirement net worth. You can learn about some of our special strategies for retirement investing in our guide for investors with $10 million or more.
The Importance of Retirement Net Worth
Any investor who has spent many decades putting effort into their career should look forward to a comfortable retirement. This is the special life stage where you can relax and explore new things. You can travel the world, tour the country, reconnect with old friends, or spend more time in your summer cottage. However, you might not be able to achieve the retirement lifestyle you envisioned if you don't have a certain net worth. Please speak with our wealth managers to learn how to boost your retirement net worth.
Let's look at the importance of retirement net worth.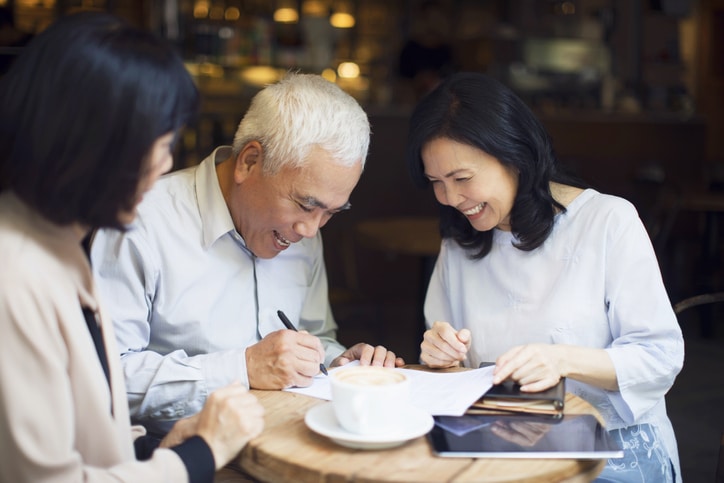 Maintaining a High Spending Lifestyle
Your net worth at retirement essentially indicates how much wealth you possess. After all, net worth is simply the amount by which your assets exceed the liabilities you owe. This means an investor with a high net worth is likely to have a large quantity of savings.
Your savings will be vital in helping you achieve the retirement lifestyle you envisioned. It's not uncommon for wealthy investors to lead high spending lifestyles when they are working. These individuals would like to maintain this lifestyle into retirement. However, you will need to possess enough savings or net worth to make this a reality.
Living Wherever You Please
Having a high enough net worth also enables you to live wherever you please. Retired investors can use their savings to move to a different country or other states to be more comfortable. It's not uncommon for senior couples to sell their homes and shift into apartments that are easier for them to manage. All this becomes a possibility when you have a high net worth. You can learn about wealth protection during retirement in our book The Art of Protecting Ultra-High Net Worth Portfolios and Estates – Strategies For Families Worth $25 Million To $500 Million.
Providing For Your Children
Many investors choose to have children later in life when they are more financially stable. However, this often means their kids enter college close to the time the investor enters retirement. Paying for your child's post-secondary education can be challenging if you no longer have an active income source. Therefore, your savings and net worth will be your greatest asset in paying for their tuition and other expenses.
What Should Your Retirement Net Worth Be?
So what should your net worth be before entering retirement? There is no simple answer to this question, as it may vary depending on your unique circumstances and needs. You may be wondering, "what is the average net worth of a retiree?". As of 2020, the average net worth for individuals at the retirement age of 66 is around $1 million.
So what is the average net worth of a 70-year-old? This net worth will be slightly higher than that of a 66-year-old and currently stands at around $1.2 million.
This net worth can seem quite high, especially if you are a young investor who has yet to grow their savings. However, it is possible to reach a net worth of $1 million or greater by following the right strategies. Please speak with our wealth managers to learn how to grow your wealth before retirement.
The Connection Between Retirement Income and Net Worth
You can grow your net worth significantly in the years before retirement by investing in the right places. Wealthy investors can learn about some strategies to improve their portfolio performance in our special guide.
Retirement is the life-stage where you are no longer working. However, that doesn't mean you aren't pulling in an income. Retirees can still earn from social security, benefits plans, and their assets. This retirement income can actually help boost your net worth during retirement and offer you more savings to draw from. This makes retirement income vital for wealthy investors that wish to maintain their high-spending lifestyle.
You may be wondering, "is $80,000 a good retirement income?". This figure may seem attractive for individuals who were earning under $100,000 per year. However, it is on the low side for investors who were earning hundreds of thousands or even millions of dollars each year before retiring.
A good rule of thumb for calculating your ideal retirement income is to assume it should be 80% of your pre-retirement salary. So if you were earning $1.6 million per year before retirement, you should aim for a post-retirement income of $1.28 million. If you believe your retirement income will fall short of this amount, you can use different strategies to boost it.
Increasing Your Retirement Income
If you are concerned about having a high enough retirement income to sustain a comfortable post-retirement lifestyle, you should aim to increase your earnings through your assets. It's not uncommon for wealthy investors to invest in stable assets that will offer them passive income during retirement. Please speak with our wealth managers to get acquainted with the right investment practices.
Choosing such assets can be tricky if you aren't familiar with the retirement planning process and how your portfolio fits into it. You can learn about some portfolio growth strategies during retirement in our special guide.
Why Use a Retirement Planner
Retirement comes with numerous challenges for wealthy investors. You will need to ensure your savings are sufficient to support your retirement lifestyle. You may also require a high retirement income to keep yourself afloat. In addition to this, you may need to deal with unexpected medical bills, which can reduce your savings significantly.
A retirement planner can help you overcome or mitigate the damage from each of these challenges. These are special financial professionals who offer retirement advice and create comprehensive retirement plans for their clients.
Some reasons to use a retirement planner include:
Getting Advice From a Professional
Retirement planners have plenty of experience with offering retirement advice and plans. These professionals are knowledgeable in many different financial areas and can lend their expertise to help you achieve a comfortable retirement where you won't have to worry about running out of savings.
Their services are invaluable for investors who aren't familiar with the various retirement challenges they will face or the complexities of retirement planning.
Choosing the Right Investments
As mentioned earlier, you can boost your retirement income by choosing stable assets that provide steady profits throughout your retirement. However, finding and picking the right assets can be tricky. Any new assets you acquire will impact your portfolio in some way and may introduce new risks. A retirement planner can help you pick the best assets to meet your future retirement needs with minimal worry.
Achieving Specific Financial Goals
In addition to overcoming the aforementioned retirement challenges, many investors would like to achieve specific financial goals before reaching retirement. It is certainly possible to meet some of these goals yourself. However, the process can be challenging to navigate without the assistance of an experienced professional.
How to Find the Right Retirement Planner
If you are interested in finding a suitable retirement planner to help you with your retirement needs, you can follow these steps.
Search the Internet
The internet is the best place to start your search for a retirement planner. A simple Google or Bing search using the term "retirement planners near [city]" should produce many results. You can then narrow down your list of choices by looking up reviews for each one.
If you find a retirement planner who caters to clients with a similar background to yours and also has good reviews, you should consider getting in touch with them. During the meeting, you should ask them some of the questions we discuss in our guide to choosing a financial advisor.
Ask Around Your Network
If you want to avoid the lengthy internet search process for a retirement planner, you can try asking around your network. Your ideal retirement planner should be both trustworthy and should have experience with clients who are similar to you in net worth.
If you know other wealthy investors, you should ask them which professional they recommend or have used previously for their retirement planning needs.
Why Use a Wealth Manager Instead of a Retirement Planner
Retirement planners certainly offer valuable services for wealthy investors that would like to prepare for their future retirement. However, you can receive similar benefits from a wealth manager. Many wealthy individuals would prefer to use retirement planning from a wealth manager than from an ordinary retirement planner.
Wealth managers are favored for many reasons. This includes:
Experience With High Net Worth and Ultra-High Net Worth Clients
Wealth managers stand apart from ordinary retirement planners because they are selective about the clients they take on. Retirement planners often provide services to clients with any net worth. On the other hand, wealth managers focus on offering services only to high net worth and ultra-high net worth clients.
This exclusivity means wealth managers have more experience with wealthy investors and understand their unique needs and concerns.
Extra Services
Wealth managers are great at offering retirement advice or helping with retirement planning. However, their expertise also extends to other areas. At Pillar Wealth Management, our wealth managers offer many services in addition to retirement planning. This includes:
• Portfolio Analysis
• Asset Management
• Tax Planning
• Insurance Planning
Many of the services mentioned above can complement retirement planning services and help you achieve your dream retirement. Learn about some of the special investment strategies we recommend in our guide for investors with $10 million or more.
Fee Structure
Wealth managers also charge a fixed fee structure. Clients are charged an annual fee based on the value of their assets. This fee structure is straightforward and lets clients know exactly how much they will be paying for such services.
By contrast, ordinary retirement planners may charge their clients in a variety of ways. Some charge an hourly fee for their services, while others charge a flat fee for each consultation. This means you may need to pay each time you use the retirement planner's services.
Why Choose Pillar Wealth Management
Investors that own between $5 million and $500 million in liquid investment assets can't go wrong by choosing Pillar Wealth Management for retirement planning services. We have a combined sixty years of industry experience and offer personalized plans for each client. Our wealth managers are always ready to take on new challenges and can help guide you each step of the way. Please set up a free special appointment with our wealth managers to get started with retirement planning.
To be 100% transparent, we published this page to help filter through the mass influx of prospects, who come to us through our website and referrals, to gain only a handful of the right types of new clients who wish to engage us.
We enjoy working with high net worth and ultra-high net worth investors and families who want what we call financial serenity – the feeling that comes when you know your finances and the lifestyle you desire have been secured for life, and that you don't have to do any of the work to manage and maintain it because you hired a trusted advisor to take care of everything.
You see, our goal is to only accept 17 new clients this year. Clients who have from $5 million to $500 million in liquid investable assets to entrust us with on a 100% fee basis. No commissions and no products for sale.