Investment Advisors Near Me– Pillar Wealth Management
Are you looking for the "best investment advisors near me"? It's a good idea to have a financial expert by your side that can help you make intelligent, well-informed investment decisions. Many high net worth and ultra high net worth individuals struggle with investment portfolio management because they don't have the knowledge, experience, or time for it. If you want to invest $5 to $500 million, working with an experienced investment advisor is a smart thing to do. To make sure you choose the right professional for the job, request a copy of this in-depth book, 7 Secrets to High-Net-Worth Investment Management, Estate, Tax, and Financial Planning.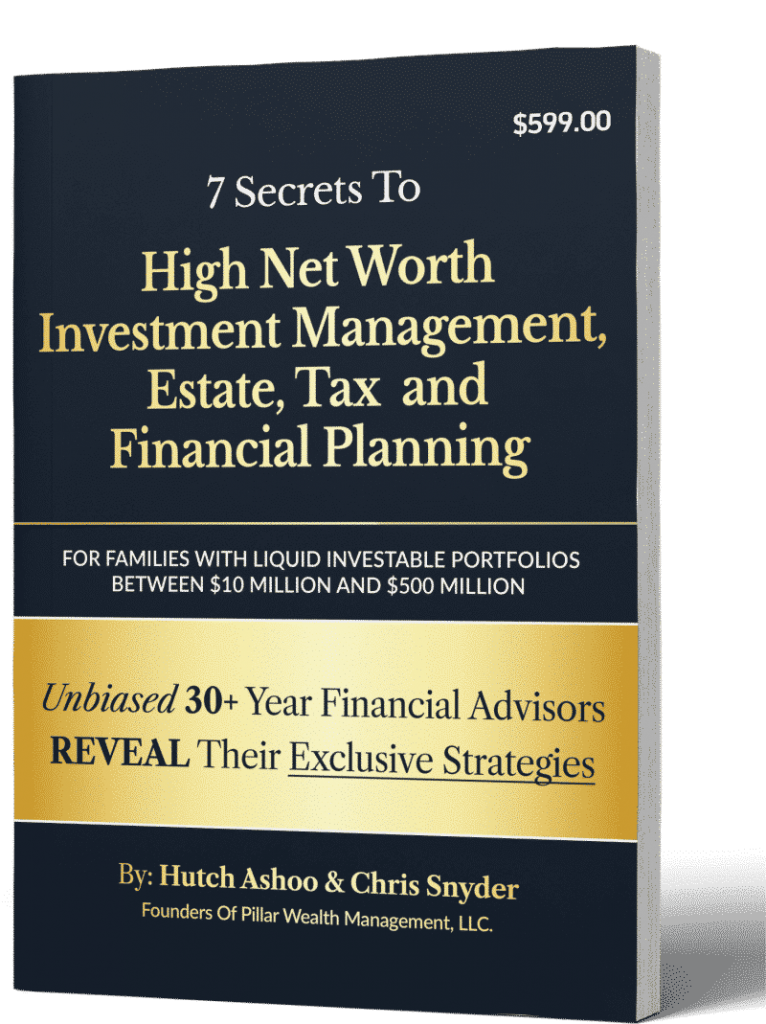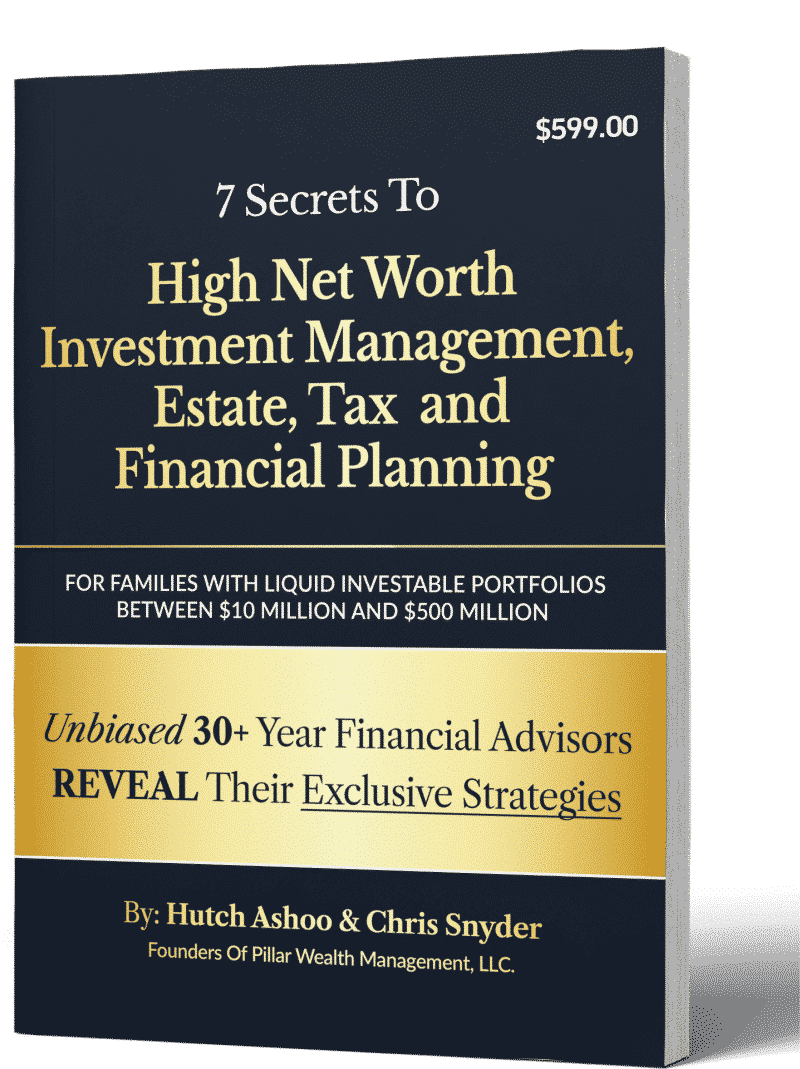 STRATEGIES FOR FAMILIES WORTH $5 MILLION TO $500 MILLION
7 Secrets To High Net Worth Investment Management, Estate, Tax and Financial Planning

The insights you'll discover from our published book will help you integrate a variety of wealth management tools with financial planning, providing guidance for your future security alongside complex financial strategies, so your human and financial capital will both flourish.
Clients frequently share with us how the knowledge gained from this book helped provide them tremendous clarity, shattering industry-pitched ideologies, while offering insight and direction in making such important financial decisions.
You can also discuss the benefits of working with an investment advisor with us at Pillar Wealth Management.Our specialists are fully equipped with the knowledge,tools, and resources to help affluent clients make smart investment decisions. We exclusively work with clients who want to invest more than$5 million, helping them meet their investment objectives and lay a strong groundwork for a financially secure future.If you're looking for investment advice, call us today!
Now, let's shed some light on the duties and responsibilities of an investment advisor.
What is Investment Advisors' Job?
Investment advisors get paid for making investment recommendations or tackling securities analysis. They are responsible for selecting, managing, and suggesting investment products for their clients. Some investment advisors also assist clients with retirement planning.
When you're looking for investment advisors near me, you can expect them to help you pick the right financial assets, like bonds, stocks, and mutual funds. They will also assist you with buying, selling, and monitoring these products while keeping your investment goals in mind.
Some investment advisors take a holistic approach, looking at all aspects of your financial life to ensure your investment plan is as comprehensive as possible. The idea is to enhance the performance of your portfolio over time. This is done by creating a balance between profit and risk. While you want to maximize your gains, it is important to prioritize your portfolio's safety and avoid exposing it to unnecessary risks. Apart from this, your investment advisor will incorporate some essential shifts into your investment strategy to help you achieve a financially secure future. To learn more about this topic, access our guide here.
Do I Need an Investment Advisor?
To hire or not to hire an investment advisor – that's the question.
The answer is simple. If you're tired of or struggling with managing your money, partnering with an expert may be the right thing to do. An investment advisor will not only provide you with expert advice but also portfolio management services at a flat rate or for a percentage of your assets they manage.
While assessing the performance of your portfolio, they will keep your financial situation, goals, and challenges in mind. They will be the perfect partner to help you navigate complicated circumstances, create a comprehensive financial plan, and answer questions as they come.
Another great benefit of working with an investment advisor is that you can enjoy peace of mind, knowing that someone with valuable market insights and experience monitors your portfolio.
In case you're tempted to handle things on your own and try to "save" money by not choosing to work with a professional investment advisor,you must know that a DIY portfolio rarely ever beats one that's managed by an expert.You may not be able to allocate your assets properly. As a result, your portfolio will lose against market fluctuations. There's also a chance of you making expensive, life-altering mistakes, such as making poor investment decisions, miss tax savings, and pay high hidden fees.
To make sure looking for the "best investment advisors near me" is the right thing to do for you, ask yourself the following questions.
1. How Much Money Do You Have for Investing?
If you have accumulated great wealth, your investment options will be diverse.With a large portfolio come great complexity and a greater need for an investment advisor. If you possess $5 to $500 million in liquid assets and are looking to make smart investment decisions to preserve your wealth, you should definitely consider working with a financial expert.
2. How Complex is Your Financial Situation?
Generally, high net worth and ultra high net worth individuals have complicated financial situations. Their needs, risks, and challenges are more complex than an average American. If you already have more than $5 million to invest and are looking to grow your wealth over time, you should expect these problems to get more complicated.
Simply put, the more complex your finances are, the greater your need for hiring an investment advisor.
3. Are You Looking for Comprehensive Financial Planning Services?
Do you want a professional to help you invest in the right places and make well-thought-out decisions when the market crashes and your portfolio losesits value?You may also seek advice on the type of insurance you should get.
Investment advisors do this and so much more.They provide comprehensive financial planning across financial areas at all times. If you're looking for this type of service, it's totally worth hiring an expert.
4. What's Your Level of Understanding and Interest?
You must have a basic understanding of finances and high net worth investing if you want to take the DIY route to investment management. You should also have sufficient knowledge of the market. On top of this, you must enjoy managing your personal finances because you'll have to spend a lot of time doing that.
If this doesn't sound like you, working with an investment advisor may be the best bet for you.
5. What Are Your Expectations?
If you think an investment advisor can help you beat the market, you'll only get disappointed.You can't expect your money to get doubled overnight. Wealth building takes time and effort. The idea of working with a professional is to eliminate risks, stress, and confusion from the equation and be in the best position to gain better returns over time.
An experienced investment advisor may be able to outperform the stock market consistently. The chances of doing this on your own are few.
If you have any questions regarding the duties of an investment advisor, please get in touch with one of our financial experts today.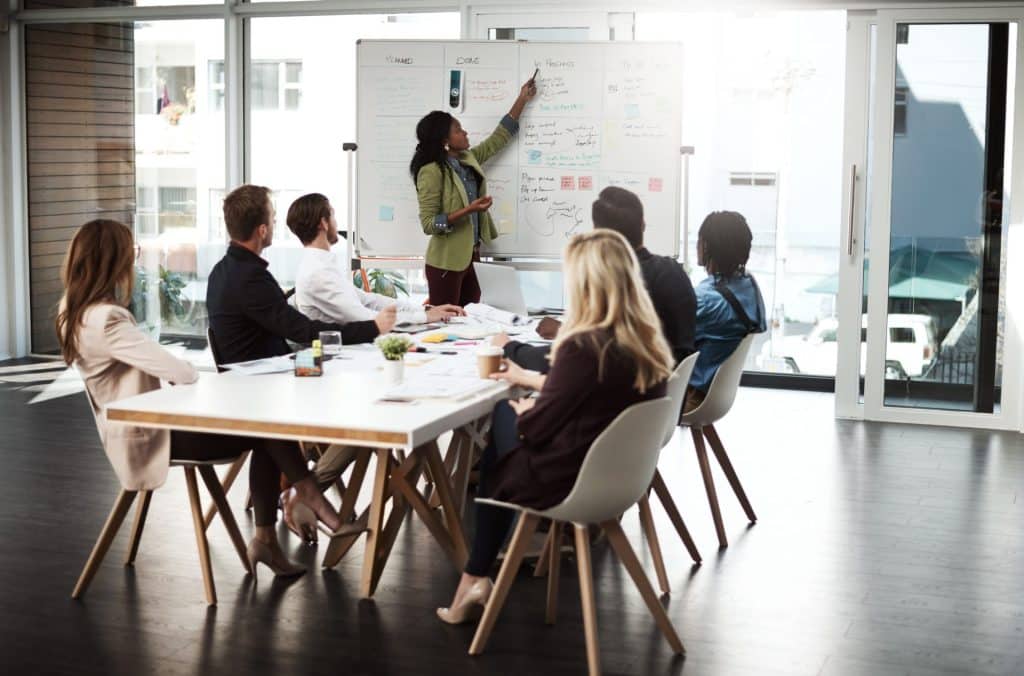 What to Look for in Investment Advisors Near Me?
Choosing the right investment advisor can make all the difference in making intelligent financial decisions. Below are the three factors you should look out for.
1. Two-Way Communication
Timely and effective two-way communication is an essential element of a strong working relationship. Your investment advisor must focus more on providing you with a seamless, hassle-free experience instead of prioritizing returns.
This doesn't mean that they should get in touch with you when an excellent investment opportunity arises. Rather, they must be able to walk you through the entire investment process and explain fundamental concepts in laymen's terms. Maintaining a clear, smooth communication process is the key.
2. Transparent and Client-Centered Approach
Conflicts of interest are a real thing in the investment industry. Hence, you must work with an investment advisor who follows a transparent business model. Their values and approach should also align with your interests.
It's best to hire an expert with a clear, fee-based model. This means that they should offer their services ata transparent, defined rate. The fee they will earn is the percentage of assets they manage for you. The greater your wealth, the more they will earn. Apart from this, make sure they are fully invested in increasing the value of your portfolio.
3. Your Net Return
Many affluent individuals make the mistake of focusing on the fee of an investment advisor while evaluating their options. While this cost is really important, you must understand that taxes may be your largest expense.
The state and federal income and capital gains taxes incurred by your portfolio depend on the following factors:
• Underlying investments
• Turnover
• Investment structure
• Your state of residence
• Other sources of income
If you're earning a high income, you'll generally have to pay more taxes – and high taxes mean reduced returns. With this in mind, you should look for an investment advisor who understands the importance of focusing on after-tax returns.
To learn how you can find a financial expert who knows the intricacies of high net worth investment, request a copy of our book.
Is it Worth Paying an Investment Advisor?
As a high net worth or ultra high net worth individual who wants to invest between $5 and $500 million, you must realize that your financial situation and risk profile is quite complex. Besides, if you don't possess the knowledge or skills of choosing, managing, and monitoring your investments, it's best to rely on a professional to get the job done.
If you're concerned about the costs, please know that by working with an investment advisor, you can actually save lots of money in the long run. Not to mention the time, energy, hassle, and frustration you'll be saving!
If you feel that your money could do more for you than what you're getting out of it right now but you're not sure where to start, partnering with an expert advisor will be totally worth it.
Below are the top two benefits of working with an investment advisor.
1. Devise a Solid Investment Strategy
When interviewing different"investment advisors near me", you can expect them to discuss your financial situation in detail. During the initial consultation, they will determine your needs, investment objectives, and risk tolerance in order to develop a promising investment strategy for you. They'll help you achieve your short and long-term goals and make smart investment decisions, ensuring that you enjoy maximum returns.
The ultimate goal of your investment advisor will be to protect your assets and grow your wealth in the long run. To understand the importance of having the right investment strategy, we urge you to request our book,The Art of Protecting Ultra-High Net Worth Portfolios and Estates – Strategies For Families Worth $25 Million To $500 Million.
2. Optimize Your Portfolio
There's only so much that your investment advisor can do to enhance your portfolio performance. They are equipped with the information and resources to help you pick the right assets for portfolio optimization. The best experts focus on spreading risk across asset classes to minimize your costs. Check out this quick guide on portfolio optimization for affluent individuals.
For further questions, start a conversation with our expert now!
Look for Qualified and Experienced Investment Advisors Near Me at Pillar Wealth Management
It's time to stop looking for the "best investment advisors near me" because Pillar Wealth Management has got your back!
Our experts know how high net worth and ultra high net worth investment management works.You simply have to book an initial consultation with us and tell us about your financial situation and investment goals. We'll assess your risk tolerance and help you devise a kickass investment plan.
We take pride in transforming the financial lives of high net worth and ultra high net worth individuals seeking to invest $5 to $500 million.Our financial specialists offer expert recommendations, guidance, and support at every step of your investment management journey.Moreover, you don't need to worry about hidden costs and conflicts of interest with us.
Excited to get our experts to prepare a personalized investment strategy to make your dreams come true?
Sign up for our services today!
To be 100% transparent, we published this page to help filter through the mass influx of prospects, who come to us through our website and referrals, to gain only a handful of the right types of new clients who wish to engage us.
We enjoy working with high net worth and ultra-high net worth investors and families who want what we call financial serenity – the feeling that comes when you know your finances and the lifestyle you desire have been secured for life, and that you don't have to do any of the work to manage and maintain it because you hired a trusted advisor to take care of everything.
You see, our goal is to only accept 17 new clients this year. Clients who have from $5 million to $500 million in liquid investable assets to entrust us with on a 100% fee basis. No commissions and no products for sale.
Related Post