High net worth individuals require the support of experts to make the right decisions concerning wealth management and financial planning, which includes choosing where to invest and implementing strategies to safeguard their wealth. They need this support because they can't possibly possess all the information necessary for making the right decisions. Further, they need a high net worth financial advisor for assistance. If you are such an individual, looking for a high net worth financial advisor, Los Angeles has many options, but not always as robust as Pillar Wealth Management.
At Pillar Wealth Management, our advisors are equipped with the knowledge and experience needed to navigate investment challenges and future plans. We offer services for clients with $5 million to $500 million in liquid investment assets. Learn about some of the specialized strategies we use for high net worth planning, by requesting a free copy of our new book, 7 Secrets To High Net Worth Investment Management, Estate, Tax, and Financial Planning.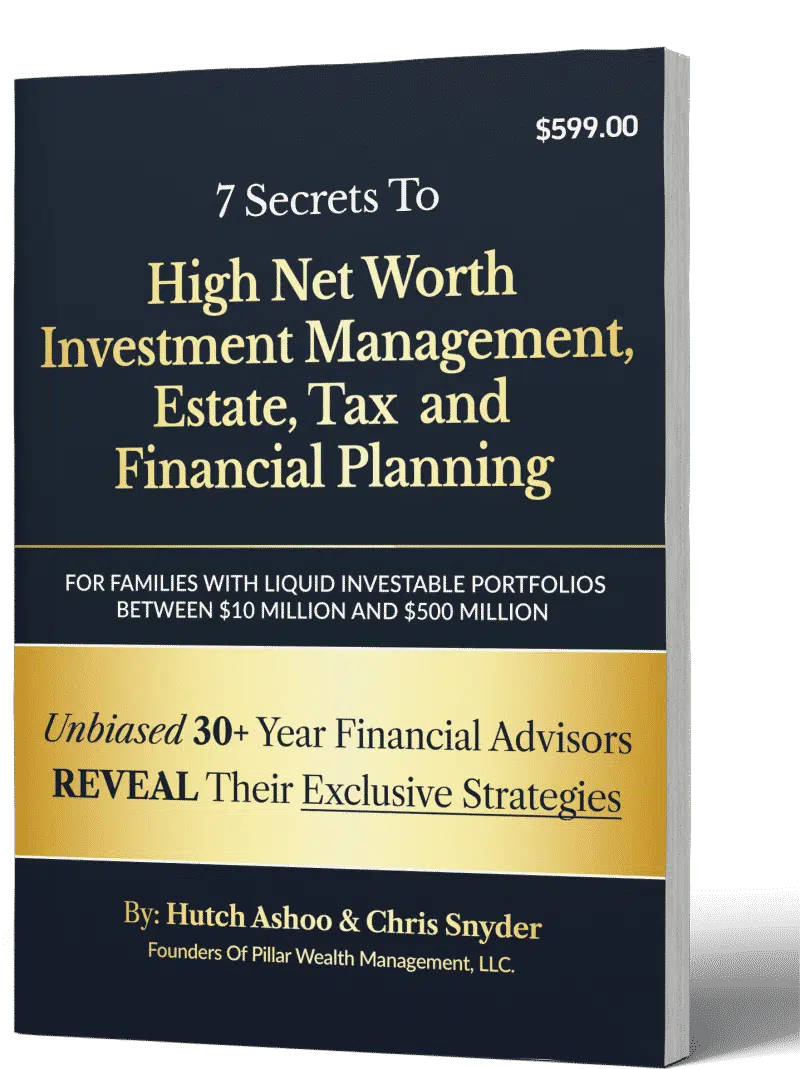 STRATEGIES FOR FAMILIES WORTH $5 MILLION TO $500 MILLION
7 Secrets To High Net Worth Investment Management, Estate, Tax and Financial Planning
The insights you'll discover from our published book will help you integrate a variety of wealth management tools with financial planning, providing guidance for your future security alongside complex financial strategies, so your human and financial capital will both flourish.
Clients frequently share with us how the knowledge gained from this book helped provide them tremendous clarity, shattering industry-pitched ideologies, while offering insight and direction in making such important financial decisions.
Financial Challenges Faced by High Net Worth Individuals
Individuals who have accrued a high net worth are in a prime position to grow their wealth at a rapid pace and achieve their financial goals. However, they still face numerous challenges that could jeopardize their portfolio and savings. Please speak with one of Pillar Wealth Management's expert wealth advisors to learn about overcoming high net worth challenges.
The challenges commonly faced by high net worth individuals include:
1. Building and Safeguarding Savings
Investors with a high net worth need to take the necessary steps to protect their savings. An unexpected life event such as a health emergency may leave you with far less wealth than you thought. For example, an emergency intestinal transplantation costs over $1.1 million. This can place a significant dent in your savings and affect your lifestyle.
Investors can shield their savings during such events with the help of the right insurance coverage. Please get in touch with Pillar Wealth Management to learn about the various insurance plans available for high net worth individuals.
2. Portfolio Management
High net worth investors who have built up their wealth via investments generally possess large portfolios containing numerous assets. Such assets likely cover many types and are spread across various industries. Having numerous diverse assets may protect your wealth in the event of a market crash. However, it also makes monitoring each asset's performance more challenging.
Monitoring your assets performance is vital to spot any red flags early on. Any sign that an asset may be at risk requires immediate attention. This can be challenging for investors who would rather acquire new assets than focus on existing ones. Investors with $5 million or more can learn about the challenges of investment management by reading our special guide.
3. Sustainable Retirement Plan
Retirement is the finishing line that most working professionals look forward to. Many investors envision their dream retirement from an early age and sculpt their career to ensure they are able to turn that vision into a reality. However, it is easy to forget the challenges of retirement.
Once your career comes to a close, you will need to rely on your savings to keep your lifestyle afloat. However, to maintain a luxurious lifestyle, you may eat through these savings faster than expected.
Investors who intend to downgrade and live a more humble life post-retirement may still run into high medical bills or emergencies that deplete their savings. All these unexpected factors make it difficult to maintain a comfortable retired life. The best way to overcome such challenges is with the right retirement plan. You can learn about the best financial planning strategies by reading our special guide for investors with $10 million or more.
4. Tax Strategies
One of the biggest drawbacks associated with building wealth via investments is having to pay high taxes, which can eat into your potential profits and may discourage you from expanding your portfolio. To compensate, you may need to find ways to improve your portfolio performance. Learn about some portfolio performance improvement strategies in our special performance guide.
Investors should note that it is possible to minimize their tax burden with the help of tax planning strategies. This includes restructuring your portfolio and changing your state of residence.
5. Wealth Transfer
If you intend to pass on your wealth to your family and dependents, you should be aware that this process can be quite complex. For example, passing away without having set up a comprehensive will or estate plan will make it more difficult for your family to receive the wealth you promised them.
In such situations, the courts will decide how to distribute your wealth. This may lead to delays in the distribution process, as well as incur high legal costs. If you want to ensure your family receives this wealth in a timely manner, it is vital to set up a proper estate plan that includes a will. You can learn more about the various challenges of estate planning by reading our special guide for investors with $5 million or more.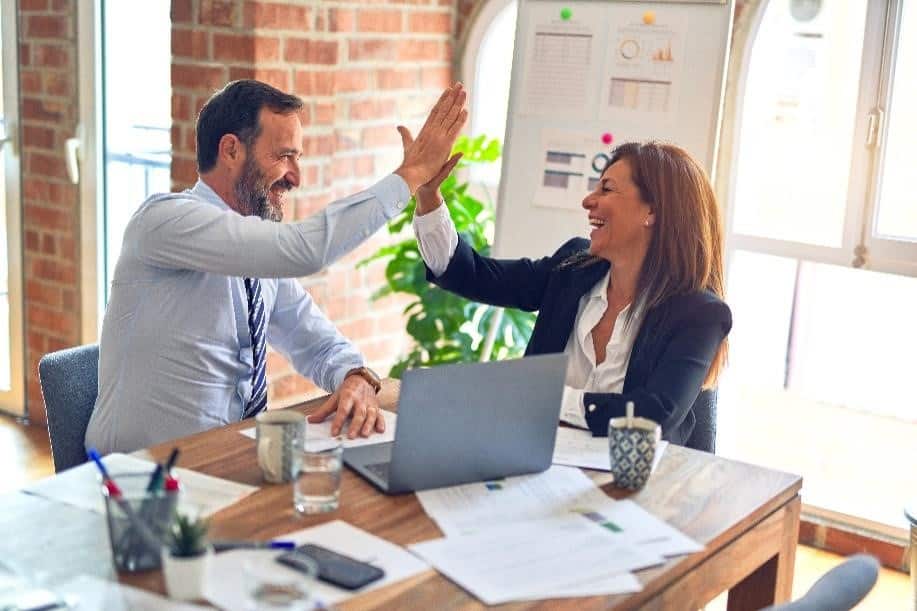 Benefits of Hiring High Net Worth Financial Advisor
Financial advisors help with financial planning for high net worth individuals. High net worth financial advisors can assist investors with each of the challenges mentioned above. For example, they can manage their clients' portfolios and monitor their assets' performance, giving their clients more time to research new assets.
Similarly, a financial advisor can help you plan for retirement. They can assess your income level and estimate your retirement expenses. They can then craft a robust retirement plan to turn your dream retirement into reality. The advisor may also help you boost your retirement savings with the help of budgeting practices and by recommending assets that offer passive retirement income.
How Much do Financial Advisors Cost?
Some financial advisors charge an hourly rate, while others may charge a fee for each service they provide. However, financial advisors such as wealth managers tend to charge their clients a bit differently.
A wealth manager typically charges an annual fee based on a percentage of the client's asset value. This means the fee could be higher or lower depending on the client's net worth. Many investors favor such a fee structure as it frees them from paying each time they seek out wealth management services. Please speak with one of PIllar Wealth Management's professionals to learn about our fee structure.
You may be wondering, "Is it expensive to hire a financial advisor?" The answer is no. The fee mentioned above is a very small percentage of your asset value, making it affordable for just about any investor.
Should High Net Worth Individuals Hire a Financial Advisor?
If you're a high net worth individual who hasn't worked with a financial advisor before, then you may be wondering whether you even need their services. After all, you may have built up your wealth without any assistance from a financial professional.
The truth is that many high net worth and ultra-high net worth individuals still reach out to financial advisors from time to time when they need a second opinion. This could be a quick assessment of their portfolio or finances before making a crucial investment decision.
Similarly, some investors may simply need assurance that they are on track to meet their long-term financial goals. If they are not, they may ask the advisor to craft a better financial plan that gets them on track.
What to Look for in a Financial Advisor
If you have decided to hire a financial advisor, you may be wondering what qualities a good advisor possesses. Some of the qualities to look out for are:
1. Ample Experience
The best financial advisors are usually the ones who have been practicing for many years or even decades. Such advisors learn much of what they know on the job and are able to apply what they learn to assist their clients.
For example, the 2007–2008 financial crisis put many financial advisors to the test. They were tasked with guiding their clients through this disaster and helping them keep their wealth safe. Such advisors understand how fragile some markets can be and keep this in mind when advising their clients.
2. In-Depth Knowledge
Most financial advisors possess professional education credentials related to business or finance. However, a wide knowledge gap may still exist between two advisors with the same credentials. As mentioned earlier, these advisors learn much of what they know on the job. Therefore, it is best to speak with the advisor beforehand and test their knowledge.
The best advisors offer swift answers to most questions without looking for solutions in guides and books. In fact, the best advisors are the ones who write these books.
3. Tailored Plans
Great financial advisors are also skilled at creating financial plans. So, if you need assistance with planning for retirement, your advisor should be able to draw up a retirement plan that fits your needs.
You should be aware that many financial advisors offer their clients generic one-size-fits-all solutions to their problems. This approach fails to take the uniqueness and complexities of each client's background into account.
With this in mind, the best financial advisors usually take the time to learn about their clients' financial background and knowledge. They then sculpt plans that offer them a straightforward pathway while taking take their limited knowledge into account.
4. Transparency
Fee transparency is another vital consideration when choosing a financial advisor. Most financial advisors are upfront about their fees, whether hourly, commission-based, or asset value-based. However, be on the lookout for any hidden fees that aren't explicitly disclosed in the advisor's contract.
Any advisor that charges their clients such fees should be avoided. The best advisors always maintain transparency when it comes to fees because they do not want their clients to be hit with unforeseen charges.
5. Accessibility
The last consideration to keep in mind is accessibility. The best financial advisors are often in high demand and likely have many clients chasing after them. This may make them difficult to reach.
The best financial advisors respect their clients and offer various methods for keeping in touch. This means you can make an appointment with your advisor on short notice and consult them on time-critical matters. If an advisor regularly ignores their clients or fails to take time to respond to them, they should be avoided.
Get in touch with Pillar Wealth Management
If you are seeking premier high net worth financial advisors in Los Angeles, you can't go wrong with Pillar Wealth Management. Our wealth managers have accrued over six decades of industry experience and are knowledgeable in all areas of finance. Please set up your first meeting with one of our wealth managers to get started with smarter wealth management.
Related Posts