Financial Planning Service– Pillar Wealth Management
Ever wonder how affluent individuals manage to grow their wealth over time? Well, they create a financial plan and stick to it. If you have more than $10 million, you would want your money to support you in achieving your financial goals and maintaining your desired lifestyle in the long run.The best way to go about this is by opting for a professional financial planning service.Financial specialists have the knowledge and experience of helping clients like you lay the groundwork for a successful, stress-free future. Before interviewing different experts,don't forget to read our guide, where we have shared valuable tips and insights for choosing the best financial advisor.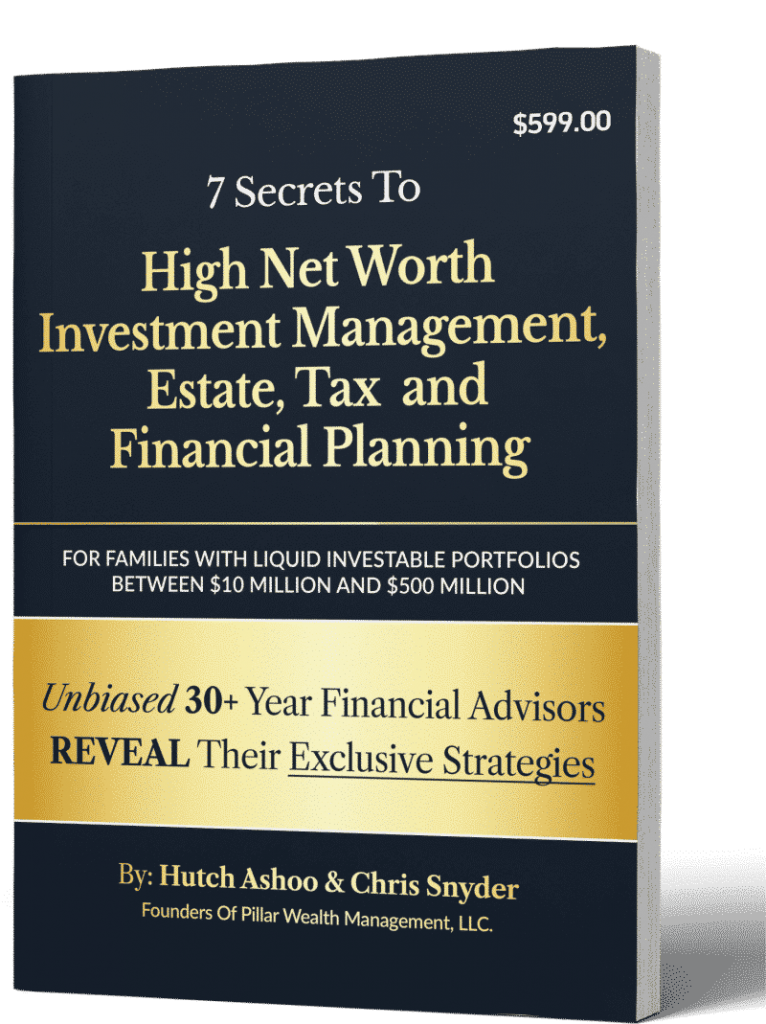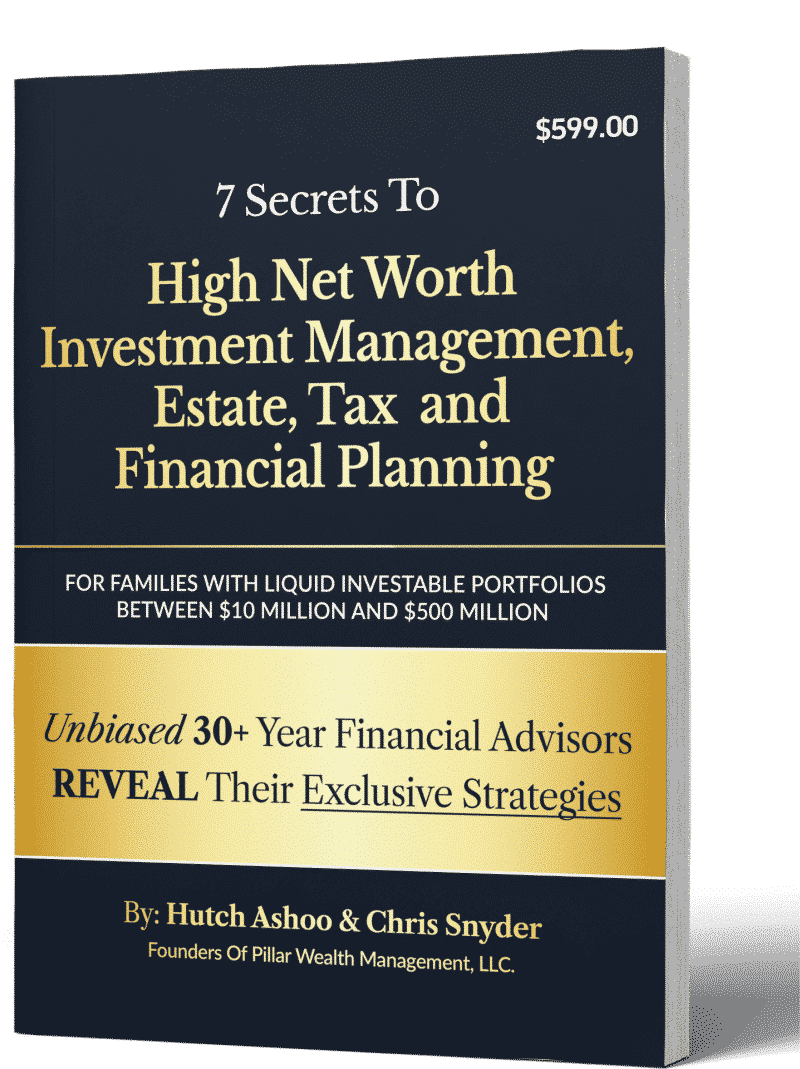 STRATEGIES FOR FAMILIES WORTH $5 MILLION TO $500 MILLION
7 Secrets To High Net Worth Investment Management, Estate, Tax and Financial Planning

The insights you'll discover from our published book will help you integrate a variety of wealth management tools with financial planning, providing guidance for your future security alongside complex financial strategies, so your human and financial capital will both flourish.
Clients frequently share with us how the knowledge gained from this book helped provide them tremendous clarity, shattering industry-pitched ideologies, while offering insight and direction in making such important financial decisions.
With that said,Pillar Wealth Management is a one-stop-shop for high net worth and ultra high net worth individuals looking for reliable financial planning services. Our experts work exclusively with people who have $5 to $500 million under their belt. We use industry-best strategies and techniques to help them preserve and grow their wealth without restraining them from enjoying life to the fullest. If you want us to put the hard work on financial planning on auto-pilot for you, start a conversation now!
Let's dive right in to discuss what you can expect after hiring a professional financial planning service.
What Do Financial Planners Offer?
Financial planners are qualified professionals dedicated to helping people meet their long-term financial goals. They work with clients to analyze their current financial situation, determine their needs, and discuss their objectives and risk tolerance before identifying suitable investment products to help them protect and grow their wealth.
If you opt for a financial planning service, you can expect them to distribute your wealth into a diversified investment collection with an aim to increase your returns.They will help you eliminate financial risk to ensure you're in the best position to build your legacy.
Your financial planner may specialize in either or all of the following:
• Asset allocation
• Tax planning
• Risk management
• Retirement planning
• Estate planning

How Does Financial Planning Service Work?
When you sign up for a financial planning service, you'll be invited for an initial consultation with your financial planner. During this session, you and your planner will get to know each other. This will be your chance to gauge if your frequencies match on a personal and professional level. Make sure you ask the right questions and share your concerns at this point. Find out how they will present your financial plan and if there will be ongoing communication between you two.Also, don't forget to ask about their fee structure.
Once you're fully satisfied and ready to proceed, your financial planner will start evaluating where you currently stand financially. They may inquire about the following:
• Your financial objectives
• Your current financial situation
• Your risk tolerance
Your financial planner will determine your short-term goals as well as long-term priorities, assess how much money comes in and goes out, and find out how much you owe and what you own. They will also see if you're investing in the right places based on your ability to take risks.
Ideally, financial planners should remain in regular contact with you to track your progress. The preferred mode of communication may, however, differ for different professionals.Some experts like meeting their clients in person throughout the year while others stick to sending emails and account prompts. The idea is to update and revise your financial plan to align it with the changes in your circumstances.
To learn about the role of a financial planner in detail, get in touch with us today.
What is the Typical Cost for a Financial Planning Service?
Cost is one of the most critical factors you need to keep in mind when opting for a financial planning service so that there are no unpleasant surprises later. Request a clear explanation of their compensation plan before hiring them.
Estimating the fee of a financial expert may be as daunting as the task of financial planning itself.But don't worry. Below we have discussed six ways financial planners charge their clients.
1. Asset Percentage
Many professionals charge a percentage of the assets they manage on a client's behalf. On average, the fee may range from 0.50% to 2% annually. Generally, the more assets you possess, the lower the asset percentage an expert will charge you.
Several affluent individuals prefer this compensation approach because their planner's fee is debited directly from their accounts, eliminating the need for writing a check or adjusting your monthly budget.
2. Commissions
Some financial planners get a commission for selling an investment product to their clients. These payments may range from 3% to 8.5% of the total value of the investment.
If a financial planner tells you that they earn commissions, you should ask from whom they'll receive the payment in case you buy the investments they recommend. It could be you or the investment company itself.
The best thing about this option is that your financial planner's commissions have nothing to do with your total assets. However, you must note that some experts receive compensation for product sales. This means that they may not hesitate to recommend expensive products that may not necessarily be the best for you.With this in mind, you may not want to work with someone who dons the hat of a good salesperson and is only interested in closing deals.
3. Flat Fee
If you want to create a retirement plan or have any other financial project in mind, you may reach out to a professional who charges a flat fee for their services.The specific costs vary by the service provided. For example, a financial planner may charge $700 to $3,500 for retirement planning based on their level of experience and expertise.
Right from the beginning, you'll know how much you're supposed to pay. Rest assured that the cost won't be tied to the value of your investments or the purchase of certain financial products.
4. Hourly Rate
Some financial planners charge their clients for each hour of service they provide. This option works well for individuals who just want expert advice and are willing to implement it on their own.
While hourly rates can vary greatly from planner to planner, you should be prepared to pay between $150 and $450. Highly qualified and experienced professionals may charge higher depending on their area of specialty.
That being said, you can feel confident that your financial planner will offer objective advice since an hourly rate has nothing to do with the value of your investments or the purchase of particular products.
5. A Combination of Commissions and Fees
Many financial planners receive both fees and commissions. They are called "fee-based". You may come across a professional who charges a small percentage of your assets under management besides earning an additional flat fee or commissions when you start or stop holding an investment.
The advantage of working with such experts is that the cost is not dependent on the asset value or your investment purchase decisions. You can also have peace of mind because product sales aren't their sole motivation; they also care about the value of your assets. Just make sure you inquire about the fee-commission ratio before hiring them.
Hiring a Professional Financial Planning Service
Choosing the right financial planning service may be a daunting task, considering the wide variety of options out there.However,you should look for an expert with sufficient education and training. They must also have a good track record of working with affluent clients.
Financial specialists who explicitly manage money and provide financial planning services for clients are called "fiduciaries". This means that they have a legal obligation to act and advise in your best interest. It also means they can't receive personal benefits from the management of your assets.
Fiduciary financial planners are generally fee-only. They charge an hourly rate or earn a flat fee or percentage of the assets they manage on your behalf. If your investable wealth is worth more than $5, you should consider working with a fiduciary expert.
Pillar Wealth Management's team comprises fiduciary financial planners committed to helping you manage your wealth and achieve your short and long-term goals. Call us today to learn about our fiduciary financial services in detail.
Is it Worth Change a Financial Advisor?
If you're already in partnership with a financial planner but aren't satisfied with their services, it's time to look for another expert. Below are a few reasons people call it quits with their financial advisors.
• Weak portfolio performance
• Stagnant advice
• Lack of communication
• Unreasonably high fees
• Mismatch of personalities, wealth management approach, or philosophies
We understand that telling your advisor about leaving may be hard and awkward. But it's the only way you can regain control over your financial situation and revive your portfolio.If you need help,read the tips in our guide for choosing the best financial advisor for taking your financial planning game to the next level.
When you start searching for a new expert, keep the following things in mind.
Their Wealth Management Approach Matches Your Vision
A financial planner is supposed to support and guide you on your wealth management journey. They are there to help you invest across asset classes to minimize financial risk. It's best to hire someone who works exclusively with high net worth and ultra high worth individuals. They will know how complicated financial situations can get for the affluent population. They must devise an action plan based on your unique goals and challenges to achieve your desired financial serenity.
You can read about enhancing portfolio performance in our exclusive guide here.
They Know How to Create the Right Balance between Performance and Risk
As an affluent individual, you must be looking forward to enjoying a financially secure future. This dream will only turn into reality if you have an effective plan in place to preserve and grow your wealth in the long run.
First off, you should stop chasing performance and start protecting your portfolio from unnecessary risks.An ideal financial planner will help you opt for solutions that generate greater returns in the long haul. There are five additional shifts that every affluent individual needs to make for a financially secure future, all of which have been discussed in our guide here.
They Use Industry-Best Strategies for Wealth Protection
Essentially, the role of a financial planning service is to use intelligent wealth management strategies to protect your assets. You must choose an expert who has earned a reputation for helping ultra high net worth people make the most of their assets and enjoy their wealth well into their retirement.
Please read our book, The Art of Protecting Ultra-High Net Worth Portfolios and Estates – Strategies For Families Worth $25 Million To $500 Million to gain an in-depth understanding of the importance of using the right strategies for successful wealth management.
Get Expert Advice from Unbiased Investment Managers at Pillar Wealth Management
Hiring a professional financial planning service is the key to developing a solid plan with tangible financial goals.A financial expert will help you stay on track and achieve all your goals in a timely manner.
If your liquid assets are worth $5 million to $500 million,our specialists at Pillar Wealth Management will be happy to support you on your wealth management journey. We have three decades' worth of experience working with affluent clients with unique requirements and complicated challenges.
Get in touch with us now to schedule a free consultation.
To be 100% transparent, we published this page to help filter through the mass influx of prospects, who come to us through our website and referrals, to gain only a handful of the right types of new clients who wish to engage us.
We enjoy working with high net worth and ultra-high net worth investors and families who want what we call financial serenity – the feeling that comes when you know your finances and the lifestyle you desire have been secured for life, and that you don't have to do any of the work to manage and maintain it because you hired a trusted advisor to take care of everything.
You see, our goal is to only accept 17 new clients this year. Clients who have from $5 million to $500 million in liquid investable assets to entrust us with on a 100% fee basis. No commissions and no products for sale.
Related Post
Retirement Advisors Near Me – Anyone that has worked hard throughout their career should be looking forward to a comfortable retirement…
Fee Only Wealth Management – Wealth management firms are crucial for high-net-worth individuals as well as…
Nashville Wealth Management – Are you finding yourself paying more and more taxes every year? Do you struggle to come…
High Net Worth Definition – High net worth, very high net worth, and ultra-high net worth individuals have different goals and aspirations…