Financial Planners
Although people say that money doesn't make you happy, the wealth you have (or don't have) can greatly impact the way you live. This is why you need Financial Planners to help you create a financial plan. According to economists, human wants can not be satiated despite our resources being limited. So, you have to ensure you plan your finances well in order to achieve your desires and your goals. If you want to not only protect your wealth but grow or multiply it as well, investments are the way to go. But, if you have a highnet worth, you surely already know the importance of making wise investments. The higher your investment portfolio is, the better chance you have to grow it even further. If your investment portfolio is $10 millionor above, check out our free resource. In this incredible guide, Pillar Wealth Management,LLC covers exactly what you need to know about investments and investing, as well as the need for a financial advisor to make sure that you get the best possible results from your finances.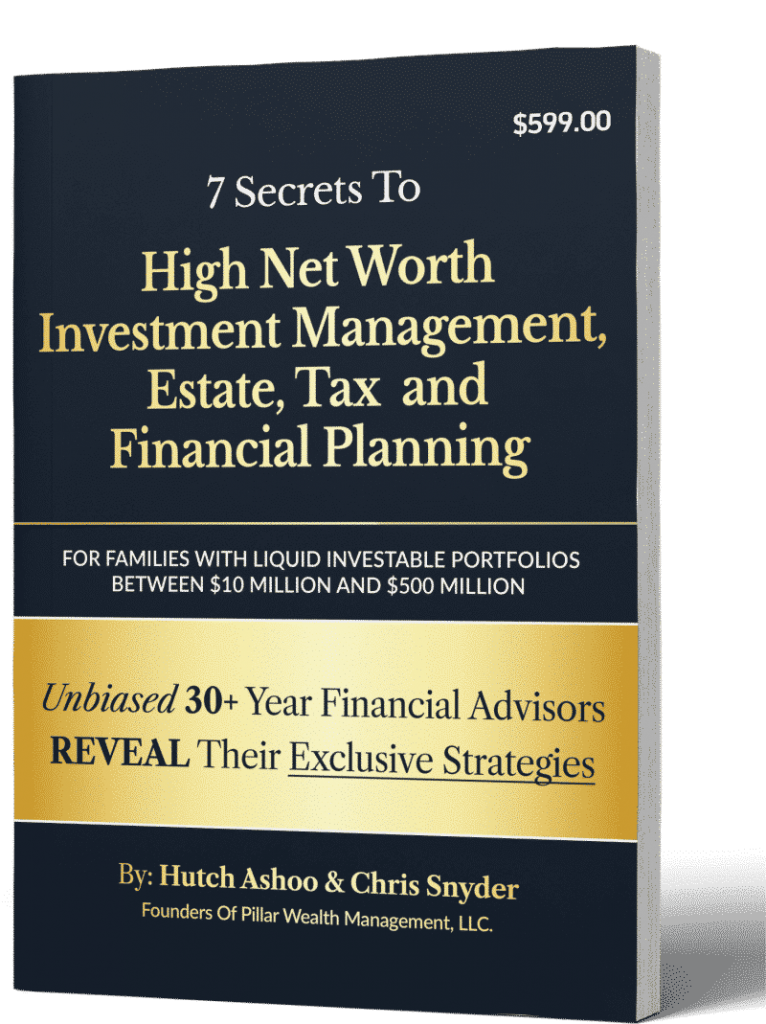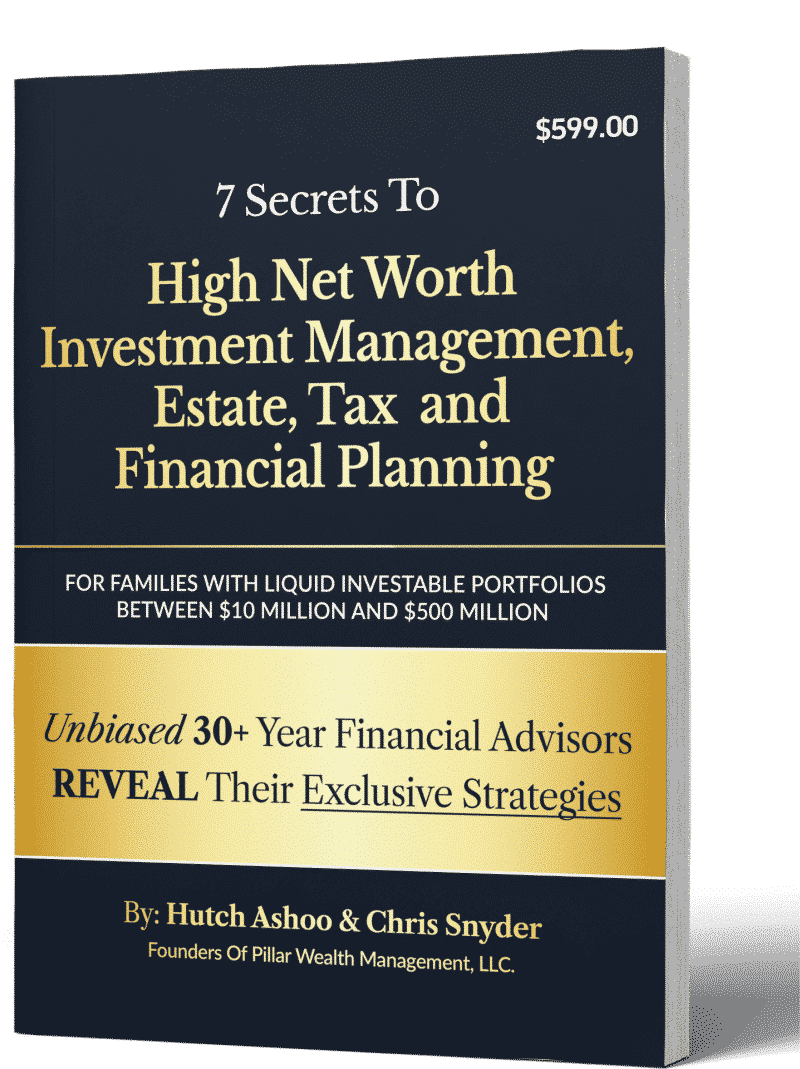 STRATEGIES FOR FAMILIES WORTH $5 MILLION TO $500 MILLION
7 Secrets To High Net Worth Investment Management, Estate, Tax and Financial Planning

The insights you'll discover from our published book will help you integrate a variety of wealth management tools with financial planning, providing guidance for your future security alongside complex financial strategies, so your human and financial capital will both flourish.
Clients frequently share with us how the knowledge gained from this book helped provide them tremendous clarity, shattering industry-pitched ideologies, while offering insight and direction in making such important financial decisions.
This article will explore the importance of financial planning and what you can do to create a plan. If you're interested in learning more about taxes, budgeting, investments, insurance, or anything that will help with your financial planning, this is the article for you. Becoming financially literate is important if you want your financial life to be fruitful. This article will thus encourage you to become financially literate and can even help high net-worth individuals as it was prepared by Pillar Wealth Management,LLC, a wealth-management-firm that caters to the needs of affluent clients who have between five million USD and five hundred million USD in liquid assets. If you "fall" into this class, you'll need to schedule a free consultation call with Chris-Snyder and Hutch-Ashoo, Pillar Wealth Management co-founders.
Types of Financial Planners
Before we begin to look at the types of financial planners that you can work with, let's first establish just how important a financial plan is. Before anything big is created such a house, a monument, a bridge, etc. something needs to be done first. A plan needs to be created! Diving in without a plan can work in certain scenarios, but having a plan will always increase your potential to succeed. You can create and edit a plan easily if you see any mistakes. If you simply build, fixing a mistake once it's already happened will be much harder.
Apply this analogy to your own financial fortune now. If you dive into increase your wealth without creating a plan first, you could make a mistake and lose it all. So, even if an idea seems great and like it will yield great results, that's not always the case. Making mistakes, such as making big purchases with little return, can negatively impact your long-term financial goals. You may end up spending all of your wealth in one go when you could have created a financial plan strong enough to make your wealth last for generations.
Thus, making a financial plan and sticking to it as best as you can is important if you want your financial goals to come to fruition. If you've never created a financial plan, even as a high net-work individual, it can be confusing. But, we're here to help! Let's explore the various types of financial planners that will help you create a financial plan.

Types of Financial Planners
As the financial world is so cast, there are many different types of financial planners for a variety of needs. There are insurance brokers, stockbrokers, bankers, and many other types of finance professionals that can be sorted into the category of financial planner.
No matter what their job description or title is, any financial planner or professional's basic duty is to help their clients manage, grow and protect their investments and wealth. For more information on the kind of professional advice you need to manage your considerable investments, you should schedule a free conversation with Hutch Ashoo and Chris Snyder, the co-founders of PillarWM LLC.
Even though there are many different types of financial planners that may be licensed to provide financial advice, it does not mean that each one will be right for you as your financial needs will vary compared to someone else's. This is especially true if you're a highnet worth individual because many financial planners have more experience working with and advising the middle class. This means that many won't have experience dealing with financial needs that are more complex, as is usually the case with high net-worth individuals. If you want some more information on improving your portfolio performance, get a copy of our guide, Improving Portfolio Performance: The Shifts Multi-Millionaires Must Make to Achieve Financial Security and Serenity.
So, as there is such a wide variety of financial planners, exploring them and narrowing down which is the best type for you is a good place to start.
Traditional, in-person Financial Planners
Having a plan is essential if you want to succeed. The easiest way to create said plan is with our first type of financial planner, a traditional financial planner. The best way to use a traditional financial planner is by considering your goals financially, then creating a financial plan that would help you achieve the goals holistically. If your goal is, for example, to secure your financial future, what steps will you take to work towards this? A good place to start is to figure out what investments you can make to accomplish your goal. Them, you need to plan how to manage your tax liability and use insurance products that can minimize your tax liability.
Using a financial planner is thus a good idea as you can both lay out all of your financial goals and then create an investment plan to help you achieve those goals and succeed financially. To find out more about how financial planning can help you manage your wealth, schedule a free conversation with Chris Snyder and Hutch Ashoo, the co-founders of PillarWM LLC.
There are, however, two major potential problems that arise when using a traditional financial planner. You may have already realized what the first challenge is as it is quite obvious. Simply having a financial plan is not enough to guarantee you will succeed financially. If you're already a highnet worth individual, this will be especially true for you. A financial planner alone can only take you so far. For example, a traditional financial planner may not be able tocreate investment opportunities and securities for you. This is a problem as you need them to achieve your financial goals. So, in addition to your financial planner, you will also need a financial professional. A financial professional will assist you to achieve your goals as they can purchase stocks, bonds, or any other security you need. You may need more-information about protect your investment portfolio & wealth. In that case, you can order for copy-of-our hardcover guiding book to help you, The Art of Protecting Ultra-High Net Worth Portfolios and Estates: Strategies for Families Worth $25 Million to $500 Million. Put-together by the team-PillarWM LLC, it'll provide you with strategies to protecting-and-growing-your-wealth.
Financial Planner vs. financial advisor vs. Wealth Manager
We now know that the main problem with traditional financial planners is that they are not able to implement your financial plan as they cannot buy or sell any type of securities. So, you need a financial professional such as an investment broker, otherwise known as a stockbroker. Investment brokers have extensive experience with investment solutions. This means they can assist you in achieving your financial goals by helping you invest your money wisely. If you want to improve your portfolio performance, get a copy of our guide, 5 Critical Shifts For Maximizing Portfolio Growth Strategies- For Families Worth $5 million to $500 million. This guide will show you the shifts that you must put your investment portfolio through in order to grow.
Although both a financial-planner and the investment broker are great, you should not have one without the other. Having both an investment broker and financial planner will help you create your financial plan and then actively work towards your goals by creating an investment portfolio. That being said, there are still flaws in this plan. The first flaw is that you need to find two professionals: an investment broker and a financial planner. While this doesn't seem like a big issue, you need to ensure you can work well with both people and finding one professional you can both trust and work well with is hard enough! Your finances and your financial goals are reliant on these professionals and if you can't trust them or you are not comfortable being open with them, achieving your financial goals may not be possible. Not only do you need to work well with them, but they also need to work well with eachother as well. By hiring a financial planner and an investment broker, you are creating your own team. If your team isn't on the same page or they can't work well together, you may not be able to see your plan through.
Additional Issues with Stockbrokers and Financial Planners
The other flaw of hiring a stockbroker is, that it can be a conflict of interest. This is because some stockbrokers get paid when you either buy a security or sell one as they make a commission. This can create a conflict of interest because the amount they make depends on the security you buy or sell. So, let's say you visit a stockbroker because you want to plan your retirement fund. You visit the stockbroker because you need to-know-more-about what mutual funds you can invest in to grow your savings for retirement. If you don't visit a good stockbroker, they may try to suggest a fund that has a high commission for them, regardless of whether or not the fund suits your needs the best. This in turn will be disadvantageous to your investment account because it doesn't fit with your financial plan. You will likely be none the wiser as well because there is no law saying an investment broker cannot do this, they only need to suggest a fund that can increase your retirement savings.
That being said, going to a good stockbroker can yield good results. An excellent stockbroker will recommend a fund that best suits your need, regardless of how much commission they make. The biggest issue here is that you can't be sure whether the stockbroker will be honest with you or not. If you work alongside a wealth manager or financial advisor, however, they will have your best interests in mind and help you make the best financial decisions possible.To know all the details behind selecting a financial advisor, our team at Pillar Wealth Management, LLC, created this valuable resource for you. Receive your copy of The Ultimate Guide to Choosing the Best Financial Advisor: For Investors with $5 Million to $500 Million in Liquid Assets. It will explain the steps and considerations behind selecting the right financial advisor.
The final option for managing your wealth is a wealth advisor. Wealth advisors are professionals that usually specialize in managing wealth for highnet worth and ultra-highnet worth individuals. A good wealth advisor will perform both a the financial planner and the investment broker's services and provide even more financialservices as may be applicable. If you need to know more about the duties that a wealth advisor performs and how it applies to you, you can schedule a no-obligation, free consultation call with Pillar Wealth Management,LLC co-founders Chris Snyder and Hutch Ashoo.
Working with Pillar Wealth Management as a Financial Planner
When you choose a wealth advisor or financial planner, one of the most important things to take into account is how long the firm has been providing financial advice to affluent clients. If a firm does not have the first-hand experience of working with clients of a similar stature to yours, their certification alone is not as important.
When it comes to managing the assets of highnet worth individuals in the US, Pillar Wealth Management,LLC is one of the top wealth management firms. They have experience more than thirty years of providing expert financial advice to wealthy clients between five million USD to five hundred million USD in liquid assets and managing investment portfolios of $10 million and higher. If you would like to take advantage of this wealth of experience, you can schedule a free consultation with Chris Snyder and Hutch Ashoo, the co-founders.
Related Post
Top Financial Planners – If you want to have a high quality of life, you should consider your financial plan..
How To Avoid Estate Tax

– If your net worth is above the $11.5 million (single) or $23 million (couple with a living trust)…

Financial Advisor Fees

– How much do financial advisors cost? If you like simple answers to complex questions because you don't want…

Best Wealth Management Companies – A higher "assets under management" number signals…