Wealth Advisors Near Me for Financial Management – PillarWM
Affluent people understand how important it is to ensure the growth and security of wealth that has accumulated over a lifetime. You may want to search for wealth advisors near me who offer wealth management services that cover high and ultra-high net worth individuals' needs. They not only create a plan for you to increase your wealth, but also create a plan to ensure a secure future for you and your family. If your family has over $10 million in liquid investments, you would be better off hiring an advisor trained for the job. Our Ultimate Guide, exclusive for ultra-high net worth families, outlines the characteristics you should look for in your financial advisor.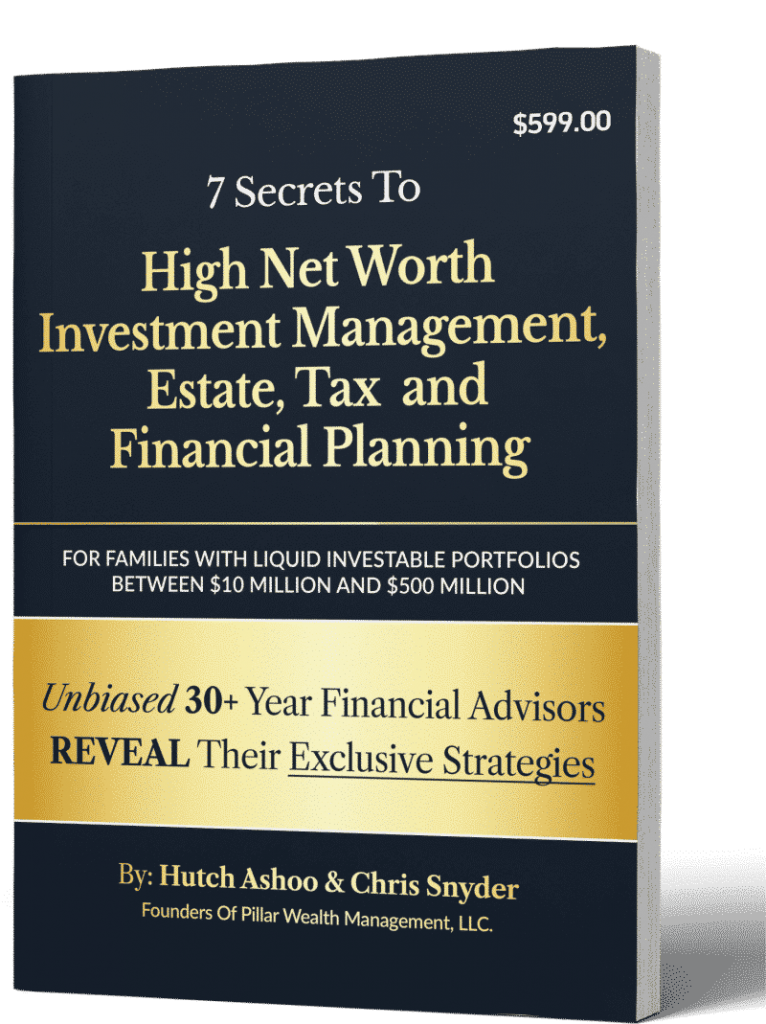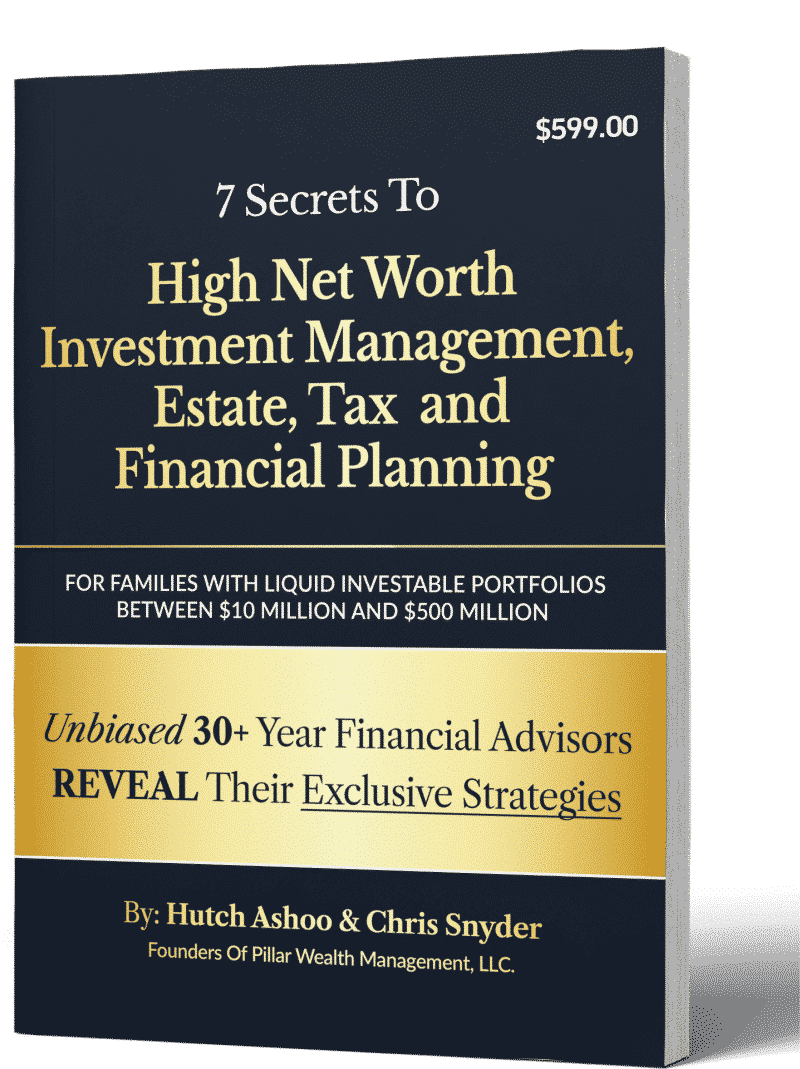 STRATEGIES FOR FAMILIES WORTH $5 MILLION TO $500 MILLION
7 Secrets To High Net Worth Investment Management, Estate, Tax and Financial Planning

The insights you'll discover from our published book will help you integrate a variety of wealth management tools with financial planning, providing guidance for your future security alongside complex financial strategies, so your human and financial capital will both flourish.
Clients frequently share with us how the knowledge gained from this book helped provide them tremendous clarity, shattering industry-pitched ideologies, while offering insight and direction in making such important financial decisions.
Pillar Wealth Management is a private firm that offers wealth management services to families and investors with a net worth of $5 million to $500 million in liquid investments. We understand your unique needs as an affluent individual and help you achieve your goals using the best strategies to enhance your financial growth. You can book a free consultation with one of our expert wealth managers to get started on your road to financial serenity.
Who Are Wealth Advisors?
Wealth advisors give financial advice specific to wealthy investors who have millions of dollars in liquid investments. Their experience with an affluent clientele allows them to ascertain the high net worth and ultra-high net worth investors' wants. They use their knowledge to implement methods and strategies that help obtain lucrative results. For example, using techniques to maximize the performance of your investment portfolio. You can read more about how these strategies help you earn more profits in our Performance Guide.
Wealth advisors offer wealth management advice to help you restructure your financial life and invest your assets in the appropriate vehicles. It involves boosting your cash flow, enhancing your passive income, securing your active income, and deciding the best insurance policies for your financial profile. Affluent investors are more concerned with aspects such as tax mitigation, inheritance planning, and estate planning, which a wealth advisor is well-versed in.
Legal, strategic wealth advisors can help you protect your wealth from liabilities and threats such as inflation, taxes, lawsuits, and more. Your family is more at risk when you don't understand how different factors can pose a threat to your wealth. You can read about these threats and how to safeguard your wealth from them in our book, The Art of Protecting Ultra-High Net Worth Portfolios and Estates – Strategies for Families Worth $25 Million To $500 Million.
What Do Wealth Advisors Do?
Before you go and hire one, you might be wondering, "What do wealth advisors do?" In addition to advising you on financial management, they help you manage your money and portfolio in a way that lets you live the life that you want.They offer an array of services that suit affluent investors, some of which are discussed below.
Financial Planning
Establishing your future financial and life goals is crucial for any successful wealth management case. Your financial plan determines the rest of your wealth management process. A wealth advisor will consider life-changing circumstances and your short-term and long-term goals to direct you to the appropriate course of action.
Investment Management for Wealth Enhancement
Wealthy investors are more cautious about where they invest their assets but may lack the expertise to make the best decisions. Wealth advisors are well-versed in market patterns, fluctuations, risk tolerance, and asset allocation. They have years of experience and can guide you to invest in vehicles that provide you sustainable growth while reducing your costs. They use strategies and methods, such as creating a diverse investment plan, to get high returns from your portfolio. Here are five critical shifts that can help you get the most growth out of your portfolio.
Protecting Your Wealth
The best wealth advisors can foresee risks and challenges that wealthy people can face. They have the knowledge of effective risk mitigation techniques to help you retain as much of your money as possible. Moreover, legal, strategic wealth advisors guide you through your assets' legal protection from lawsuits, debt, and other liabilities. Since this differs with each person, your wealth advisor can make sure to analyze and implement the strategies and insurance policies that work best for your unique situation. With this, you can rest assured that your and your family's financial future will be secure.
Tax Management
The higher your net worth, the more you are affected by taxes. This is because wealthy investors have a higher potential to lose money unnecessarily since they are in the highest tax bracket. A good wealth advisor can help you save money wherever possible by reviewing your income, expenses, and tax liabilities. Tax mitigation needs to be done by an expert, which is why at Pillar Wealth Management, we work with tax experts to legally bring down the amount of money you lose. Schedule a meeting with us to learn how we can help you with your taxes.
Legacy and Estate Planning
When you've worked your whole life to build your wealth and achieve success, your goal is to protect it and leave it in reliable hands when you're gone. Wealth advisors understand this and can help you objectively draft an inheritance plan for your family. Dividing your assets between beneficiaries in a sustainable way can be a difficult task. Fortunately, wealth advisors are equipped to deal with estate planning and legacy planning. If you have more than $10 million in liquid investments, our Ultimate Guide is intended to help you find the best advisor for your financial profile.
Retirement Planning
After working all their lives, every successful person dreams of retiring comfortably. For high net worth and ultra-high net worth investors, this means maintaining their standard of living once they retire. A wealth advisor can provide you with retirement options and strategies that allow you to reap the rewards of your hard-earned wealth for the rest of your life.
How are Wealth Advisors Different from Financial Advisors?
If you're looking for wealth advisors near me, you might have come across financial advisors, leading you to wonder how the two are different.
Financial advisors cater to the financial needs of people from all kinds of backgrounds. They can cover various financial aspects, depending on what you need, for example, insurance planning. They might not have the expertise to deal with the financial profile of high net worth or ultra-high net worth clients.
Wealth advisors or wealth managers cater to high-earners' needs by maximizing their cash flow and reducing their risk. They give a more comprehensive plan for your goals by analyzing your liabilities, home equities, assets, and debts. This helps them create or adjust your investment portfolio to be aligned with your future financial goals.
Financial advisors can vary in terms of their services, while wealth advisors have a more holistic approach to your financial management. Since wealth advisors cater only to clients with a high or ultra-high net worth, they are more capable of managing high-value assets. Legal, strategic wealth advisors know how to safeguard your wealth from threats and unnecessary costs. For example, they can implement strategies that reduce the amount of money you owe in taxes.
How Wealth Advisors Can Help You with Wealth Management
Wealth advisors can provide you with a personalized experience that suits your lifestyle and future goals. They are skilled in optimizing your wealth to minimize risk and maximize returns. Unlike private banking, which cannot give you the same level of financial growth that your wealth demands, wealth advisors plan a diverse investment portfolio across multiple vehicles.
The wealth management services offered by wealth advisors include creating strategies for high cash flow generation. They consider your investment objectives, the amount of capital you have at your disposal, your risk tolerance, time frame, and liabilities. This helps them streamline your asset allocation to improve your overall financial status.
Finding the Best Wealth Advisors Near Me
When you're looking to hire any financial advisor, it is best to understand the traits and capabilities that differentiate a good financial advisor from a great financial advisor. For this, you must research into whose hands you will trust your wealth. This will include analyzing the advisor themselves, their strategies, mindset, and even the firm they are employed in. Our Ultimate Guide will equip you with the knowledge to hire the best financial advisor for yourself.
So, when you search for wealth advisors near me, how can you select the best one?
Many successful wealth advisors and wealth managers have credentials to back up their experience. It is useful to do a background check into their certifications, i.e., whether they are a fiduciary or non-fiduciary advisor.
As affluent investors, you have high-value assets that need to be dealt with by someone who has the relevant experience. Wealth advisors who have previously worked with high and ultra-high net worth clients will not get overwhelmed when left to deal with multiple assets. Moreover, they can analyze your current and future needs and recommend a plan that does more than give you high returns.
One of the signs that your wealth advisor is a professional is that they will prioritize consistent asset allocation. This helps optimize your portfolio for maximum growth. Top wealth advisors know how to eliminate unnecessary costs that can drain your wealth and make unbiased decisions concerning your retirement, estate plans, family inheritance, and risk management.
So, the next time you sit with a potential candidate, be sure to ask them about the strategies they can implement and how they can improve your portfolio to help you achieve your goals. Fiduciary wealth advisors give you the reassurance of providing you with highly ethical and unbiased advice. Our wealth managers work tirelessly to uphold fiduciary standards. Contact us to set up a meeting with one of them.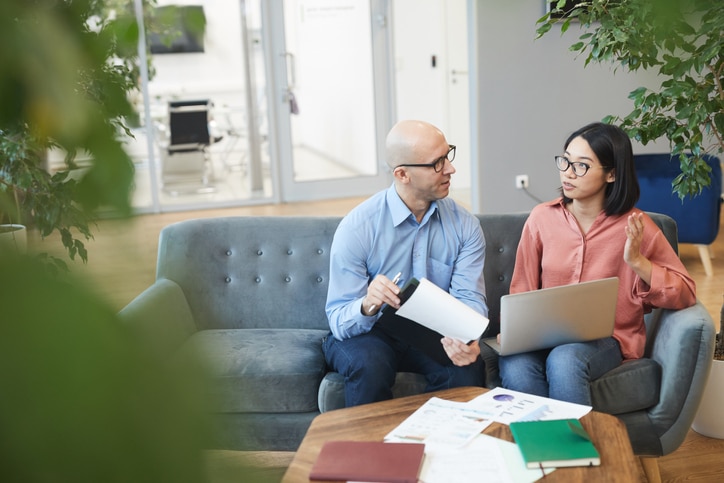 How Much Fees Do Wealth Advisors Charge?
You might be wondering, "How much does it cost to hire a financial advisor?" For financial advisors, this can differ based on the services you choose to avail, along with their payment structure. A commission-based financial advisor will charge differently from a fee-based financial advisor.
Typically, financial advisors and wealth advisors charge an annual fee of 1% of assets under management. This can fluctuate with different wealth management firms or private wealth advisors, so it is wise to discuss your fee structure in your first consultation. At Pillar Wealth Management, we disclose our fixed annual rate beforehand, which covers an array of services.
Takeaway
Keeping everything we discussed in mind, you will know exactly what to look for when you search for "wealth advisors near me." Having a mutual understanding and excellent communication with your wealth advisor is essential to create the best strategies and financial plan for yourself.
Pillar Wealth Management is a fee-only, white-glove, private wealth management firm that caters to affluent families. Our wealth managers are experienced in giving wealth management advice to investors with a high and ultra-high net worth of $5 million to $500 million in liquid investable assets. We understand your unique goals and recommend customized financial solutions to enhance your wealth and help you achieve financial serenity. Schedule a free consultation with one of our wealth managers today!
Related Posts
Estate Planning – Individuals with a high net worth or an ultra-high net worth spend an ample amount…
Wealth Management Firms

– We live in the age of the one-stop-shop. Big box retail is all about finding everything in one location…

Affluent – One of the biggest concerns for affluent individuals is about protecting their assets and preserving their wealth…
Investors – One of the biggest concerns for affluent individuals is about protecting their assets and preserving their wealth…