Top Financial Advisory Firms: Do You Need One? PillarWM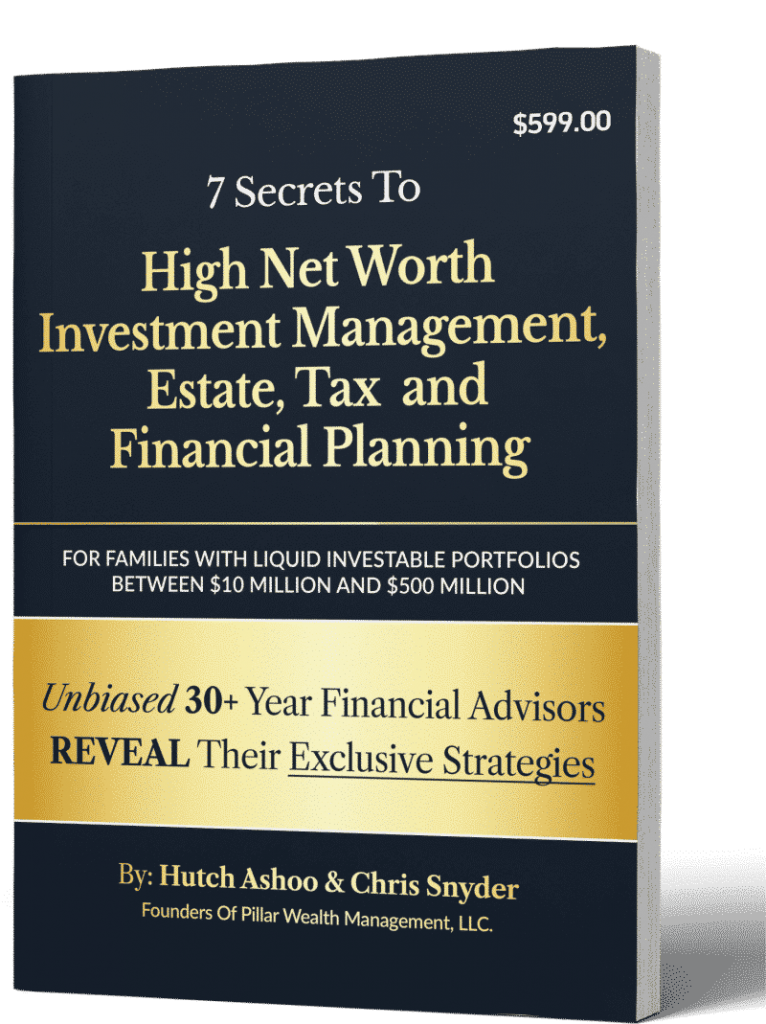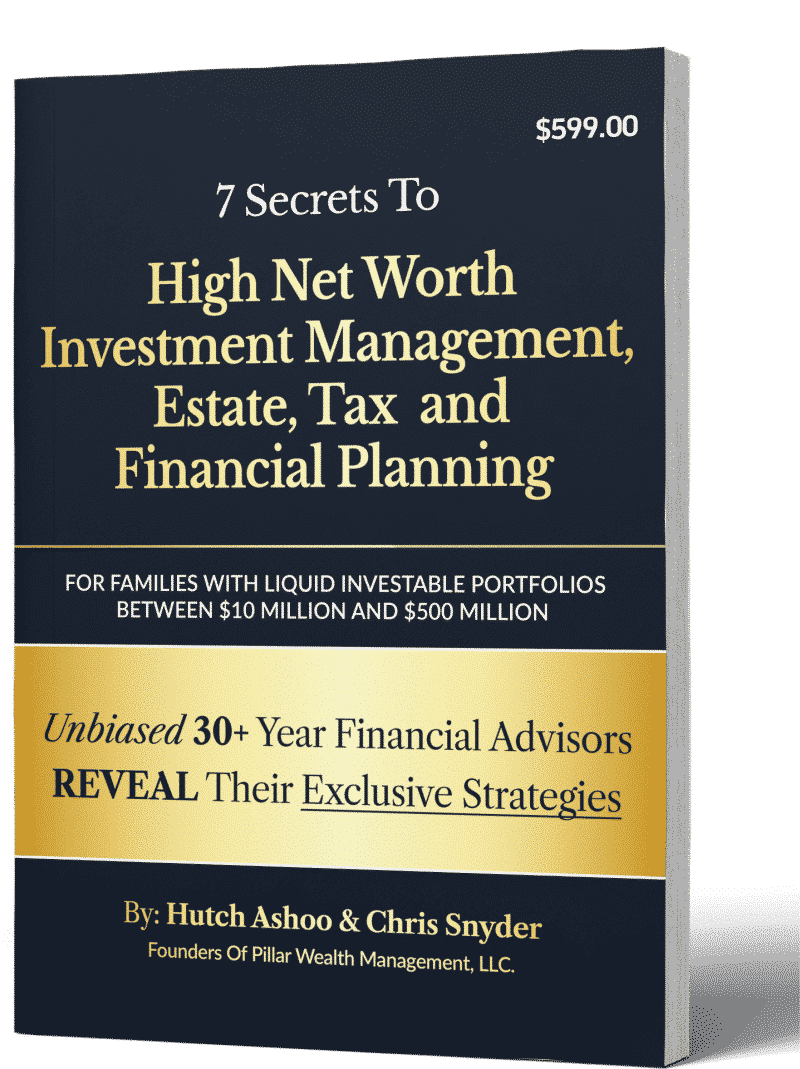 STRATEGIES FOR FAMILIES WORTH $5 MILLION TO $500 MILLION
7 Secrets To High Net Worth Investment Management, Estate, Tax and Financial Planning
The insights you'll discover from our published book will help you integrate a variety of wealth management tools with financial planning, providing guidance for your future security alongside complex financial strategies, so your human and financial capital will both flourish.
Clients frequently share with us how the knowledge gained from this book helped provide them tremendous clarity, shattering industry-pitched ideologies, while offering insight and direction in making such important financial decisions.
At Pillar Wealth Management, we specialize in offering financial advisory services to high net worth and ultra-high net worth individuals and families with liquid wealth worth anywhere between $5 million and $500 million. Our team of financial advisors has an accumulated experience of over six decades and is highly knowledgeable about the unique problems faced by the ultra-wealthy. We use multiple tools to develop financial plans for our affluent clients so they can meet their financial objectives and reach financial serenity. Want more information on how we can improve your financial situation? Head over to our website to set up a free meeting with one of our team members.
In this article, we will take a deeper look at what the top financial advisory firms actually do, whether you should use and pay such firms, and how you need to choose them. Let's get started!
What Do the Top Financial Advisory Firms Do?
To answer this question concisely, the top financial advisory firms help you improve your financial situation and attain financial serenity. When you own liquid assets worth millions, you will have to make several difficult financial decisions.
If you feel financial advisory firms will just give you advice on how to make these decisions, you're not 100 per cent right. The top financial advisory firms can do much more than simply offer advice. As a wealthy individual, you might have accumulated all this wealth, but that doesn't always imply that you have the skills or resources to ensure you successfully increase your wealth while securing your assets.
That's precisely what the top financial advisory firms do. They leverage their experience and expertise to help you make the best decisions that lead you to your targets. They make sure that your assets and wealth is adequately secure from market risks. Most importantly, the top financial advisory firms help you achieve true financial serenity where you don't have to stress over your financial future. To do this, they offer a range of services, which usually include the following –
• Investment and portfolio management
• Retirement planning
• Risk management
• Tax planning and management
• Legacy and estate planning
Visit our website to find out more about the services we offer at Pillar Wealth Management.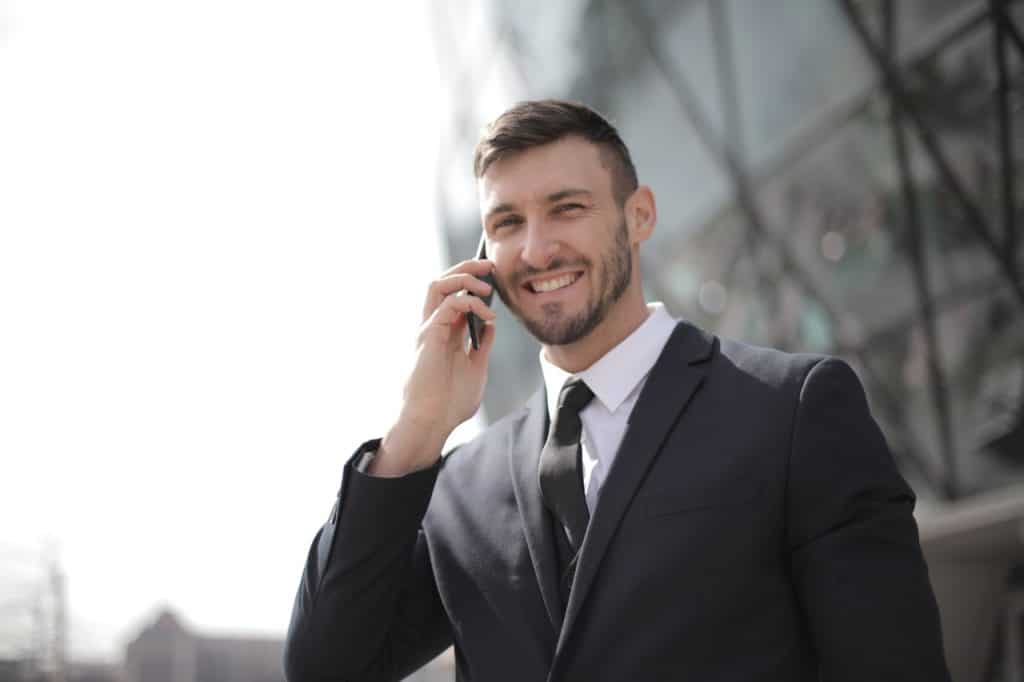 Should I Use A Financial Advisory Firm?  
Many high net worth and ultra-high net worth investors are a bit wary of using a financial advisory firm. One of the many questions they have regarding financial advisory is "Should I pay a financial advisory firm?" They believe that working with and paying one of the top financial advisory firms is of no use since all the information they need regarding making sound investment and financial decisions is available online.
If you are in the same boat, you need to ask yourself the following questions to determine if you need to work with a financial advisory firm.
• Do you have sound knowledge of the various investments available in the market?
• Do you enjoy reading about financial topics and wealth management and researching certain assets?
• Do you have expertise in financial instruments?
• Do you have sufficient time to track, assess, and make periodic changes to your investment portfolio?
If you answered yes to the questions mentioned above, you might not need to work with a financial advisory firm. But, even if you did answer yes to those questions, you can still be at risk of making fear-based or emotional errors when it comes to managing your finances.
In fact, here is a list of situations when you really need to work with a top-rated financial advisory firm.
You Are Going Through A Major Change in Life
All major changes that happen in your life have some financial implications. For example, if you are getting married, you need to merge your wealth and finances with your spouse's. On the other hand, if you're thinking of starting a family, you will have to plan for your children's future educational costs. And if you're getting a divorce, you will have to sort out various financial problems such as the payment of alimony or child support.
Generally speaking, significant life events, such as getting married, purchasing a new home, starting a family, launching a business, can noticeably influence your financial situation. If you are going through a major change in life, you can definitely benefit from working with one of the top financial advisory firms. Read our special guide and learn what your financial advisor should do when your life situation changes.
You Wish to Live A Stress-Free Retirement
Having a stress-free retirement is every person's dream. But the actual struggle is translating the dream into a reality which is even more challenging for wealthy individuals who have a complex set of retirement goals. For instance, you might want to invest in the real estate market, set up a charity foundation, launch a new business, etc., all of which mandates comprehensive planning. And that's what the top financial advisory firms are all about.
Additionally, retirement planning takes up a lot of time and is certainly not a task you can take up only a few years before retirement. The truth is that it demands many years of meticulous planning. The top financial advisory firms focus on providing in-depth suggestions to ensure that you stay financially stable even after you retire. The top financial advisory firms will ensure that you have a well-thought-out asset allocation and investment strategy that's aligned with your overarching financial goals.
At Pillar Wealth Management, our team can curate feasible and practical strategies to help you live a comfortable and hassle-free retirement. We have even developed a guide discussing the five paradigm shifts you need to make to drive up investment performance that will essentially help you spend a peaceful retirement.
You Want to Lower Your Tax Bills
Every financial transaction you make, whether it's moving securities, transferring estate, or investing in real estate, creates some tax burden. Consequently, such taxes can cost you a considerable amount of your wealth every year.
Even though taxes aren't something you can completely avoid, you can definitely limit the amount you need to pay. This is another reason why you should use a financial advisory firm – it helps you lower the payments you need to make to Uncle Sam.
Advisors at the top financial advisory firms account for every financial transaction's tax implication and then come up with relevant strategies to lower it. For example, they can help you strike the perfect balance between active and passive investments. Read our guide here and discover how the financial experts at Pillar Wealth Management can help you cut down on taxes and other expenses.
You Want to Secure Your Wealth from All Kinds of Risks
Only you know how much resources, efforts, and time it takes to amass liquid wealth worth $5 million and above. Hence, you will certainly wish to take all available steps to make sure that the wealth you have accumulated is appropriately protected and secured. There are hundreds of horror stories of affluent families and individuals who suddenly went bankrupt because of some unprecedented market turn or because they developed a severe illness that they had not thought of.
This is why you should use the risk management services provided by the top financial advisory firms. These experts will ensure you have the best asset allocation and investment diversification plans to secure your wealth from fluctuating market conditions. In addition, the advisors at the top financial advisory firms will even help you get the pertinent insurance policy to keep your financial situation stable if something bad happens to your physical health. We highly recommend you read our book, The Art of Protecting Ultra-High-Net-Worth Portfolios and Estates – Strategies for Families, Worth $25 million to $500 million, where we shed light on risk management and its value.
4 Key Ways to Find the Top Financial Advisory Firms
If you have made up your mind to work with one of the top financial advisory firms, the first question you will think of is, "How do I choose among the top financial advisory firms?" You need to ensure that you don't end up paying for services you don't require or work with a firm that isn't a right fit for your financial objectives.
With so many people claiming to be financial experts, it can undoubtedly be a huge challenge to figure out which firm is your best choice. So, to help you, here are some steps to follow to make sure you choose and work with one of the top financial advisory firms that is right for you. Or if you want more detailed information, you can peruse our comprehensive guide on choosing the best financial advisor.
Step #1 – Determine What Services You Need
An important factor in choosing one of the top financial advisory firms is deciding what services you need from them. For example, if your main focus is retirement planning, you need to work with a firm that specializes in retirement planning. There are several specializations in the financial advisory industry, such as the ones listed below:
• Retirement planning specialists help you plan for your retirement.
• Wealth management firms require you to have a minimum of $1 million in assets and can create comprehensive financial strategies for you that encompass every aspect of your financial life.
• Estate planners ensure that your estate reaches your beneficiaries in a tax-efficient manner.
Step #2 – Learn About the Different Types of Financial Advisory Firms
Part of learning about the various types of financial advisory firms is comprehending fiduciary duty. Some, not all, of the top financial advisory firms are bound by fiduciary duty, which means that they have a legal requirement to work in their client's best interests. Other firms are only bound by a suitability standard, which means they only suggest products that are appropriate for you – even if they are costlier and get them an increased commission.
Here are some of the different types of financial advisory firms you can choose from –
• Fee-Only Financial Advisory Firms. These types of firms earn money from the fees you pay in exchange for their services. The fees can either be charged as a fixed percentage of the assets they manage on your behalf or as a flat rate.
• Commission-Based Financial Advisory Firms. These firms make money by earning commissions from the investment or financial products they recommend or sell you.
• Fee-Based Financial Advisory Firms. These firms charge a fixed fee and also earn through sales commissions.
At Pillar Wealth Management, we have a fee-only business model. Click here to speak to our fiduciary advisors.
Step #3 – Vet the Financial Advisor Firms Background
You need to ensure that the firm you are working with is capable and trustworthy. Thus, when choosing a firm, you have to factor in their credentials as well as research their background. For instance, look at how much experience they have in the industry and what kind of clients they usually offer.
You can check complaints and disciplinary actions filed against a financial advisor firm using FINRA's BrokerCheck tool. Keep in mind that just because a firm is a part of a financial planning association doesn't necessarily mean they work as a fiduciary.
Step #4 – Meet the Financial Advisors at Your Shortlisted Firm
in your introductory meeting with a financial advisory firm, make sure you get the answers to any questions you may have and that you are satisfied with their responses.
• What is your approach to financial planning?
• What financial advisory services do you offer?
• What kind of clients do you generally work with?
Enlist Pillar Wealth Management
At Pillar Wealth Management, our skilled and experienced financial advisors work closely with affluent individuals to learn about their unique financial situations and create tailored financial plans. So, get started with your financial plans by registering for a free meeting with our team today!
To be 100% transparent, we published this page to help filter through the mass influx of prospects, who come to us through our website and referrals, to gain only a handful of the right types of new clients who wish to engage us.
We enjoy working with high net worth and ultra-high net worth investors and families who want what we call financial serenity – the feeling that comes when you know your finances and the lifestyle you desire have been secured for life, and that you don't have to do any of the work to manage and maintain it because you hired a trusted advisor to take care of everything.
You see, our goal is to only accept 17 new clients this year. Clients who have from $5 million to $500 million in liquid investable assets to entrust us with on a 100% fee basis. No commissions and no products for sale.
Related Post