7 Questions to Ask a Financial Advisor before Hiring Them
People with more than $5 million in investable wealth spend a considerable amount of time and effort exploring their retirement and wealth management options to achieve financial serenity in the long run.If you're also an affluent individual, you may have thought about working with a financial advisor because, let's be honest, you don't have enough time (and perhaps the knowledge) to handle your personal finances. A financial advisor possesses strong expertise and experience in working with clients with varying portfolios.They can advise you on critical matters and help you put together an effective wealth management plan tailored to your needs and goals.If hiring a financial advisor seems like the right thing to do, don't forget to read our exclusive guide to discover the key characteristics you should look for when interviewing prospects. This will help you understand which questions to ask a financial advisor before hiring them.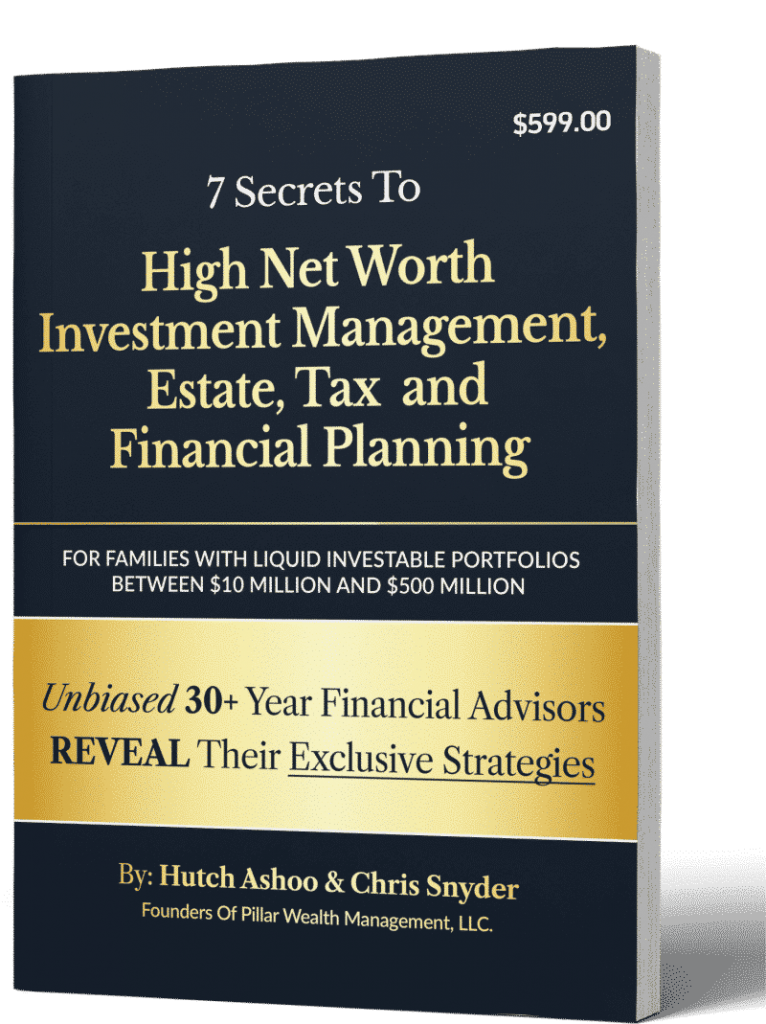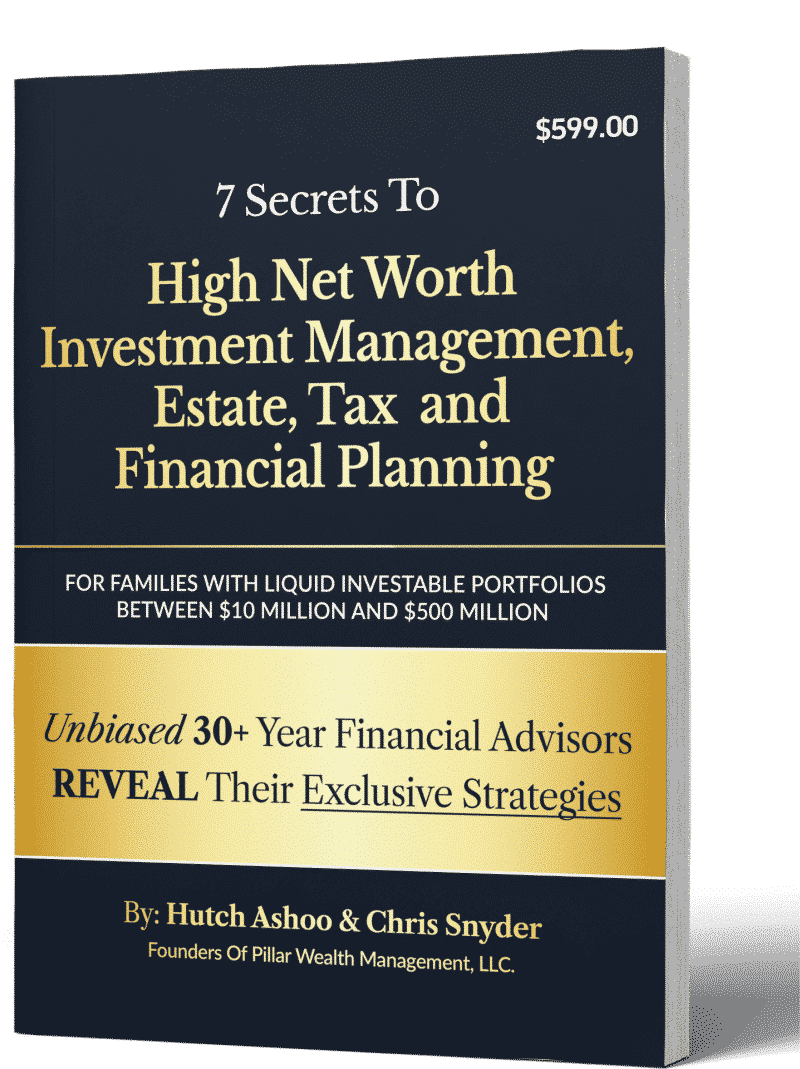 STRATEGIES FOR FAMILIES WORTH $5 MILLION TO $500 MILLION
7 Secrets To High Net Worth Investment Management, Estate, Tax and Financial Planning

The insights you'll discover from our published book will help you integrate a variety of wealth management tools with financial planning, providing guidance for your future security alongside complex financial strategies, so your human and financial capital will both flourish.
Clients frequently share with us how the knowledge gained from this book helped provide them tremendous clarity, shattering industry-pitched ideologies, while offering insight and direction in making such important financial decisions.
To get answers for your financial advisory services questions, feel free to start a conversation with one of our members at Pillar Wealth Management.Our team specializes in helping clients with liquid assets worth between $5 and $500 million achieve their short- and long-term objectives.We pride in assisting wealthy individuals in making intelligent and profitable investment decisions and carrying out tasks related to retirement planning,tax planning, estate planning, and investment management.
Who Should Work With a Financial Advisor?
Some wealthy individuals rely on the information available on a multitude of websites, books, and print media for managing their wealth.So is there really a need to work with a financial advisor?
Well, below are a few questions you need to ask yourself before you decide what's best for you.
• Do you have enough time to handle your finances and track your progress on your financial goals?
• Do you have ample knowledge of investments?
• Do you enjoy researching topics related to personal finances and wealth management?
• Do you like learning about specific assets?
• Do you know how to use financial instruments?
• Do you have the time and capability to monitor and evaluate your investment progress and make adjustments to your portfolio?
While taking the DIY route is an option, you'll have to invest a lot of time and effort into keeping track of several changes, involving those related to investing and insurance regulations.Updates in tax law and changes in mutual fund options can also affect your financial affairs.Moreover, you'll have to stay updated about the performance of popular and emerging financial products.
Besides these things, below are a few reasons for hiring a financial advisor.
• Your golden years are approaching and you want to make sure you're on the right track to achieving your long-term goals
• You recently tied the knot and want some assistance in managing your finances as a couple
• A family member left you a considerable amount of wealth and you're seeking help for investing it smartly
• You don't enjoy or have the time to manage your money and are looking for a professional who can make the right financial decisions on your behalf to ensure a financially secure future
• You like managing your wealth and investments but want a second opinion to see if you're missing out on any opportunities
Anyone who wants to build a long-term financial plan and a retirement timeline based on their individual needs and objectives should consult with an expert.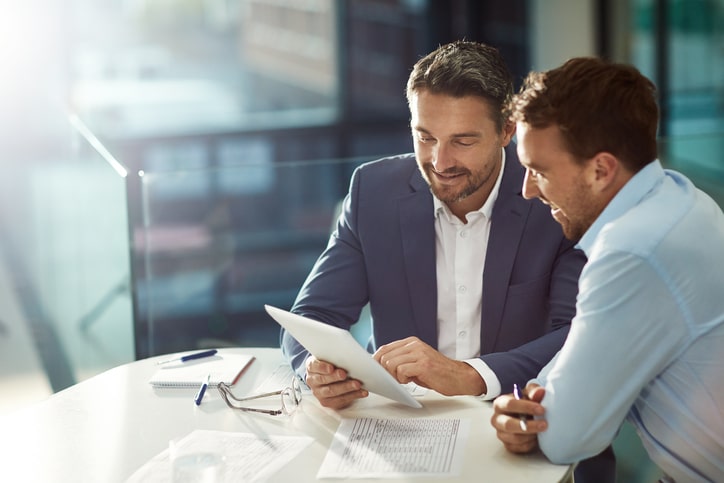 Top Seven Questions to Ask a Financial Advisor before Hiring Them
Choosing a financial advisor may not be an easy decision, considering the variety of options out there. You'll find several professionals claiming to offer the best services at the most competitive rates, guaranteeing financial serenity in the long haul.
So, how do you know which expert is right for you?
Well, you need to do your research and interview multiple specialists before you hire one. You can learn about the key factors that you must keep in mind when choosing a financial advisor in our helpful guide here.
For your convenience, we've listed the top questions to ask a financial advisor before hiring them below.
So, let's dive right in!
1. What Are Your Qualifications?
First things first, you must inquire about a financial advisor's qualifications. You may notice that these experts have a list of initials following their names. You can head over to the Financial Industry Regulatory Authority's database to check the meaning of different professional designations. It also explains the educational requirements for the position and if someone accredits the designation. Additionally, you maybe able to check the professional status of a financial advisor and check if there's a list of disciplinary actions.
That being said, it's imperative to vet a professional regardless of their designation.
2. What Benchmarks Do You Use?
Financial advisors generally use investment benchmarks that tell you what they believe and are invested in or explain why they don't.
Choosing the right investments for your portfolio is an on-going task, mainly because the market is ever-changing. The right financial advisor will stay abreast of your portfolio's performance and switch your investments if things don't seem to be going in your favor. This is where their investment benchmark comes in –it's the standard against which they measure the performance of your investments.
For example, a professional may utilize Standard & Poor's 500 Index to track the overall performance of the stocks of the largest 500 US companies. As long as you plan on investing in large-cap stocks, this benchmark will work for you. With that said, beating this benchmark won't be a challenge if you're opting for riskier investments. On the contrary, it won't be possible if you've taken on a conservative route.
During the initial consultation, your financial advisor will explain why they think a particular benchmark is ideal for your portfolio. If you think it doesn't match your investments, feel free to ask questions. They should explain their point of view until you're 100% satisfied. They must also devise a plan to put your investments back on track in case things don't go as planned.
Essentially, you should have a basic understanding of portfolio optimization to ensure you're on the same page as your financial advisor. Go through our guide to learn how you can enhance the performance of your portfolio.
3. Who is Your Custodian?
In general, financial advisors work with an insurance company, bank, or brokerage. These companies serve as custodians for your investments. Basically, you won't be handing over your money to your advisor but putting it into insurance, brokerage, or bank account. Your advisor will be managing this account for you. This means when your financial advisor sends a statement confirming the current amount in your account, which you can double check with the custodian.
Ideally, your financial advisor should have an independent custodian who you should know from the beginning. You must be able to contact them any time to confirm the status of your account.
For more information in this regard, feel free to reach out to our team.
4. Who Are Your Typical Clients?
As an affluent individual, you must ensure that your financial advisor has several years' worth of experience working with high net worth and ultra-high net worth individuals with investment needs similar to yours.It'll be best if they work exclusively with these clients because their financial situations, risks, and challenges are far more complicated than an average American.
You should avoid hiring an advisor who works with anyone who walks through their doors.
5. What is Your Investment Approach?
It's imperative to inquire about the investment approach of an expert. Make sure you work with someone whose investment philosophy matches your values.
You should also determine if they'll help you maximize your savings alongside investing your wealth in the right places. This is the ultimate way of preserving your wealth. Your financial advisor should help you create an effective investment and savings plan to guide you in achieving your long-term goals.
Another strategy that significantly helps protect and grow wealth is portfolio diversification. Based on the current market conditions, your advisor must spread your wealth across asset classes to minimize risks.To delve deeper into this matter, please read our book, The Art of Protecting Ultra-High Net Worth Portfolios and Estates – Strategies For Families Worth $25 Million To $500 Million.
6. What Asset Allocation Strategy Will You Use?
Since it's crucial to create a well-diversified portfolio, you must ask how your financial advisor plans to achieve that. Will they focus on investing in high-risk products that offer temporary, short-term gains?
As an affluent individual with more than $5 million, you must stop chasing portfolio performance and focus on achieving long-term financial security. You should aim to maintain a balance between profits and security. Hence, find a financial advisor who understands your situation and helps you secure investments that promise big rewards in the long run.
This is one of the five essential shifts that all high net worth and ultra-high net worth individuals need to achieve financial serenity. Read about the other five shifts in our guide here.
7. Are You a Fiduciary?
This is also among the key questions to ask a financial advisor before hiring them is if they're a fiduciary.You should work with a fiduciary financial expert because they're legally and ethically obligated to act in your best interests. Here's what a fiduciary does:
• Place your interests above everything else
• Be transparent about their fee structure
• Explain how they get paid
• Reveal any conflicts of interest
Simply put, a fiduciary financial advisor will choose the investments that best suit your needs and situation even if they get paid less. Their services don't involve any hidden or unexpected costs. On the other hand, a non-fiduciary professional will choose a product that's 'suitable' for you. They won't hesitate to recommend an investment with higher fees or low returns if it offers them a higher commission.
To make sure your financial advisor is impartial and unbiased in all their dealings, choose someone who is a fiduciary. To talk to a fiduciary financial expert, feel free to contact us today.
Get Expert Wealth Management Services at Pillar Wealth Management
Now that we've discussed the questions to ask a financial advisor before hiring them, you must be looking forward to partner with an expert to ensure you have an effective financial plan in place to achieve all your short and long-term goals.
Pillar Wealth Management is one of the best options out there for high net worth and ultra-high net worth individuals. Our fiduciary financial advisors only work with clients who possess $5 to $5 million in investable liquid assets. We're committed to creating custom-tailored financial plans, depending on your circumstances, needs, and investment objectives. For us, your satisfaction and interests are top priorities. This eliminates all conflicts of interest from the equation.
Furthermore, we have a transparent fee structure to ensure your peace of mind, which means there won't be any unpleasant surprises after you sign up for our financial advisory services. Leveraging their knowledge and resources, our experts will help you preserve and grow your wealth and create the legacy of your dreams.
Schedule a no-strings-attached initial consultation with an unbiased financial advisor today.
Related Post