Pension Advisors: What You Need to Know about Working with One
Ever thought of working with pension advisors? Coming from a financial expert who has worked with high net worth and ultra-high net worth individuals, pension advice can help maximize your retirement savings. It will also ensure that you maintain a lifestyle of your choice when you eventually stop working. Choosing the right advisor is the key. For insider strategies and tips request the full copy of our book, 7 Secrets to High-Net-Worth Investment Management, Estate, Tax, and Financial Planning.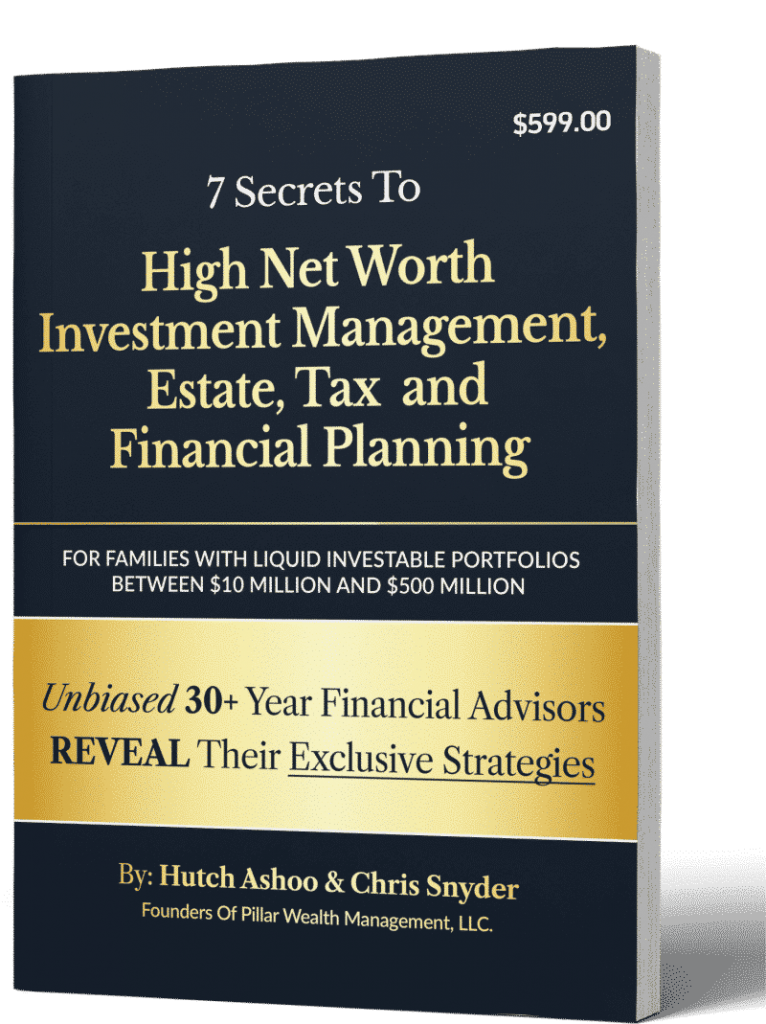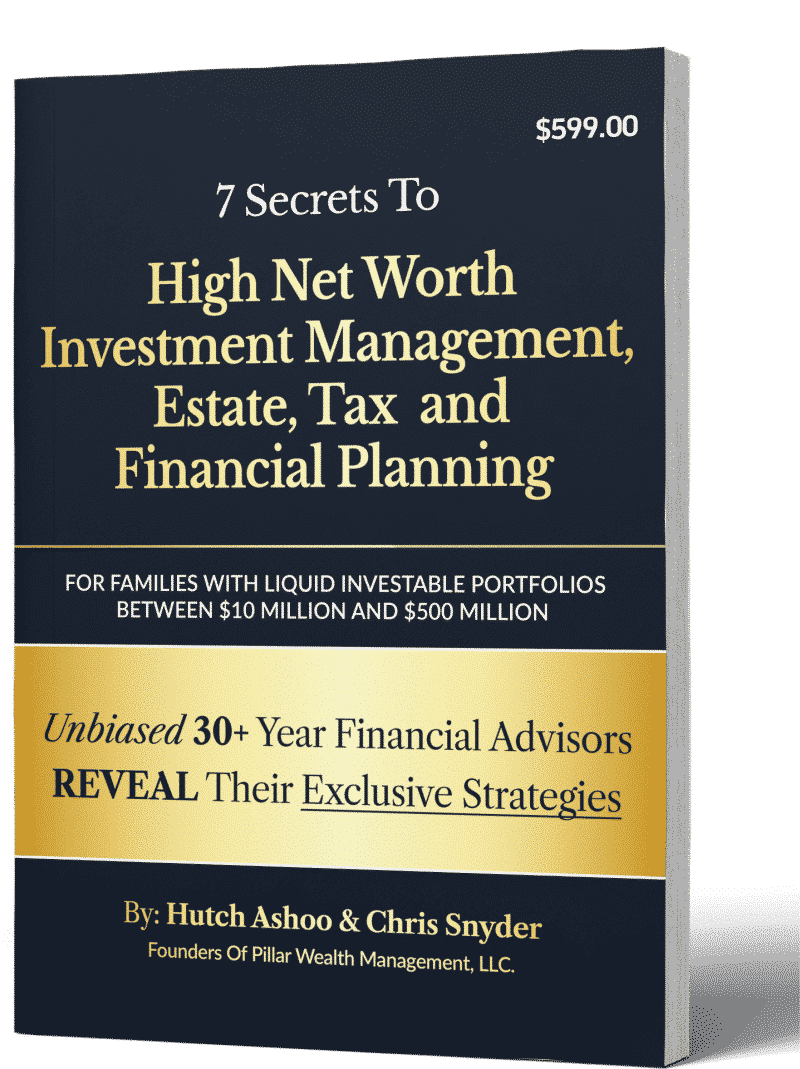 STRATEGIES FOR FAMILIES WORTH $5 MILLION TO $500 MILLION
7 Secrets To High Net Worth Investment Management, Estate, Tax and Financial Planning

The insights you'll discover from our published book will help you integrate a variety of wealth management tools with financial planning, providing guidance for your future security alongside complex financial strategies, so your human and financial capital will both flourish.
Clients frequently share with us how the knowledge gained from this book helped provide them tremendous clarity, shattering industry-pitched ideologies, while offering insight and direction in making such important financial decisions.
If you want to discuss your retirement plan and whether you should start looking for pension advisors already,the financial advisors at Pillar Wealth Management are at your service. Boasting 60 years of experience working with affluent clients with a portfolio worth more than $5 million, we can safely say that we know the ins and outs of retirement planning. We will provide you with pension advice and guide you through the process to ensure that you achieve all your financial goals. We're excited to help you with pension planning. Let's talk!
Do I Need a Financial Advisor for My Pension?
When planning for retirement, many affluent individuals get confused about whether they should pay a financial advisor for pension advice. The thing is, if you think you can't handle the responsibility and risk that comes with the options and flexibility of accessing your pension, you'll benefit from a professional service.
Retirement planning involves making some critical, life-changing decisions regarding your pension savings. If you find it difficult tostay on top ofyour emotions, it is best to hire an expert to do the job for you. Besides, pension advisors possess the proper knowledge, skills, and training to help mix your pension options and maximize your savings to lay a solid foundation for a financially secure future.
Even if your retirement is just around the corner, you must not hesitate to seek pension advice. In fact, it is one of the most crucial times when you should consult with a pension advisor. Otherwise, there's always a risk of running out of money in the initial retirement period.

What Can Pension Advisors Do for Their Clients?
A good pension advisor helps their clients navigate through the different aspects of retirement planning. In addition to determining the amount an individual should save, they also help them decide if they think about transferring any of their pensions.
For instance, if you're struggling to keep track of various pensions, a financial expert may help you figure out ifconsolidating those into a single plan is the right thing to do to avail yourself of the valuable benefits. Apart from this, pension advisorsassess whether you've invested your pension savings in suitable funds based on your specific needs and goals, or you should consider exploring other options.
Simply put, a financial advisor who offers pension advice can help you with:
• Implementing the correct pension plan
• Choosing different investment products to diversify your portfolio
• Managing your risk
• Accessing your wealth in a tax-efficient manner
• Aligning your retirement strategies with your long-term goals
• Avoiding expensive mistakes and investor biases
• Understanding and evaluating the costs associated with different pension options
• Reviewing and modifying your pension plan
• Finding the best way to manage your funds smartly
• Keeping up to date with the changes in pension rule that may affect your strategy
Ideally, your advisor will help you look at the bigger picture of your financial life. To help you save more and grow your wealth, they will suggest maintaining a balance between profit and risk. Exposing your wealth to unnecessary risk is never a good idea, no matter how financially secure your portfolio currently is. Your financial advisor will also make sure you embrace five additional shifts to fortify your retirement plan. You can read all about this in our guide here.
How Much Does a Pension Advisor Cost?
The cost of pension advice is something every client is concerned about when looking for pension advisors. Before we dive into the details, let's tell you that you can withdraw as much as $1,500 from your pension savings without incurring any taxes to pension advice from an expert.
Every financial expert charges differently for pension advice, depending on their qualifications, training, and experience. Therefore, you must inquire about their fee structure during the initial consultation to ensure there are no surprises later.
Below are a few charges you can expect to face when working with a pension advisor.
Fixed-Rate
This refers to a fixed amount that you'll have to pay to your advisor in return for a particular service. For example, when you request them to help you convert your pension fund into a lump sum and set up an annuity, you may have to pay a set fee.
Hourly Fee
Some financial advisors offer pension advice at an hourly rate. The fee can vary greatly from expert to expert, so it is critical to discuss everything in advance. Also, don't forget to establish how long each task may take before signing up for their services.
Asset Percentage
Some advisors charge a certain percentage of the assets they manage for their clients. This typically happens when you want them to manage your financial products over a period of time.
Before you hire a financial expert for pension advice, make sure you ask about:
• The fees of the specific services you're looking for
• The charges of the initial consultation (many experts do this for free)
• When you are expected to pay
To get your questions regarding the cost of pension advice answered by experts, please reach out to us at Pillar Wealth Management.
How Do I Find a Pension Advisor?
Choosing the right pension advisor can be the difference between making intelligent financial decisions and compromising your retirement serenity. Finding one is easy; there are so many professionals claiming to offer the best pension advice.
To help you make the right decision, we have enlisted a few questions below that you must ask an expert before hiring them.
1. What Are Your Qualifications and Credentials?
First and foremost, you must ask a financial advisor about their qualifications and credentials. They must be equipped with valuable insights and skills to offer pension advice and help you develop a solid retirement plan.
If an expert is legit, they won't hesitate to talk about their credentials. It's best to prepare a list of questions before you go into the first meeting to make sure you don't miss anything.
2. Do You Have a Transparent Approach?
The best financial advisors follow a transparent, client-focused approach. They take the time to assess your financial situation, identify your retirement needs, and discuss your long-term goals before creating a plan to maximize your pension savings.
Your advisor should take you along and address your concerns every step of the way. They must educate you on the fundamental concepts of retirement planning and explain different pension options in detail to help you make informed decisions.
3. Do You Have Experience Working With Affluent Clients?
Your pension advisor must have sufficient experience working with high net worth and ultra-high net worth clients. Affluent individuals tend to have complex financial situations. Their goals, challenges, and expectations are also likely to be more complicated than an average American.
An advisor will only to understand your portfolio and make excellent recommendations if they have previously worked with wealthy clients.
To find out how to choose a financial advisor offering expert pension advice and retirement planning services, you should consider requesting access to our book. [/vc_wp_text][vc_wp_text]
When Should You Hire a Financial Advisor for Pension Advice?
Do you think you're in the best position to enjoy your golden years to the fullest?
Your retirement period may go over three decades. While it's great that you have worked hard to accumulate a large amount of wealth, you need to put in continued efforts to invest and manage your wealth for a successful, stress-free future.
Pension is one of the largest investments you can make on your retirement planning journey. The money you set aside for the future must be enough to last up to 30 years. You must strategize to not run out of money and enjoy your life to the fullest when you don't have to work anymore.
There are multiple times when you may wonder if working with pension advisors is worth it.Generally, you should go ahead when:
• You're nearing your retirement
• You don't have the knowledge or experience of investing large sums of money
• You want to enjoy maximum returns on your money
• You're looking to reduce investment risk
• You plan to use Flexi-access draw down
• You wish to set up an annuity and are looking for the best deal
• You want to learn about accessing your money tax-efficiently
• You desire to leave a financial legacy
• You're facing problems managing different pension pots and want to consolidate them into one plan
If you have more than $5 million to invest, you must insulate yourportfolio against the effects of inflation. A minor 1% or 2% increase in inflation may seem harmless right now but think of the damage it can make when compounded over the 30-year retirement period.
Protecting your wealth from inflation is only one thing your financial advisor will do for you. They will help you figure out how much you can take from pension savings without compromising your financial serenity.They will also advise you on the right investment products based on your risk tolerance.
How a Financial Advisor Helps Maximize Your Pension Savings
A financial advisor can help you enjoy maximum returns with minimum costs in the following ways.
1. Developing a Smart Investment Strategy
When offering pension advice, your financial advisor will focus on protecting your wealth and maximizing your gains. They will assist you with creating a well-thought-out investment plan that perfectly aligns with your long-term objectives.
We've highlighted the importance of strategizing your investment actions in our book, The Art of Protecting Ultra-High Net Worth Portfolios and Estates – Strategies For Families Worth $25 Million To $500 Million.
2. Enhancing Portfolio Performance
Your financial advisor will help diversify your portfolio by spreading money across asset classes, depending on your risk appetite. This will significantly cut down your costs and maximize your savings.
Don't forget to read about portfolio optimization in detail in our guide here.
For further information, start a conversation with us now!
Consult With Expert Pension Advisors at Pillar Wealth Management
Pillar Wealth Management is a trusted firm providing exceptional and efficient financial advisory services to clients looking to invest $5 to $500 million. Our team will help you take your retirement planning game to the next level and increase your pension savings. All you have to do is tell us about your financial situation, needs, and goals, and we'll come up with a foolproof plan to grow your wealth in the long run.
No matter how far your retirement is,seeking guidance and support from pension advisors is always a good idea.Sign up today for a brighter future!
To be 100% transparent, we published this page to help filter through the mass influx of prospects, who come to us through our website and referrals, to gain only a handful of the right types of new clients who wish to engage us.
We enjoy working with high net worth and ultra-high net worth investors and families who want what we call financial serenity – the feeling that comes when you know your finances and the lifestyle you desire have been secured for life, and that you don't have to do any of the work to manage and maintain it because you hired a trusted advisor to take care of everything.
You see, our goal is to only accept 17 new clients this year. Clients who have from $5 million to $500 million in liquid investable assets to entrust us with on a 100% fee basis. No commissions and no products for sale.
Related Post