Financial Advisor Miami
Are you looking for the best wealth management company or financial advisor in Miami? For families with high net worth estates with $5 million to $500 million, who you choose for your wealth management team will affect your life and your family for decades. Not much else is more important. That's why we created the Ultimate Guide to choosing the best financial advisor for investors with $10 million or more.
At Pillar Wealth Management, LLC, co-founders Hutch Ashoo and Chris Snyder literally wrote the book on the art of protecting ultra-high net worth portfolios.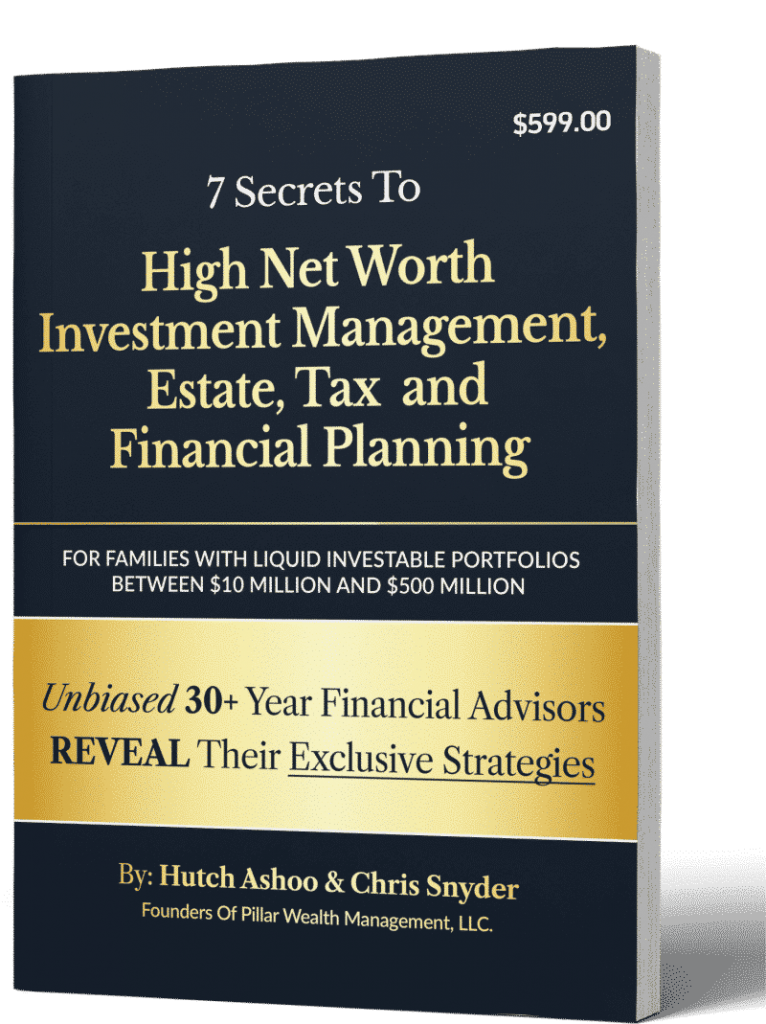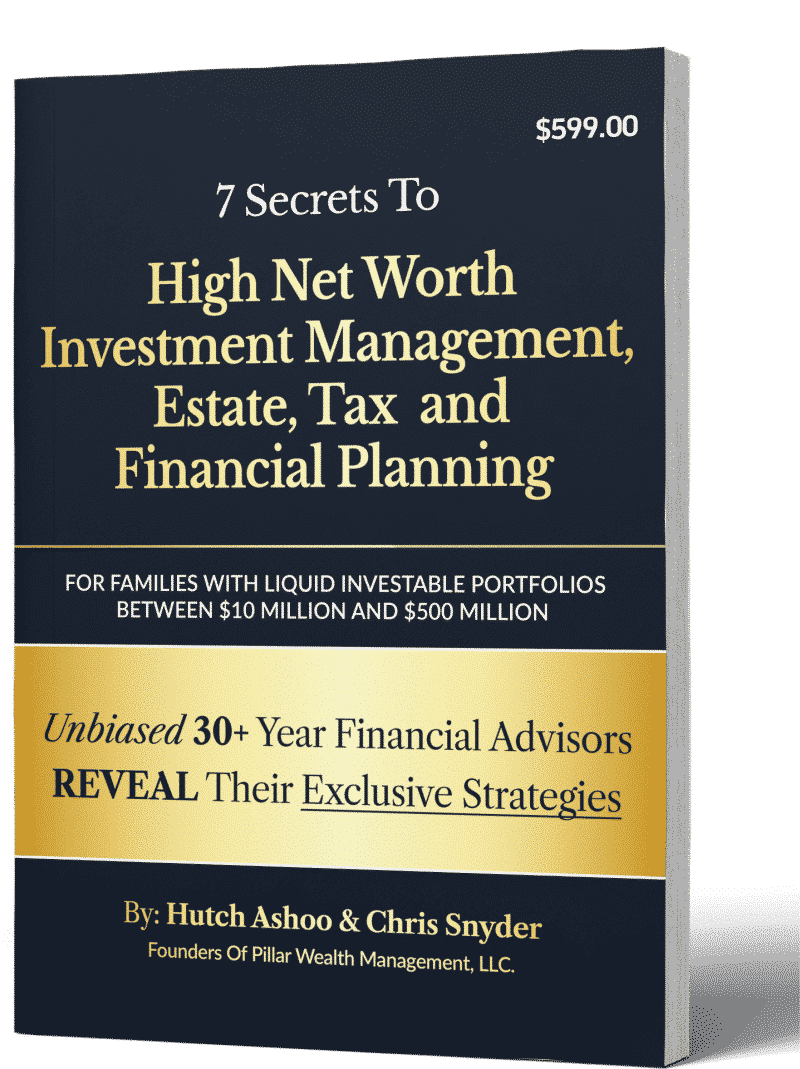 STRATEGIES FOR FAMILIES WORTH $5 MILLION TO $500 MILLION
7 Secrets To High Net Worth Investment Management, Estate, Tax and Financial Planning

The insights you'll discover from our published book will help you integrate a variety of wealth management tools with financial planning, providing guidance for your future security alongside complex financial strategies, so your human and financial capital will both flourish.
Clients frequently share with us how the knowledge gained from this book helped provide them tremendous clarity, shattering industry-pitched ideologies, while offering insight and direction in making such important financial decisions.
With a combined experience of over 60 years, they have the expertise and insight required to help their exclusive clients prepare for an often uncertain future. Instead of uncertainty and fear, you can make your retirement dreams come true with confidence and security. You can stop worrying.
Individual Attention and Consideration You Deserve!
Unlike high-profile Wall Street investment companies, we offer innovative and customized retirement planning and wealth management solutions.
Too many times, we've seen clients disappointed by a cookie-cutter financial planning approach that doesn't provide adequate individual attention.
At Pillar, you get the undivided attention and respect you deserve directly from the co-founders, Hutch Ashoo and Chris Snyder. We keep our exclusive client list small to serve each client to the best of our abilities.
Always, our goal is to help you reach your goals in the most sophisticated and secure ways possible that we've learned over many decades of hard-earned experience.
Exclusive Private Financial Advisor Miami
First, know that our top priority is helping you live the lifestyle of your dreams in Miami, free from worry. Our promise to you is to offer exclusive devotion to your interests.
With our time-tested disciplined strategies, we aim to bring our new clients as much as $100,000+ per $10 Million of investable assets. As we do so, we are always fully transparent, honest, and dependable.
Unlike many discount brokers, big banks, and Wall Street firms, we have no conflicts of interest. Importantly, we're legally required to put your interests first at all times.
And, as fiduciary fee-only financial planners, we don't charge commissions. Thus, there's no hidden agenda here: we want to provide you with the best advice aligning with your specific goals.
It all begins with a free, no-obligation consultation. Get started here.
Also, feel free to give us a call anytime at 1-800-669-6780.
Success is Helping You Reach Your Dreams
At your free consultation, we want to get to know about your unique dreams. Then, we'll design a custom financial plan to make it happen.
Do you dream of traveling the globe? Or perhaps you want to start a foundation or business that could change the world.
We'd love to help you identify and zero in on your goals. Then, we'll help you implement the specificinvestment performance strategies to make it happen. Those strategies are spelled out in this free ebook – Outstanding Portfolio Performance.
As you progress, we'll help you minimize risks, lower your taxes, and maximize growth. However, we know from experience there are no short-cuts to building wealth.
At no time will we ever recommend risky, unproven investments. Instead, we'll offer discipline and smart, time-tested strategies to move you further ahead consistently.

Uncertain Times Call for Smart, Strategic Investments
Over the decades, we've survived through so-called Black Swan financial disasters, including recently. Each time, we've grown stronger and have learned how to best prepare for unforeseen events.
Now, we can pass our insights that come from direct experience along to you. Thus, you can insulate your portfolio from potential risks and watch it grow despite potential setbacks.
Along with unforeseen economic perils, life has a way of dealing us difficult cards. From the loss or sickness of a loved one to a divorce or business setback, these events stand to threaten your financial goals. This is just part of what we mean when we use the phrase 'wealth protection,' which is just as important as investment performance. Discover the full meaning of that phrase in this complimentary book – the Art of Protecting Wealth.
As well as setbacks, unexpected financial windfalls can force you to make often difficult decisions. In such situations, the choices you make can mean success or eventual failure.
Whatever life brings your way, it always pays to have the best possible private wealth management plan. Ask for your free wealth management analysis. Always, we're devoted to helping our clients navigate the decisions that come with life experiences.
Delaying Change Can Cost a Fortune
Even if you are not worried about an uncertain financial future, you worked hard to build your wealth. After you are no longer working you will want to make sure your money is still working for you.
We know it is challenging to contemplate and accept change. It can be scary to try something new, especially when it comes to your money. But there are 5 critical shifts about portfolio growth high net worth investors must make if they want to live out the future they've worked for.
However, we hear too often from our clients that they wish they contacted us sooner. Putting off a decision to seek fresh wealth management in Miami can cost a fortune.
It is never too early or late to start planning for retirement or managing your portfolio so you get the most out of it, and there's no risk with a free consultation from Pillar Wealth Management. In fact, it could vastly improve your future.
So, why not take charge and find out about better strategies you may have overlooked? Get started with your free, no-obligation consultation today. Let's have a conversation.

It Is Always a Good Idea to Get a Second Opinion
If you are currently working with someone to manage your wealth, even if you are happy with the results, it does not hurt to get a second opinion. Many people are loyal to their financial advisor. However, your assets are the result of years of hard work and dedication. So, it is always a wise decision to have more than one financial manager look over your portfolio and strategy.
We Wrote the Book on Protecting Ultra-High Net Worth Portfolios –Now It's Yours Free
Want to know more about what sets us apart as you search for the top 'financial advisor miami?' If so, please read your complimentary copy of our book, "The Art of Protecting Ultra-High Net Worth Portfolios and Estates – Strategies For Families Worth $25 Million To $500 Million."
It's our gift to you and is jam-packed with valuable insights we've learned over 60+ years as financial advisors to those with ultra-high net worth estates.
Get your free copy, a $674 value, here.
Feel free to give us a call anytime at 1-800-669-6780. We look forward to learning about your goals and discussing how we can help you get there.
Related Post: