Independent Financial Advisor Near Me: Finding the Right One
If you're busy searching for "the best independent financial advisor near me" and wondering if "it is worth paying an independent financial advisor?" you've come to the right place. The right kind of financial advisors can provide tremendous value to investors by cutting down their costs and optimizing their portfolios. This is even more true for affluent investors, as detailed in our in-depth guide for individuals with over $10 million in liquid assets. For instance, Pillar Wealth Management helps investors with $5 million to $500 million in investable assets live with financial serenity by protecting and growing their assets. But if this is the first time you're hearing about the potential benefits of financial advisors, you're not alone.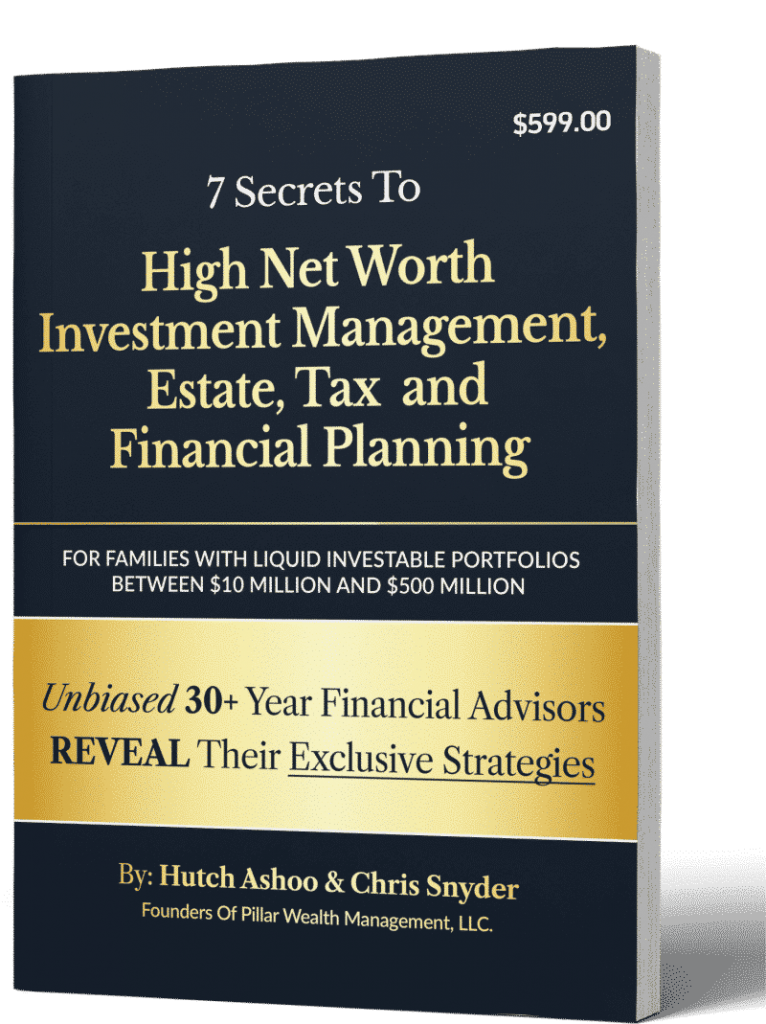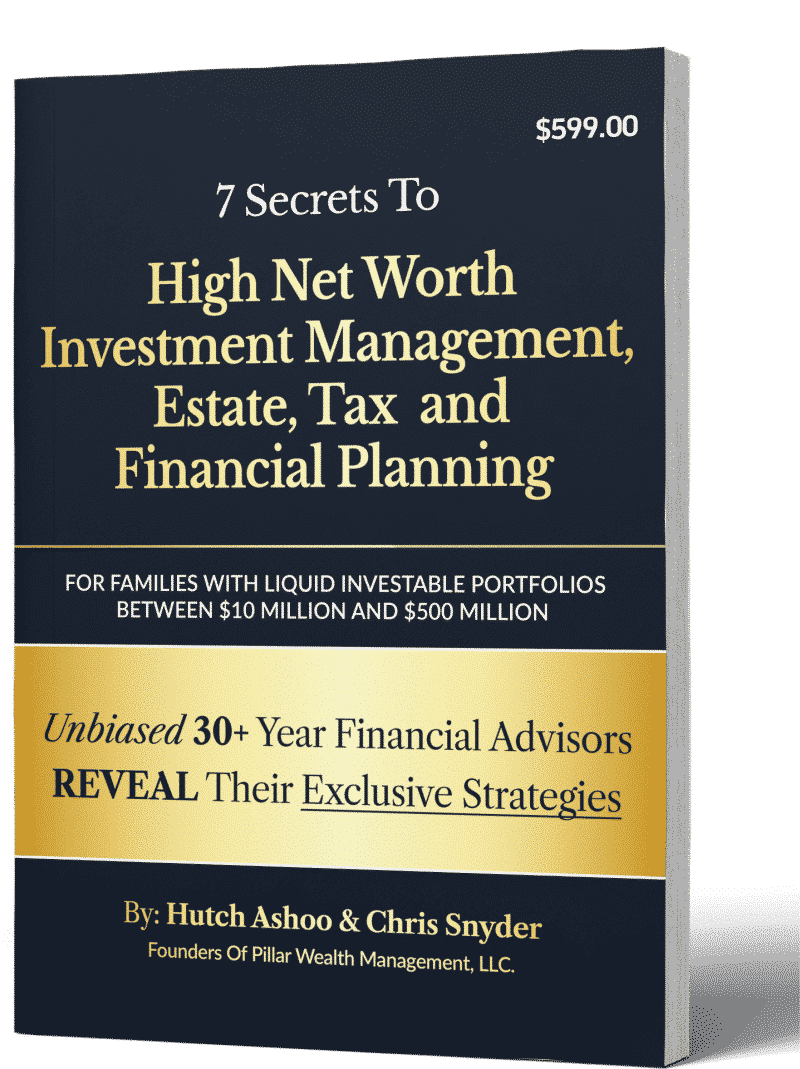 STRATEGIES FOR FAMILIES WORTH $5 MILLION TO $500 MILLION
7 Secrets To High Net Worth Investment Management, Estate, Tax and Financial Planning

The insights you'll discover from our published book will help you integrate a variety of wealth management tools with financial planning, providing guidance for your future security alongside complex financial strategies, so your human and financial capital will both flourish.
Clients frequently share with us how the knowledge gained from this book helped provide them tremendous clarity, shattering industry-pitched ideologies, while offering insight and direction in making such important financial decisions.
To help you out, we're going to answer some of the most popular questions we get on this topic, such as:
What do independent financial advisors do?

Do I need an independent financial advisor?

Is it worth paying an independent financial advisor?

How much money do you need to hire an independent financial advisor?

How do I find the best independent financial advisor near me?
So, let's get started.
What do Independent Financial Advisors do?
Before you can start looking for the right independent financial advisor, you need to understand what independent financial advisors do. Contact us for a free chat, and we'll make a personalized financial plan just for you.
Financial advisors are individuals or groups that help people manage their money, assets, and other aspects of finances. Depending on the type of financial advisor you work with, an advisor may:
Only provide financial advice.

Only manage your investments or assets according to your wishes.

Provide both financial advisory and investment management services.
Your specific needs will dictate the kind of financial advisor you work with. There are various types of financial advisors, including:
Investment advisors:

these individuals or groups provide advice to clients on the best securities to buy and sell to make the return they want.

Investment brokers:

they mostly carry out the buying and selling of securities for their clients. They may also sometimes offer investment advice. Brokers make their money via commissions, while investment advisors usually charge a yearly fee.

Financial consultants:

people usually go to financial consultants to solve specific financial issues. They typically won't work on a long-term basis. When choosing a financial consultant, only go for

Chartered Financial Consultants who are fiduciaries.

Our special guide for investors with more than $10 million further details the importance of fiduciaries.

Certified Financial Planners:

CFPs create highly specialized financial plans to help investors attain their financial and life goals. They don't have a lot of expertise in investment management.

Asset managers:

they handle investment portfolios of their clients according to the directions provided to them.

Wealth advisors/managers:

they provide a holistic service that includes almost every service provided by the financial advisors listed above. If you are an affluent investor, we recommend opting for wealth managers as your financial advisors.
Are Independent Financial Advisors Different?
Independent financial advisors are different from typical advisors in the sense that they do not work for anyone else. You will find most financial advisors working at large banks or financial institutions. This is also where most investors typically first go in their search for financial advisors.
However, these individuals may not always be the best choice for high net worth and ultra-high net worth investors. Financial advisors working for large institutions or banks may not always have the right experience to deal with investors of your caliber. They may not always be fiduciaries as well. Our ultimate guide on choosing a financial advisor has more details on why independent financial advisors are usually the better choice.
Independent advisors are much less likely to deal with conflicts of interest and will usually have a lower caseload, allowing them to put all their focus into working for your goals.
Do I Need an Independent Financial Advisor?
Now that you have a complete grasp of who independent financial advisors are, you might be thinking, "do I need an independent financial advisor?"
The answer to this question is entirely up to you! It all depends on your current wealth, financial goals, and your ability to manage your wealth alone.
For example, for individuals with less than $1 million in liquid assets and a financial goal of making fast returns, a specialized investment advisor or broker might be enough. Some individuals who can manage their own wealth may not need any kind of financial advisors.
However, affluent investors with more than $5 million in liquid investable assets may not have the time or energy to manage such a vast magnitude of wealth. Their needs usually call for holistic management from an experienced fiduciary wealth manager.
Simply put, you likely need to follow this guide on "independent financial advisor near me" if you:
Have liquid assets worth between $5 million and $500 million and are looking to protect and grow them.

Have unnecessary expenses and taxes sapping away at your wealth.

Are currently going through a life-defining moment like retirement, property sale, business sale, divorce, etc.

Have had a poor experience with previous financial advisors, for instance, money loss, poor returns and so on.
If any of these points resonate with you, you may want to consider contacting Pillar Wealth Management. Our experts understand the problems and challenges you might face with inexperienced advisors. We appreciate that your priorities are different. Contact us for a free chat, and we'll make a personalized financial plan just for you.
How Much Money Do You Need to Hire an Independent Financial Advisor?
While you are conducting your search for an "independent financial advisor near me," you might stop to wonder if you even have enough money to hire one and is it worth paying an independent financial advisor. These are valid concerns because the best financial advisors usually deal with a few, very exclusive set of clients.
So, how much money do you need to hire an independent financial advisor? This depends on what you're looking for.
If you just need a financial planner to help you manage your taxes or an investment advisor to provide some tips on what securities to purchase, there usually isn't a required limit for the money you should have.
However, if you need a wealth manager to comprehensively manage every aspect of your finances and help you grow sustainably, there will be a certain requirement you need to meet. Most wealth managers will only work with an exclusive set of affluent clients.
For example, Pillar Wealth Management only works with investors that have between $5 million and $500 million in liquid assets. We customize our services to meet your specific needs and only take on a certain number of clients to ensure that we give you the time and attention you deserve. We specialize in:
Asset allocation analysis

Tax minimization

Investment management

Estate planning

Risk analysis and management

Portfolio planning

Retirement income planning

Insurance planning
To get a complete idea of our services, you can schedule a free consultation here.

Is It Worth Paying an Independent Financial Advisor?
Is the independent financial advisor near me charging fair fees?
This is a very valid question we see from many investors. With all the popular stories of unethical advisors conning their clients for money, it can be hard to decide whether it's worth paying a financial advisor or not.
Fortunately, we've got just the right information to help you decide. You need to recognize the signs of correct and fair payment structures versus ones that have the potential to create conflicts of interest.
How Financial Advisors Should Be Paid
Almost every type of financial advisor should only make their money off a 'fee'. Never confuse fees with costs – this misconception can cost you dearly. We'll discuss more about costs later.
For now, the fees being charged by your financial advisor should not have any bearing on the type of work they do on your behalf or the investments they make.
Most wealth managers, for example, should just make their money off annual fees. These annual fees are usually a percentage of your overall asset portfolio. The market average annual fee for wealth managers is 1%.
Note that if you're an ultra-high net worth investor, you may even be able to get discounts on fees because of your sizeable wealth. Our free hardcover book on The Art of Protecting Ultra-High Net Worth Portfolios and Estates – Strategies For Families Worth $25 Million To $500 Million lists more perks you can avail as an ultra-high net worth investor.
How Financial Advisors Should NOT Be Paid
We feel that this topic is extremely important and something that is, unfortunately, overlooked by many investors. Some payment structures introduce an element of conflict of interest in the investment process, while others are mere unnecessary costs that can easily be avoided.
Let's look at each one by one.
Commissions
Commissions are a very popular payment structure used by many brokers and investment managers. The issue with commissions is that it tempts your advisors to possibly make more transactions than they should. It could also tempt them to push you towards securities that earn them higher commissions.
Even if your advisor doesn't want to do this, their employers may pressurize them to do so. The potential conflict of interest created by commissions is something you should probably avoid.
Sale Spreads
This mostly applies to bond sales. Sale spreads refer to the difference between the buy price and the sell price. However, some investment managers may take a percentage of that spread as payment. This is usually a hidden cost that many investors don't know about, and it also creates a conflict of interest.
Margins
A margin can be difficult to understand, but it occurs in a facility where clients are allowed to borrow money against their assets in the same account. An interest is charged on the money and it often increases the money under the control of your advisor (thus increasing their take).
Again, there could be a potential conflict of interest in areas where margins are involved. It's best to avoid them as an affluent investor.
There may be more costs and fees you should avoid, but the main point is that you should always look for a fiduciary manager who will eliminate any conflicts of interest and reduce your costs.
How Do I Find an Independent Financial Advisor Near Me?
Recognizing some of the vital signs of successful financial advisors can go a long way in helping you find the best experts to manage your wealth. Here are the most important questions you should ask.
How will they help me achieve my goals?
This is one of the most critical aspects of finding the best financial advisor. Your advisor should have a comprehensive process to gauge your future goals. Rather than asking what return you want or what your risk appetite is, they should be asking you about your future plans and how you want to live. They should ask you about what you want to achieve with your finances.
The advisor should also have a system that allows them to objectively track your goals. They should make regular checks to see whether their strategies are optimizing your portfolio performance. If you feel like your portfolio isn't performing as it should be, check out the five critical shifts you need to make for better results.
Pillar Wealth Management uses a rigorous goal tracking system that ensures that our performance is on track to exceed your goals.
Do they have the right experience?
Just having experience isn't enough to service a client of your caliber. The advisor needs to have the right kind of experience in order to truly understand how the needs and priorities of high net worth and ultra-high net worth clients are different from others.
Pillar Wealth Management experts have more than six decades of combined experience in successfully helping affluent investors live a life of financial serenity. If you also want to be one of those investors, get in touch with us for a free consultation.
Do they have a plan to efficiently allocate my assets?
An efficient and consistent asset allocation can go a long way in optimizing your portfolio performance. Plus, it will provide sustainability to your portfolio and the ability to get through all sorts of future scenarios. You can find more information on portfolio performance optimization in this guide.
How can they reduce my costs?
As we mentioned earlier, costs are one of the biggest wealth-reducing avenues for affluent investors. When someone asks, "Who is the best independent financial advisor near me?" we believe that the answer to this question is the defining factor of your final choice.
You need to find a financial advisor who will obsess over reducing your costs.
Conclusion
It's important to realize that to answer the question of "who is the best independent financial advisor near me?", you will have to do a fair bit of introspection. Look at your finances, your current needs, and your future goals to decide what type of financial advisor is the best fit for you.
For high net worth and ultra-high net worth investors that have between $5 million and $500 million in their assets, Pillar Wealth Management could be the right choice. Our experts are ready to perfect every single aspect of your financial life and gear it towards meeting your life goals. Contact us now and start living a life of financial serenity.