Find Financial Advisor: Who Is Right for You!–PillarWM
The more wealth you have, the more your finances demand attention. As a wealthy investor, if you plan on accumulating more wealth, you need to consider hiring a financial advisor if you're not already working with one. If you are working with one, you need to ask yourself whether they are equipped to handle your unique financial circumstances. In either case, you should find financial advisor who is experienced in managing millions of dollars in liquid assets. This is something that our Newly Published Guide can help you with. We wrote it specifically to help investors with $5 million to $500 Million to allow your financial life to flourish at the hands of the best advisor.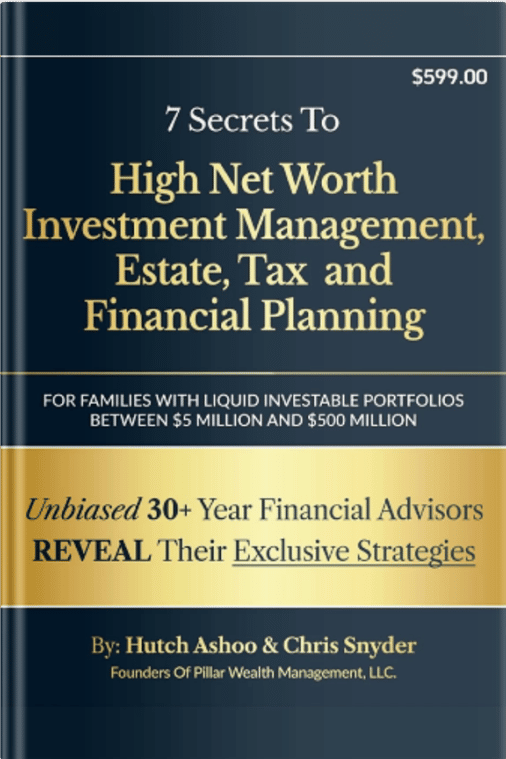 STRATEGIES FOR FAMILIES WORTH $5 MILLION TO $500 MILLION
7 Secrets To High Net Worth Investment Management, Estate, Tax and Financial Planning
The insights you'll discover from our published book will help you integrate a variety of wealth management tools with financial planning, providing guidance for your future security alongside complex financial strategies, so your human and financial capital will both flourish.
Clients frequently share with us how the knowledge gained from this book helped provide them tremendous clarity, shattering industry-pitched ideologies, while offering insight and direction in making such important financial decisions.
We have been giving expert financial advice to high net worth and ultra-high net worth investors for more than six decades. Our clientele includes families with 5 million to 500 million dollars in liquid investments. Through the experience, knowledge, and skills of our wealth managers, we can help you manage and enhance your wealth while keeping an eye on your risks. To get in touch with someone at Pillar Wealth Management, call us to schedule your first consultation.
Wondering, "When should I talk to a financial advisor?" can help you understand which financial aspects you need assistance with. This will help you narrow which financial advisor to find.
Financial Advisors and Their Types
Financial advisors and financial advisory services cover a broad range of financial professionals and financial management services. According to their specialization, training, certification, and experience, they can give advice on specific monetary aspects. These can include budgeting, investments,insurance, estate, and retirement planning, creating investment portfolios, tax and debt management, and more.
So, when you try to find financial advisor, you need to know which one to approach, as their services differ according to their specialization. Here are some common types of financial advisors you should be aware of:
Transactional Financial Advisor
While most advisors give you advice on your finances, not all of them partake in transactions. However, transactional financial advisors shift your money around for you. They can invest in different assets such as stocks, bonds, mutual funds, savings accounts, or other specialized investments.
These types of advisors usually work through commission-based fees, which is why you should clarify their payment structure and standard of care in your initial consultation. We always recommend that high net worth investors work with fiduciary advisors.
Registered Investment Advisor (RIA)
Registered investment advisors are certified fiduciaries who have trained for this particular field. They can give you investment advice, helping you select opportunistic investments. Their advice is based on an extensive analysis of your financial history, investment personality, and future prospects.
Often, they can handle your assets on your behalf. In this case, you don't need to worry about your money being in the wrong hands since RIA's are liable to legal consequences if they are proven negligent in their practice.
Financial Planner
A financial plan is crucial to the success of any high net worth investor. They are the most sought out type of financial advisors by people of all economic backgrounds. These trained professionals help clients identify their short-term and long-term goals and use the appropriate strategies to achieve them.
Certified Financial Planners (CFPs) are fiduciary advisors, certified by the CFP board, and are extensively trained in numerous services, including but not limited to tax management, debt consolidation, investment advisory, risk management, estate planning, and retirement planning.
Investment or Asset Manager
Asset managers usually work with another financial institution such as a bank or an investment firm. They manage your assets on your behalf, buying and selling securities according to your financial plan or investment plan.
They are knowledgeable of various asset classes and investment opportunities that could help you achieve your goals. At the same time, they perform the task of maintaining an appropriate risk to reward ratio to help you secure your assets. They use strategies that help you optimize your portfolio performance. If you want to read about these strategies, our 5 Shifts Guide tells you how our wealth managers help clients increase their capital growth.
Insurance Planner
Insurance is necessary for wealthy clients, particularly due to the higher risk potential they carry. If you need help deciding on the best insurance plan for you or your family, an insurance planner can guide you in this matter.
They can be independent advisors offering you insurance plan options from a variety of insurance providers, or they could work for an insurance company and recommend that company's insurance plans. Either way, they analyze your needs and suggest a plan that protects you and your wealth.
Retirement Planner
Retirement planning is slightly different when it comes to high net worth or ultra-high net worth investors. You have different aspirations for your retirement. If you want to sustain your high standard lifestyle even after you have no active source of income, a retirement planner can help you come up with alternatives.
A retirement planner can help you look into your future expenses and risks to help you implement strategies that allow you to increase the amount of income you generate after retirement.
Wealth Manager
Wealth managers are different from other financial advisors in the sense that they offer a holistic list of financial services and that they cater only to individuals with a high or ultra-high net worth. Their services cover everything from portfolio analysis, asset management, and risk management to retirement planning, tax planning, and estate planning.
This is more convenient for wealthy investors since they won't need to share their financial details with multiple advisors. You can get all the expert services you need by working with a reputable wealth management firm.
Financial Consultant
Although it is easy to confuse financial consultants with financial advisors, the difference is that most consultants advise you on a particular financial matter. Hence, you only meet with them until that matter is resolved.
Other advisors such as Chartered financial consultants (ChFC's) have a more personalized service, giving you wealth enhancement advice and managing your investments. ChFC's are ethically and legally bound to work in your best interest.
When you try to find a financial advisor, you might be wary about consulting with multiple professionals in order to find the right one. After all, many advisors charge you for every consultation. So, if you're asking, "How do I meet a financial advisor for free?" you can consider Pillar Wealth Management. With us, you can schedule your first consultation with one of our expert wealth managers for free.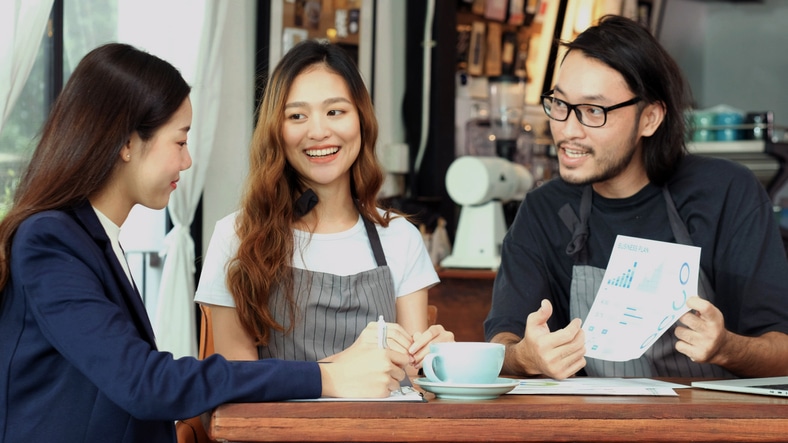 Why Should You Find Financial Advisor?
Knowing which financial aspect you want professional advice on takes you one step closer to find financial advisor. If you have more than 10 million dollars in liquid assets, you can agree that you need more expertise than that of an average advisor. Our Ultimate Guide to Choosing the Best Financial Advisor for Families worth $5 Million to $500 Million can help you find the best high net worth advisor to give you personalized advice.
 However, if you're unsure about hiring a professional and asking yourself, "When should I talk to a financial advisor?" it might help to discuss why other investors work with financial advisors. Most investors seek professional financial advice in the following circumstances:
• They plan on making big purchases, such as real estate
• They need help with tax mitigation
• They want a comprehensive plan to improve their financial life
• They want to increase their wealth
• They want to safeguard their assets
• They want to plan for their retirement or inheritance
• They are interested in improving their investment performance
How They Help
A financial advisor plans out strategies and tools to use that will help you achieve your financial objectives, whether they be as simple as saving up for retirement or investing in complex securities to boost your income. They can optimize your portfolio to improve its performance, which you can read more about in our Performance Guide – Improving Portfolio Performance: The Shifts Multi-Millionaires Must Make to Achieve Financial Security and Serenity.
Wealthy investors are open to more risks and liabilities due to their high net worth status. This means that you need a contingency plan and a balanced portfolio that helps you withstand unforeseen circumstances such as market fluctuations, inflations, high taxes, or personal life changes.Doing this on your own is not easy or sufficient. A professional who understands the risk you carry can anticipate threats and prepare you for them. If you want to learn more about the liabilities that you are exposed to, you can read our book, The Art of Protecting Ultra-High Net Worth Portfolios and Estates – Strategies For Families Worth $25 Million To $500 Million. It provides useful insights into how you can make shifts to protect your family's wealth.
How Much Do Financial Advisors Charge?
As you find financial advisor, you'll come across multiple payment structures and fees. So, if one of the questions on your mind is, "How much does it cost to talk to a financial advisor?" you'll have to ask them that in your initial consultation.
Fee-based advisors can collect commissions on the profits from your investments, for example, brokers or investment advisors. This could create a conflict of interest since you don't want your wealth to be taken advantage of. Fee-only structures charge you a predetermined fee, eliminating the threat of any conflict of interest. However, even these payment models can carry hidden costs in the form of transaction fees, management fees, or more. Hence, we recommend that you read our guide,The Ultimate Guide to Choosing the Best Financial Advisor for Families worth $5 Million to $500 Million,to be aware of the different ways advisors can charge you with unnecessary costs.
At Pillar Wealth Management, we work through a fee-only payment structure, disclosing any and all costs in your first consultation. Moreover, your first consultation with us is completely free! So, if you've been wondering, "How do I meet a financial advisor for free?" we might be your answer. Book a meeting with us through our website to get started.
Find Financial Advisor at Pillar Wealth Management
To find financial advisor that is best suited to your unique needs and financial profile, you might need to consult with a couple of firms before finding the right one. If you have between 5 million to 500 million dollars in liquid assets, you can consider Pillar Wealth Management.
We are an independent, fiduciary, fee-only, white-glove, private wealth management firm with more than sixty years of experience in working with affluent families. Our wealth managers create comprehensive financial plans that account for your unique aspirations, tailoring each aspect to meet your needs. We can help you execute advanced financial strategies that allow you to maximize your capital growth at minimal risk. You can find a financial advisor for high net worth individuals by getting in touch with our team of experts through our website.
To be 100% transparent, we published this page to help filter through the mass influx of prospects, who come to us through our website and referrals, to gain only a handful of the right types of new clients who wish to engage us.
We enjoy working with high net worth and ultra-high net worth investors and families who want what we call financial serenity – the feeling that comes when you know your finances and the lifestyle you desire have been secured for life, and that you don't have to do any of the work to manage and maintain it because you hired a trusted advisor to take care of everything.
You see, our goal is to only accept 17 new clients this year. Clients who have from $5 million to $500 million in liquid investable assets to entrust us with on a 100% fee basis. No commissions and no products for sale.