Financial Advisors New York – What Do They Do?
If you have more than $10 million in liquid assets but aren't able to grow your wealth as you'd like or are facing too many expenses or risks, you are missing one crucial thing, and that's the right financial advisors New York. We suggest reading our extensive guide to learn how to choose one and why they are so important for high net worth investors like yourself. As an affluent individual, your goals and challenges are exceedingly different from the average American, and that's why you need specialized services that are exclusively meant for you.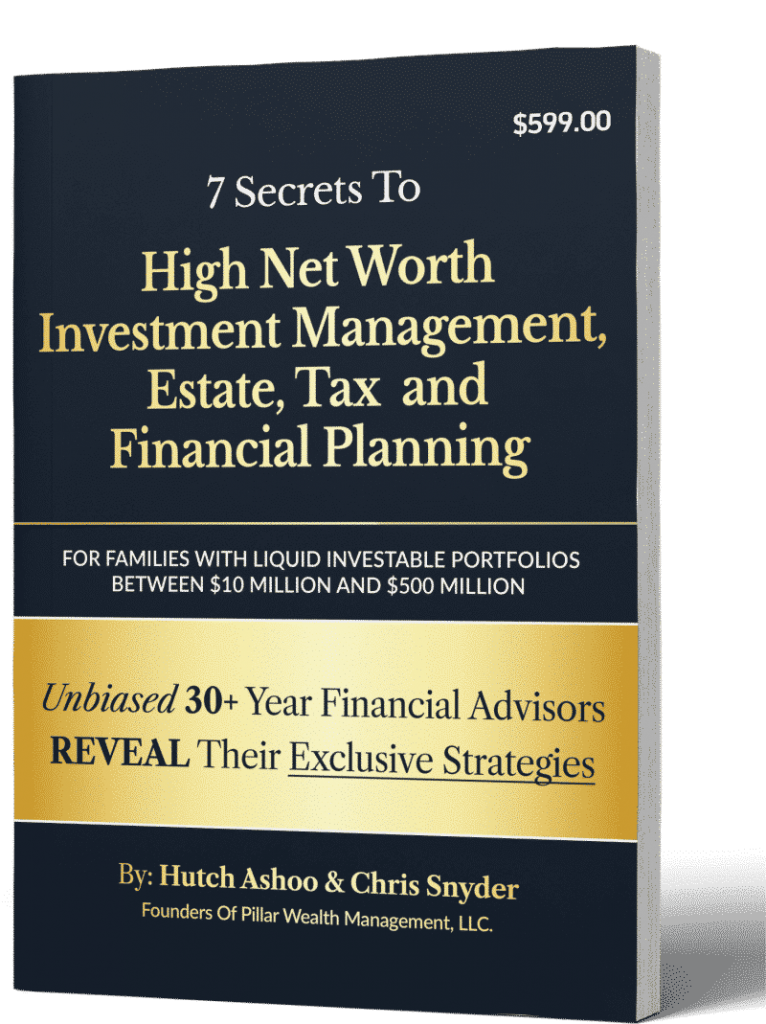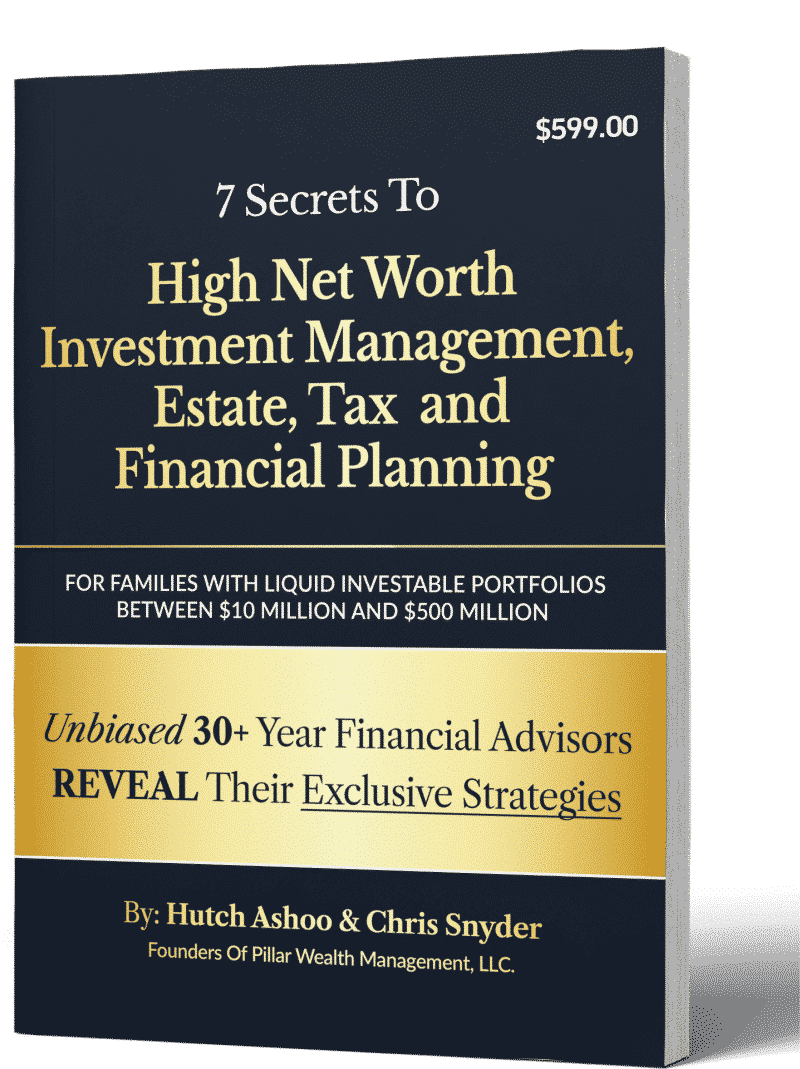 STRATEGIES FOR FAMILIES WORTH $5 MILLION TO $500 MILLION
7 Secrets To High Net Worth Investment Management, Estate, Tax and Financial Planning

The insights you'll discover from our published book will help you integrate a variety of wealth management tools with financial planning, providing guidance for your future security alongside complex financial strategies, so your human and financial capital will both flourish.
Clients frequently share with us how the knowledge gained from this book helped provide them tremendous clarity, shattering industry-pitched ideologies, while offering insight and direction in making such important financial decisions.
That's why at Pillar Wealth Management, our wealth managers and financial advisors work solely with high net worth investors and ultra-high net worth individuals with $5 million to $500 million in liquid assets. We have been offering a diverse range of financial and advisory services for more than three decades. Our services include investment and portfolio management, risk management, tax optimization, banking, accounting, and more. If you are in search of comprehensive financial services to grow and protect your wealth, schedule a free meeting with Pillar Wealth Management today.
In this blog, we'll be taking a closer look at what financial advisors New York really do, whether they make you any money, and where you can get financial advice for free. Let's get started.
What Does a Financial Advisor at New York Do?
To answer the question in a nutshell, a financial advisor at New York helps you attain financial serenity. When you have $5 million to $500 million in liquid assets, you will be required to make various complex financial decisions.
If you think financial advisors will simply 'advise' you regarding these decisions, you are not quite right. Financial advisors New York can do a lot more than that. As a high net worth individual, you might have amassed all this wealth, but that doesn't necessarily mean that you have the time or skills to make sure you effectively grow your wealth while protecting your assets.
That's why you need financial advisors. They use their expertise and experience to help you make the right decisions that lead you towards your goals. They ensure the protection of your assets. They help bring down your costs and expenses to make sure you retain the maximum of your wealth. Most importantly, they help you attain true financial serenity where you truly don't have to worry about your wealth or financial future.
Here's how they do it.
Investment and Portfolio Management
Your investment and portfolios are the most crucial aspect of your entire financial plan. They have the biggest impact on your wealth and all other aspects of your plan, such as estate planning or retirement planning, everything depends on successfully you are able to leverage market opportunities and maximize portfolio performance. Learn how you can do this from our eye-opening guide on portfolio performance.
So, considering how fundamental investment and portfolio management is for your financial health, you can't afford any experimentation or mistakes. That's why you need financial advisors New York to help curate the perfect portfolio according to your goals from the very first day.
They can employ different strategies such as portfolio diversification and smart asset allocation so that you can benefit from the maximum returns with the minimum risk and costs. Additionally, they can help you rebalance your portfolio over time as you go through changes in your personal life or as the market changes.
Retirement Planning
Ultimately, everyone is working for their retirement only. However, high net worth individuals specifically have complex retirement goals that can't be fulfilled so easily. Sure, you might have $500 million right now, but there's no guarantee that you will have just as much 40 or 50 years from now. This can put your retirement and all your retirement plans at risk.
That's why financial advisors New York are heavily focused on retirement planning as well. You might have a retirement goal of traveling the world but wouldn't be too sure on how to make it happen. How much would you need to save? How much can you afford to spend? All these questions can only be answered by the right financial advisor. Get in touch with our wealth managers and advisors to get started on your retirement planning.
Risk Management
Risk management is also a crucial part of your financial plan that many people tend to overlook. Just because you have millions and millions of dollars in your account and in different assets does not mean that you can't lose all of it.
A divorce, contracting an illness, market fluctuation, or even a recession in the economy can suddenly put you at risk of bankruptcy, putting all your financial plans in danger. Discover other ways you could lose your wealth and prevent it from happening by reading our book, The Art of Protecting Ultra-High Net Worth Portfolios and Estates – Strategies for Families Worth $25 million to $500 million.
Consequently, financial advisors are always working on risk management to not only grow your wealth but protect your assets from any unforeseen events. This includes everything from lawsuits to market volatility. Your financial advisor will help diversify your assets and set up insurance plans to protect you from all these risky circumstances and live with financial serenity and success.
Tax Planning
Taxes are one of the easiest ways to lose your wealth every year. Every financial decision you make has some tax consequences, and while you can't avoid them altogether, you can certainly minimize them through tax planning and tax optimization strategies.
That's why financial advisors New York carefully plan out all your financial decisions to control excessive tax liabilities. They don't just plan short-term but consider the tax implications in the long-term as well. For instance, active money management comes with high short-term returns but also results in high taxes and other expenses.
Accordingly, financial advisors formulate an investment plan with the optimal balance between active and passive money management to keep those high returns but also minimize short-term capital gains tax and other costs. Learn about other similar shifts you must make to maximize your portfolio growth from this handy guide.
Estate and Legacy Planning
As a high net worth individual, chances are that you don't simply want your wealth to benefit you but also benefit your heirs after you're gone. That's why you need estate planning services from financial advisors. Without them, this whole process can be quite difficult with family conflicts, legal issues, and even tax problems.
The right financial advisor can help ensure that you don't face any of these problems and that your wealth reaches your intended beneficiaries. Besides that, you might also have other legacy plans, such as setting up charities or initiating other philanthropic plans. A financial advisor can help you take care of that too.
Do Financial Advisors Make You Money?
Despite having $5 million to $500 million in liquid assets, high or ultra-high net worth families can easily lose all their wealth. It could be within their lifetime or over the course of the next few generations. In fact, research shows that almost three-quarters of high net worth families tend to lose all their wealth by the second generation, and the situation only grows worse by the third generation.
Therefore, financial advisors help you protect and preserve your wealth. And one of the ways they do this is by helping you make more money. They can guide you on your investment strategies and boost your portfolio growth to increase your income stream and wealth. They can control your expenditures to minimize the outflow of wealth. They can help plan your retirement and legacy.
So, yes, financial advisors New York make you money, but they also do a lot more. Check out our guide for investors worth $10 million or more on how to choose the right one, or keep reading for a condensed version.
Choosing the Right Financial Advisors New York
As crucial as they are, it's not easy to find the right financial advisors either. It's not as simple as searching for financial advisors New York and choosing the first ones that you see. You need to choose the advisors that are right for you.
If you manage to find the right one, you can rest assured that they will be working with you throughout your life and perhaps even after that. Here's how you can evaluate and choose the right financial advisors New York.
You can also go through our extensive guide for more factors to consider and signs to look out for when choosing an advisor.
Experience
In the financial world, experience matters a lot. Even if you hold countless certifications and the highest credentials, there are certain things that you only learn with time. A financial advisor who has been working in the industry for twenty years will hold much more knowledge and skills as compared to an advisor who has only been working for two years.
Therefore, when you're choosing a financial advisor, make sure they hold plenty of experience. At Pillar Wealth Management, our advisors have experience of more than thirty years of working with affluent clients and providing various wealth management services.
Fiduciary Services
One of the most crucial factors high net worth individuals need to consider is whether their financial advisor is a fiduciary or not. This can not only impact your wealth but also your peace of mind and financial serenity. A fiduciary financial advisor does not face any conflicts of interest. They are committed to working towards your best interests and always prioritize your needs above theirs.
As a result, they also always disclose all relevant information so that you can make a much more informed decision. When you've got such a partner working with you, you can establish a much more trustful relationship and work towards your goals together. Start a conversation with our fiduciary financial advisors to discuss your financial needs.
Clientele
As mentioned earlier, affluent individuals and families face entirely unique challenges and hurdles. That's why they need financial advisors New York who are equipped with the right skills and experience to handle those unique financial challenges.
The best way to find such advisors is to choose those who work exclusively with affluent individuals. At Pillar Wealth Management, we work only with clients who have $5 million to $500 million in liquid assets so that we can expertly handle their wealth and problems.
Customized Solutions
Another thing you need to look at is whether the financial advisors provide customized solutions or not. Often, at large financial institutions, you will be offered fixed cookie-cutter investment packages that might offer you short-term returns and nothing else.
For any investment strategy or even overall financial plan to be successful, it has to be based on your personal goals and targets in life, and for that, you need customized financial solutions.
Where Can I Get Financial Advice for Free?
It can be hard to commit to a financial advisor before you have evaluated their services and abilities. Therefore, you might be wondering where you can get financial advice for free. This can be hard to find, but one place where you can schedule a free meeting to discuss your financial needs is Pillar Wealth Management.
We are an independent wealth management firm. Our financial advisors operate on a 100% fee-only basis to avoid any conflicts of interest and work towards our clients' best interests. We hold more than six decades of combined experience in working with high net worth investors and ultra-high net worth families and offering a range of services. Our experienced and skilled financial advisors work closely with all clients to understand their unique financial circumstances and develop personalized financial solutions. If you're looking for free financial advice, schedule a no-obligation meeting with Pillar Wealth Management today.
Related Post
Investment Firm – If you have managed to accumulate $5 million or even $500 million in liquid assets…
Asset Management Companies – Producing strong investment returns is one of the most significant achievements that a wealthy investor…
Index Investing – Investing in an exchange-traded funds and index mutual funds garners plenty of positive press…
Preserve Capital – For people who own more than $10 million in investable liquid assets,one of the biggest concerns…