Financial Advisor Companies for Ultra-Wealthy – PillarWM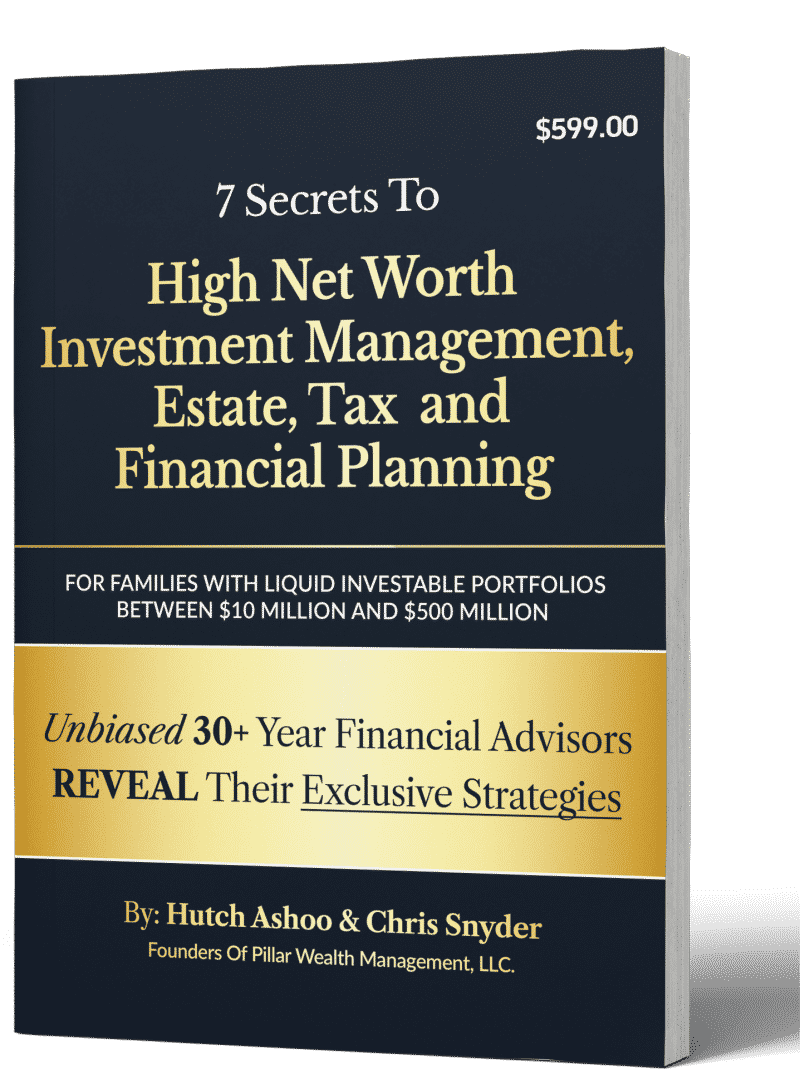 STRATEGIES FOR FAMILIES WORTH $5 MILLION TO $500 MILLION
7 Secrets To High Net Worth Investment Management, Estate, Tax and Financial Planning
The insights you'll discover from our published book will help you integrate a variety of wealth management tools with financial planning, providing guidance for your future security alongside complex financial strategies, so your human and financial capital will both flourish.
Clients frequently share with us how the knowledge gained from this book helped provide them tremendous clarity, shattering industry-pitched ideologies, while offering insight and direction in making such important financial decisions.
At Pillar Wealth Management, we offer fiduciary financial advisory services to families and individuals who have a net worth between $5 million and $500 million. With a joint experience of over 60 years, we can give you tailored financial suggestions to enhance your financial situation and bring you one step close to living the life you always wished for. Head over to our website to chat with one of our financial advisors today!
What Do Financial Advisor Companies Do?
To briefly answer this question, financial advisor companies help you reach financial serenity. When you have millions worth of liquid assets, you will have to take up several tricky financial decisions.
If you feel that financial advisor companies will just give you 'advise' on how to make financial decisions, you are not totally right. A financial advisor company can help you with a lot more. As an affluent individual, it doesn't necessarily mean that you have the skills or time to ensure that you successfully increase your wealth while securing your assets from predictable and unpredictable risks.
This is why you need to work with financial advisor companies. They leverage their experience, expertise, and skills to help you make the best financial choices that lead you towards your goals. They make sure that your wealth and assets are properly secured. They help you lower your expenses and costs to ensure you retain as much wealth as possible. Most importantly, they help you reach true financial serenity where you absolutely don't have to stress over your financial future or wealth.
Here are some services that financial advisor companies to help you achieve your long and short-term financial goals:
• Portfolio and investment management
• Risk management
• Retirement planning
• Tax Planning
• Legacy and Estate Planning
For more information about the services, you can get from our financial advisors at Pillar Wealth Management, click here to book an appointment with us at a time that suits you best!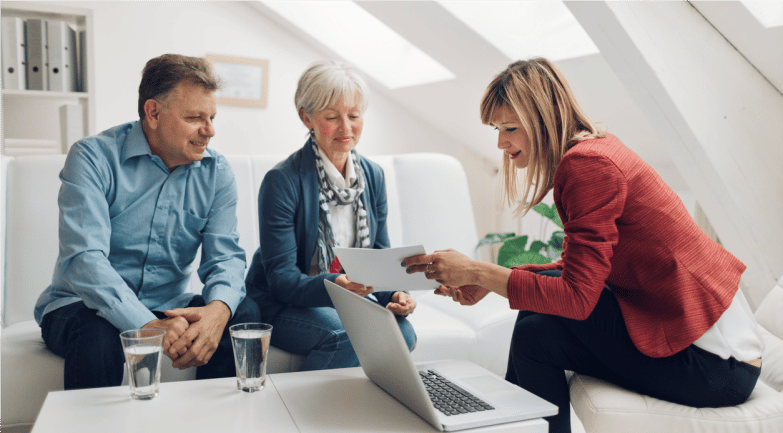 Do You Need Financial Advisor Companies?
You might not want to spend money on things you think you handle yourself. Maybe you feel that way regarding investing. Why should you pay a financial advisor company when you can manage your finances on your own?
There's a lot of misinformation revolving around financial advisor companies. Some people feel that financial advisor companies aren't worth the money, whereas others believe they aren't really helpful in improving their financial circumstances. Thus, when it comes to financial issues, you will come across many people saying, "I can handle it on my own." But just stop for five seconds and think about this –do you build your own smartphone, or do you fly your own plane?
You get a professional for these tasks because they are more knowledgeable and experienced in these areas. You know they will get the job done right the first time. Well, the same applies to your wealth and finances. You need a professional to assist you and guide you. Here are some situations where you do need to work with financial advisor companies.
1. You Want to Stay on Track with Your Investment Strategy
How much money should you have saved for retirement at your present age? What do you need to do if you started investing a little late in life? Do you need to change your investment portfolio as you age?
All these questions might seem extremely complex to you, but they incredibly straightforward for a financial advisor company. They are experts in doing the math and allow you to stay on track in saving for retirement by ensuring that your assets are appropriately diversified and allocated.
2. You Don't Have Time to Manage Your Wealth
Managing your wealth is a job that mandates skills, experience, and knowledge, and therefore, not everyone can take up this task on their own. As an ultra-high net worth individual, you probably have your hands full with personal and professional matters with little time to spare on understanding finance and evaluating different financial decisions.
Thus, in such circumstances, you need a financial advisor company that has the requisite skill set required to effectively manage such a huge amount of wealth. Financial advisory firms have the experience and qualifications that have readied them to take up this challenging task. They have vast knowledge about the latest market movements and use it to curate the best financial plan for you.
Nevertheless, you should bear in mind that not all financial advisor companies are equal. If you want to work with atop financial advisor company, you should definitely read our guide and learn how to choose an excellent financial advisor.
3. You Are Going Through A Major Change in Life
All major changes that happen in your life impact your financial circumstances as well. For instance, if you are getting married, you need to merge your wealth with your spouse. Similarly, if you are starting a family, you need to account for their future college expenses.
In general, major life changes such as purchasing an estate, getting married, starting a business, having children, and even divorce all have certain financial implications. If you are going through such a life-changing event, you can seriously benefit from impartial financial advice. Read our special guide to know what a financial professional needs to do when you experience a significant life change.
4. You Need More than Investment Advice
Some individuals believe that the only responsibility of a financial advisor company is to invest your wealth. While this is true, it's not a complete representation of what these forms do. They can help you with numerous other financial aspects such as:
• Rebalance your asset portfolio. Your asset portfolio might include various investments,includingbonds, stocks, mutual funds etc. For instance, you might have invested 60 percent of your wealth in bonds and the remaining 40 percent in stocks. But, as you near retirement, you might want to change these allocations to protect your wealth. A financial advisor company can give you advice on how and when to modify the allocation. Read our free hardcover book, The Art of Protecting Ultra-High Net Worth Portfolios and Estates – Strategies for Families Worth $25 Million to $500 Million and learn ;
• Tax Planning. Are you well-versed in the tax laws that apply to your financial circumstances? Do you which particular investment is going to create the highest tax burden? A financial advisor company can answer all these questions for you. The know which investments have the most impact on your tax liability and how you can minimize your tax burden. Want to learn more about how you can lower your tax burden? If yes, read our guide, Improving Portfolio Performance.
Should I Hire A Financial Advisor Company?
The above section might have made you realize that you do indeed need a financial advisor company, and you might be seriously contemplating the question, should I hire a financial advisor company?
Well, the answer to the question is yes. You should work with a financial advisor company,but you need to make sure you work with the right one. As we mentioned above, not all financial advisor companies are the same and hence you need to have a meticulous filtering process to ensure you pick only the best one for yourself. Here are some factors you should use to filter out the best financial advisor firms from the not-so-great ones.
1. Relevant Experience
In the area of financial advisory, there is nothing more essential than relevant experience. Financial advisors who the appropriate experience working with high net worth and ultra-high net worth investors can better comprehend your situation and hence offer more suitable plans.
If you work with a new financial advisor company that doesn't have sufficient experience, your wealth will be at very high risk. This is because inexperienced companies don't know how to safeguard your wealth from volatile market conditions and other threats.
At Pillar Wealth Management, we have been providing financial advisory services for more than three decades. So, you can easily trust us to make the right financial decisions on your behalf that will help you accomplish all your financial goals in life. You can click here to book an appointment with our highly experienced financial advisors today!
2. Tailored Financial Help
If you search for financial recommendations on Google, you will get loads of information, most of which will not be relevant to your financial situation. Even if you do possess the same amount of wealth as another wealthy person, your financial needs will definitely be quite different, demanding a completely different set of strategies.
If you work with an experienced financial advisory company, you won't receive standardized, run-of-the-mill financial advice. Instead, the professionals at such companies will hold detailed consultations and meetings with you to learn about what you wish to achieve and devise a plan around that.
3. Passive Investment Techniques
The passive investment technique is a great strategy to preserve your wealth in the long run. In fact, it is one of the critical shifts needed to enhance portfolio performance. Read about the other four critical shifts that will help you maximize your investment performance.
Passive financial advisors track a specific market index and use the data they collect to make investment decisions. The advantages of passive investment management include reduced taxes and lower management fees. Because this strategy helps you lower costs and expenses, it allows for the successful preservation of wealth.
At Pillar Wealth Management, we are adept at balancing passive investment strategies with active ones. This way, we can secure and build your wealth in the best way possible.
How Do I Find an Excellent Financial Advisor Company?



If you are now convinced to work with a financial advisor company, you might be thinking, how do I find an excellent financial advisor company. After all, you want to make sure that you don't waste your hard-earned money on a company that doesn't give you what you need. So, here are some ways to find the best financial advisor company for yourself.
Step 1: Get Recommendations
The ideal way to find a financial advisor company is to ask affluent people in your circle for recommendations. They are high chances that some of them have already hired a firm and can refer you to them.
Step 2: Conduct a Background Check
Conduct a comprehensive background check to determine if they have the appropriate credentials, such as the CFP or PFS designation.
Step 3: Book a Meeting
Meet with the professional at a financial advisor company, so you better learn about their abilities and skills.
Step 4: Ask the Right Questions
Ask the right questions in your meeting, such as the range of services they offer, their investment philosophy, personalization, etc.
Wrapping Up
Pillar Wealth Management can allow you to become financially secure through its competent and experienced advisors, a vast range of services, and utmost commitment and dedication. We work closely with all our rich clients to learn about their requirements and develop the best solutions for them. Sign up for a free consultation with our fiduciary financial advisors today.
To be 100% transparent, we published this page to help filter through the mass influx of prospects, who come to us through our website and referrals, to gain only a handful of the right types of new clients who wish to engage us.
We enjoy working with high net worth and ultra-high net worth investors and families who want what we call financial serenity – the feeling that comes when you know your finances and the lifestyle you desire have been secured for life, and that you don't have to do any of the work to manage and maintain it because you hired a trusted advisor to take care of everything.
You see, our goal is to only accept 17 new clients this year. Clients who have from $5 million to $500 million in liquid investable assets to entrust us with on a 100% fee basis. No commissions and no products for sale.