Best Personal Financial Advisors: How To Spot Them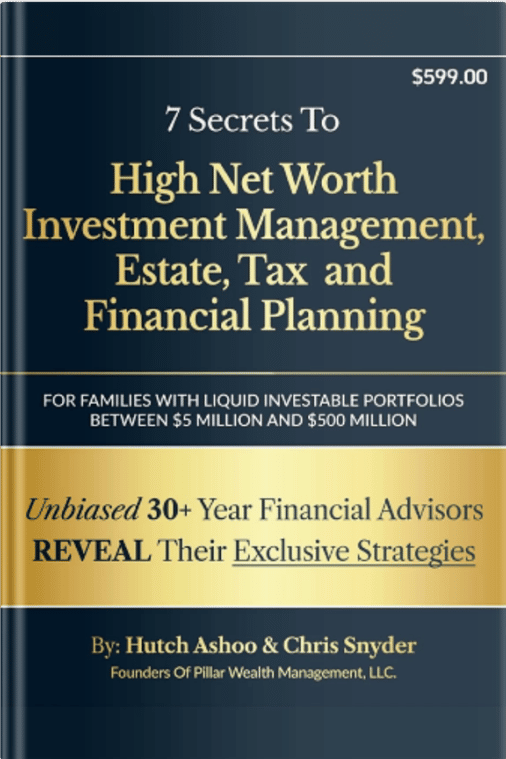 STRATEGIES FOR FAMILIES WORTH $5 MILLION TO $500 MILLION
7 Secrets To High Net Worth Investment Management, Estate, Tax and Financial Planning
The insights you'll discover from our published book will help you integrate a variety of wealth management tools with financial planning, providing guidance for your future security alongside complex financial strategies, so your human and financial capital will both flourish.
Clients frequently share with us how the knowledge gained from this book helped provide them tremendous clarity, shattering industry-pitched ideologies, while offering insight and direction in making such important financial decisions.
Financial advisory services like Pillar Wealth Management, who serve individuals with$5 million to $500 million in liquid assets, have certain traits and factors that set them apart from the rest of the pack. This article will delve deep into all the factors you need to watch out for when searching for the best personal financial advisors.
We will answer the following questions:
Who are the best financial advisors? What do they do?

Why do millionaires need financial advisors?

How do I choose a personal financial advisor?
Let's get right into it!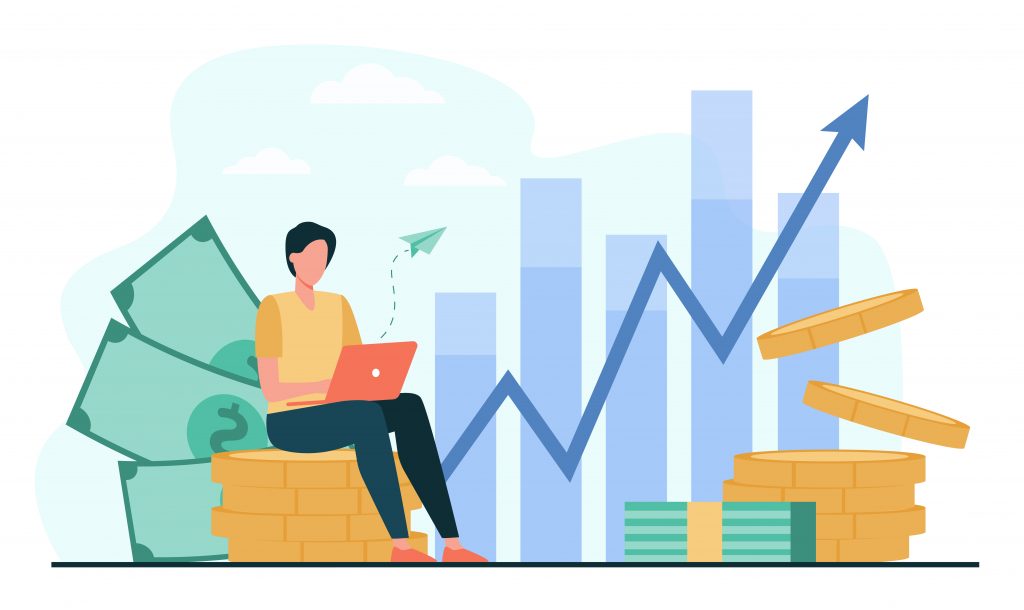 What Do the Best Personal Financial Advisors Do?
The way this question is worded is highly significant because there is often a gulf between the kinds of services offered by the best financial advisors for affluent investors and other average institutions. Spotting this difference can be key if you're asking yourself, "Who are the best financial advisors?". But before we can give you the tools to pick the best of the best, you need to understand the role of financial advisors.
Financial advisors can offer a whole range of services, including advice on managing your wealth, dealing in investments on your behalf, retirement planning, estate planning, or even completely managing all your wealth!
A financial advisor's services will depend on what they're able to do well, based on their expertise and experience. Some of the main types of financial advisors you might find are:
Investment Advisors and Brokers
These individuals advise on the types of securities and investment products you need to buy and sell to earn a decent return. In many cases, investment advisors will also be brokers who carry out these transactions on your behalf.
The key difference between an investment advisor and broker is how they charge for their services. Investment advisors usually charge a yearly fee, while brokers make their money from commissions from every investment product you buy or sell. Commissions can often lead to a conflict of interest if brokers wish to promote products that earn them higher commissions.
Most investment advisors are active money managers found in large banks and large financial firms. Investors looking to earn a specific rate of return on a few investments may benefit from an investment advisor's services.
However, you should remember that active money management and aggressive investments can often be very risky for high net worth and ultra-high net worth investors. There are often better ways to maximize portfolio performance than trying to time the market (which is usually impossible to sustain). You can check out our complete guide on optimizing portfolio performance for more information on this topic.
Asset Managers
Asset managers offer a very focused set of services for clients. They're often also known as investment or portfolio managers because they manage an investment portfolio for their clients. They usually do not offer any financial advice since most asset managers are not Registered Investment Advisors (RIAs). Asset managers will only manage your portfolio as you ask them to. Most experts do not consider them to be the best financial advisors for affluent investors since they usually don't have enough experience in dealing with wealthy individuals.
Certified Financial Planners
CFPs are fiduciary advisors that have a wealth of experience and expertise in their field. Their certifications require them to go through many years of practice and training to reach the highest of service standards. CFPs typically specialize in financial planning for individuals to help them achieve their financial goals.
CFPs will rarely partake in any investment management practices. They prefer to stick to what they're good at and will help individuals with financial planning in areas such as estate planning, retirement planning, and so on.
Wealth Managers
Wealth managers are known as all-rounders of the financial advisory game. Experienced and fiduciary wealth managers are often considered to be the best financial advisors for most high net worth and ultra-high net worth clients.
They will typically manage all aspects of an individual's wealth – from ascertaining their life and financial goals to making sure their investment and wealth is managed in a way to help them reach those goals. An experienced wealth manager can usually help you with everything the other financial advisors on this list can, and more.
Want to learn more about how experienced wealth managers protect and grow the wealth of high net worth clients? Check out our special guide for individuals with more than $10 million in liquid assets.
Note that this is not a complete list of financial advisors you might encounter. Services like robo-advisors, financial consultancies, etc., are also available. However, we don't feel that many of them add enough value for high net worth and ultra-high net worth investors.
Talking about value, this brings us wonderfully to the next question we very often get.
Why do Millionaires Need Financial Advisors?
Most affluent individuals have worked very hard to be where they are.They didn't get there with pure financial luck. High net worth and ultra-high net worth individuals have cleverly managed their wealth and income throughout their lives to maintain and grow their wealth.
So, why do millionaires need financial advisors? Aren't they doing well enough by themselves?
As you progress throughout your life, your priorities start to change – you don't have the same amount of time as you used to. You now have a family to look after, and you might also want to do some retirement and estate planning. Most importantly, you just want to live a life of financial serenity now – you deserve it.
The best financial advisors realize that your life doesn't revolve around earning aggressive returns anymore. It's about protecting what you have and making sure you earn enough to live the lifestyle you want. They can help you manage every aspect of your financial life and take the burden off your shoulders.

If you're want to find out what it's like to work with wealth managers who understand your sentiments and share your passion for achieving your life goals, schedule a free chat with Pillar Wealth Management via our website.
If you want to learn more about how to spot the best financial advisors, keep on reading to the next section!
How Do I Choose a Personal Financial Advisor?
Firstly, you'll need to decide on the type of financial advisory service you need. Think about your current financial position and the level of assistance you'll need in managing your wealth and investment portfolio. This should allow you to decide what kind of financial advisor out of the ones mentioned earlier will be appropriate for you. We usually recommend high net worth and ultra-high net worth clients to consider wealth managers since they offer the most holistic services.
Once you've got an idea of the type of advisor you want, you can move on to answering the question, "how do I choose a personal financial advisor?". Let's take a closer look at some of the distinguishing factors of the best personal financial advisors.
1. Level of Experience
When someone asks, "who are the best financial advisors?" you will very rarely get an answer of a wealth manager or advisor that doesn't have extensive experience in working with high profile clients and a track record of excellence. That's because the nature of the financial markets is such that you need experience to truly understand why some strategies work and some don't. Experience also teaches managers about what affluent clients truly want. No book will tell them the difference between the needs of a retiring millionaire and of someone just starting their career.
Managing and protecting the wealth of ultra-high net worth clients with more than $25 million in liquid assets is no walk in the park. It requires special care and, as an investor of that category, you can't risk your wealth with someone who doesn't have the right experience. You can learn about the role of experience and expertise in managing the wealth of ultra-high net worth clients in the free copy of our book "The Art of Protecting Ultra-High Net Worth Portfolios and Estates – Strategies For Families Worth $25 Million To $500 Million".
At Pillar Wealth Management, our experts have more than sixty years of combined experience in helping high net worth and ultra-high net worth clients with $5 million to $500 million in liquid assets. We can help preserve, grow, and manage your investments.
We understandwhy your priorities are different and why you need a personalized plan geared only towards meeting your goals. If you want to discuss your life goals and investment plans, schedule a free consultation with us through our website.
2. The Ability to Minimize Risks
Earning a return on your investments is important but mitigating unnecessary and avoidable risks is perhaps the core of creating a sustainable financial plan. A financial advisor that can help you minimize risks via the right asset allocation is an advisor you want to keep.
The best personal financial advisors have enough knowledge and experience to realize that diversification doesn't necessarily mean risk minimization. It's very well possible for you to be diversified on paper yet still be under massive risk to losses from certain conditions.
For example, you could spread your investments among 50 different airlines' stocks, and they will technically be "diversified." However, if the tourism or travel industry suffers a collective disaster (like the COVID-19 pandemic), you will be at risk of incurring severe losses.
Most experts will tell you that asset allocation matters a lot more than just diversification. Optimizing your investment ratios in equities, bonds and cash can help you navigate economic downturns a lot better and ride the wave of booms to earn high returns.
Not even a healthy asset allocation can prevent you from losing money during poor economic circumstances. However, it will significantly reduce the impact the poor economic conditions have on your portfolio.
At Pillar Wealth Management, we ensure that you always have a healthy asset allocation that both maximizes portfolio performance and minimizes the risk of loss.
3. Expertise in Reducing Costs
Just like unnecessary risks, avoidable costs are a major avenue of financial losses for wealthy investors.
The best financial advisors for affluent investorsknow that protecting the wealth of individuals with high net worth and reducing their costs is often just as essential as earning a healthy return. Paradigm shifts such as this encourage maximum portfolio performance. You can learn more about performance maximizing paradigm shifts by checking out our easy guide here.
Some financial advisors do not have enough knowledge or experience to realize that there is a difference between fees and costs. Though almost every advisor charges a fee for their services, only the best ones will know about the hidden costs you can incur and tell you about how they can reduce them. Learn more about the habits of successful and unsuccessful advisors in our ultimate guide here.
When consulting with a potential advisor, be sure to ask them about the hidden costs you might incur and how they plan to cut down on them. This is extremely important, and you should avoid advisors who aren't able to give a clear-cut answer to this question.
Here are some of the costs you should be told about:
Taxes from capital gains

Cost of active vs. passive management

Bond sale spread

Commissions paid to money managers

Tax loss cultivation

Internal expenses
4. Fiduciary Duty
This is one of the most important ways to answer the question, "who are the best financial advisors?"
Fiduciary duty refers to an obligation that your financial advisorwill only act in your best interests.For instance, the wealth managers and financial advisors atPillar Wealth Management are Registered Investment Advisors (RIA) certified by the Securities Exchange Commission.
As part of this certification, our advisors are obliged to always act in your best interests when providing financial advice or managing your portfolio. A fiduciary advisor like Pillar Wealth Management also ensures that there are no conflicts of interest when working on your portfolio. We do not earn any commissions or product-based compensations on any investments.

You can always be sure that a fiduciary manager will always put your goals and needs first when investing. They will not let emotions get in the way of their work.
Want to know what it's like to work with fiduciaryfinancial advisors who only obsess over achieving your goals and reducing your costs?Head over to our website and schedule a free chat with us.
Final Words
Finding the best personal financial advisors is not something you can do overnight. You shouldn't do it overnight. It's a big decision that has the potential to be life changing for you. It's vital that you take time to explore all your options and find one that best understands and fits your unique needs as an affluent investor.
Pillar Wealth Management experts have more than sixty years of combined experience in successfully helping high net worth and ultra-high net worth individuals live a life of financial serenity. If you're an individual with $5 million to $500 million in liquid assets, visit our website to book a free consultation today and learn how we can help you reach your goals.