Benefits of a Financial Advisor for the Wealthy – PillarWM
Wealthy investors that have spent an ample amount of time building their portfolios develop skills and knowledge in several areas. However, they may occasionally require the assistance of a financial advisor. Individuals with between $5 million to $500 million in liquid investment assets can reap the benefits of a financial advisor by choosing Pillar Wealth Management. Our wealth managers are well-versed with advanced investment strategies that can benefit you in numerous ways. Read about some of the investment approaches we recommend in our special guide for investors with $10 million or more.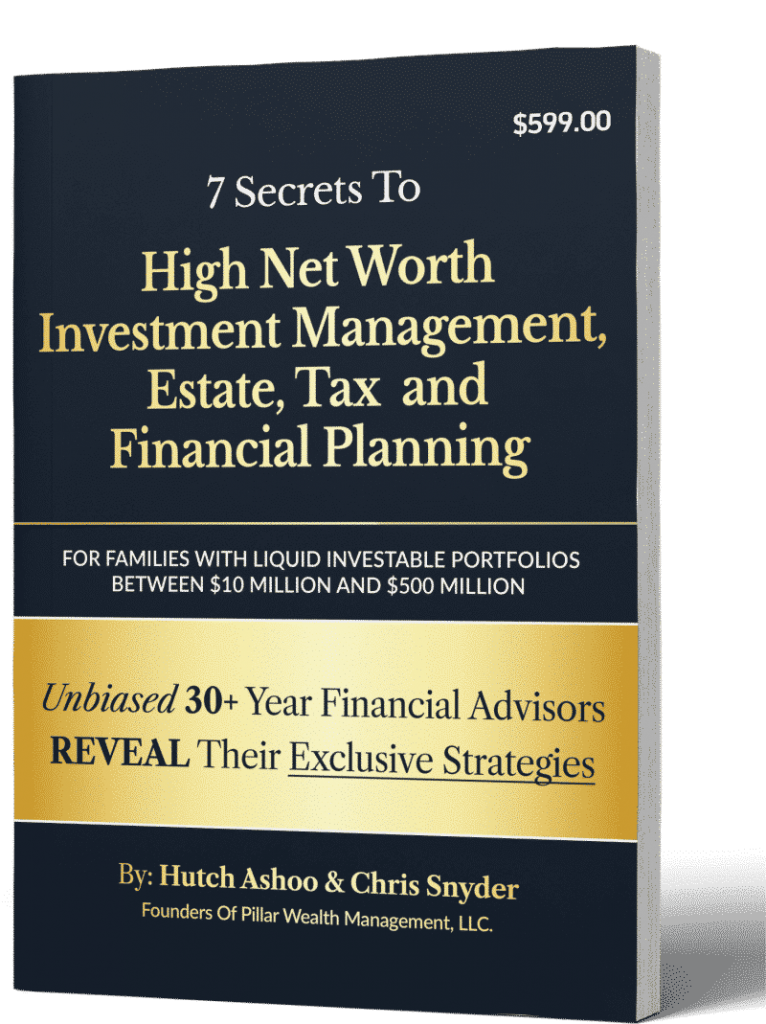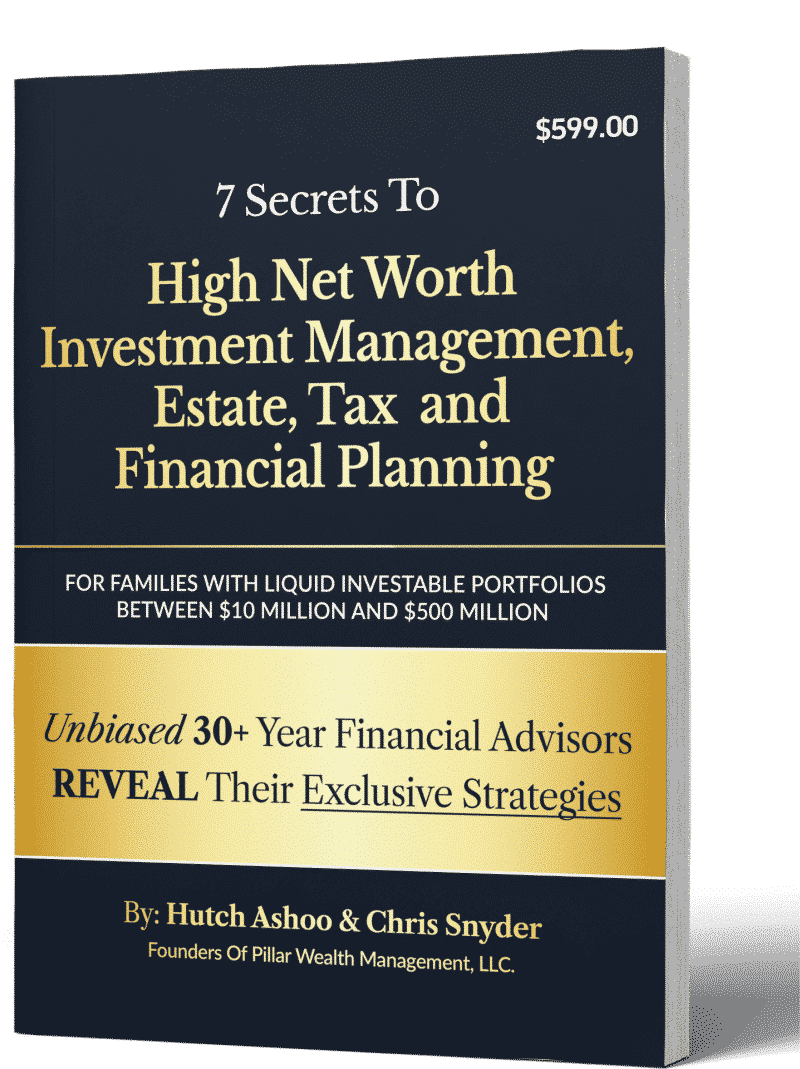 STRATEGIES FOR FAMILIES WORTH $5 MILLION TO $500 MILLION
7 Secrets To High Net Worth Investment Management, Estate, Tax and Financial Planning

The insights you'll discover from our published book will help you integrate a variety of wealth management tools with financial planning, providing guidance for your future security alongside complex financial strategies, so your human and financial capital will both flourish.
Clients frequently share with us how the knowledge gained from this book helped provide them tremendous clarity, shattering industry-pitched ideologies, while offering insight and direction in making such important financial decisions.
What are Financial Advisors?
The term "financial advisor" refers to a wide range of financial professionals who offer advice in different areas related to finance. Please set up a complimentary appointment with our wealth managers to learn more about financial advisors.
Some common types of financial advisors include:
• Investment Advisors
• Financial Planners
• Asset Managers
• Retirement Planners
• Insurance Planners
Each of these financial advisors offers assistance in various areas. Let's look at what each one does.
Investment Advisors
Investment advisors have an expert understanding of securities. This includes stocks and bonds. These professionals spend their time analyzing stock market trends and recommend investment options to their clients.
These advisors are great for investors that wish to expand their portfolio or invest in a foreign market. We discuss some great portfolio growth strategies in our special guide.
Financial Planners
Financial planners are one of the most sought out financial advisors. These are qualified investment professionals that help clients achieve their financial goals.
Financial planning isn't an easy process and requires a fair amount of work on the financial planner's end. They are often required to analyze their client's goals, assess risks they may be exposed to before creating financial plans that are easy for their clients to manage and follow along with.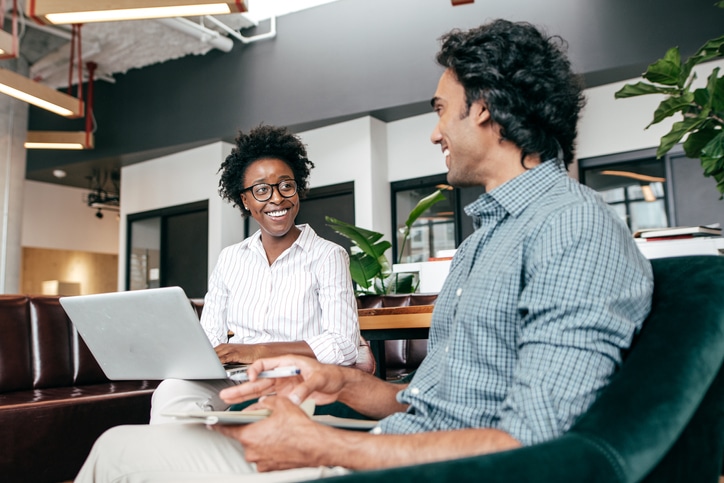 Asset Managers
Asset managers are financial professionals who manage assets on behalf of their clients. They are typically tied to a financial institution such as an investment bank.
Asset managers work to appreciate their client's assets over time while also managing and mitigating the present risks. These professionals are skilled at improving their client's portfolio performance using various strategies. We discuss some portfolio performance improvement strategies in our special guide.
Retirement Planners
Retirement planners are a particular type of financial advisor that focuses on retirement planning for their clients. They create suitable retirement plans by analyzing their client's finances, their retirement goals and by recommending budgeting and investment strategies.
Insurance Planners
Insurance planners are another essential type of financial advisor. These professionals analyze their client's needs and recommend insurance plans to help protect their wealth. We talk about the immense importance of wealth protection in our book The Art of Protecting Ultra-High Net Worth Portfolios and Estates – Strategies For Families Worth $25 Million To $500 Million.
Some of these planners may be tied to a particular insurance company and will recommend their company's insurance plans that are most suitable for their clients. Other planners may be independent and can offer insurance plan options from a wide variety of insurance providers.
What Are Various the Benefits of a Financial Advisor?
Now that we have looked at the various types of financial advisors out there, you may be wondering, "what are the benefits of having a financial advisor?". A significant percentage of wealthy individuals use financial advisors regularly for a variety of reasons.
Some of the benefits of having a financial advisor include:
Working Towards Your Financial Goals
Wealthy investors may be skilled at building wealth through investments. However, they may still have trouble achieving specific financial goals on their own. This could include attaining a particular net worth by a certain age or setting up a trust for their children.
Financial advisors can be incredibly helpful in such situations, as they take the time to understand your financial goals and provide their services to assist you in achieving them.
Planning for the Future
It's difficult to predict what the future holds. However, wealthy investors need to plan ahead if they wish to protect their wealth or financially support their family in the future. Financial advisors, such as retirement planners or estate planners, can help with future planning. Please speak with our wealth managers to learn how you can plan for the future.
Understanding Your Finances
Some types of financial advisors, such as financial planners, also excel at financial analysis. These professionals can study your finances in-depth and let you know where you stand. This service is helpful as wealthy investors often have their wealth tied distributed across multiple accounts and assets.
Financial analysis services can also help you predict what your net worth will be at a future time. You can then put this information towards financial planning to help you meet your future goals.
Learning About Risks
Wealthy investors with large portfolios spread across different markets are exposed to a variety of risks. Many of these risks are inherent to all investments, while others may be specific to certain markets that are known to be volatile.
A financial advisor can study your portfolio and inform you about these risks. Some advisors can even help you account for them beforehand and come up with mitigation strategies.
Is a Financial Advisor Worth It?
The benefits mentioned above should convince most investors about the importance of having a financial advisor. However, you may still be wondering, "It is worth having a financial advisor?"
Not everyone needs a financial advisor, but most wealthy individuals use their services from time to time. Billionaires often have teams of financial advisors that advise them on a variety of matters.
To truly understand whether it is worth having a financial advisor, you should weigh their costs against their benefits. Financial advisors may charge their clients an hourly fee that ranges from $100 to $400 per hour. Others may charge a fixed price for their services. However, many financial advisors charge their clients a fixed percentage based on the value of the assets they are managing.
These costs may seem high for some individuals; however, the value of these advisors' services tends to be much greater. This is especially true when they are offering advice and guidance on assets that are worth millions. Please speak with our wealth managers to learn how they can help you.
How Much Money Do You Need for a Financial Advisor
You may be wondering how much money do you need for a financial advisor. The answer varies depending on the advisor you are looking at. Many financial advisors will take on clients of any net worth. Others may be picky about choosing only wealthy clients with high-value assets.
You should ask the advisor if they take on clients with your net worth before choosing to use their services. You can learn some more questions to ask a financial advisor in our special guide.
Why Choose a Wealth Manager Over Other Financial Advisors
We have spoken about many different types of financial advisors so far. However, one particular kind of advisor stands above the rest. Wealth managers are a specific type of financial advisor favoured by high net worth and ultra-high net worth individuals.
Some reasons to choose a wealth manager over other types of financial advisors include:
Experience With Wealthy Investors
As mentioned earlier, financial advisors often take on clients of any net worth. This makes them more accessible to a wide variety of people. On the other hand, wealth managers tend to be more exclusive and cater primarily to individuals with a high or ultra-high net worth.
At Pillar Wealth Management, we take on clients that own between $5 million and $500 million in liquid investment assets. This also means we are experienced with handling the needs of wealthy investors.
Wealth managers understand the unique financial goals and concerns that wealthy individuals may have. They can then use their experience and knowledge in these areas to offer useful advice for them.
Broad Range of Services
Ordinary financial advisors, such as retirement planners and investment advisors may offer only one or two types of services. This is understandable, as these professionals chose to specialize in a specific area. However, this also means their clients may need to hire multiple types of financial advisors to have their needs covered.
Wealthy managers stand out from other financial advisors because they offer a broad range of services. These professionals do not specialize in any one particular area because proper wealth management involves many different services. This includes:
• Portfolio analysis
• Asset management
• Retirement Planning
• Tax Planning
• Estate Planning
Fee Structure
Wealth managers also differ from ordinary financial advisors in their fee structure. We mentioned that many financial advisors charge their clients a flat rate or an hourly rate for their services. This may discourage clients from using their services as often as needed.
On the other hand, wealth managers charge a fixed annual fee based on a percentage of their client's asset value. This means you can reach out to them for advice whenever you need to and without racking up extra charges.
Why Choose Pillar Wealth Management
If you have decided to use a wealth manager for all your financial advisory needs, you may be wondering which firm to choose. There are many wealth management firms across the country, but few can match the quality of services we provide at Pillar Wealth Management.
Wealthy investors with $5 million to $500 million in liquid investment assets should choose our services for various reasons. This includes:
Our Experience
A wealth manager's experience is their most vital asset. At Pillar Wealth Management, we have six decades of experience serving wealthy investors. Our wealth managers have assisted numerous clients over the decades and have learnt about their various needs and concerns.
Our experience and knowledge increase with each passing year, and we strive to put that knowledge towards serving you to the best of our ability.
Personalized Plans
Planning for the future usually requires comprehensive financial plans that take your unique background and goals into account. This also means generic financial plan templates are poorly suited for wealthy investors.
At Pillar Wealth Management, our wealth managers take the time to listen to your various needs and concerns before tailoring each plan to meet your needs. With our assistance, you can execute advanced financial strategies without possessing extensive knowledge on the subject. You can learn about some of these strategies in our guide for investors with $10 million or more.
Reachability
Our wealth managers understand the importance of communication. This is why we have made it easy for clients to reach out to us with any query they may have. Each of our wealth managers takes on a limited number of clients to give each one individual attention. Please schedule a special free appointment with us to start managing your wealth more effectively.
To be 100% transparent, we published this page to help filter through the mass influx of prospects, who come to us through our website and referrals, to gain only a handful of the right types of new clients who wish to engage us.
We enjoy working with high net worth and ultra-high net worth investors and families who want what we call financial serenity – the feeling that comes when you know your finances and the lifestyle you desire have been secured for life, and that you don't have to do any of the work to manage and maintain it because you hired a trusted advisor to take care of everything.
You see, our goal is to only accept 17 new clients this year. Clients who have from $5 million to $500 million in liquid investable assets to entrust us with on a 100% fee basis. No commissions and no products for sale.
Related Post