Affluent Wealth Management: Where to Go for Financial Advice
One of the biggest concerns for affluent individuals is about protecting their assets and preserving their wealth.Those who possess liquid assets worth $10 million or more would obviously want to optimize their portfolio and grow their wealth to create their desired legacy. These individuals usuallyconsult with a professional for financial advice and guidance. To find out how you can find the right financial advisory expert for your unique needs and preferences, read our exclusive guide here.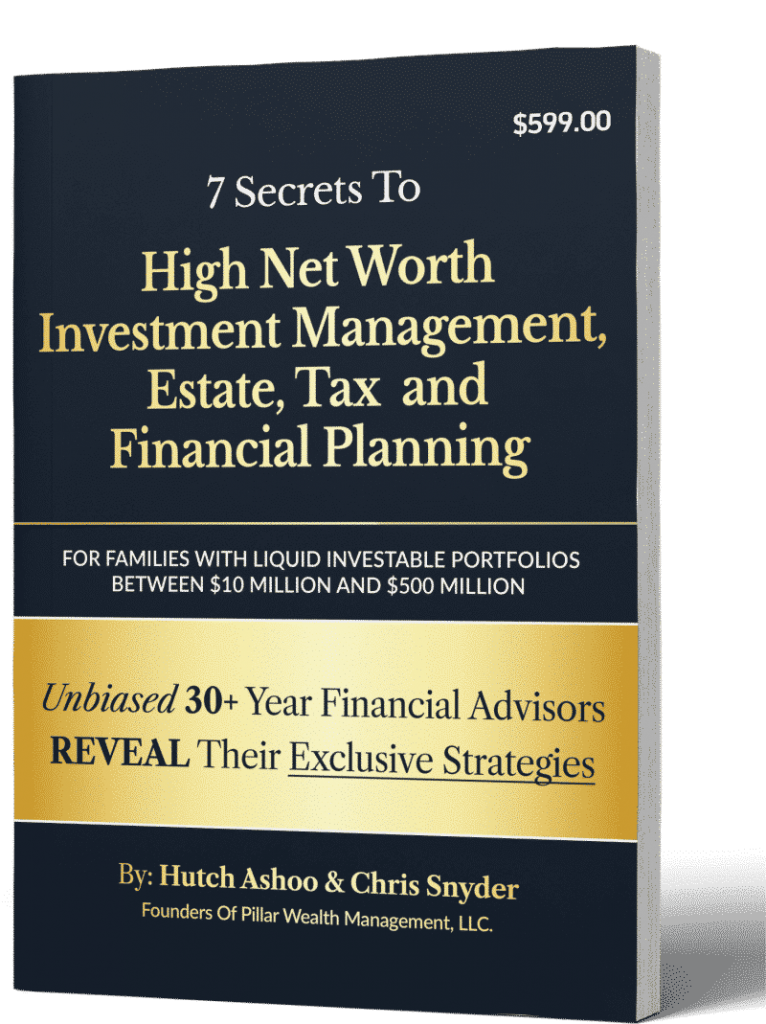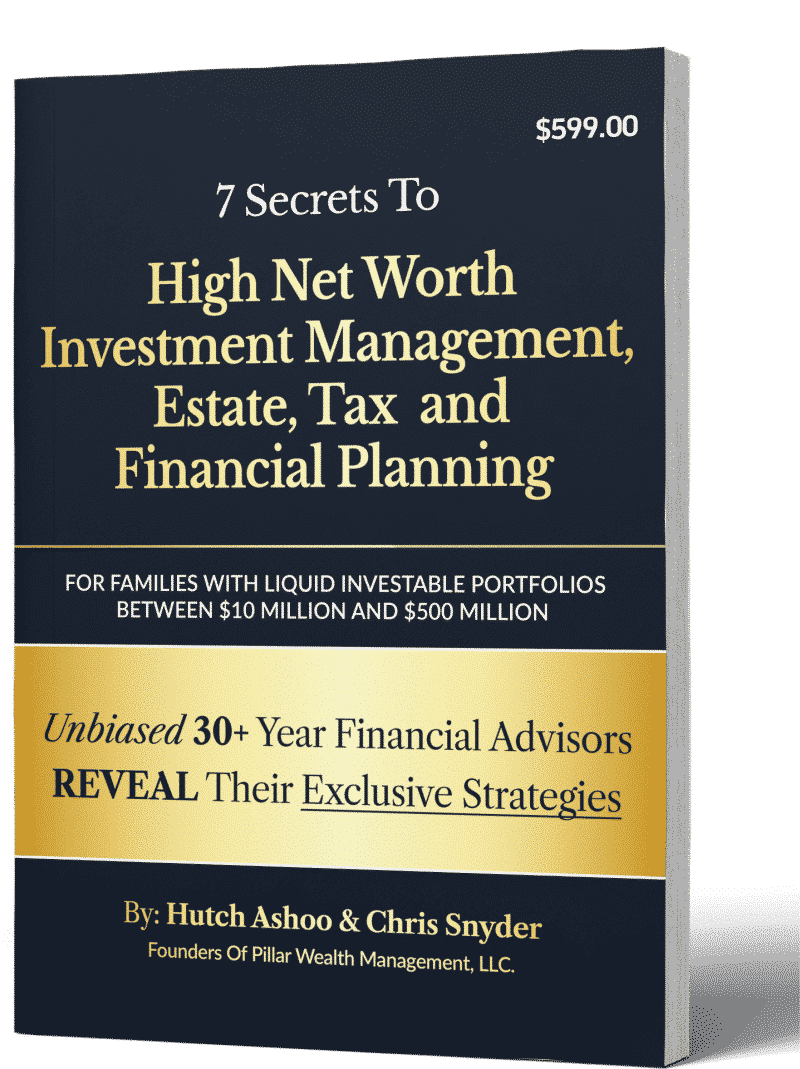 STRATEGIES FOR FAMILIES WORTH $5 MILLION TO $500 MILLION
7 Secrets To High Net Worth Investment Management, Estate, Tax and Financial Planning

The insights you'll discover from our published book will help you integrate a variety of wealth management tools with financial planning, providing guidance for your future security alongside complex financial strategies, so your human and financial capital will both flourish.
Clients frequently share with us how the knowledge gained from this book helped provide them tremendous clarity, shattering industry-pitched ideologies, while offering insight and direction in making such important financial decisions.
If you're interested in booking a no-fee consultation to discuss your financial situation and goals, you canalso get in touch with our team at Pillar Wealth Management. We work with affluent individuals who have $5 million to $500 million worth of investable wealth under their belt, helping them develop a smart strategy for successful wealth management.You can partner with us to grow your wealth and achieve your goal of financial serenity.
But first, let's find out if you can be called an affluent individual.
What Is an Affluent Person?
While the definition may vary from person to person, affluent individuals generally have liquid assets worth a certain amount. They usually qualify for separately managed investment accounts. Those with a minimum of $1 million in liquid financial assets are classified as 'high net worth individuals'. Those with $5 million and more than $30 million fall into the categories of 'very high net worth' and 'ultra high net worth' respectively.
What Salary is Considered Affluent?
There is no exact figure for being considered affluent. If you earn a six-figure income, you may be regarded as affluent in the U.S. Technically, if your salary is double the median household income, you're affluent. In 2018, the nationwide numbers stood at $74,600.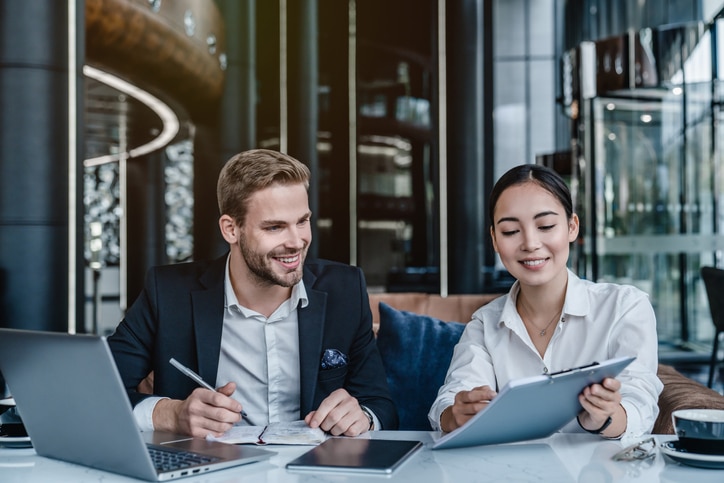 What is the Difference between Wealthy and Affluent?
Before we answer this question, let's differentiate between a rich and wealthy person. The former is usually rich for a short period of time before the money goes away.A rich person focuses on spending their money to meet their needs, wants, and desires.You may win a lottery and become rich. You may be a professional athlete who wows the audience with their performance and becomes rich for a few years.
On the other hand, a wealthy person has sustainable wealth and focuses on saving and growing it so that it can last for generations. The biggest difference between the rich and wealthy is that the wealthy know how to make money while rich people simply have money.In case a wealthy person faces a reversal of fortune, they can always build their wealth back.
Now, anaffluentindividual is one step ahead of the wealthy. They allocate their time and efforts differently, focusing on financial growth, investment planning, and devising wealth-building strategies.They make sure they save as much as possible and secure multiple income streams. While they are willing to take risks, they always take a route that allows maximum portfolio optimization in the long run. Want to expand your knowledge base regardinghow affluent individuals improve their portfolio performance?Don't forget to read our guide.
Talk to an expert at Pillar Wealth Management today to find out if you're an affluent individual who qualifies for our financial services.
Where Do the Affluent Go for Financial Advice?
The more wealth you possess, the more complex your financial problems will be. The financial risks and challenges faced by affluent individuals are indeed more complicated than what an average American goes through. Therefore, affluent wealth management warrants extra attention to detail, extensive financial knowledge, and exceptional decision-making skills.
If you have $5 million to $500 million in invest able wealth, you can't let your emotions guide your financial decisions.The only way to ensure efficient wealth protection and lifelong financial security is by devising a well-thought-out wealth management plan. Discover how you can create an effective investment strategy to preserve your wealth in our book – The Art of Protecting Ultra-High Net Worth Portfolios and Estates – Strategies For Families Worth $25 Million To $500 Million.
Ideally, affluent individuals should work with a professional financial advisor who can help them look at the bigger picture with their individual needs and goals in mind.
What Can a Financial Advisor Do for You?
A financial advisor takes a holistic approach to wealth management when working with affluent individuals.Their services usually include estate planning, investment management, tax help, and legal advice.
When choosing an expert, make sure you verify that the professional in question specializes in managing the personal wealth of the affluent. They must know that your financial needs and goals are more expansive than others and you require their expert guidance on things that go beyond simple portfolio management. You should also confirm that they understand the ins and outs of market performance and are equipped with the necessary tools and resources to help you achieve your short and long-term financial goals.
If you're interested in working with a financial advisor who works with affluent individuals only, let's start a conversation right away.
List of Financial Advisory Services
A financial advisor is equipped with all the necessary resources to help you with any matter related to your finances. They may also offer a few services that may not seem financially related.
Below is a list of services offered by financial advisors for affluent individuals.
– Tax planning
– Investment management
– Estate planning
– Legacy planning
– Trust services
– Philanthropic planning
– Concierge healthcare
Regardless of the services you opt for, you can rest assured that an expert financial advisor will navigate you through tough times without letting your emotions get in the way of making smart, well-informed decisions.
Finding a Financial Advisor for Your Individual Needs
There are several financial advisors out there offering wealth management services for the affluent population. When comparing professionals, think about the specific financial assistance you're looking for and make sure the potential partner specializes in those areas.
You may get confused finding the right financial advisor but it doesn't have to be such an overwhelming task. Keep your options open and consult with different expertsbefore choosing one who follows an approach that matches your values and vision.
You can consult with some of the best wealth management experts at Pillar Wealth Management. We have a team committed to helping affluent individuals withliquid assets worth $5 million to $500 milliongrow their wealth andachieve their financial objectives. Our financial advisors will analyze your current financial situation, determine your needs, and discuss your investment goals before suggesting a solid plan for smart asset allocation and portfolio optimization.
Before you reach out to any financial advisor, make sure youditch the performance-chasing mindset. Affluent individuals who want to build a financial legacy focus on maintaining the right balance between financial security and performance. You must choose a path that promises bigger rewards in the long run instead of running after temporary gains. This mindset shift will increase your chances of building and preserving wealth. Go through our guide on the top five shifts every affluent individual should make before embarking upon the wealth management journey.
Things to Consider When Choosing an Expert
Before hiring a financial advisor, you must take the following things into consideration in order to be fully convinced that they are perfect for the role.
1. Education and Experience
First and foremost, you must review the educational background and work experience of a professional. It'll be best if they have a demonstrated capability of applying their knowledge to develop a smart strategy for affluent individuals.
Go through the expert's website and articles to gauge their level of understanding and thought process for affluent wealth management. See if they hold any certifications that speak for their talent and expertise.
2. Financial Planning Approach
As an affluent individual, you must determine how a financial advisor plans on managing your wealth before hiring them. Ideally, you should findsomeone who is well aware of the intricacies of high net worth financial planning and believes in combining active and passive management strategies for portfolio optimization.
Their goal should be to create a balanced portfolio for you that minimizes your costs and risks while maximizing profits.This is the financial planning approach you must seek, especially if you're in your 40s and 50s. It will help you overcome the market challenges and grow your wealth in the long run.
If you've entered your 60s or 70s, your financial advisor shouldideally focus more on passive management to mitigate your risks and grow your wealth without compromising your financial security.
Dive right into our guide on choosing the best financial advisor for creating a well-balanced portfolio by clicking here.
3. Conflicts of Interest
To get an idea of an expert's conflicts of interest, find out how they get paid. Ask if they are compensated through clients' fees only or if they receive commissions for the financial products they manage to sell to the clients.
If commissions are a part of the equation, you can expect some conflicts of interestto arise. As an affluent individual with a complex financial situation and uniqueneeds and goals, you must always look for a fee-only financial advisor.
4. Industry Reputation
You'd want to work with someone who has a good reputation in the industry. Going through online reviews of a particular financial advisor is highly recommended. See how they have helped affluent individuals like you over the years. You should also pay special attention to the negative reviews. See if there's anything that bothers you too much to hire that particular professional.
Get Affluent Wealth Management Services at Pillar Wealth Management
Choosing the right financial advisor is the key to successfully manage, protect, and build wealth in the long run. Check out our guide for affluent individuals for insider tips to ensure you choose the best expert on your wealth management journey.
By partnering with Pillar Wealth Management, you can enhance your portfolio performance without taking unnecessary risks or compromising your long-term financial security. Our financial advisors work exclusively with affluent individuals and specialize in helping them lay a strong foundation for their desired legacy. With us, you can expect to achieve all your short and long-term financial goals in the most efficient way possible. We will help you achieve the perfect balance between risk and security. We take a holistic approach and provide a transparent fee structure to ensure maximum peace of mind for you. With us, you don't have to worry about any conflicts of interest.
Contact our team at Pillar Wealth Management today to find out if your current portfolio qualifies you as an affluent individual. During the initial consultation session, we will discuss your financial situation, needs, and goals in detail to determine the best approach to grow your wealth.
Related Post