Financial Advisors Florida – Find The Best & TOP Fit
From drafting the right retirement plans to minimizing your expenses, a financial advisor can employ many ways to help you protect your assets and build your wealth for a secure future. If you thought financial advisors simply guide you towards good investments or give some vague suggestions on how to save for the future, you are in for a surprise. Financial advisors Florida can do so much more, especially for high net worth individuals and families with $5 million to $500 million who carry that much more risk. However, along with a financial advisor, you also need the knowledge of choosing the right financial advisor for yourself. For this, you can go through our exclusive guide on how to pick the right financial advisor for investors worth $10 million or more.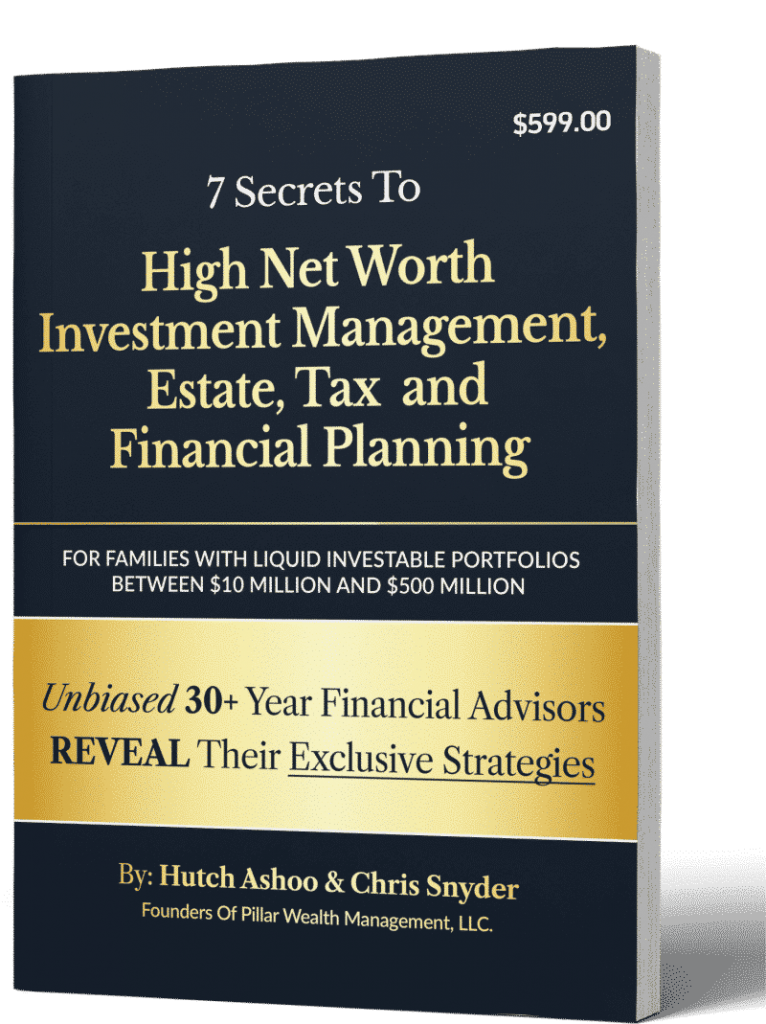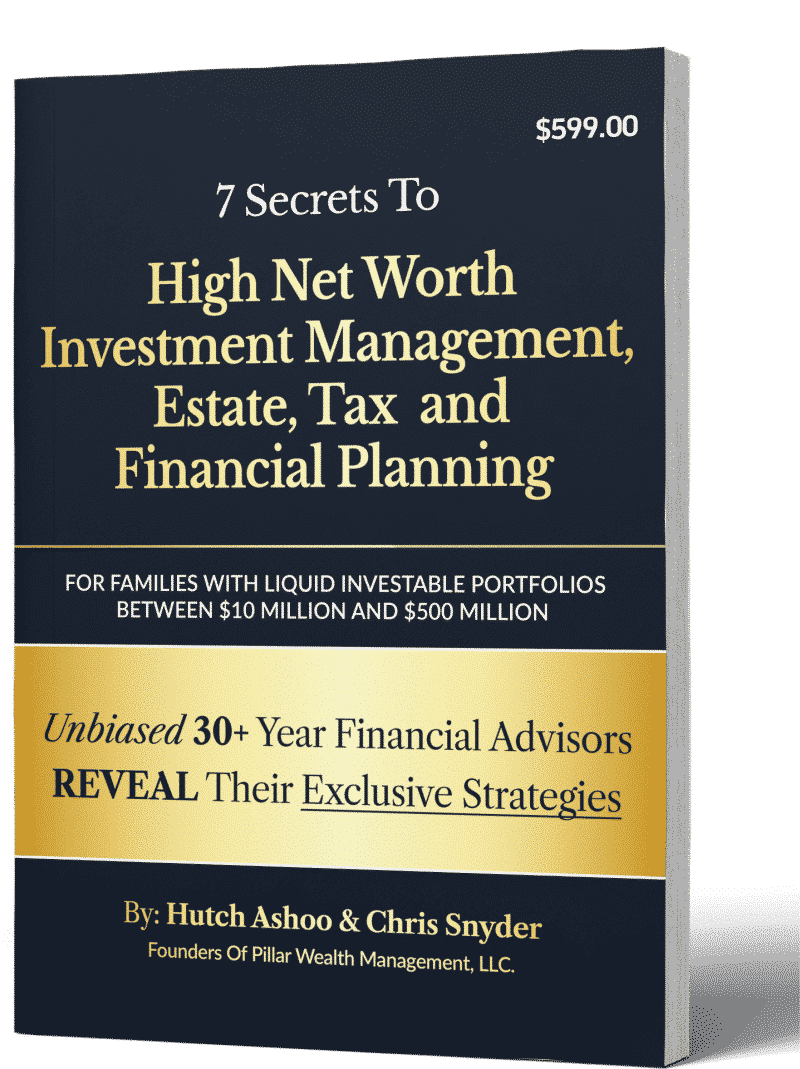 STRATEGIES FOR FAMILIES WORTH $5 MILLION TO $500 MILLION
7 Secrets To High Net Worth Investment Management, Estate, Tax and Financial Planning

The insights you'll discover from our published book will help you integrate a variety of wealth management tools with financial planning, providing guidance for your future security alongside complex financial strategies, so your human and financial capital will both flourish.
Clients frequently share with us how the knowledge gained from this book helped provide them tremendous clarity, shattering industry-pitched ideologies, while offering insight and direction in making such important financial decisions.
Pillar Wealth Management has an expert and dedicated team of wealth managers and advisors. We have been working in the industry for more than thirty years, providing a range of services to our high net worth as well as ultra-high net worth clients. We use our extensive experience, in-depth knowledge, and full commitment to help our clients achieve all their financial and other goals. We believe in providing completely personalized financial solutions that are entirely suited to our client's needs.Instead of focusing on just performance numbers, we track many more things, such as how closer we are to achieving our client's goals and aspirations in life. Learn why that matters by going through this guide on portfolio performance for high net worth individuals.
In this blog, we'll be discussing why you really need a financial advisor, how to choose one, how they are different from a financial planner, and how much they charge. Let's dive right in.
Why You Really Need a Financial Advisor
You might have been managing your wealth on your own while you were still accumulating it or hired services from a private bank. That's fine when you've got less than a million dollars in your account.
But once you are a high net worth or ultra-high net worth individual, things change. You can't afford to stick to one set of assets. You can't experiment and risk losing your money. You can't afford to keep paying taxes again and again. What you need is a financial advisor. If you're thinking, "what can a financial advisor do for me?' well, here's a brief overview of what they can do.
Comprehensive Financial Planning
Financial advisors can help you with comprehensive financial planning. As you'll learn in a while, there are different types of financial advisors as well, such as financial planners and wealth managers. While some types of advisors do focus on one aspect of wealth management, there are financial advisors who have a much more holistic approach.
They consider your entire financial situation, which means your investments, retirement plans, estate plans, taxes and other expenses, and pretty much everything else that affects your wealth. Considering all this, they are able to create a comprehensive financial plan that seamlessly incorporates strategies concerning various aspects of your wealth. Start your own comprehensive financial planning by reaching out to one of our advisors today.
Range of Services
Again, depending on the type of financial advisor, you can expect to be provided with a range of expenses. If you go to banks or investment houses, you might only find banking services or just investment management services.
Sometimes, some firms simply guide you towards certain investments but don't carry them out themselves. As a result, you have to go to multiple people to manage all your wealth and assets. This not only increases your expenses but is also a very inefficient system as you are not able to coordinate your financial activities. With a financial advisor, you can get all the services you need in one place.
For instance, at Pillar Wealth Management, financial advisors can help you with the following list of services and more:
Investment management

Insurance planning

Retirement planning

Estate planning

Tax planning

Banking

Accounting
Start chatting with the advisors at Pillar Wealth Management to learn what else we can do for you.
Expertise
It's not just about offering a full range of services. More importantly, it's also about having expertise in all those services as well. Experienced financial advisors know everything there is to know about all these services, and they are highly skilled at them. You will find some of these services at private banks as well, but that's not where their expertise lies.
Therefore, the quality of those services will always be lower as compared to other financial advisors who have been doing it for years and know all its ins and outs. So, if you're thinking, "should I manage my own 401k account, should I hire a bank, or should I pay someone to manage my 401k?", then let's tell you the answer depends on whomever has the most expertise, and in this case, it's the financial advisors Florida. So, you should definitely find an advisor to handle your 401k account for you.
Fiduciary Services
A major reason why you need financial advisors Florida is because they offer fiduciary services. This means these advisors have no conflict of interest with you. They are entirely dedicated and committed to helping you meet your goals and targets. They always place your interests before their own. This means that they will recommend products and services that are best for you even if they are not the best for them.
If they are recommending something, they will tell you about its benefits as well as any drawbacks so that you can make a completely informed decision. In comparison, as you can imagine, a non-fiduciary advisor will not be so inclined to do all these things. They will try to help you with your goals, but ultimately, they will be looking after themselves.Read more about this conflict of interest and what it means for investors worth $10 million or more from this handy guide on financial advisors.
Protection of Assets
Despite what some people might believe, it is as easy for a high net worth individual to lose their wealth as it is for any other individual. However, they do have a lot more to lose, and that's why they need to protect their wealth and assets. That's where financial advisors come in. They can take measures beforehand to protect your wealth in case of any unforeseen circumstances.
For instance, they could diversify your portfolio to protect you from market volatility or set up a comprehensive insurance plan in case of any disease. If you're concerned about protecting your wealth even further, we recommend ordering a free copy of our book, The Art of Protecting Ultra-High Net Worth Portfolios and Estates – Strategies for Families Worth $25 million to $500 million.
Financial Serenity
The ultimate reason why you need a financial advisor is financial serenity. Knowing that you've got an expert, experienced, highly skilled advisor who is purely working for your interests can put your mind at ease. You can trust them with your wealth management, and this state of assurance and belief can give you a sense of serenity.
Moreover, this assurance will not merely be based on words and promises but on actual numbers and results. Learn about some of the shifts you can make to shift your investment success and achieve financial serenity from this guide for families worth $5 million to $500 million.
Accounting for Major Life Changes
In some institutions like private banks, you might find yourself dealing with a new advisor or employee every month. However, at other firms, like private wealth management firms, you will have a dedicated financial advisor who will know everything about your financial situation and will stick with you throughout.
This means they will always stay on top of your financial plan and keep track of your goals. As the market changes and your own financial situation changes, they will keep adjusting your financial plan to account for those changes. This will make your financial plan more effective in helping you meet your goals.
Choosing Financial Advisors Florida
If you simply search for financial advisors Florida, you will have a dozen results pop up. However, just because a certain advisor is coming at the top of the results does not mean he's the best or right for you. You need to evaluate and choose the right advisor for yourself carefully. Here are a few ways how. For a more detailed description, we suggest reading our ultimate guide on how to find the right advisor for yourself.
Choose the Right Advisor
As we keep mentioning, again and again, there are different types of financial advisors out there. Therefore, the first step to choosing the right advisor is to find the right type of advisor for yourself. Financial advisors include investment managers, brokers, financial planners, wealth managers and more.
You will have to evaluate your own needs and see which services you need. If you only require help with your investment portfolio, an investment manager might suffice. But if you need more holistic financial services, you will be better off with a wealth manager.
Credentials and Reputation
Once you're narrowed it down to the right kind of advisor, you should start filtering based on the credentials and reputation. Check if the advisor has all the necessary credentials, certifications and licenses for the services they are offering. You can check this from the Security and Exchange Commission's website.
Moreover, it's also important to check their reputation. Advisors can make all the promises they want, but ultimately, it's their reputation that will tell you how good they are and if they've got what it takes.
Compensation
You should also see how the advisor is compensated, as that can tell you a lot. If they work on commission, there's always a chance ofa conflict of interest if they focus more on earning commissions than helping increase your net worth. The best option is to go for fee-only financial advisors as their best interests usually align with yours. If they happen to be fiduciary advisors on top of that, that's even better.
What is the Difference Between a Financial Planner and a Financial Advisor?
A financial planner is a type of financial advisor and usually comes under the heading of financial advisors. The main difference between the two is the scope and focus of their service. Financial planners do consider your overall financial situation, but it doesn't necessarily cover everything. Based on that, financial planners help devise financial plans for you that meet your goals as quickly as possible.
Financial advisors have a much broader scope and focus on several aspects. They consider your entire financial position and all of your wealth and assets and focus on integrating all strategies that help you achieve your short as well as long-term goals. If you're still confused about the difference, you can get in touch with one of our advisors to understand the difference and see which one is the best for you.
What Percentage Do Most Financial Advisors Charge?
This depends on various factors, such as your total net worth, the type of financial advisor, asset allocation and money management style, etc. On average, most advisors charge around 1% of total Assets Under Management (AUM). However, this can go below 0.5% or even go higher than 2%.
The Bottom Line
As a high net worth individual, if you want to build your wealth in a safe and efficient yet profitable manner, protect your assets, meet all your financial and personal goals, and attain financial security, financial advisors Florida are your best bet. By now, you know some of the things they can do for you. But once you actually start working with them, you will realize the full range of their benefits.
Pillar Wealth Management is a fee-only wealth management firm. All our managers and advisors are true fiduciaries. We are completely committed to helping our clients grow their wealth and achieve all their goals and targets. Using our experience of more than thirty years as wealth managers and advisors, we offer our high net worth clients specialized and personalized financial solutions. If that's something you need, click here for a consultation with us today.