The future is full of unknowns. From undetermined conflict resolutions to ever-present economic risk, no one knows what will come next. This is especially frightening for people trying to plan their financial future. Luckily, you can hire a fee based financial planner near me, mostly known as a financial advisor, who understands the economic climate and can help ease the overwhelming stress of financial planning.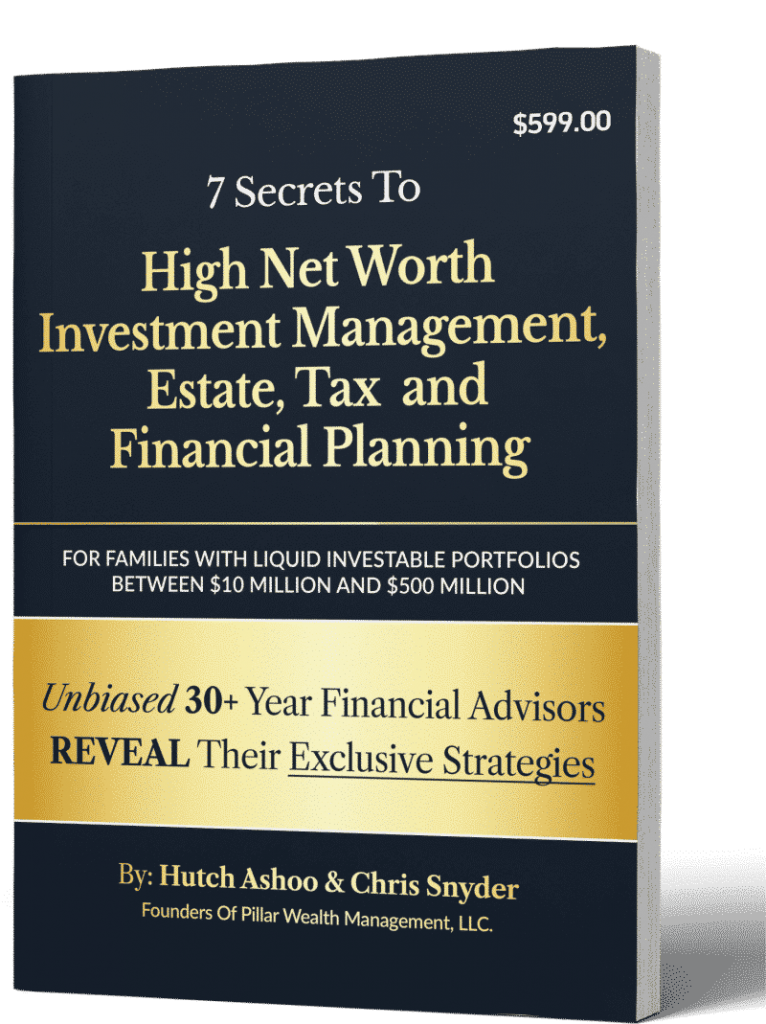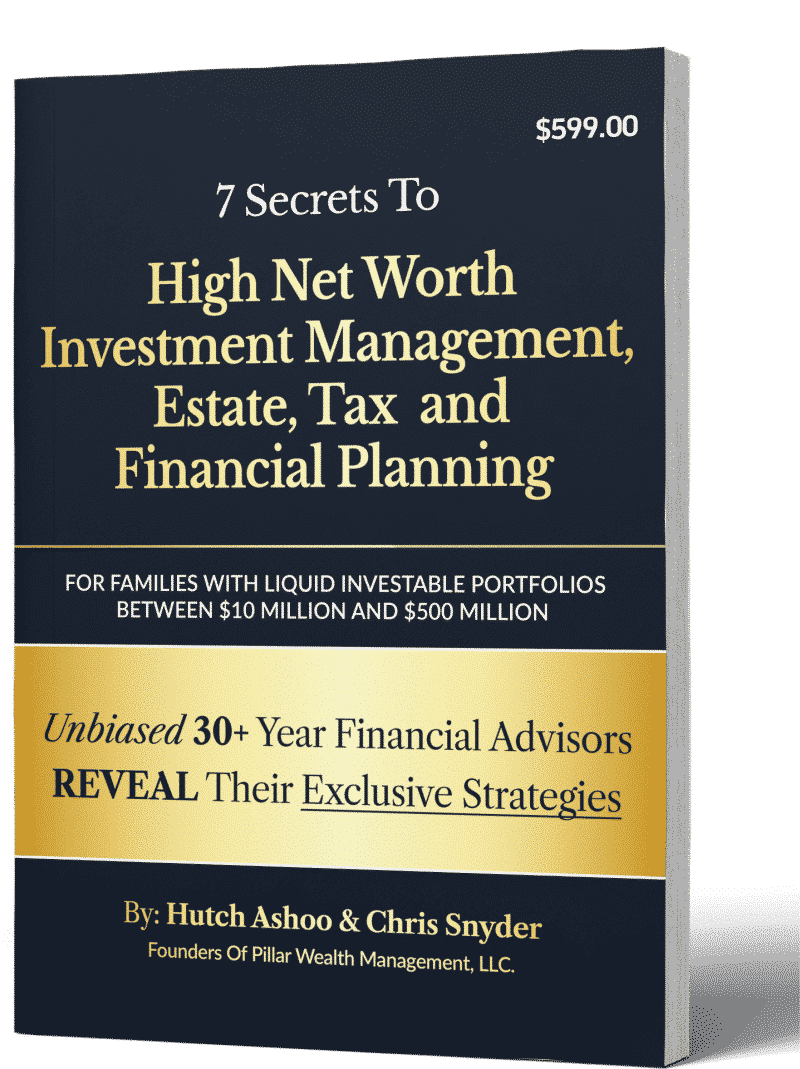 STRATEGIES FOR FAMILIES WORTH $5 MILLION TO $500 MILLION
7 Secrets To High Net Worth Investment Management, Estate, Tax and Financial Planning
The insights you'll discover from our published book will help you integrate a variety of wealth management tools with financial planning, providing guidance for your future security alongside complex financial strategies, so your human and financial capital will both flourish.
Clients frequently share with us how the knowledge gained from this book helped provide them tremendous clarity, shattering industry-pitched ideologies, while offering insight and direction in making such important financial decisions.
Our firm, Pillar Wealth Management LLC. understands the difficulty with finding a financial planner, as we work with clients who have $5 million to $500 million in assets that need a specialized financial plan. Let's answer the questions that you have about finding a financial planner.
A financial planner discusses your current financial status with you and explains how you can meet your financial goals. They can carefully develop a personalized plan for your money regarding retirement, insurance, investments, and more.
However, your money is precious and an influential part of your life. You cannot hand it over to just anyone. That is why research is essential when locating a trustworthy financial planner near you.
We make it simple to find exceptional financial planners for those with $5+ in liquid assets. Discover more about Pillar Wealth Management LLC. with your own free consultation with company co-founders Hutch Ashoo and Chris Snyder.
When Is the Time to Hire a Financial Planner Near Me?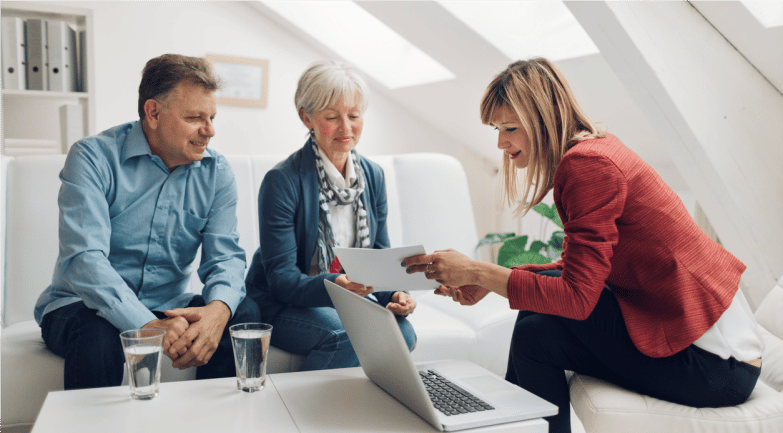 Planning your financial future is a big responsibility. While in a situation where you are unsure how to organize your finances, it is always best to seek help from a professional. It is entirely possible to do your own financial planning. Nonetheless, this can be a time consuming and headache-inducing job, especially if you do not like managing your finances.
With the proper expertise, you could successfully plan your finances without much of a problem. However, monitoring your portfolio and making changes all while staying up to date on current financial laws and regulations is a job within itself.
In all honesty, you probably do not have the time to do all this. Therefore, you can rely on a financial planner who can assist in your financial arrangements.
There is no specific moment when you should seek out a financial planner. People like to turn to a professional for the organization of their finances and assets. Financial planners assist you in creating plans to meet your financial goals. They also explain how to combat financial challenges and how and where to invest your money.
It shouldn't be difficult to hire a financial planner. This resource, The Ultimate Guide to Choosing the Best Financial Advisor: For Investors with $5 Million to $500 Million in Liquid Assets will guide you through the process.
Your money goes towards lots of things- buying a home, paying for college, and more. Moreover, if you ever find yourself in a financial situation that you do not know how to tackle, then it is an excellent time to call a financial planner.
They help you with specific financial situations like budgeting for a house and creating a plan to pay off your mortgage. They can also help prepare your finances for retirement and assist you in the monetary transitions after marriage, divorce, or if you have recently become single.
Seeking help from a financial planner can be a one-time ordeal. Often, people go to financial planners for their professional advice and leave with a solid plan for their financial future.
In times when you are entirely in the dark on investments and planning, financial planners can assist in the planning and managing of your assets. Typically, they offer their services on an hourly basis, or they may provide a flat rate. It is not uncommon for a one-time meeting to turn into a full-time professional relationship.
Discover the investment strategies that multi-millionaires use to protect their assets. Receive your copy of our book, The Art of Protecting Ultra-High Net Worth Portfolios and Estates: Strategies for Families worth $25 Million to $500 Million from Pillar Wealth Management, LLC.
It's a good idea to find a financial planner that can work on your team long-term. By hiring a financial planner full-time, they can consistently watch your portfolio and track its success; especially for investments, planning for taxes and college, and retirement preparation, a financial planner can do a lot of good for your money.
Having a full-time planner means you have convenient access to someone with a ton of expertise in saving and accumulating money. As an investor, you can have an expert keep an eye on your money and give you advice whenever appropriate.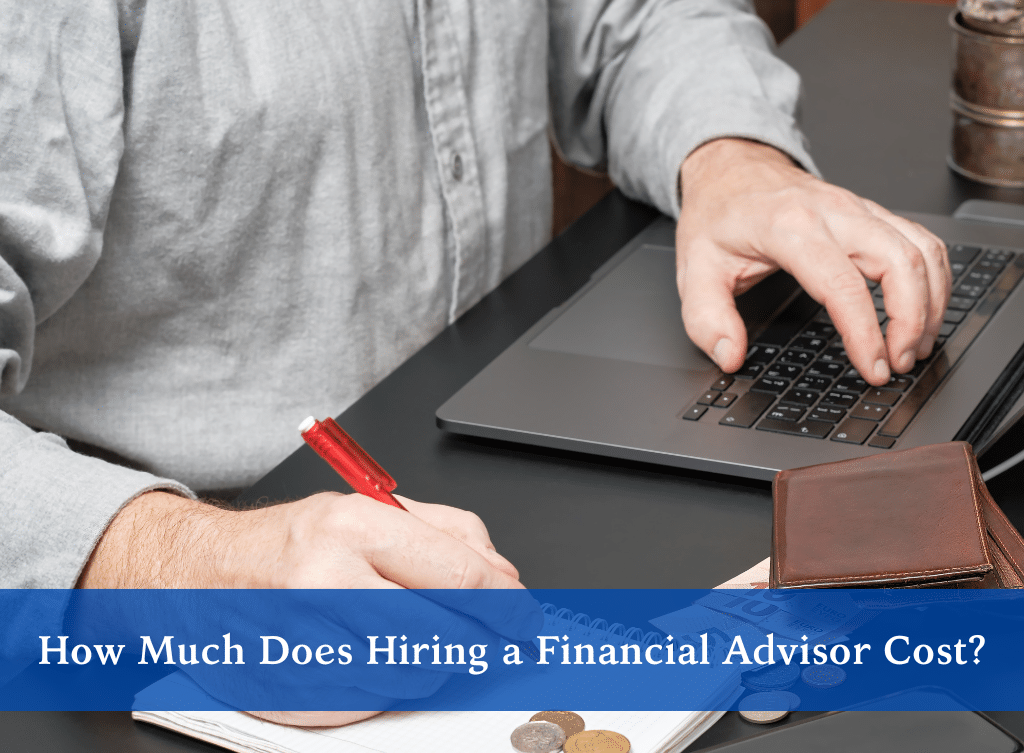 How Much Does Hiring a Financial Advisor Cost?
Have all your questions answered about wealth management by Pillar Wealth Management co-founders Hutch Ashoo and Chris Snyder, who work with investors that have $5 million to $500 million in liquid assets. Simply sign up here for your free consultation.
Hiring someone for quality financial advice can be costly. Financial planners have different fees and individualized ways of charging their clients. Therefore, it really depends on the advisor you hire.
One way that planners can charge you is through your assets. They can earn compensation based on a percentage of your assets managed. The rate earned varies based on how much you have invested.
Other ways for planners to charge you is by hourly fees and fixed fees. When it comes to hourly payments, there is a fixed cost for every hour you use their service. This payment plan is usually for consulting and planning special projects.
Fixed fees are a definitive price for overall service. When it comes to financial planning, you can be charged a flat rate for the creation of a financial plan, for example.
Financial planners may also charge you based on performance. They can make money based on meeting a checkpoint or securing a set amount of earnings over a certain amount of time.
For many financial planners, they utilize a combination of hourly, fixed, performance, and percentage-based fees. However, some fee-only advisors make their money only from what their clients pay for specific services. They do not get money based on commission or performance. Fee-based advisors are the opposite because they earn money from both clients and commission.
Aside from the payment for your planner's service, you might pay some extra fees. Often, to maintain your account, planners and advisors use special financial instruments like mutual funds or exchange-traded funds. These third-party materials can cost extra, and it is possible that you must pay extra for these resources.
Although there is no definitive price for all financial planners, the average hourly rate can range from $100 to $400. This means that you could pay between $100 and $400 every hour for a planner's service. As for fixed fees, these can range from $1,000 to $3,000, depending on the service. Of course, these prices can fluctuate.
For more unique and complex projects, the price may increase. For financial planners who take out their compensation from your assets, the average ranges between one and two percent per year. Again, this can vary and depends on the planner with whom you work with.
Would you like to discover what multi-millionaires do to protect their wealth? Receive your own copy of Improving Portfolio Performance: The Shifts Multi-Millionaires Must Make to Achieve Financial Security and Serenity and learn how to improve investment performance from expert wealth managers.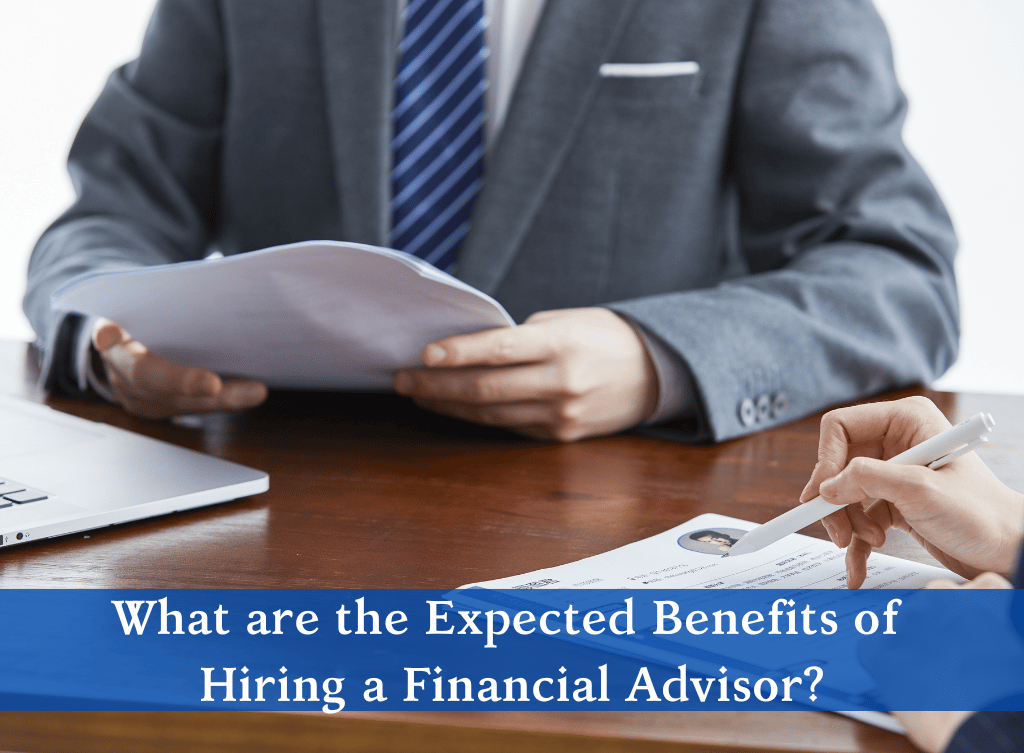 What are the Expected Benefits of Hiring a Financial Advisor?
There are so many benefits of investing in a financial planner. The future is full of unknowns, so it is nice to have a professional give proper financial advice for what is to come. For times when you are emotional or completely confused, a financial planner can provide clarity and support.
A financial planner knows the ins and outs of investing, planning, and more. Having someone with expert knowledge on a subject so influential in life is comforting and refreshing. For investments, tax liabilities, estate planning, retirement planning, and even the desire to accrue money for expensive things, like college expenses, a financial planner can help navigate.
Another benefit of hiring a financial planner is that they save you time. Without the professional services of an advisor, you would spend hours just planning out your financial future.
This is in addition to tracking your investments, determining your tax liabilities, and more. Additionally, if you do not know the subject, that means more time just trying to understand all the economic jargon and regulations. A financial planner understands all the complexities of economic planning and investment.
Hiring a financial planner can save time, and with that, relieve you of stress. Planning your financial future can be an overwhelming experience. Many significant future investments can bring pressure, like paying for college or paying off a new car. Likewise, there are more emotional stressors that play into investments.
Some of these include the merging of accounts after marriage or the separation after divorce or death. With big life moments and milestones, navigating finances can be tricky. A financial planner is a third party who still strives to assist you in having the best economic future.
Learn the benefits of hiring a financial planner from professionals in the industry. If you have $5 million to $500 million in assets that you need managed, register for your free consultation with Pillar Wealth Management, LLC. You'll speak directly with company co-founders Hutch Ashoo and Chris Snyder during this conversation.
Depending on how much you pay, hiring a financial planner can be a great investment with excellent returns. Especially if you consult with a fee-only advisor, you could receive considerable economic benefits for a fair price. You must invest a considerable amount of money for quality advice.
Depending on your financial stability, it may be better to investigate hiring a fee-only financial planner. With them, you have a fixed price that does not fluctuate based on your investments and assets. You can enjoy the benefits without having to risk giving up too much money.
There are, of course, some disadvantages of hiring a financial planner. The main reason that people refuse to invest in their services is because there is a risk they take advantage of your money.
Although this concern is valid, there are multiple ways to help prevent this. One is by seeking out fee-only advisors. These planners cannot make a profit from your asset's success. Therefore, they can only keep you in their best interest.
Another way of preventing this is by asking if the financial planner is willing to work as a fiduciary. By holding a fiduciary duty, planners legally owe their clients trustworthy service and advice.
Although there are disadvantages of hiring a financial planner, there are ways to keep the cooperation professional and beneficial. Plus, advisors can take a considerable burden from you. Planning for your financial future can be complicated and managing it on top of your daily responsibilities can be overwhelming.
Hiring someone with expert knowledge in finances liberates you from overwhelming responsibilities. Overall, the advantages of hiring a financial planner outweigh the risks.
Learn more about selecting a financial advisor by receiving this resource from Pillar Wealth Management, LLC. titled, The Ultimate Guide to Choosing the Best Financial Advisor: For Investors with $5 Million to $500 Million in Liquid Assets.
How to Find the Best Financial Planner Near Me
Just as the financial planning game can be overwhelming, so can the process of finding a nearby financial planner. It can be tricky locating someone who is trustworthy and within your vicinity.
To find nearby financial planners, you can easily do so by searching on the internet. By typing in your zip code, you can find financial planners close to your home.
However, it is possible to hire an advisor that is not in proximity. Often, planners work online, and they can interact with clients through technology. Likewise, there is a limited need to meet in person. If you find a reputable financial planner in another distant area, you could give them your business with no problem.
One of the first things you must do before hiring a financial planner is to identify their credentials. Check to see if the potential advisor has their Certified Financial Planner (CFP) certificate or their Chartered Financial Analyst (CFA) certificate.
Planners earn these by passing an exam that proves and tests their knowledge in the subject. A planner can lose their certificate after passing the exam for violation of ethics policies or failing to meet ongoing education requirements. For this, you should always make sure they have their proper certifications.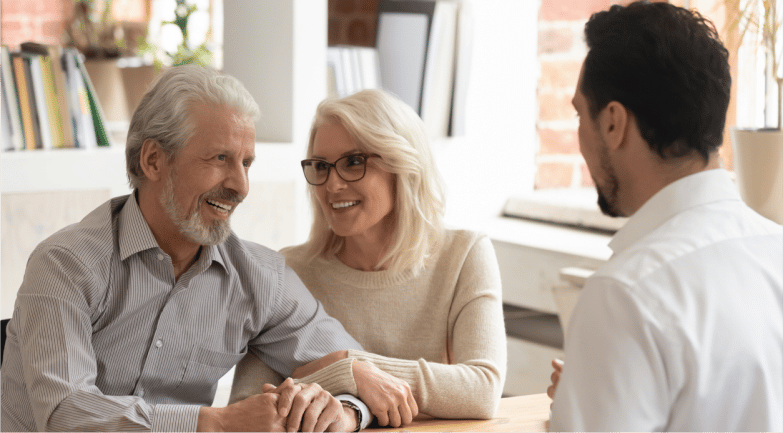 would also be in your best interest to investigate how the potential financial planner is paid. Research if they are fee-only or fee-based. Though their compensation does not directly determine how they treat clients, it could be a critical factor in how they treat your money. If you are not entirely comfortable with a fee-based advisor, then it is perfectly acceptable to go with a fee-only.
Before hiring a planner, you can also ask questions to determine their values and their way of going about their business. Ask about how long they have worked as a financial planner or their retirement predictions. The more specific to your financial concerns, the more you learn about how they can meet your financial needs.
Finally, one of the best ways to have confidence in your financial planner is by looking up reviews. Checking an advisor's records through the Financial Industry Regulatory Authority or the Security and Exchange Commission can give you a sense of their complaint history.
A few complaints are not significant, but if you notice the complaints are abundant, then maybe you should move on to the next potential advisor.
Finding a financial planner near you is all about meeting your financial needs. Do not settle for a planner without proper certification or the expertise needed for your specific financial needs. With the internet, it can be easy to locate a financial planner. However, that does not mean they are the best option.
Do some research because your money and your financial future are essential to you and your well-being. Contact a financial planner near you who can meet your financial goals. For more assistance managing $5 million to $500 million in wealth, sign up today for your free, no obligation consultation with Pillar Wealth Management, LLC.'s co-founders Hutch Ashoo and Chris Snyder.