Best Financial Advisor Near Me
Do you ever get concerned about managing your investments or achieving your financial goals? If you do, then you are not alone. You might have questions about how to diversify your investment portfolio, make a major purchase without harming your cash flow, or translating your personal wealth into generational wealth.
But who do you turn to for answers? This is where a financial advisor can help. If you have over $10 million to invest then you should check out this special guide for $10+ million investors.This article explains who a financial advisor is, what they do and why you should work with them.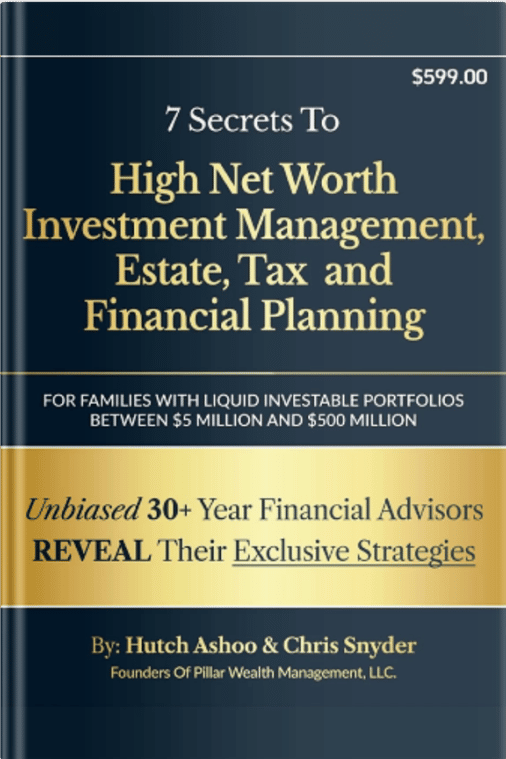 STRATEGIES FOR FAMILIES WORTH $5 MILLION TO $500 MILLION
7 Secrets To High Net Worth Investment Management, Estate, Tax and Financial Planning
The insights you'll discover from our published book will help you integrate a variety of wealth management tools with financial planning, providing guidance for your future security alongside complex financial strategies, so your human and financial capital will both flourish.
Clients frequently share with us how the knowledge gained from this book helped provide them tremendous clarity, shattering industry-pitched ideologies, while offering insight and direction in making such important financial decisions.
This resource goes in-depth into how to select the best financial advisor for your unique needs.
What are your financial goals?
Before we take a deep dive into the financial professionals that can help you increase your wealth, with a focus on financial advisors near you, it is important that you understand your unique financial goals and needs.
The fact that you are a high net-worth individual with a considerable amount of wealth does not negate the fact that you still need financial goals. You must have heard the popular saying "he that fails to plan, plans to fail." This sentiment rings true for wealth, also.
There is little that a financial advisor or wealth manager can do for you if you do not know what you want to achieve with your investments.
The first step is to make a list of the things that you want to achieve in your life. Take time to think about all the things that you would need or want.
Do you want to take an expensive vacation every 6 months? Year? Two years? Or you plan to have real estate properties in every major city of the world? What are the goals for your kids' college education? You need to answer these questions and more.
This is important because the job of a financial advisor is to help you manage your portfolio and achieve your goals. You can sign up here for a free consultation with a Pillar Wealth Management co-founder. That job becomes redundant if you do not have any goals or do not have an idea of what you want to do with your money.
Not to worry, though, as a wealth manager will help you define what you are aiming to accomplish. When you have your goals, you can go a step further and arrange them in order of priority. This is still something that your financial advisor will work with you on, but it is good if you take some time to think about it on your own.
If you have a significant other or a family that can be impacted by your decisions, then you may want to use this time to talk with them too. Find out what their desires are and include it in your goals.
When you know what your goals are, then you are ready to meet with a financial advisor near meand start discussing how to effectively manage your wealth and achieve those goals. If you need help managing between $5 million and $500 million in liquid assets, then you should speak with our team.
Learn more about Pillar Wealth Management, LLC., wealth management services by registering for your free consultation with us. You will speak directly with company co-founders Hutch Ashoo and Chris Snyder, and we will discuss your current needs and future goals.We specialize in ultra-high net worth clients like yourself.

Value of a Financial Advisor
The basic duty of a financial advisor is to help you manage your investments. However, there are a number of professionals that fall into this category. There are professionals that help you plan your finances, buy and sell investments, buy insurance, and so much more.
There are even fresheners that give you financial advice to reduce tax liability and investment risk. As you can see, the term financial advisor is a general term that is used quite liberally.
It is therefore important that you understand the different kind of financial advice is available so that you can select the right person to help you achieve your financial goals.
As a high net worth individual, your financial situation is quite complex, and you would need a lot of help to achieve your financial goals. Let's take a look at the various types of financial advisors that can offer you financial advice.
Robo-advisors
Robo-advisors are an option for managing your finances. However, Robo-advisors are not what you think about when you look for "traditional financial advisors near me." Rather, a Robo-advisor is a computer software that manages your investment portfolio according to an algorithm.
For this to work, you fill out a survey form where your financial goals are discussed. You also discuss what kind of investment you prefer, your risk appetite and other important information.
With all this information, the computer algorithm then determines how best to invest your money to achieve your set goals. Some of the factors that are taken into consideration are the length of time you have to invest, the reason why you are investing and many others.
Robo-investors and Robo-advisors are helpful for those with simple investing goals. However, it may not be suitable for you, the high-net-worth individual with a huge investment portfolio.
Many Robo-advisors do not provide access to a real financial advisor near me, so it will be difficult to get your questions answered. For instance, if something happens, and you want to adjust your goals, or you want to move your investment portfolio in a different direction, it will be very difficult to get advice, which is the whole purpose of a financial advisor anyway.
This option is good for people that do not need a holistic money management service in order to achieve their financial goals.
Financial Planners
In case you prefer to work with a professional human advisor or rather than a computer algorithm, there are also several options available. The first and easiest to use as a financial planner. As with all things, a plan is essential for success.
And this is where a financial planner comes in. The job of a financial planner is to take all your financial goals into consideration and build a holistic financial plan that would chart out the way to achieve all those goals.
The process of achieving these goals include steps such as figuring out the best investments that will help you reach your goals, managing your tax liability, and using insurance products so as to secure your financial future.
A financial planner will take your consideration all your financial goals while building an investment plan that will help you succeed financially.
However, there are some potential problems using a financial planner. The first and most obvious challenge is that a financial plan alone cannot guarantee financial success. This is especially true for you as a high net worth individual.
Financial planners are limited in the services that they can provide for you. For example, financial planners cannot sell the investment and securities that you need to accomplish your financial goal.
This means that in order to accomplish your financial goals, you'll still require the services of another financial professional to purchase bonds, stocks, and any other security that you need. A financial planner simply cannot offer a one-stop solution for most people.
Investment Brokers
The major problem that we identified with financial planners is that they cannot help you implement your plan, especially when it comes to buying and selling securities. This is where an investment broker is needed the most.
An investment broker, also known as a stockbroker, is the finance professional that is knowledgeable about investment solutions that can help you achieve your investment goals.
At the very least, you'll need the services of a financial planner and an investment broker to achieve your financial goals. This combination can help you build your financial plan and work towards creating an investment portfolio that will follow the guidelines of that plan.
As good as these may seem, there are two major obstacles to this plan. The first is that you will need to hire and work with two separate professionals in order to create a plan and ensure that it is achieved. This is a problem because it means you have to do double the work to find the perfect fit.
You have to find a financial planner and an investment broker that you feel comfortable working with, and also feel comfortable working with each other.
If that synergy is not present, then the whole team can break down, and you do not want the situation where your financial planner and investment broker cannot work well together.
The second major problem is that working with a stockbroker can provide a conflict of interest. Most stockbrokers get paid on commission, which means that they are paid when you buy or sell a security.
The amount that they get paid varies from one security to another, and this is where the conflict of interest can arise. Supposing you are interested in planning for your retirement.
You visit your stockbroker and explain that you would like to know about mutual funds which you could invest in to grow your retirement savings.
If you're lucky enough to have a very good stockbroker, then they would suggest the best fund for you to invest in, and of course and commission from the purchase.
But what if your stockbroker isn't that good? Perhaps there is another fund that would provide your stockbroker with a higher commission but is not the best fund for you.
Your stockbroker might suggest that mutual fund, and a higher commission, but that puts your investment account at a disadvantage because it is not the best fund for your goals.
Unfortunately, there is nothing that stops your investment broker from doing this. As long as they suggest something that fits your need to boost your retirement savings, they are free to sell it to you.
While we hope that your investment broker will be honest enough to suggest the best possible financial products for you, you can never be too sure. And this is where financial advisor or wealth manager excels.
Before we take an in-depth look into what exactly a financial advisor does and how they can help you, you should get the free hard cover book titled The Art of Protecting Ultra-High Net Worth Portfolios and Estates: Strategies for Families Worth $25 Million to $500 Million today! We specially created this guide for you, the ultra-highnetworth individual.
How a Financial Advisor can Help
As you can see, while the financial advisor term can apply to a broad number of professionals, many of them cannot provide you with exactly what you need, especially as a high net worth individual. This is where a financial advisor specializes. A good financial advisor combines the work of a financial planner, a stockbroker and many more.
They are knowledgeable in multiple fields such as tax planning, estate planning, insurance, investment and so on. This makes them uniquely positioned to deal with the unique challenges that high-net-worth individuals face as a result of their large investment portfolios.
Essentially, a wealth advisor works with affluent clients and offers the services of both financial planners and investment brokers. They work for companies that are established as Registered Investment Advisors (RIA).
The major advantage that financial advisors have over investment brokers is that financial advisors are required by law to give you the best possible advice irrespective of how advantageous it is to them.
This is called fiduciary duty. It means that your financial advisor must provide you with the best possible advice. This means that you can be confident that any advice your financial advisor gives you is the best possible advice that there is

How to Find a Financial Advisor Near Me
When it comes to finding the best financial advisor, you can do a quick Google search for "financial advisors near me," but that alone will not help you select the best possible financial advisor.
In your choice of a financial advisor, you must select an advisor that is uniquely suited to meet your personal financial goals. To do this, you must understand your personal financial goals before you speak with the advisor. Thankfully, there is a section above that perfectly describes how to do that.
You must know exactly the kind of financial advisor that you need when you are planning for your financial future or generational wealth. What areas would you like your financial advisor to specialize in?
Once you have this knowledge, you can then begin to conduct interviews. Most wealth management companies offer an initial consultation service to help you decide if you want to work with them.
If you are on the lookout for the best financial advisor near you, schedule your free consultation with Pillar Wealth Management, LLC. Co-founders Hutch Ashoo and Chris Snyder today.
Pillar Wealth Management LLC is a wealth management firm that specializes in managing the investment portfolios of affluent clients. Get in touch today to know all the various ways we can help you manage your wealth.