Private Banking and Wealth Management – Does it Work?
As a high-net-worth individual yourself, you might be wondering, where do millionaires and billionaires keep their money? Do millionaires use banks? If yes, then do they use private banking and wealth management, or do they simply invest everything in stocks and bonds? The answer is not so simple. Despite what people may believe, making financial decisions does not get any easier when you have $10 million or more in liquid assets. In fact, it becomes even trickier to manage wealth for such individuals, and that's why they need to partner with the right financial advisor. Check out our exclusive guide on financial advisors to learn how to choose the right one.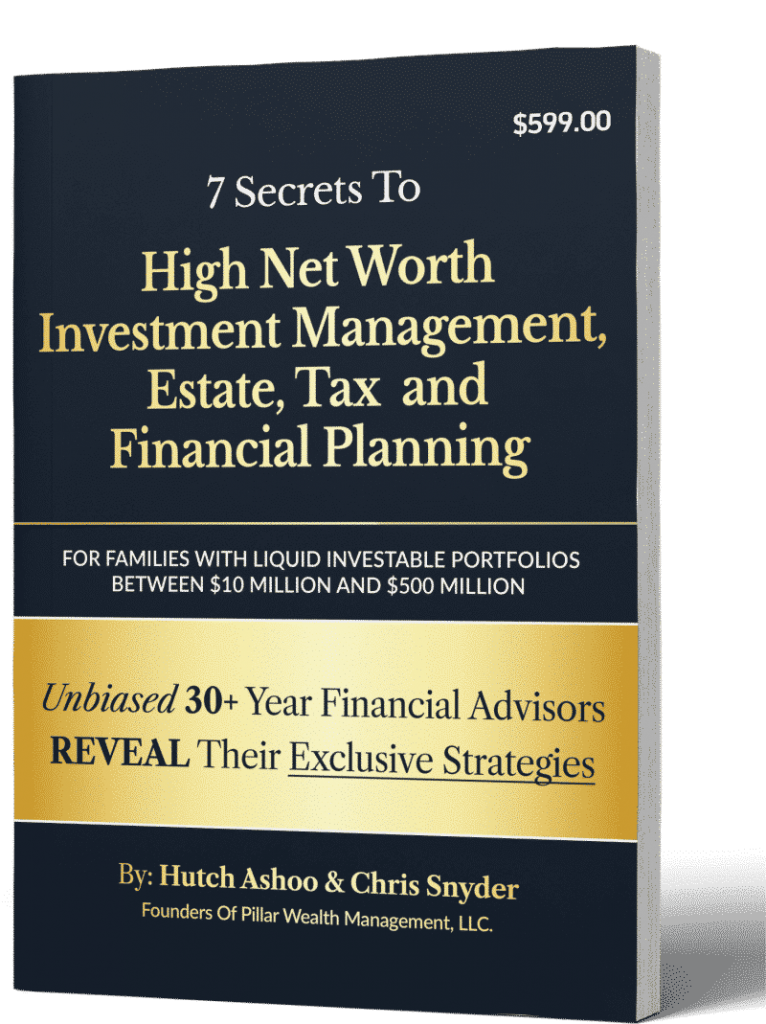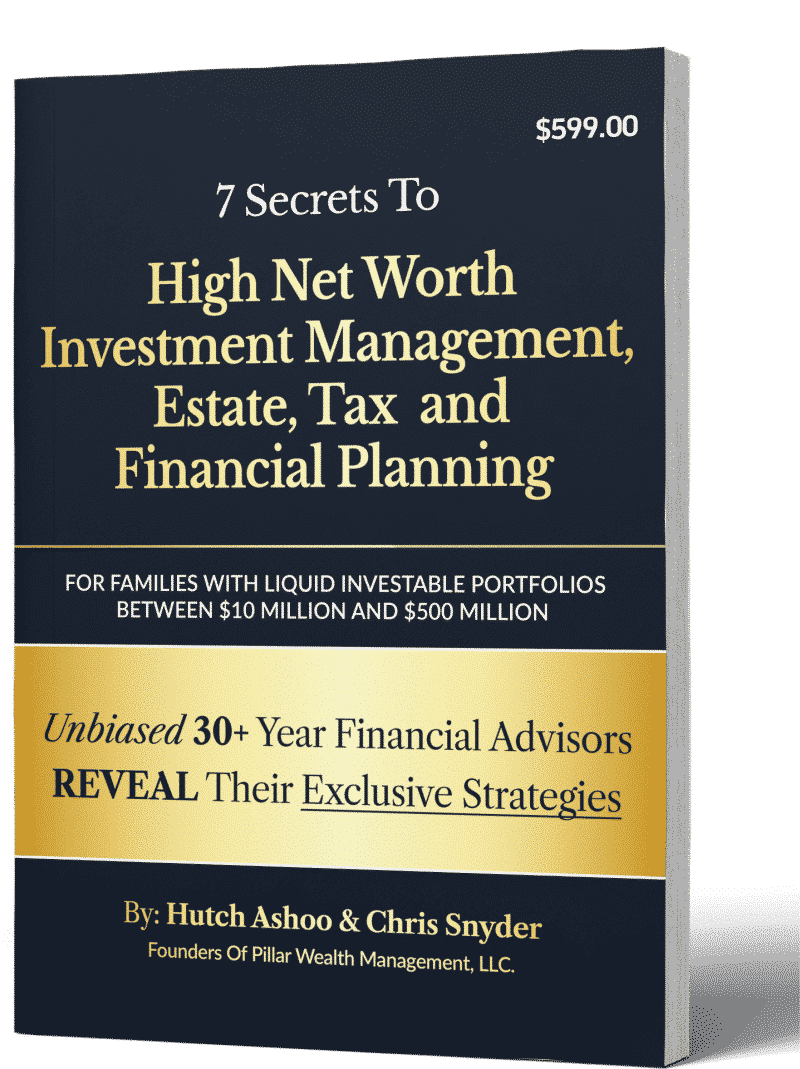 STRATEGIES FOR FAMILIES WORTH $5 MILLION TO $500 MILLION
7 Secrets To High Net Worth Investment Management, Estate, Tax and Financial Planning

The insights you'll discover from our published book will help you integrate a variety of wealth management tools with financial planning, providing guidance for your future security alongside complex financial strategies, so your human and financial capital will both flourish.
Clients frequently share with us how the knowledge gained from this book helped provide them tremendous clarity, shattering industry-pitched ideologies, while offering insight and direction in making such important financial decisions.
So, then, how do millionaires and billionaires manage their wealth? They go to private wealth management firms such as Pillar Wealth Management. We are an independent wealth management firm that serves millionaires and billionaires exclusively with $5 million to $500 million in liquid assets. Our wealth managers and financial advisors hold decades of experience, allowing them to formulate smart investment strategies, asset allocations, comprehensive retirement plans, tax optimization strategies, and much more. If you're having trouble figuring where to keep all your wealth, schedule a free chat with Pillar Wealth Management to discuss your options.
In today's blog, we'll be answering some common questions like, where do millionaires and billionaires keep their money?Do millionaires use banks?Is private banking and wealth management an effective combination? Keep reading to learn all the answers.
Private Banking and Wealth Management: What's the Difference?
Private Banking and Wealth Management: An Overview
Wealth management encompasses a variety of financial services, typically offered to wealthy individuals with a minimum of investable assets to qualify for these services. Private banking includes wealth management as well as banking services, usually for high-net-worth individuals.
Private banking gives you access to services such as checking and savings accounts, mortgages, auto loans, and bill paying. As a wealthy client, you will also have access to better rates for loans and bank accounts.
Benefits of Private Banking
The biggest advantage of private banking is that you can combine your investment management and banking services in one place.
You will also receive more personalized service and benefit from favorable rates for your bank accounts and mortgages and other loans. You will have a dedicated advisor for your financial planning needs.
Wealth Management
Wealth managers and private bankers offer financial management services to their clients. They develop financial plans to meet the needs of their clients in the areas of retirement planning, investment management, estate planning, and taxation. Both wealth managers and private bankers create investment portfolios and manage and monitor the client's investments. Private banks may be more restricted in their expertise and offerings and focus on their own products.
Most wealth managers require a minimum amount of investable assets to qualify for their services. However, many firms can provide services on a fixed fee basis, such as creating a financial plan. Investment services will typically require a minimum amount in assets as the fee paid is usually a percentage of the value of the managed assets.
Where Do Millionaires and Billionaires Keep Their Money?
High-net-worth individuals don't just have big vaults at home with all their wealth sitting there. Similarly, they don't have all their wealth lying in some bank account either.
For starters, this can be risky as no one wants to put all their eggs in one basket. Secondly, more importantly, storing their assets in such a way can be counterproductive and even hurt their financial health. $5 million or even $500 million in plain old cash today won't hold the same value after 30 or even 15 years. Inflation can rapidly and significantly bring down the value of your assets.
As a result, all the retirement or future financial plans you might have can be at risk, and you could even lose your status as a millionaire or billionaire. That's why millionaires and billionaires keep their money in several places to not only protect their assets but also grow their wealth so that they can fulfill all their financial targets and life goals.Get in touch with Pillar Wealth Management to learn how you can protect and grow your wealth.
Here are some of the ways they divide and preserve their wealth.
Investments and Portfolios
Investments and portfolios are the most important aspect of any high-net-worth individual's financial plan. Usually, most of their wealth goes into investments. Investments and smartly curated portfolios are ultimately what help grow your wealth in a sustainable manner.
Consequently, this makes it possible to live the kind of retirement life you desire, save enough wealth to pass on to your heirs, carry out all your philanthropic plans, acquire more assets, and meet all your goals in life.
However, all this is easier said than done. Simply investing all your wealth in one kind of asset won't help and can be quite risky. We suggest reading our comprehensive guide on portfolio performance to learn about the intricacies involved in managing and maximizing portfolio performance.
When you've got the right financial advisor by your side, they can guide you towards the best investment strategies according to your financial situation and needs. This will involve a complex asset allocation as well as a diverse portfolio strategy to spread out your risk while still maintaining high returns.
Retirement Accounts
Along with investments, high-net-worth individuals also regularly deposit some amount in their retirement accounts as well. Investments are important for growing your wealth, but a sudden market fluctuation or a recession can instantly turn all your investments bad and result in losses.
This could put your retirement at risk. That's why millionaires and billionaires save some of their wealth in retirement accounts. Depending on which stage of life a high-net-worth investor is in, they could be depositing more or less of their wealth in these accounts. This ensures a financially safe and secure retirement life.
Trust Funds
Another strategy high-net-worth millionaires and ultra-high-net-worth billionaires employ is to transfer their wealth to trust funds. This serves various purposes. For starters, it's another way to save and preserve your money without risking it all in investments.
Additionally, trusts are also incredibly convenient for estate and legacy planning. Under normal circumstances, the entire procedure of transferring your wealth to your beneficiaries can be quite messy with family conflicts, legal disputes, and other problems. With trust funds, it becomes much simpler.
You can create a separate trust fund for every beneficiary or even for future beneficiaries such as grandchildren. Lastly, trust funds can be helpful for tax reasons as well. They protect your assets and benefit from tax reduction as well. Learn about other tax-saving strategies from our handy guide on portfolio growth strategies for families worth $5 million to $500 million.
Charities
Many millionaires and billionaires are also heavily involved in various philanthropic activities. As a result, their wealth also goes to various charities and non-profit organizations. Moreover, as mentioned earlier, they put money in trusts as well. Similarly, they can set up a trust to contribute to a charitable organization as well.
Real Estate
Besides stocks, bonds, mutual funds, etc., high-net-worth individuals with $5 million to $500 million also invest their money in other kinds of assets, such as real estate and property. Real estate can be another way to diversify your assets and secure your wealth.
Millionaires and billionaires can invest in several properties and even buy real estate across several states. Sometimes, for instance, if you buy real estate in certain no income tax states, you can even benefit from tax savings.
However, this again requires the expertise of skilled financial advisors who are familiar with the tax challenges faced by high-net-worth investors. Reach out to financial advisors at Pillar Wealth Management who are well-experienced with services like tax management.
Businesses
Stock and bond investments are not the only way to grow your wealth. Consequently, high-net-worth individuals also use their money to start new businesses or invest in existing ventures. This is also another important factor for such affluent individuals as their businesses could have been a significant contributor to their wealth and their ability to become millionaires and billionaires.
However, running a business alongside managing your vast wealth can be quite difficult. That's why investors worth $10 million or more need the right financial advisor to help them manage both things, and you can refer to our guide to find out how to choose one.
Insurance Accounts
If you're wondering, where do billionaires hide their money? It's not about hiding as much as it is about strategically securing it in different places. Accordingly, millionaires and billionaires can also keep their money in insurance accounts. This is necessary to protect their wealth.
Many high-net-worth families find themselves near bankruptcy or in financial uncertainty due to various internal and external factors. It could be market volatility or contracting a life-threatening illness. Situations like these can be damaging for your financial health and position.
Therefore, high-net-worth individuals resort to insurance accounts to secure and protect their assets from any unforeseen events. Discover other ways to protect your wealth from our book, The Art of Protecting Ultra-High-Net-Worth Portfolios and Estates – Strategies For Families Worth $25 Million To $500 Million.
Do Millionaires Use Banks?
All this doesn't mean that millionaires and billionaires don't use banks at all. Like most other people, they do hold accounts in banks for usual day-to-day expenses and financial needs. Some high-net-worth individuals or families particularly go for private banks.
Along with all services offered at regular banks, private banks often offer additional services and exclusive features to high and ultra-high-net-worth individuals. This can include personal advisors, invitations to special events, and even advanced wealth management services.
However, if you're thinking private banks are the way to go for wealth management services, think again. Keep reading to learn why private banking and wealth management don't make an effective combination.
Is Private Banking and Wealth Management an Effective Combination?
Private banks are great financial institutions. However, that's only the case when you specifically need banking services. For overall financial planning and management, private banks are not the best. Here are a few reasons why private banking and wealth management don't make an effective combination.
Expertise
While private banks may offer certain wealth management services such as investment management or tax planning, they won't have enough expertise or experience in offering those services. As a result, they won't be as effective in developing and executing strategies.
As a high-net-worth investor, you need highly experienced and skilled financial advisors, such as those at Pillar Wealth Management, to assist with all your financial needs.
Customization
Private banks also don't offer many customized solutions, which is an absolute must for high-net-worth investors. For instance, if you avail their investment and portfolio management services, they will ask you about your risk tolerance and return expectations.
However, that's about it, and they will offer you fixed investment packages that have worked from them in the past and don't pose a risk to the bank. If you truly want to benefit from an investment plan, you need to formulate it based on your life goals and aspirations rather than just on your risk tolerance.
Standard of Care
Private banks also don't offer the standard of care that is best for you. Ideally, you should consult fiduciary financial advisors for all your wealth management needs. Such advisors don't have any conflicts of interest, and therefore, they can work towards your best interests. Read our guide on choosing the best financial advisor to discover other factors you need to consider.
In comparison, advisors at private banks may follow a suitability standard and prioritize the bank's shareholders above you. As a result, the advice you get may not always be in your best interests.
Dedicated Advisors
At private wealth management companies, you can also benefit from dedicated advisors. They will be closely working with you from day one till perhaps even after you're gone. This will allow you to build a strong and trust able relationship where both parties can understand each other's needs.
However, at private banks, you may be working with a new advisor every month. This is because private banks tend to have a high turnover rate, with employees often quitting to go to other banks. So, you will have to build a new relationship with a different advisor, leading to miscommunication, lack of trust, and waste of time.
Choosing the Right Firm for Private Banking and Wealth Management
For the best services, you need to choose the right financial institution and then the right firm. If you need banking services, choose private banking and a wealth management firm if you need wealth management services. After that, evaluate different firms based on their services, credentials, track record, experience, standard of care, etc.
Pillar Wealth Management is among the top private wealth management firms for high and ultra-high-net-worth individuals specifically. We offer various financial services, such as investment management, risk management, retirement planning, estate planning, and much more. Our experienced wealth managers and skilled financial advisors work closely with our clients to understand their unique financial situation and formulate customized financial solutions accordingly. Schedule a chat with Pillar Wealth Management today to get started on your wealth management and financial planning.
Frequently Asked Questions
Private banking offers not only wealth management but also banking services.
In addition to their traditional banking services, banks will offer wealth management for their wealthy clients, including financial planning and asset management.
Private wealth management is a form of wealth management that is offered to private individuals and families having a high net worth.
A private wealth bank is a bank that offers banking and financial advisory services to high-net-worth individuals. It provides a dedicated wealth manager to provide financial planning and investment advice.
Investment banks may offer private banking services for their wealthiest clients, including advantageous terms for loans.
A private banking account could require a minimum of $250,000. As a client, you would pay a monthly fee to have access to a personal manager for your banking transactions and loans.
Important aspects of wealth management are financial planning and investment portfolio development.
Financial management services do not require great wealth; they can be offered on a flat fee basis, whereas wealth management usually requires a sizeable amount of investable assets.
Most wealth management advisors and firms require their clients to have a minimum amount to invest, but this amount is highly variable.
Wealth management does involve financial planning although some managers focus on investment portfolio development and management.
To be 100% transparent, we published this page to help filter through the mass influx of prospects, who come to us through our website and referrals, to gain only a handful of the right types of new clients who wish to engage us.
We enjoy working with high net worth and ultra-high net worth investors and families who want what we call financial serenity – the feeling that comes when you know your finances and the lifestyle you desire have been secured for life, and that you don't have to do any of the work to manage and maintain it because you hired a trusted advisor to take care of everything.
Related Post