Best Investment Firms For Retirement
Retirement is a period of our life that we both look forward to and dread simultaneously. While we anticipate spending our time sunbathing on the beach and not worrying about work, we also have a nagging fear of losing the savings we have. That fear is even more pronounced if you're someone with over $5 million in savings. For a more in-depth look at the types of risks investors with $5+ million have to face, check out our guide. Many people look for the best investment firms for retirement to avoid these risks and manage their wealth.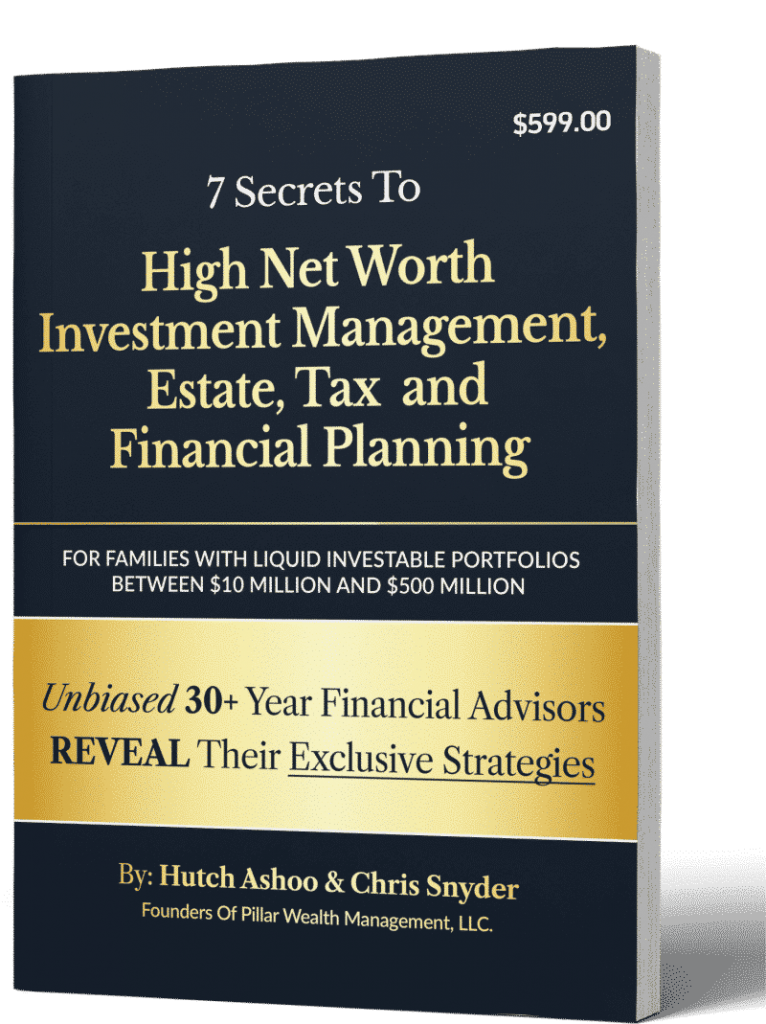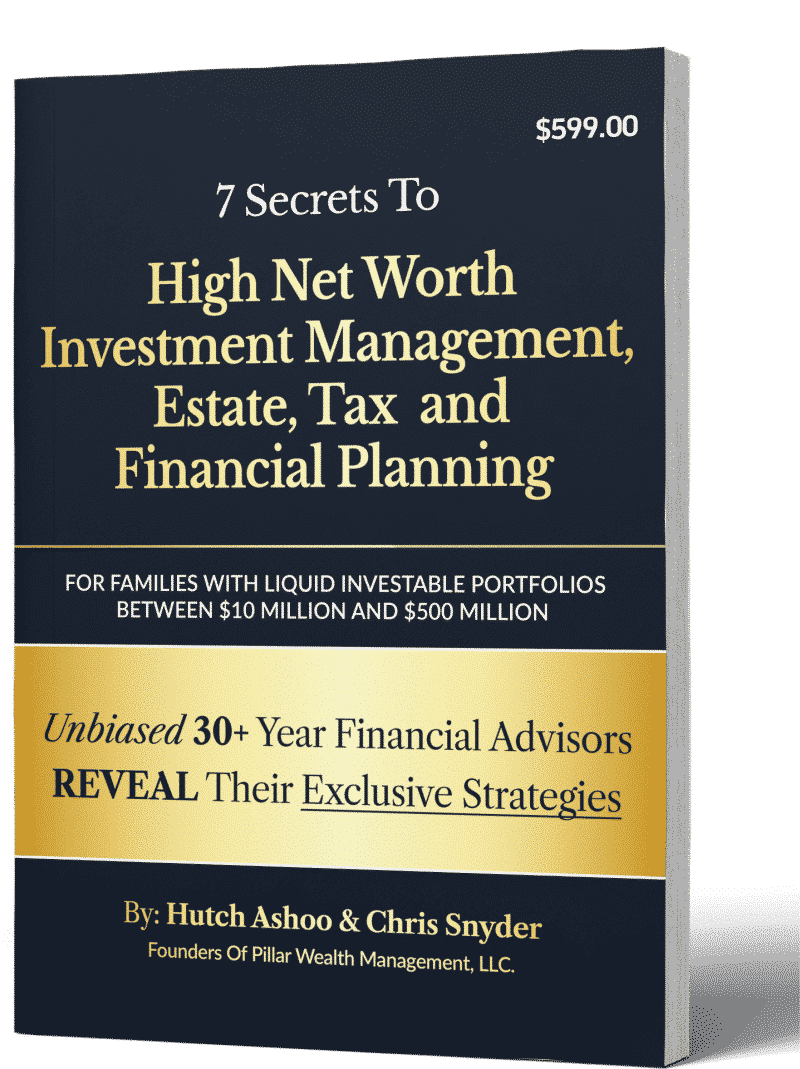 STRATEGIES FOR FAMILIES WORTH $5 MILLION TO $500 MILLION
7 Secrets To High Net Worth Investment Management, Estate, Tax and Financial Planning

The insights you'll discover from our published book will help you integrate a variety of wealth management tools with financial planning, providing guidance for your future security alongside complex financial strategies, so your human and financial capital will both flourish.
Clients frequently share with us how the knowledge gained from this book helped provide them tremendous clarity, shattering industry-pitched ideologies, while offering insight and direction in making such important financial decisions.
In combination with good execution, retirement planning can provide affluent investors with a way to have a comfortable retirement. Any retirement plan's goal is to make sure that the individual does not lose their wealth and can earn enough to live the life they want. At Pillar Wealth Management, we do that and more. People with $5 million to $500 million have found lasting financial serenity by entrusting their retirement with our wealth managers. You could do the same. Book your first free meeting now.
That said, this guide is a comprehensive overview of the best investment firms for retirement. We'll discuss questions such as:
– What do investment firms do?
– Does retirement need a special investment firm?
– What are the types of firms for retirement?
– Is it worth it to hire retirement investment firms?
– What questions should I ask investment firms for retirement?
The best investment firms for retirement are wealth management firms. They are usually fiduciaries and have extensive experience in various financial services, including tax planning and wealth transfer. As you near retirement, the most important thing you need is peace, the kind of peace that means not worrying about having enough income to enjoy life. This is what firms like Pillar Wealth Management aim for.
What Do Investment Firms Do?
The best investment firms for retirement provide an essential financial service. Their main role is to help investors plan and manage their investments to attain their financial goals.
The best investment firms for retirement employ professional financial advisors who specialize in this field. The caveat here is that an advisor doesn't necessarily have to be licensed – or registered to provide investment management services.
This leads to a situation where there is a mix of advisors in the market. On the one hand, you have Registered Investment Advisors (RIAs) who've undergone rigorous training, and, on the other hand, you have inexperienced investment advisors just starting to learn their trade.
You'll often find this mix if you visit investment divisions of large banks. Since these institutions usually hire a large number of advisors, they hire an extensive mix. Beginner advisors often gain their first experiences at these institutions.
You can also find investment advisors at independent firms. These places tend to be more predictable in terms of the quality you can expect to get. Top professionals will usually be found at fiduciary firms. For a comprehensive comparison of fiduciary and non-fiduciary advisors, read our ultimate financial advisor guide.
That said, we'll need to first look at the various types of investment firms to find the best investment firms for retirement.
What is the most trusted investment company?
Among the most trusted investment companies are Fidelity, Schwab, and Vanguard, widely used by millions of investors. They are trusted for their customer service and their ability to produce returns.
Where is the safest place to put your retirement money?
Start cashing it out as a lump sum or installments, roll it into an IRA, or wait until the required minimum distributions take effect. You can also invest in an annuity, with a lifetime yearly payout.
How should I invest my retirement money?
The money you have accumulated for retirement should cover your day-to-day living expenses, as well as potential emergencies. Beyond that, you could create an income stream with an annuity.
What is the safest investment for seniors?
Treasury bills, bonds, dividend-paying securities, and annuities are safe investments for seniors. You can take more risks if you're willing to lose some money, but be sure to control the risk.
Does Retirement Need a Special Investment Firm?
If you're nearing the end of your career, you might be asking yourself, "Is my current advisor okay, or does retirement need a special investment firm?" And "Where do I find the best investment firms for retirement?"
The answer to these questions depends on the capabilities of your current advisor. While many of us go for the typical aggressive portfolios to gain the best returns, retirement often calls for a more conservative or balanced approach.
Active management is often discouraged for retirees because of the extra risks, costs, and taxes involved. The issue is that most advisors are active money managers who aim to achieve the highest return possible at every moment. They try to time the market.
So, the answer is yes, you do need a special investment firm for retirement, and you need to find the best investment firms for retirement. You need someone who will look at your unique situation and optimize your portfolio performance in a way that supports your goals and balances your risks. For more information on how successful advisors do that, read about the 5 critical shifts in thinking you need to make today.
4 Categories of Investment Firms for Retirement
As you're about to find out now, there are a few types of investment firms for retirement. Each of them provides a similar service but also its own individual differences. By understanding each type of advisor's nuances, we'll be able to discover the best investment firms for retirement. Let's get started.
1. Investment Advisors
These individuals specialize in creating detailed investment plans for their clients based on their preferences. You don't need to be registered or licensed to operate as an investment advisor, meaning a wide diversity of quality.
Another point to note is that many investment advisors provide a fundamental service. They'll ask you what returns you want and what your risk tolerance is before beginning. Based on those few numbers, they'll create an investment plan geared towards achieving them and hand it over to you.
That's usually where their job ends. You'll probably have to visit someone else to execute the trades or security purchases recommended by the investment advisor. Due to the simplicity of the service and the unpredictability of quality, we don't feel these are the best investment firms for retirement – especially for high and ultra-high-net-worth personnel.

2. Investment Brokers
Brokers typically serve the other side of the investment funnel – the transactions. If investment advisors are the people that give you an investment plan, then investment brokers are the ones that execute it.
Investment brokers at the best investment firms for retirement are typically hired in conjunction with investment advisors. Anyone that uses an investment advisor will also likely need an investment broker to complete the process. However, while investment brokers usually won't provide investment advice, there are some instances where they may suggest some securities or help you formulate your plan.
When looking at the best investment firms for retirement, we can see one other major difference between investment advisors and brokers. While advisors typically charge a service fee, brokers have a different compensation method. They typically make their money from commissions on the transactions.
The problem with commissions is that they encourage your broker to suggest more transactions than you might need, creating a conflict of interest. People with more than $10 million should read our guide to determine why commissions can be so damaging.
3. Robo-Advisors
Robo-advisor is a cheap, easy, and convenient option for a lot of investors. Their main benefits are accessibility and ease of use.
Advanced algorithms and AI technology are deployed in an attempt to manage the investment portfolios of investors. The technology analyzes past and real-time data to decide which securities to invest in. There is almost no human-human interaction in this scenario.
Though they can be useful for some investors, Robo-advisors do not seem to be the best investment firm for retirement either. This is because they don't account for your personal goals and won't have a customized investment strategy for you. A robot won't be able to understand your situation as an experienced professional would.
4. Wealth Management Firms
In our hardcover book, The Art Of Protecting Ultra-High Net Worth Portfolios And Estates, Strategies For Families worth $25 Million to $500 Million, we've held wealth managers in high regard – especially when it comes to serving the needs of ultra-wealthy individuals.
Wealth managers are usually fiduciary advisors, at the best investment firms for retirement. They have extensive expertise and experience in their operation area, often spending decades serving an exclusive set of clients. Wealth management is usually a culmination of various financial services. While they will assist you with top-class investment management, they will also help you reduce your taxes, plan your wealth transfer, manage your assets, and so on.
This is what makes wealth managers so useful for affluent investors near retirement. As you near this important stage of your life, the most important thing you need is peace. It is a kind of peace where you don't have to worry about losing your money or having enough income to enjoy your life. This is what the best investment firms for retirement, like Pillar Wealth Management, aim for. Our services are only focused on helping you achieve financial serenity. If you want to enjoy a stress-free retirement, schedule a discussion with us today.
Is It Worth It to Hire Retirement Investment Firms for Retirement?
Should you put effort into searching for the best investment firms for retirement?
This is a valid question. After all, everything is about value. If you aren't getting value for the time you put into searching for the best investment firms for retirement or for the fees you pay them, then there is no point in the whole process.
That said, research has consistently found that affluent families often benefit from the best investment firms' services for retirement. Here are some of the things you can expect:
Preserving Your Wealth
The best investment firms for retirement, having extensive experience, will firstly help you create a retirement plan. This plan will comprehensively state the tactics your advisor will use to protect your wealth against losses.
Preserving your wealth is essential in all stages of your life. However, it becomes even more important once you've retired. Your wealth becomes your only source of income and faces a greater risk of loss.
Your advisor needs to help you make smart investments that provide you with a sense of financial security. Our portfolio performance guide has many insights on how advisors can make sure that they prevent you from losing your wealth.
Keeping You Safe Against Medical Emergencies
Getting help from the best investment firms for retirement isn't just about looking after your financial wellbeing. It also involves making sure that you're prepared for any medical emergencies that may arise.
Medical issues can pop up at any point in our lives. Though it's worth noting that the probability goes up once you reach retirement age. As a high and ultra-high-net-worth investor, it's unlikely that a medical emergency will leave you completely bankrupt. However, there's still a chance that it could significantly reduce your wealth.
To help you prepare for any medical mishaps, wealth managers at the best investment firms for retirement can help you get the right insurance covers. With the right research and expertise, your advisor can make sure you're fully covered and paying the least premiums possible.
Looking Out for Your Beneficiaries
An effective retirement plan will also include considerations for any wealth transfer or estate planning you need to do. The future is unpredictable, and it's always better to be prepared for all scenarios.
The best investment firms for retirement have experts that can help you plan wealth transfer in a way that:
– Minimizes inheritance taxes.
– Makes the process easy for your heirs and eliminates any legal issues.
By putting an estate plan in place, you can make sure that your heirs don't have to face any troubles during a difficult time.
Looking for a wealth manager that will provide all this and more? Contact Pillar Wealth Management for a free chat.
What Questions Should I Ask Investment Firms for Retirement for Retirement?
Now that you've understood the value offered by wealth managers and retirement investment firms, the next step is to figure out how to hire the best investment firms for retirement.
The best way to hire the best investment firms for retirement is to know the questions you need to ask them at your first meeting. Here are some examples:
How much experience do you have?
Experience is significant in this industry. It means that your advisor has already made rookie mistakes and learned from them. They know what tactics work and which ones don't. The best investment firms for retirement will help you stay on track to meet your goals and not panic when things go south.
What sort of clientele do you work with?
The best investment firms for retirement must regularly provide services to people of your caliber. This way, you can be sure that they know how to customize their offerings to your specific needs.
How will you protect and grow my wealth?
The best investment firms for retirement use advanced components and tools to monitor your portfolio performance constantly. They're able to perfectly balance your risks and returns in a way that achieves your goals while protecting your wealth.
How will you reduce my costs and taxes?
Extra costs and taxes can be very dangerous for high and ultra-high-net-worth people. They can reduce your wealth without you even knowing! An advisor at the best investment firms for retirement must have the capabilities to minimize your taxes and costs.
What is Roth IRA?
A Roth IRA distribution is tax-free and penalty-free. The five-year aging specification has been provided, and one of the following requirements is met: age 59.5, disabled person, qualified first-time home acquisition or passed away.
Special circumstances occur where transforming your conventional IRA into a Roth can be arranged with lower-than-normal taxes that you owe. If you multiply your conversions properly, you can eliminate substantial parts of your assets from the RMD when you come to your retirement time.
The cause is because you need to withdraw funds in conventional IRAs – and taxed – commencing at age 71 or 72 (in 2021), while funds in a Roth IRA do not have to.
While you perform this conversion, you do owe some taxes from that very year. While at the back of the conversion phase, you will not be charged for further taxes in your gains in the future.
And to be clear, there are many, many ways to go about this and many variables to consider. To learn more about this, click here to order a free copy of our hardcover book, The Art of Protecting Ultra-High Net Worth Portfolios and Estates – Strategies For Families Worth $25 Million To $500 Million.
Understanding when your common tax-profitable IRA conversion possibilities have come requires some experience and is best executed with a wealth manager at one of the best investment firms for retirement. For example, if you have a down-year in your interest. That might be the time to perform a large conversion because you can do that without striking up to the most expensive tax brackets.
This is just one of the tons of reasons to have a high net worth financial advisor from one of the best investment firms for retirement in your corner. Hutch Ashoo and Chris Snyder, co-founder of Pillar Wealth Management, a fee-only, independent, fiduciary financial advisory firm, have 30+ years of experience and expertise helping high and ultra-high-net-worth investors. They can help you assess your tax situation and offer proven tax-reduction strategies that can significantly impact your wealth and improve your portfolio performance.
What are mutual funds?
Mutual funds are a program or a cheap way to build numerous stocks, bonds, or other short-term investments. Most of the wealth management firms owning the tools and providing them to you as the mission helps you create an investment approach suitable for the demand.
What are the types of investment?
Thematic Investing
Thematic investing is an approach or program that allows you to reinvest in long-term aims or businesses that you support, concentrating on potential possibilities shaped by industrial, technological, and human developments.
Sector investing
Sector investing concentrates on firms' assets in particular sections of the economy. They can support you in your growth, expand your portfolio, and control the risk just like the basic brokerage firms.
Some wealth management firms let you invest in mutual funds from the companies apart of their firms with no trading charges. You can also get the index funds and exchange-traded funds service in Fidelity.
But if you are a UHNW, this matter can be handled with a superior wealth management firm like Pillar Wealth Management that has expertise in managing any of the financial aspects in a broad array of assets like yours.
You can decide to run with a sizeable wealth management firm, or you can consider working with a niche firm like Pillar Wealth Management that works exclusively with at most 17 new customers each year and can make you a priority. These are individuals who own $5 million to $500 million in total investible assets. Both strategies have their pros and cons. It depends on what approach fits most suitably to your situation.
Verdict on the Best Investment Firms for Retirement
In conclusion, the decision to find the best investment firm for retirement is one you won't regret. It seems to be almost essential for most affluent individuals who want to live the final years of their life in peace. Indeed, you can use the service from several investment companies with investment options like any of the so-so firms out there. They will offer low transaction fee mutual funds, discounts on ETF trades, similarly to any other investment company or financial advisor. Sometimes, they provide low credit card transaction fees. Many of them apply no account minimum, which can blur their focus.
If you are an individual with $5 million to $500 million, the best choice is to work with experts like Pillar WM. At Pillar WM, you can get the most comprehensive investment performance starting from retirement accounts management—IRAs, simple or traditional—portfolio management, SEP-IRA, 401 k, and self-directed personal advisor services that cover your investment account.
Pillar Wealth Management has helped numerous people with $5 million to $500 million to enjoy a comfortable retirement. Whether you want to make sure your kids are taken care of or you want to enjoy your retirement traveling around the country, our wealth managers are here to support your goals. Say goodbye to stress and schedule a free discussion with us now.
To be 100% transparent, we published this page to help filter through the mass influx of prospects, who come to us through our website and referrals, to gain only a handful of the right types of new clients who wish to engage us.
We enjoy working with high net worth and ultra-high net worth investors and families who want what we call financial serenity – the feeling that comes when you know your finances and the lifestyle you desire have been secured for life, and that you don't have to do any of the work to manage and maintain it because you hired a trusted advisor to take care of everything.
You see, our goal is to only accept 17 new clients this year. Clients who have from $5 million to $500 million in liquid investable assets to entrust us with on a 100% fee basis. No commissions and no products for sale.
Related Post